Last Updated on January 16, 2023
If you are planning Korea travel whether it's on a budget or not, it's such a good tip to experience free guided tours! There are several websites or blog posts introducing free tours on the Internet. However, they are tip-based tours. It's not a free tour unless you're a Scrooge who can ignore the guide asking for a tip at the end of the tour.
The Seoul Guided Walking Tour program is operated by Seoul Metropolitan Government and local volunteer guides, so it's reliable and totally free. They have over 30 well-designed tour programs that you can truly understand Seoul. I was very surprised when I found free Seoul walking tours with perfect routes to see Seoul's top attractions on foot.
The experts' guidance of multilingual tour guides will be with you during walking tours and they are all volunteers. Not only they are knowledgeable local guides but you also have a chance to meet some great fellow travelers here too!
Programs are offed in Korean, English, Japanese, and Chinese. If you make a reservation on the English Visit Seoul page, you will participate in the English guided tour.
How To Book The Free Seoul Guided Walking Tour
You can make a reservation via the internet and mobile web at dobo.visitseoul.net. Before you book tours, note that :
Reservation shall be made at least 3 days before the tour day.
Reservation for the next month is available after the 15th of the previous month.
It's totally FREE. But admission fees to the royal palaces & fees for cultural experience programs, etc. are not included in the tours and must be paid for separately.
The duration of most tours is 2 to 3 hours.
Contact Information
Weekdays: Seoul Guided Walking Tour Office (9:00~12:00 / 13:00~18:00)
Phone: +82-2-6925-0777 / [email protected]
Weekends & Holidays: DASAN Call Center / Hours: 9 a.m. – 10 p.m.
DASAN Call Center (Tel: 02-120)
Here, you can check reviews of the Seoul Free Walking Tours from previous tourists who have done.
Here are the best 15 Seoul free guided walking tours
Let's find out the most popular free guided walking tours from the Seoul Metropolitan Government.
Pedestrian Forest Path on Sejong-daero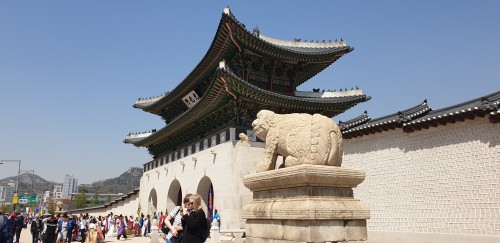 Sejong-daero is a road that starts at Gwanghwamun and passes through Sungnyemun to Seoul Station, and includes major tourist attractions in Seoul such as Gyeongbokgung Palace, Cheonggyecheon Stream, Deoksugung Palace, Namdaemun Market, and Seoullo 7017. This road was recreated in 2021 as the pedestrian-friendly Forest Path. You will hear the stories of the past, present, and future of Sejongdae-ro and Seoul.
Route: Gwanghwamun Square – Starting Point of Mile Posts – Seoul Hall of Urbanism & Architecture – Seoul MARU – Deoksugung Palace Daehanmun Gate – Jeongdong-gil – Sungnyemun Gate – Namdaemun Market – Seoullo 7017 Seoullo 7017 Traveller's Lounge
Length of tour: 2.5 hours
Find Treasure in Garden of National Museum of Korea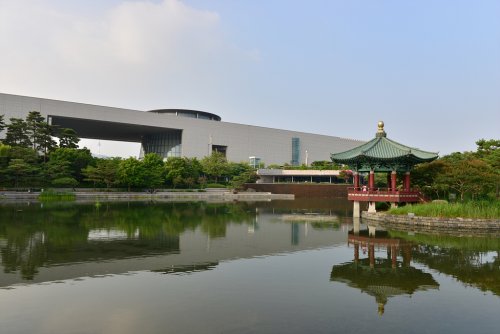 Through this walking tour, you can expect to learn various stone culture like a stone pagoda and stone buddha. Also, Dragon falls and Yongsan family park is in the route. Walk along the trail in the museum garden, find hidden traditional relics and attractions, and meet mysterious stories related to them.
Route: National Museum of Korea South Gate (Start) – Cheongjajeong (Pavilion with Celadon Roof Tiles) – MuseumPath – Stone Pagoda Garden – Dragon Falls – Yongsan Family Park – Bosingak Bell – Stone Buddha – Pagoda Garden – Monk Stupa Garden – National Museum of Korea Courtyard
Walk Along Seochon's Old Alleys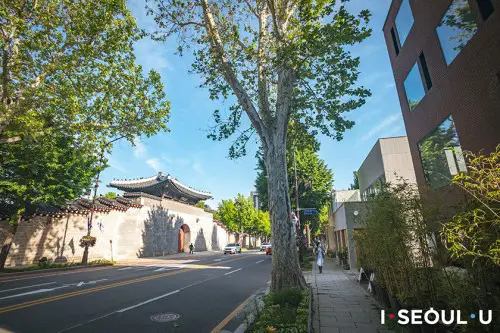 Seochon is a village where great artists of the Joseon Dynasty once lived. So walk along the old alleys of Seochon and follow the traces from the Joseon Dynasty, the Japanese colonial period, and the present time while finding the traces of numerous artists that lived in the village.
Route: Subway Line 3, Gyeongbokgung Station Exit 3 – Tongui-dong Pine Tree Sites – Sangchonjae Hanok House – Yun Deok-yeong's House (Byuksusanjang) – Ogin-dong Yun Family's House – Suseongdong Valley – Yun Dong-ju's Boarding House – Park No-soo Art Museum – Yi Sang-beom's House – Noh Cheon-myeong's House – I Sang's House – Geumcheongyo Market
Time Travel in Chungmuro and Euljiro Alleys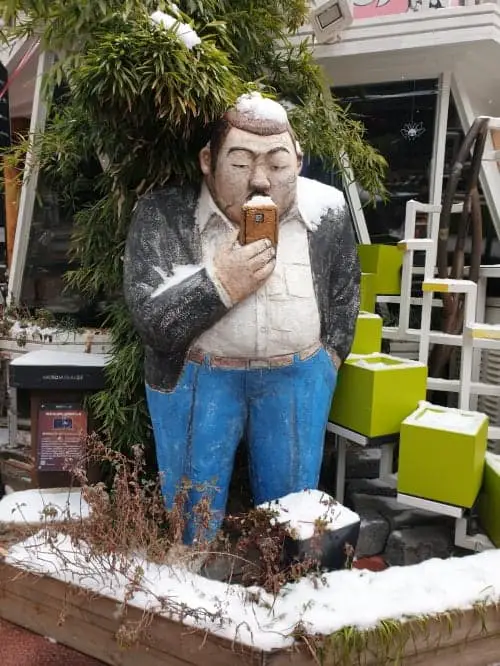 This is an old course for young and new generations! It was the center of culture, young and poor artists gathered around Chungmuro and Euljiro but now it became one of the hottest areas in Seoul with unique shops and its culture. If you are looking for trendy cafes and bars in Seoul, you won't miss this area.
Route: Subway Line 3, 4, Chungmuro Station Exit 4 – Pildong Culture and Arts Street Yesultong – Bando Camera Gallery – Jungbu Police Station History Hall – Euljiro Golbaengi & Nogari Street – Chun Tae-il Memorial Hall – Cheonggyecheon Stream – Sewoon Shopping Center
Length of tour: 2.5 hours
Gyeongbokgung Palace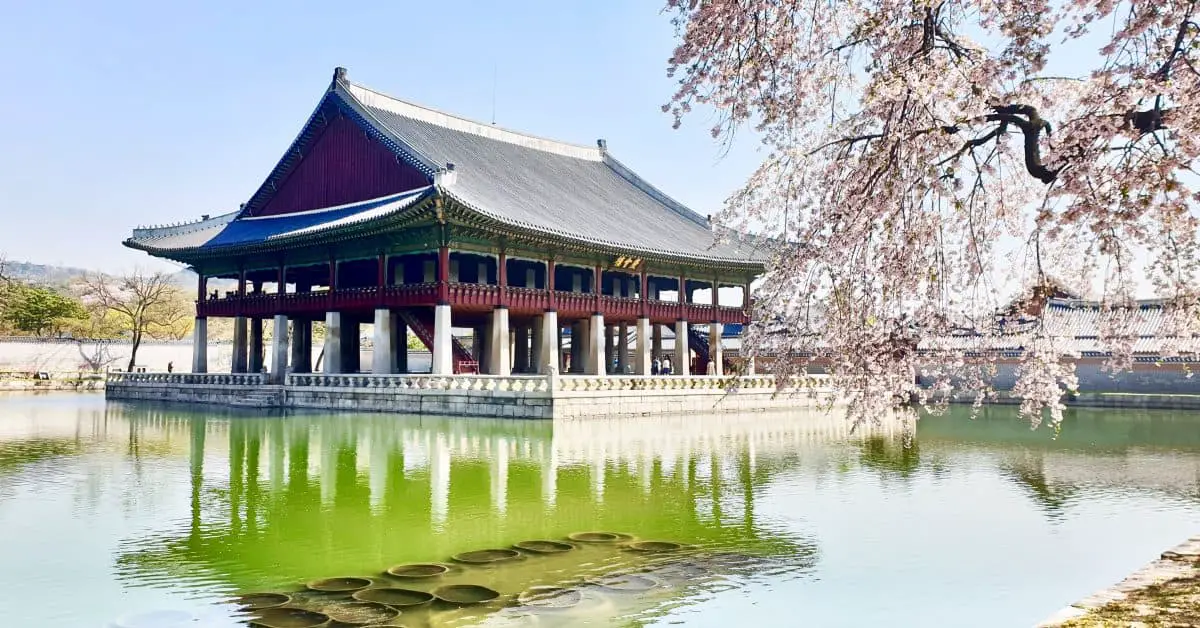 Visit the heart and center of the Joseon Dynasty, Gyeongbokgung, the first royal palace built over 600 years ago! This walking tour starts at Gyeongbokgung and along a charming traditional stone wall path to Cheongwadae (Blue Houe) Sarangchae. Here, you can learn about the past, present, and future visions of Seoul and Korea.
Route: Gwanghwamun (Main and South Gate) – Heungnyemun (Second Inner Gate) – Geunjeongmun (Third Inner Gate) – Geunjeongjeon (Imperial Throne Hall) – Sajeongjeon (Executive Office) – Gyeonghoeru (Royal Banquet Pavilion) – Gangnyeongjeon (King's Quarters) – Gyotaejeon (Queen's Quarters) – Jagyeongjeon (Late Queen's Quarters) – Hyangwonjeong (Hyangwonjeong Pavilion)
Information about Gyeongbokgung Palace
Address: 161 Sajik-ro, Jongno-gu, Seoul  
Gyeongbokgung Station Exit 5 (subway line 3)
Phone: +82-2-3700-3900
Open hours: 09:00 – 17:00
Learn more about Gyeongbokgung Palace
Bukchon Hanok Village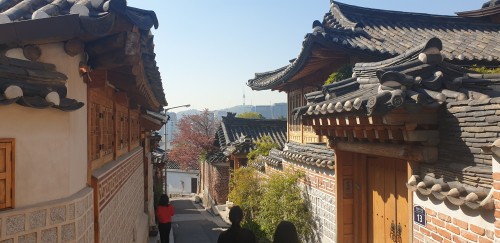 In Bukchon Hanok Village you can embrace the beauty of traditional Korean houses. It's also an important area for culture and the arts with its number of museums and craft workshops. Make photos of you with a historic landmark here!
Route: Unhyeongung Palace – Bukchon Culture Center – Choongang Middle & High Schooll – Gahoedong – Jeongdok Public Library – Paik In-je's Hous
Length of tour: 2 – 3 hours
Deoksugung Palace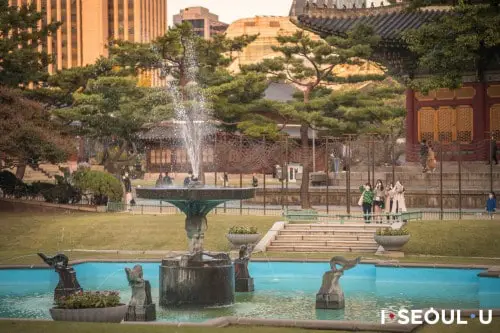 Desksugung Palace's stonewall walkway is one of the most romantic ways for Korean people in Seoul. On the other hand, the palace has the painful history of modern Korean history. This tour will provide you with a great opportunity to understand what difficulties Korea faced among the great powers abroad in the last moments of modern history.
Route: Daehanmun Gate – Hamabi(Stone Monument) – Junghwamun Gate – Junghwajeon – Seokeodang – Deokhongjeon – Hamnyeongjeon – Jeonggwanheon – Jeukjodang Hall – Junmyeongdang – Seokjojeon Hall – Jungmyeonjeon Hall – Hwangudan Altar
Changdeokgung Palace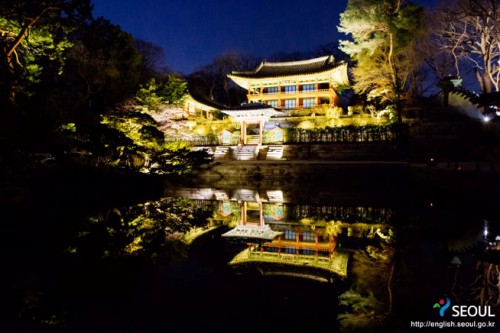 Changdeokgung is the second grand palace of the Joseon Dynasty, built in 1405. The palace was added to the UNESCO World Heritage List as being an outstanding example of Far Eastern palace architecture and garden design. Enjoy exceptional sceneries harmonized with the landscape in the center of the city with the buildings.
Route: Donhwamun (Main Gate) – Injeongjeon (Throne Hall) – Seonjeongjeon (Hall) – Huijeongdang (King's Private Residence /King's Conference Hall) – Daejojeon (Hall) – Nakseonjae (Pavilion) – Donhwamun (Main Gate)
Length of tour: 2 – 2.5 hours
Information about Changdeokgung Palace
Address: 2-71 Waryong-dong, Jongno-gu, Seoul 
Anguk Station Exit 3 (subway line 3)
Phone: +82-2-762-8261
Open hours: 09:00 – 17:00/18:00
Learn more about Changdeokgung Palace
Changgyeonggung Palace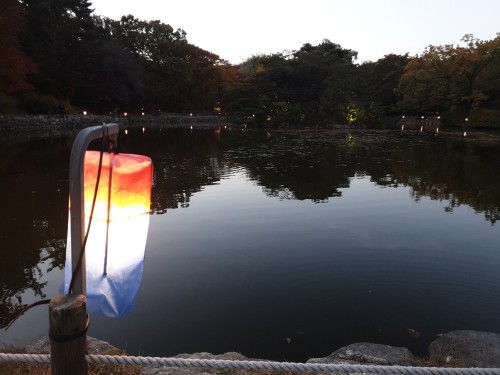 Changgyeonggung is one of the Five Grand Palaces of the Joseon Dynasty and connected with Changdeokgung palace. Although this palace is compact and simple compared to the four other palaces, it's full of interesting histories of the Joseon Dynasty with Queen Inhyeon and the Crown Prince Sado.
Route: Changgyeonggung Honghwamun – Okcheongyo – Myeongjeongjeon – Sungmundang – Munjeongjeon – Munjeongmun – Gwancheondae – Gyeongchunjeon – Yeongchunheon – Tongmyeongjeon – Jagyeongjeon Site – Chundangji – Changgyeonggung Honghwamun
Information about Changgyeonggung Palace
Address: 185 Changgyeonggung-ro, Jongno-gu, Seoul
Hyehwa Station Exit 4 (subway line 4)
Phone: +82-2-762-4868
Open hours: 09:00 – 21:00
Length of tour: 2.5 hours
Address: 2-71 Waryong-dong, Jongno-gu, Seoul
Phone: +82-2-762-8261
Open hours: 09:00 – 17:00/18:00
Learn more about Changgyeonggung Palace
Naksan City Wall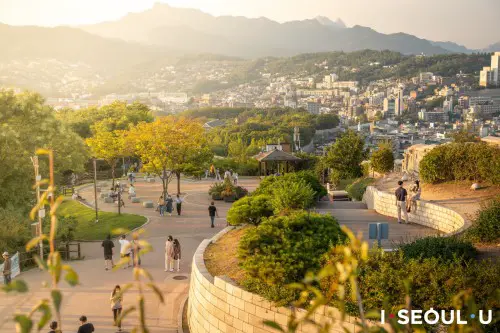 Here you can enjoy the scenic view of Seoul City Wall that stretched from Dongdaemun to Naksan Park. During the walking tour or later, I would recommend you to go to Ihwa Village where is a popular spot with wall paintings and small unique cafes and shops.
Route: Heunginjimun – Seoul City Wall Museum – Palgakjeong(Hongdeogi Field) – The top of Naksan(observatory) – Naksan Exhibition Hall – Naksan 1-gil – Marronnier Park
Length of tour: 2 – 3 hours
Information about Naksan City Wall
Address:  54, Naksan-gil, Jongno-gu, Seoul
Hyehwa Station Exit 2 (subway line 4)
Phone: +82-2-743-7985
Insadong Course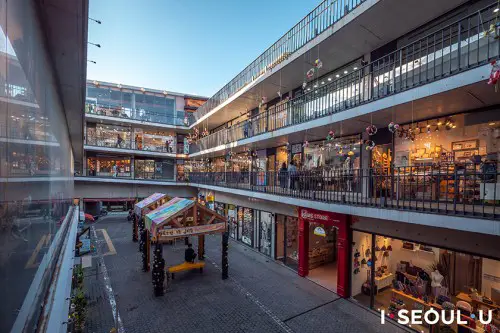 Insa-dong is a must-visit place for Seoul visitors who want to experience the traditional Korean culture. There are many traditional galleries, craft shops, tea houses, restaurants, and antique art shops. It's also famous for exchanging old and valuable items. Don't forget to try Kkultarae (Dragon's Beard) on the street.
Route: Tapgol Park – Tong-in Store – Myungsindang pilbang – The Central Temple of Cheondogyo – Kyungin Museum of Fine Art Napcheong Bronzeware – Ssamzie-gil – Jogyesa(Temple) – Bosingak
Length of tour: 2 – 3 hours
Seoullo 7017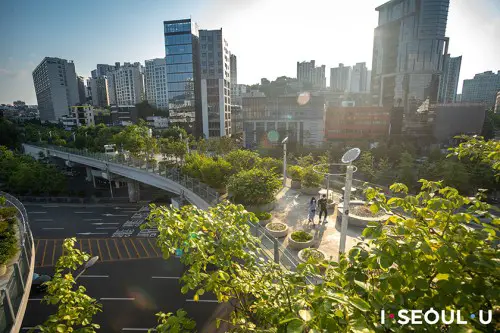 Seoullo 7017 was born by an urban regeneration project. It was built in 1970 as an overpass and was supposed to be demolished because of the safety issue. However, Seoul city decided to recreate the overpass into green pedestrian walkways. The name 7017 means that the overpass that was built in 1970, was reborn into 17 walkways.
Route: Traveller's Lounge – Culture Station Seoul 284 – Seoullo 7017 – Severance Building – Sungnyemun Gate – Hanyangdoseong, the Seoul City Wall – Baekbeom Square – Ahn Jung Geun Memorial Museum – Namsan Samsoon Stairs – Hoehyeon Sibeom Apartments – Namsan Pedestrian Overpass – Hoehyeon Station Exit 5
Length of tour: 2.5 hours
Choenggyecheon Stream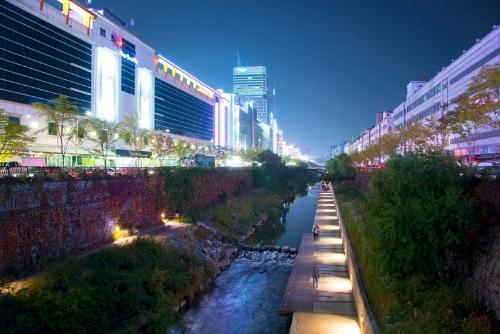 Cheonggyecheon is also one of the urban regeneration projects of Seoul. The stream was covered by an elevated highway during the Korean war, and in 2005, the stream had the present form after the long construction work. While walking down the stream, you may hear the history of Cheonggyecheon and Seoul more in detail. The famous Gwangjang market is in the course.
Route: Cheonggye Plaza – Gwangtonggyo – Samilgyo Supyogyo – Saebyeokdari – Gwangjang Market – Ogansugyo – Igansmumun Floodgate
Length of tour: 2 – 3 hours
Modern Times in Jeong-dong
It's a very historic and informative tour as various cultures existed together in the streets of Jeong-dong. It's a place where the stone walls of Deoksugung Palace and modern redbrick buildings are in harmony. Learn and feel this area during the sad, beautiful, spectacular, but dark time in the 1900s.
Mongchontoseong
If you are interested in Korean history, you would love this walking tour. With Mongchontoseong tour you can learn about the Samguk Era (Three Kingdoms Period) especially the Baekje Kingdom Period. Moreover, enjoy a beautiful stroll in Olympic Park, a relaxing public park located in the heart of the city. Plus, a tip I'd like to give you is the art museum, SOMA is in this park as well. Check what kind of exhibitions are going on and the sculpture park here.
Length of tour: 2 – 3 hours
You may also like