Having to carry your luggage with you is always a huge hassle. And it's worse if you are looking around a new city!
There are lots of luggage storage services in Seoul including subway stations and private storage with delivery services.
If your flight arrives at 6 am and your departure is 9 pm, this post will be helpful to make sure you can make the most of your entire time in Seoul. 🙂

Luggage Storage Services in Seoul
Luggage Storage in Subway Stations
Most of the subway stations in Seoul have storage lockers including Gangnam, Hongdae, and Myeongdong.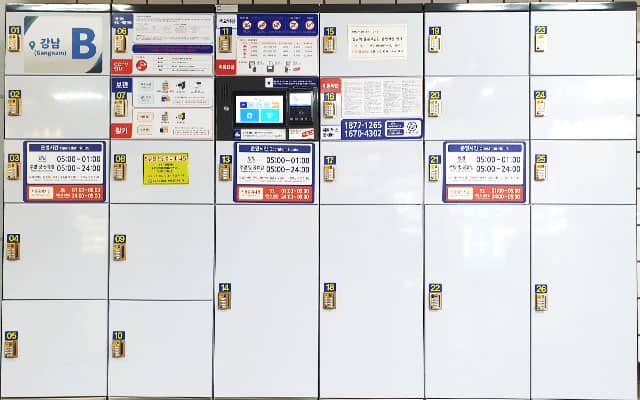 ※ The storage service is available from 5:00 a.m. to 1:00 a.m. on weekdays and 5:00 a.m. to 24:00 p.m. on weekends and holidays. You can store and take the item out ONLY during the Operation Hours.
Subway lines no. 1-8 (Happy Box)
※ Items will be moved to the other place after 5days.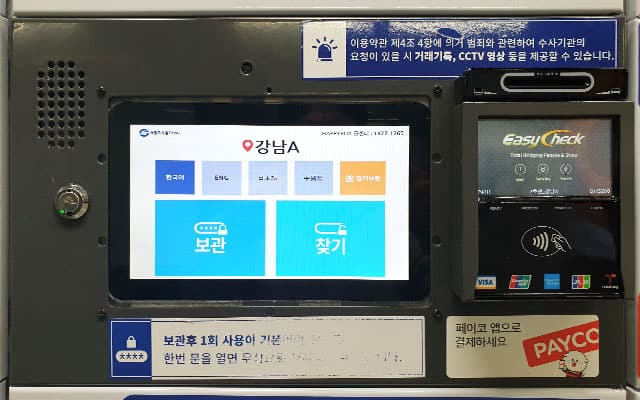 Subway Luggage Storage Usage Instructions ( ※ Available in English, Chinese, and Japanese)
Select Language (English, Japanese, Chinese)
Press "보관 (Store)"
Select available locker
Input 4-digit passcode
Pay by credit card(insert), T-money card(tag on), or Mobile QR code.
When the locker opens, put your luggage inside and close the door
Press "찾기 (Take out)"
Select a locker
Enter your passcode
Retrieve your luggage
---
Private Luggage Storage and Delivery Services
If your house is not close to a subway station or you want to see the attractions quickly before your flight in the evening, there are several luggage-storage and delivery services as well.
SAFEX's Homepage has detailed instructions and suggestions, especially in the article "Do you start your travel after dropping your baggage to the hotel?"
They provide a baggage delivery service between Incheon airport and Seoul station, Hongdae, and many hotels in Seoul, as well as offer a storage service.
SAFEX Discount Link: Incheon International Airport (ICN)
SAFEX Discount Link: Gimpo International Airport (GMP)
How It Works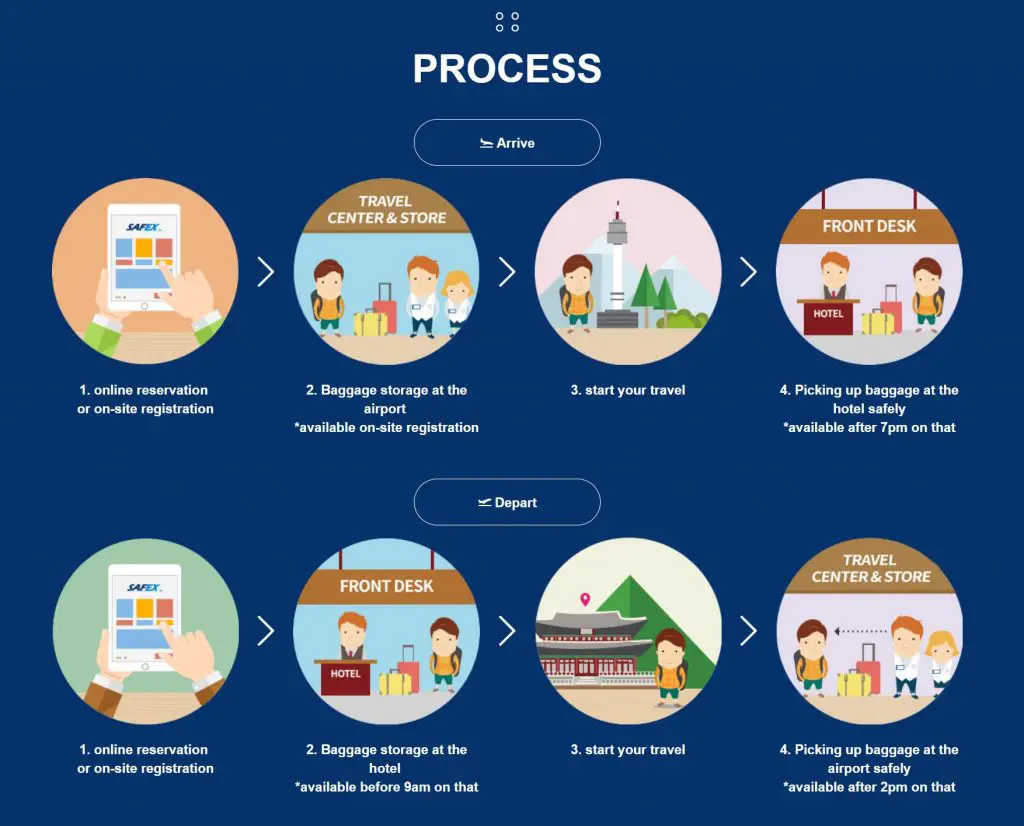 Price and Size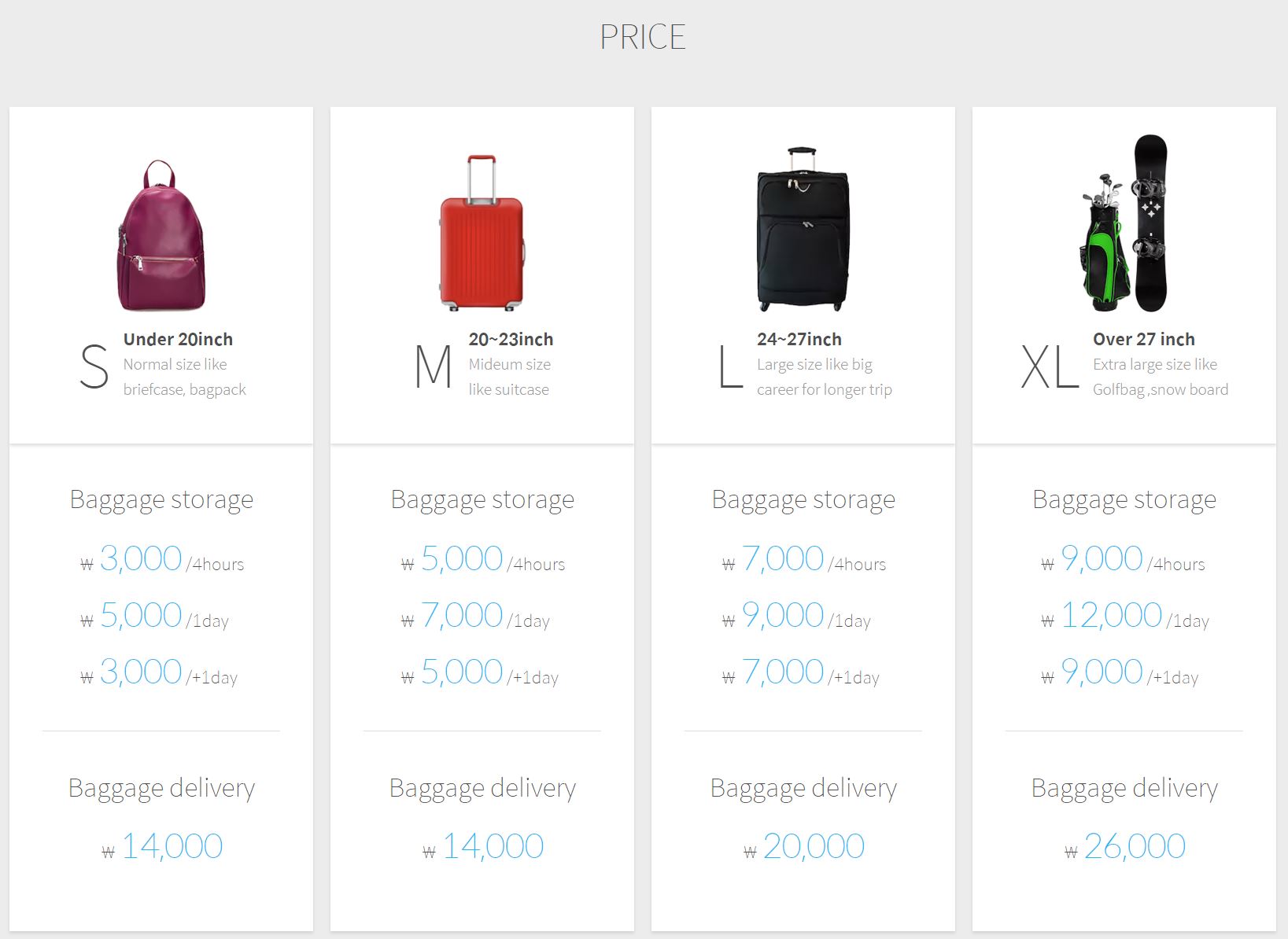 ---
SAFEX delivers your luggage to hotels in Seoul. But what if you stay at an Airbnb or your friend's house? The solution is LuggAgent, a global luggage transfer service available in over 60 cities. Professional handlers pick up and drop off your luggage between your accommodations and Incheon or Gimpo International Airport.
Get The LuggAgent Service Discount!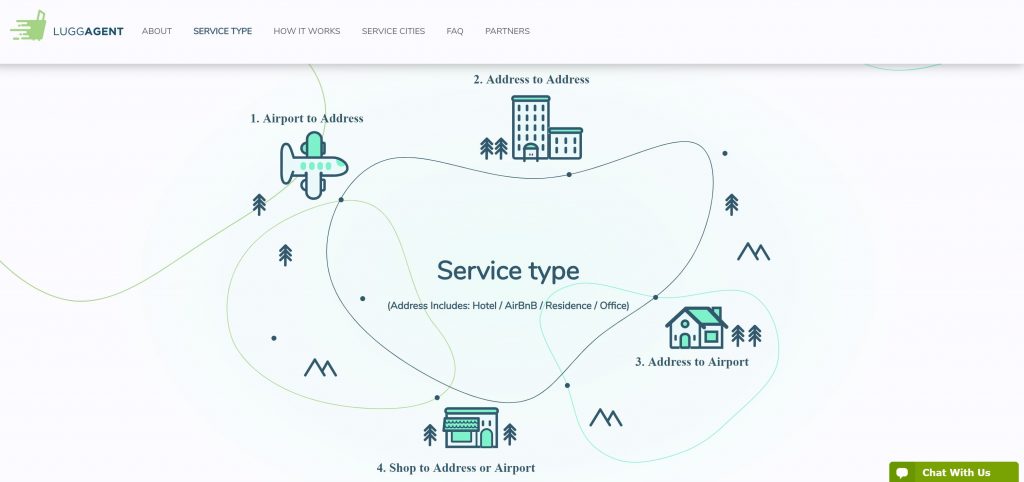 How It Works
Book and complete payment at least 24 hours in advance. A confirmation email will be sent with further information and instructions.
Drop off luggage as instructed. Start your day without the hassle of having to carry it!
Your luggage will be collected and delivered via a scheduled route with real-time tracking available.
Retrieve your luggage at the designated location and time.
The best part of the LuggAgent service is that you can pick up and drop off your luggage at your Airbnb. All you have to do is book it, choose the delivery time, and then claim your luggage at the airport after 4:00 pm or at your accommodation after 6:00 pm. 
---
BAGBNB is a global P2P storage service that makes sure you can enjoy traveling without the hassle of bringing your luggage with you.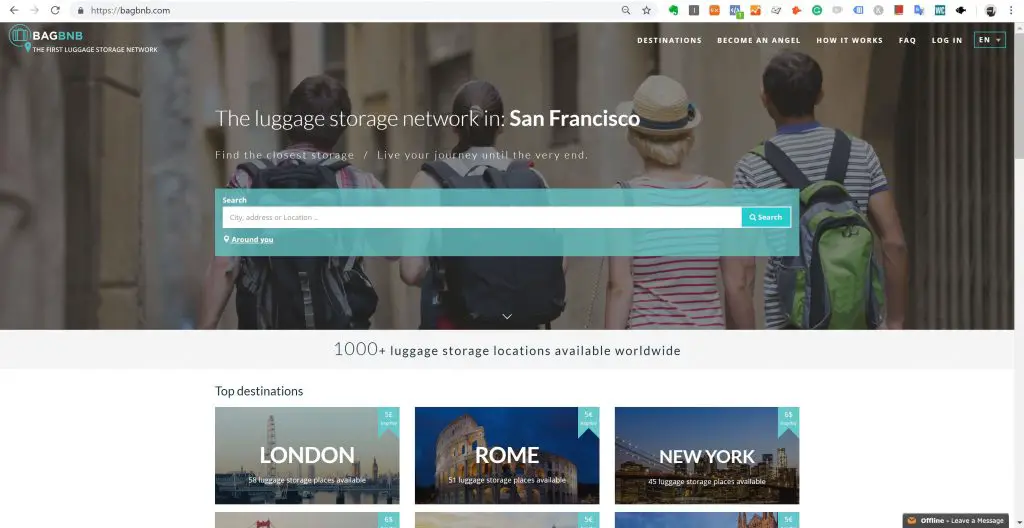 How It Works
Find an Angel (Angels are coffee shops, bars, and hotels which will store your baggage)
Book your storage online
Leave your luggage at the Angel's place
Check out
It's easy to use because the process is just like Airbnb. You can find and select an angel who suggests an affordable price for your luggage.
AREX Travel Center Luggage Storage Service
You can use the luggage storage service of AREX Travel Center. It provides various services for foreign visitors, for instance, travel-information, sale of express train package, baggage storage, SIM card & pocket Wi-Fi, and coat storage services. It's located in Incheon Int'l Airport Terminal 1 station and Terminal 2 station, Gimpo Airport station, Hongik University station, and Seoul station. Please check the location and hours of operation below. 
Location: Hongik Univ. Station Travel Center(B2)
Hours: 08:00 – 21:00
Inquiries: 02-334-0211
Location: Seoul Station (B2)
Hours: 08:00 – 21:30
Inquiries: 02-364-0211
Incheon Int'l Airport Terminal 1 Station
Location: Transport Center (B1)
Hours: 08:00 – 21:30
Inquiries: 032-743-0211
Incheon Int'l Airport Terminal 2 Station
Location: Transport Center (B1)
Hours: 08:00 – 21:30
Inquiries: 032-745-7130
Gimpo Airport Station
Location: Gimpo Airport Station (B1)
Hours: 07:00 – 21:30
Inquiries: 02-2665-0211
---
You may also like