Having to carry your luggage with you is always a huge hassle. And it's worse if you are looking around a new city! Seoul has many luggage storage services, including subway stations and private storage with delivery services.
If your flight arrives at 6 am and your departure is 9 pm, this post will be helpful to make sure you can make the most of your entire time in Seoul. 🙂
Are you looking for luggage delivery services on Jeju Island? Then check the Jeju Luggage Services here.
Luggage Storage Services
If your house is not close to a subway station or you want to see the attractions quickly before your flight in the evening, there are luggage storage and delivery services as well.
Let me introduce global luggage storage services in Seoul first, and then you can also check the Korean startup's delivery service.
Radical Storage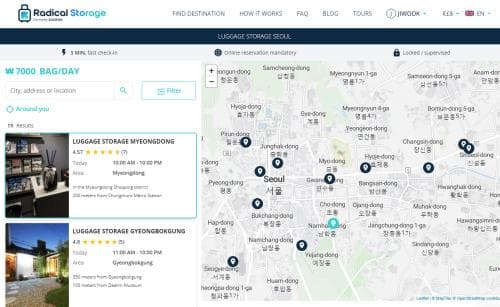 Have you ever wished for a travel experience free from the burden of lugging around heavy suitcases? Your wish has just come true with Radical Storage, a game-changing global service rapidly expanding its footprint across South Korea. Like the Airbnb of luggage, Radical Storage connects you with 'Angels', local businesses that offer a safe haven for your bags. As they broaden their network, finding a luggage storage spot in any corner of South Korea has never been easier, allowing you to explore the vibrant cities and breathtaking landscapes more freely and lightly than ever before.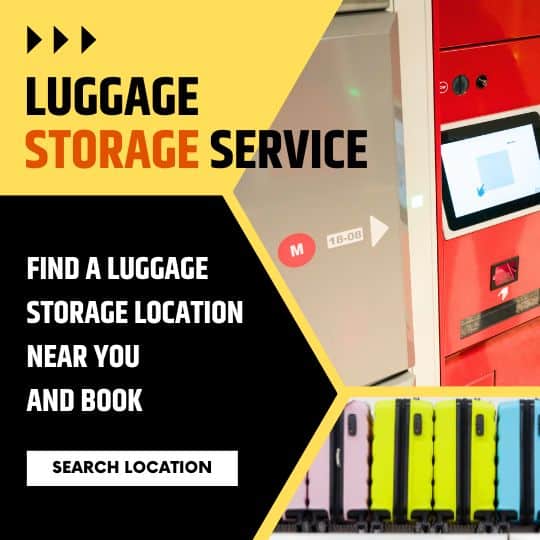 Radical Storage offers impressive coverage, ensuring your belongings are protected up to a total of 3,000 Euros. It's user-friendly and pocket-friendly, and its ever-growing network makes locating a luggage storage spot a breeze, no matter where you are.
How to Use Radical Storage
Access Radical Storage through their website or app.
Use the search function to locate a nearby 'Angel'.
Secure your storage slot online with your selected 'Angel'.
Leave your suitcase at the designated location.
When you're ready, head back and retrieve your luggage.
Stasher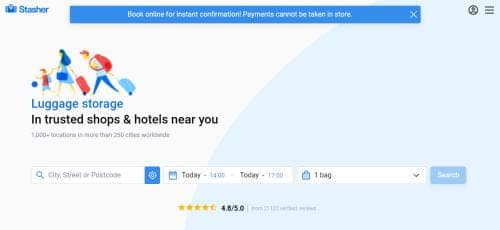 Stasher presents a smart, economical solution for those looking to roam unburdened by luggage. They offer a fixed price per bag, per day, regardless of size or weight. And every booking comes with a 100% money-back guarantee and insurance against loss, theft, and damage.
In South Korea, their Stashpoints are hotels and convenience stores. Their presence is still growing, and we hope to see more Stashpoints popping up across the country soon. Experience travel light with Stasher!
How It Works
Identify and reserve luggage storage spots on their map.
Enjoy speedy, secure payment options.
Leave your bags at authenticated hotels and shops.
Reclaim your luggage after a carefree day of exploration.
Luggage Delivery Services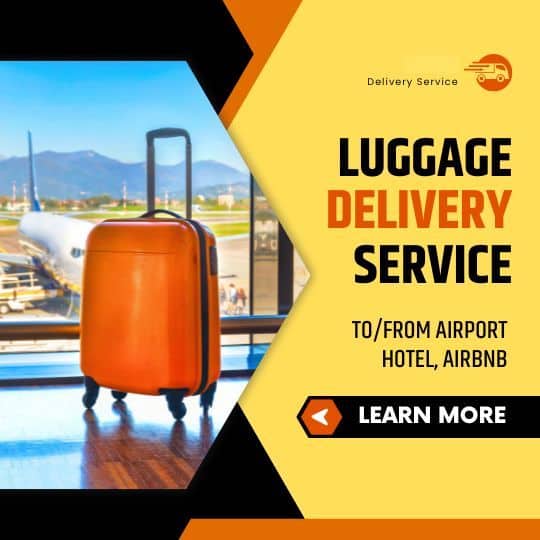 Luggage Delivery Service Prices in Korea
From/To Incheon Airport and Hotel



From/To Busan (Gimhae) Airport and Hotel
From/To Jeju Airport and Hotel

TripEasy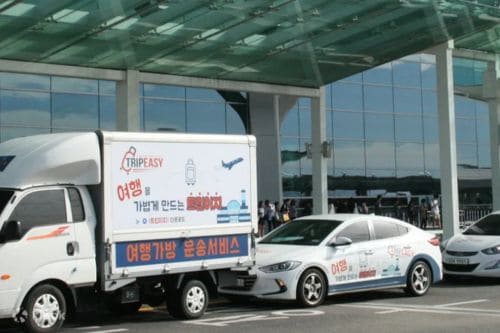 TripEasy provides a transformative luggage delivery solution for travelers. It ensures luggage is transferred from home to airport and vice versa during overseas trips, freeing travelers from handling heavy suitcases and enhancing their travel experience.
Using the TripEasy, customers can effortlessly schedule luggage pickups and deliveries. The service covers a broad range of areas including Seoul metro, certain parts of Gyeonggi-do, and the Incheon Metro Area, operating at convenient hours to meet various travel needs.

LuggAgent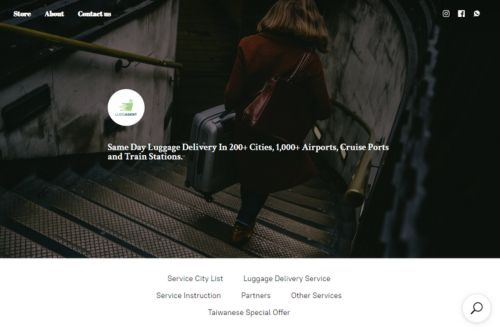 LuggAgent is a global travel logistics company established in 2015 with the mission to eliminate the inconvenience of luggage handling for travelers. After being invited by InvestHK, LuggAgent International Limited was formed in 2017. Over the last eight years, the company has expanded its operations into 200 cities worldwide, establishing key partnerships with dedicated logistics partners and strategic collaborations with travel industry giants like Ctrip, Klook, Expedia, Tripadvisor, and Cathay Pacific. This has led to the successful delivery of over 300,000 luggage pieces worldwide with a perfect track record of zero losses.
LuggAgent's ultimate goal extends beyond offering travelers the luxury of time and freedom. The company is currently developing a tech platform aimed at creating a global network connecting all stakeholders in the travel industry – from airports, airlines, online travel agents (OTAs), hotels, banks, and shopping malls, to third-party service providers and travelers. This integrated global network will offer travelers a truly seamless experience, allowing them to focus on their journey while LuggAgent takes care of the logistical heavy lifting.
Luggage Storage in Subway Stations
Most of the subway stations in Seoul have storage lockers, including Gangnam, Hongdae, and Myeongdong. And it's very convenient when you hang around the attractions and come back to the same place.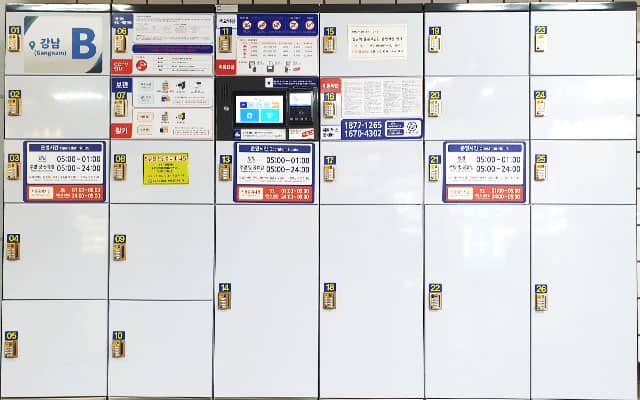 ※ The storage service is available from 5:00 a.m. to 1:00 a.m. on weekdays and 5:00 a.m. to 24:00 p.m. on weekends and holidays. You can store and take the item out ONLY during Operation Hours.
※ Important Notice! – The subway lockers can be used for up to 5 days, and unclaimed luggage is stored in a separate warehouse after 5 days. You should call the Happybox Call Center (1877-1265) to find the location of your luggage.
Lockers in the Subway – Luggage Size & Price
※ Items will be moved to the other place after 5 days.
Luggage Storage in Gangnam Station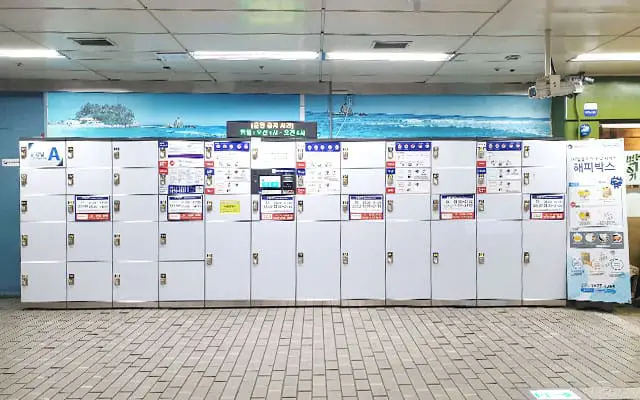 You could find a total of 76 lockers in three different sizes (Large 12, medium 12, and small 52) near Gangnam station exit 1 and exit 6. For more details, check this guide.
Luggage Storage in Myeongdong Station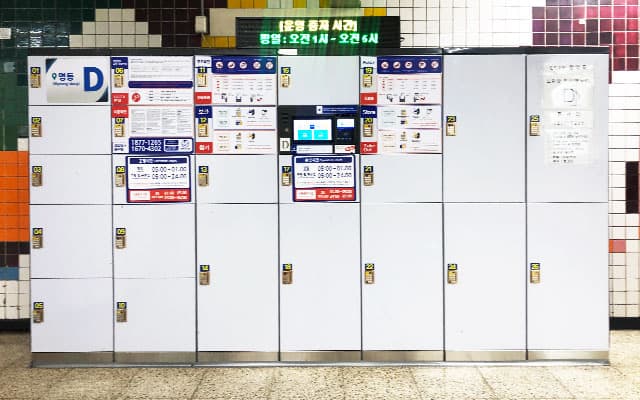 You could find a total of 112 lockers in three different sizes (Large 31, medium 16, and small 65) near Myeongdong station exit 1 and exit 6. For more details, check this guide.
Luggage Storage in Hongik University Station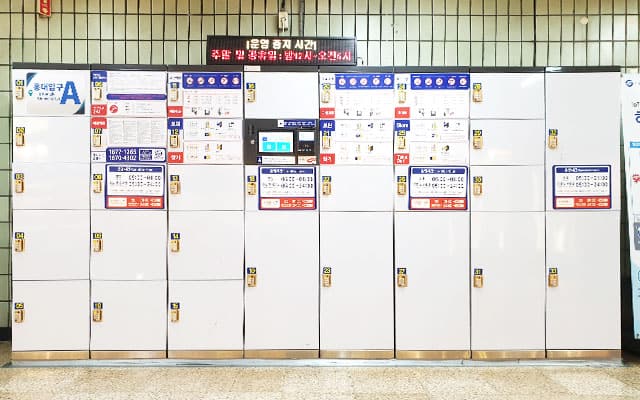 You could find a total of 139 lockers in three different sizes (Large 29, medium 18, and small 92) near Hongik University station exit 3 and exit 9. For more details, check this guide.
Tip: If you want to know the detailed location of the luggage storage of popular subway stations, visit our branch site, luggagestorageseoul.com.
How to store your luggage
Select Language (English, Japanese, Chinese)
Press "보관 (Store)"
Select available locker
Input 4-digit passcode
Pay by credit card(insert), T-money card(tag on), or Mobile QR code.
When the locker opens, put your luggage inside and close the door
How to take out your luggage
Press "찾기 (Take out)"
Select a locker
Enter your passcode
Retrieve your luggage
AREX Travel Center Luggage Storage Service
You can use the luggage storage service of AREX Travel Center. It provides various services for foreign visitors, for instance, travels information, sale of express train packages, baggage storage, SIM card & pocket Wi-Fi, and coat storage services. It's located in Incheon Int'l Airport Terminal 1 station and Terminal 2 station, Gimpo Airport station, Hongik University station, and Seoul station. Please check the location and hours of operation below. 
Location: Hongik Univ. Station Travel Center(B2)
Hours: 08:00 – 21:00
Inquiries: 02-334-0211
Location: Seoul Station (B2)
Hours: 08:00 – 21:30
Inquiries: 02-364-0211
Incheon Int'l Airport Terminal 1 Station
Location: Transport Center (B1)
Hours: 08:00 – 21:30
Inquiries: 032-743-0211
Incheon Int'l Airport Terminal 2 Station
Location: Transport Center (B1)
Hours: 08:00 – 21:30
Inquiries: 032-745-7130
Gimpo Airport Station
Location: Gimpo Airport Station (B1)
Hours: 07:00 – 21:30
Inquiries: 02-2665-0211
---
You may also like