Let's talk about all the things we can do in the popular trendy & famous streets in Seoul
Explore Korean culture.
Enjoy a wide variety of street foods available on the shopping streets.
Take photos and make blissful memories.
Visit trendy cafes and bars.
Explore more about Korean traditional attire particularly known as "hanbok".
Purchase so many things for ourselves, friends, and family.
Spend our precious time by walking on these streets with our loved ones.
Try Korean food by visiting the best restaurants.
Furthermore, shopping is another great thing as it helps to explore more about each and everything available in the market of the city. There are so many trendy things available in the areas. We cannot have an exciting experience by sitting at home and shopping online. The tourists, as well as the locals, must go shopping as it refreshes our mind and we can also consider it as a short break from our daily hectic routine. Some shopaholics love shopping and enrolling in the latest fashion trends, for those let's discuss what more exciting activities that we can do in the famous streets in Seoul.
Must-Visit Famous Streets in Seoul
Myeongdong Shopping Street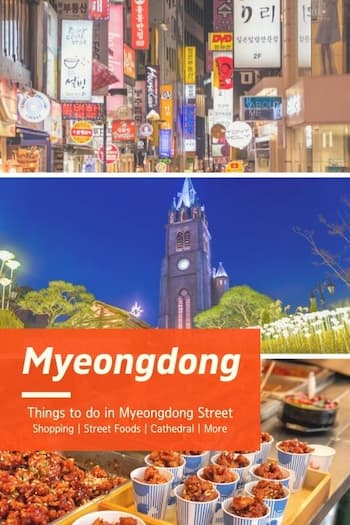 This is the most famous shopping street in Seoul. Myeongdong street not only consists of shopping, but it also includes commerce, culture, fashion, cosmetic shops, etc. A large crowd can be seen of international visitors from China, Japan, and other centuries. There is a lot to do on this street including performances and street foods. Check out our social media!👇🏻
Moreover, Myeongdong shopping street is pocket-friendly, not so cheap but is affordable enough. That is why it is easy for tourists to come here. And the food facilities are available, which also includes the famous dishes from the US, Europe, and East Asia. For more things to do in Myeongdong and what to eat here, check THIS POST.
How to get : Seoul Metro Line 4 (blue line) Myeongdong Station (명동역) Exit 6 or Line 2 (green line) Euljiro 1(il)-ga Station (을지로입구역) Exit 5.
What to do: Shopping, Street foods, Night market, Myeongdong Cathedral, Nanda theater.
Hongdae Street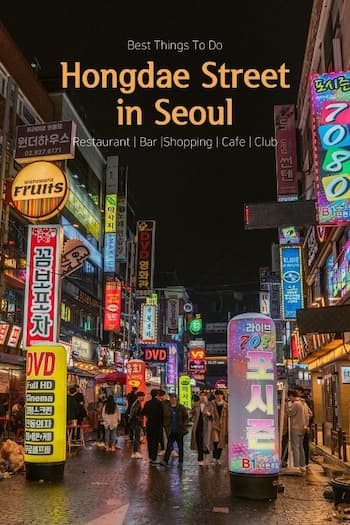 This young street consists of various activities like live music, delicious food, shopping facilities, etc. We can enjoy ourselves in the thrilling 4D virtual reality activities like roller coasters, dinosaurs, advertised, panoramic views, etc. Moreover, you will be attracted by certain street performers attracting visitors with their amazing performances at night. There are many play zones available on the street.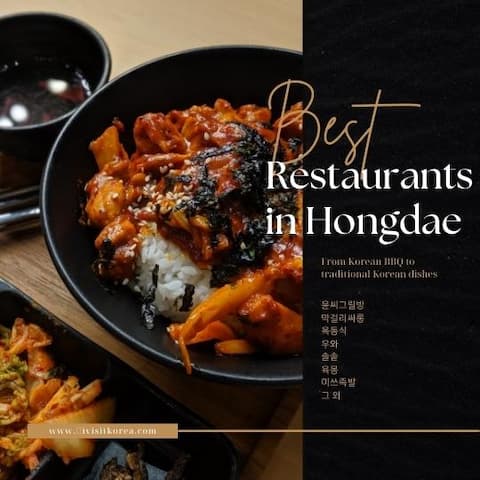 Hongdae is also known for the nightclubs, street food, nature Cafe (visitors can enjoy coffee with cute sheep), trick eye museum, and hello kitty cafe. These are some of the best things that tourists can enjoy. Lastly, don't miss out on the best restaurants and instagrammable cafes in Yeonnamdong where is right next to Hongdae. Head here to see the best things to do in Hongdae.
How to get : Seoul Metro Line 2 (green line) Hongik Univ. Station (홍대입구역) Exit 9 to the main shopping street or Hongik Univ. Station Airport Railroad (sky line) Exit 3 to Yeonnamdong area for cute cafes, restaurants, and shops.
What to do: Instagrammable cafes, Shopping, Chill at the park, Night market, Karaoke, Pet cafe, and more.
Garosu-Gil Street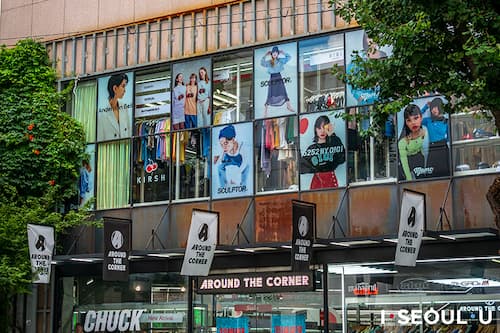 This street is very well known for the famous Korean artists whose studios used to be set up here. Now, it has been modified with fusion restaurants (Asian & European), cafes, the latest fashionable clothing, art galleries, etc. In Garosu-gil, you can easily find fashionistas, models, and trendsetters and all their desires will be fulfilled. This street also consists of nightclubs, which is a great attraction of Garosu-Gil street. The reason why It is called Garosu-gil (가로수길) is that this long street is surrounded by ginkgo trees that look so pleasant in autumn, and appears to be as golden in color.
The trendy street attracts tourists from different countries. The artists often color these roads to give them an elegant look and an exotic nightlife experience can be gained by visiting the nightclubs. Plus, I would like to recommend you to have a chilling time in Han river park near Garosugil with a Korean fried chicken box as locals do with their friends, family, or lover. For details, check HERE.
How to get : Seoul Metro Line 3 (orange line) Sinsa Station (신사역) Exit 8.
What to do: Designer shops, Cafes, Restaurants, Shopping, Hangang park, Club, and more.
Namdaemun Street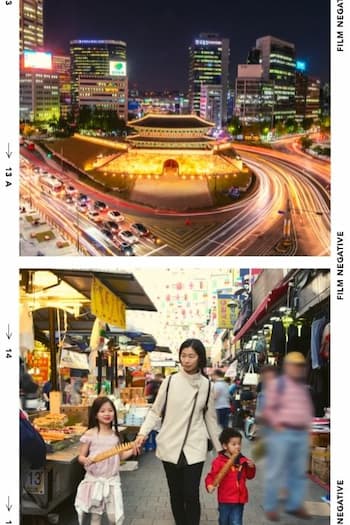 This is the oldest traditional market in the capital of Korea where was established under the leadership of the third king; King Taejong in Joseon dynasty. Namdaemun market is one of the biggest local markets in Seoul. Not only It includes shops that offer adult clothing, children's clothing, electronics, accessories, household items, and many more things but the market also consists of pottery, furnishing, and fabric.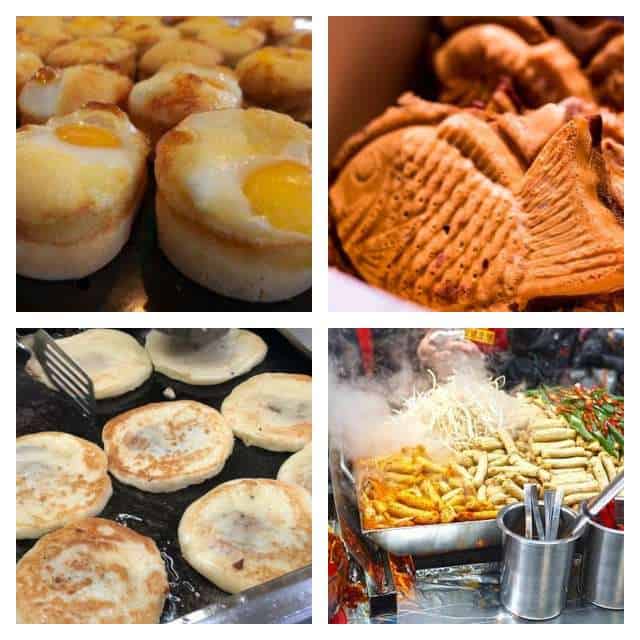 In addition, the food venues offer famous Korean street foods like gimbap, fried dumplings, rice cakes, Korean tempura, cracker bread, skillet-fried pancake, grilled marinated beef, Vietnamese coffee, etc. These attract visitors and locals alike and are exceptionally good in taste. Check more must-try Korean street food in the Namdaemun market HERE.
How to get : Seoul Metro Line 4 (blue line) Hoehyeon Station (회현역) Exit 5.
What to do: Souvinir shops, Street foods, Namdaemun Hairtail Alley, Sungnyemun Gate.
Dongdaemun Fashion Street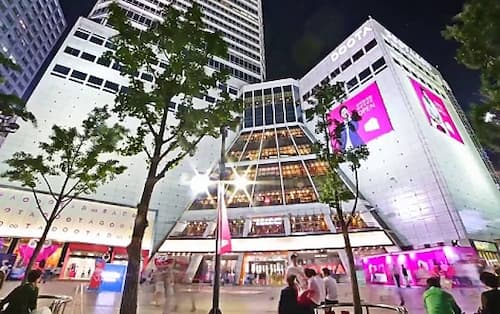 Korean fashion is being more and more popular. The name of the street itself suggests that it is a fashion street containing all the latest fashionable and designer clothing as well as accessories available in Korea. It is the biggest market with 26 Shopping malls, 50,000 manufacturers, and 30,000 unique shops that offer a great variety of products.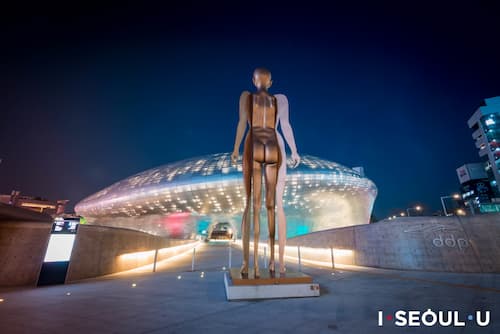 Dongdaemun market also has various items like toys, leather products, electronics, clothing, shoes, etc. Migliore, Lotte Fitin Mall, Apm Shopping mall, and Hyundai City Outlet are top-rate shopping malls of Dongdaemun. Besides, It also offers the secondhand book market, all the book lovers out there can try their favorite books, novels, magazines, etc. at a cheaper price. The musical performers with classical Korean music and certain concerts, modeling shows, fashion shows, dancing shows, etc. take place on this street. And you can visit Dongdaemun Design Plaza, DDP, a new landmark in Dongdaemun, and take a picture with this gorgeous architecture.
How to get : Seoul Metro Line 2 (green line), 4(blue line), 5(purple line) Dongdaemun History & Culture Park Station (동대문역사문화공원역) Exit 1.
What to do: Shopping, Street foods, DDP(Dongdaemun Design Plaza), Night market, Heunginjimun Gate.
Insadong Ssamji-Gil Street
This street is one of the top tourist attractions in Seoul because it shows the traditional and modern parts of Korea. You will be in awe of the traditional Korean antiques sold next to the best Korean souvenirs to take back home.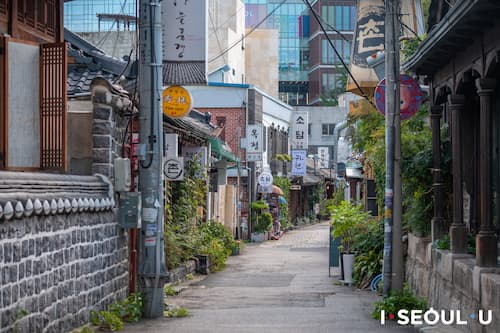 Not to mention, the best street food of this area is the King's dessert, which is the dragon's beard candy, around sixteen thousand strings made up of honey. They are covered up by different flavors such as almond, peanut, chocolate, etc.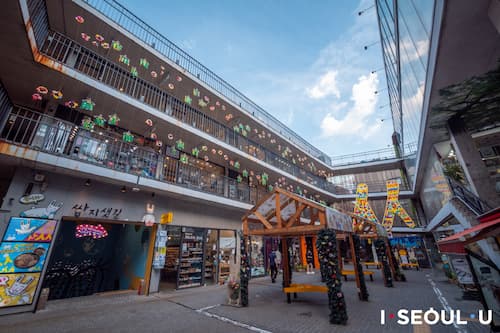 On this street, we can also go for hanboks to rent. We can try the Korean Traditional costume known as hanbok and click as many selfies as we want at a specific rate. These are the best things that can be done at this place. It is considered one of the best food streets in Seoul. If you want to find more things to do and what to eat in Insadong, read this post.
How to get : Seoul Metro Line 3 (orange line) Anguk Station (안국역) Exit 6.
What to do: Souvinir shops, Korean restaurants, Traditional han-ok tea house, cafes.
Tips: It's walking distance from Gyeongbokgung Palace which is one of the most popular attrations in Seoul so I recommend you to make a itinerary to have a lunch here in Insadong street after Gyeongbokgung in the morning time. :)?
Itaewon street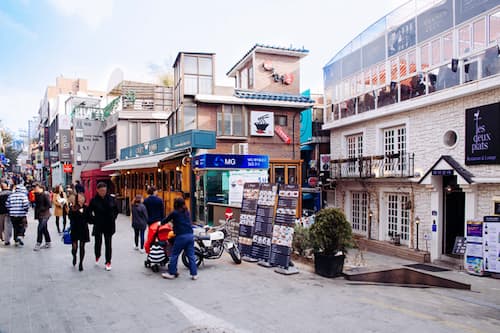 When it comes to nationality and culture, Itaewon comes at the top. Certain shops satisfy all the needs of customers. If you are searching for a loose outfit, different from Korean size, you can get it here in Itaewon. The visitors will get all the custom-designed clothes in a large variety of sizes.
It is an affordable market, will not empty your pockets. What's more, Itaewon is very popular for its international culture with tasty restaurants, bakeries, cafes, bars, and nightclubs as the American army base used to be there. Here you can see the list of the best restaurants in Itaewon including Korean BBQ and things to do in Itaewon. Go enjoy yourself with family, friends, etc.
How to get : Seoul Metro Line 6 (brown line) Itaewon Station (이태원역) Exit 1.
What to do: Intaewon World Food Street, Korean BBQ, Clubs, Usadan-gil, Gyeongridan-gil Road, Antique Furniture Street, Haebangchon, Mosque.
Seongsudong Cafe Street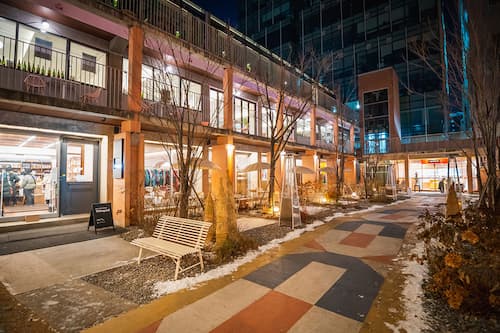 Korea has turned the old warehouse into beautiful art galleries, cafes, and boutiques. This street is also known as the Brooklyn of Seoul. Seongsudong Cafe Street has traditional industrial vibes with bright enthusiasm that is enough to catch the eyes of the youngsters. The classy art galleries and the courteous cafes provide this street with a great blend of an adventurous and trendy look.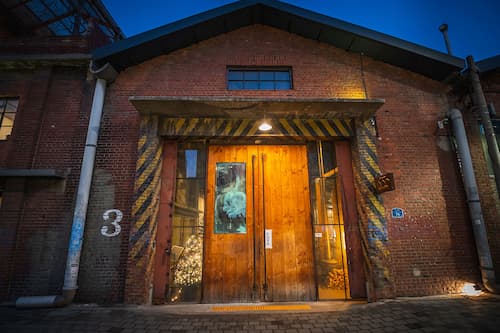 There are certain nearby restaurants and jazz bars as well as comfortable accommodations suitable for all tourists. These facilities provide tourists with relaxing nighttime. If you love to go on picnics, Seoul Forest is the right place for you within walking distance from Seongsuding cafe street.
How to get : Seoul Metro Line 2 (green line) Seongsu Station (성수역) Exit 3.
What to do: Art galleries, Cafes, Bakeris, Bars, Indie brand shops.
Tips: It's located in the middle of Seoul Forest and Konkuk Univ. Let's chill at the greenary park or enjoy Seoul nightlife at Konkuk Univ. street. 🙂
Gangnam Shopping Street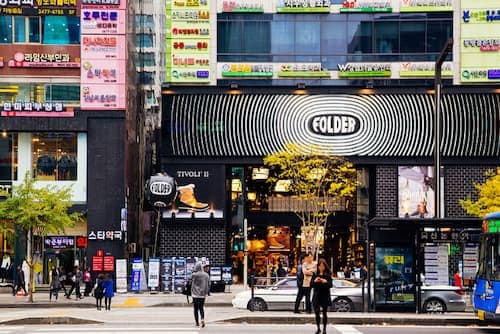 Gangnam is one of the most famous districts in Seoul. Many trends have started at this place. It is another one of the famous food streets in Seoul by offering the best dining options as well as shopping facilities. The shopping experience includes a cinema, cafes, footwear, cosmetics, accessories, hair salons, nail shops, and many more things. The major local brands like 8 seconds, TOP 10, MIXXO, ZIOZIA, etc. are available at these stores and famous international brands like Nike, ZARA, MUJI, etc are also in this street.
In addition, It has an underground shopping in the subway station where you can get great deals at an affordable price. For more underground shopping malls in Seoul, click HERE.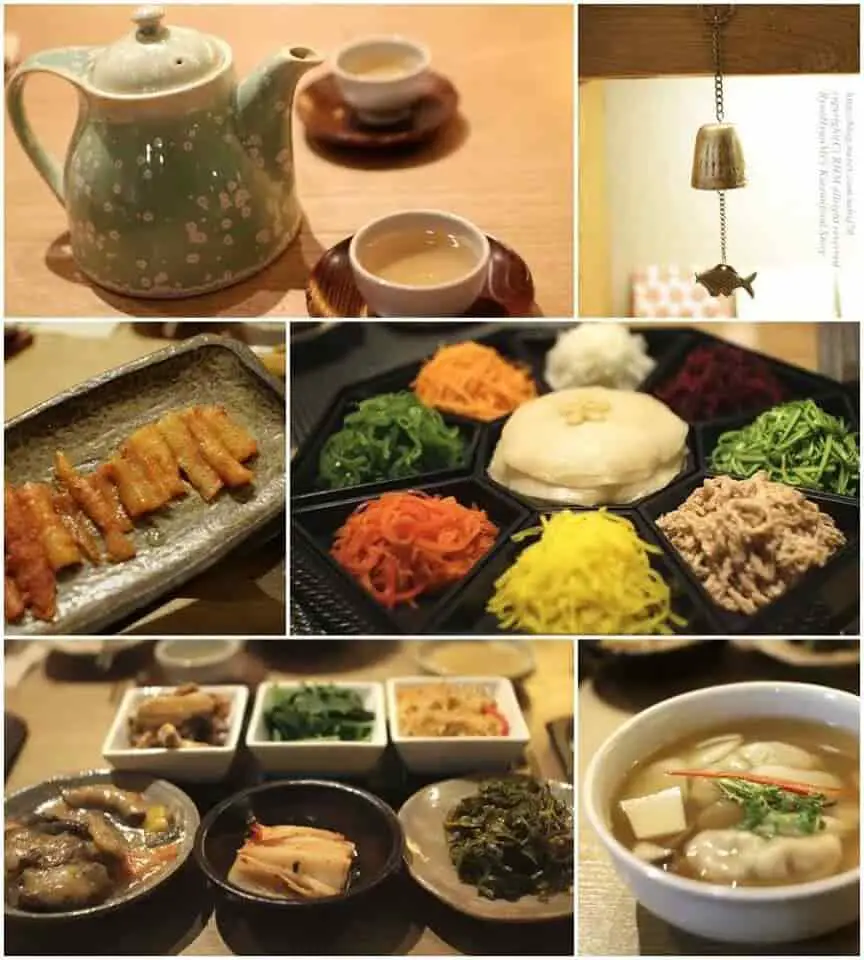 How to get : Seoul Metro Line 2 (green line) Gangnam Station (강남역) Exit 10 or 11.
What to do: Shopping, Korean BBQ Alley, Deseert cafes, VR game, Karaoke, Clubs.
Euljiro street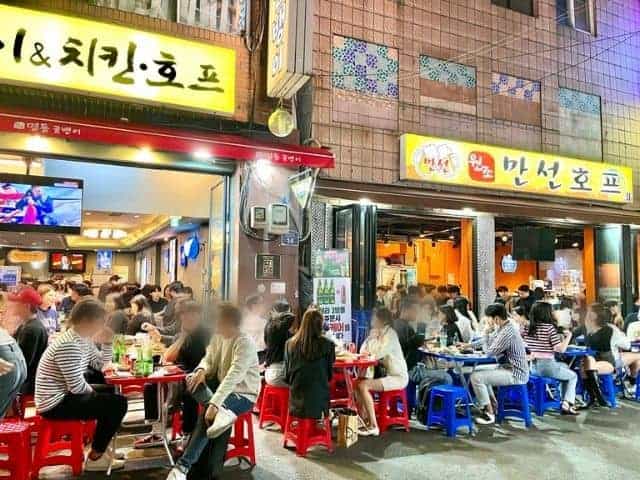 As a travel blogger based in Korea, I'm thrilled to share with you the vibrant and lesser-known neighborhood of Euljiro Street in Seoul. Nestled in the heart of the city, Euljiro Street offers a captivating blend of tradition and innovation.
Euljiro Street is a treasure trove of hidden gems waiting to be explored. Its combination of historical charm, culinary delights, artistic wonders, technological marvels, and local craftsmanship make it a must-visit destination for any traveler in Seoul. So, lace up your walking shoes, prepare your camera, and get ready for an unforgettable adventure through the captivating streets of Euljiro. Click here for the best places to visit in Euljiro neighborhood.
How to get : Seoul Metro Line 2 (green line) Euljiro 3(sam)-ga Station (을지로3가역) Exit 11.
What to do: Artistic Treasures, traditional craftsmanship, authentic Korean cuisine at local restaurants, trendy cafes & bars.
Apgujeong street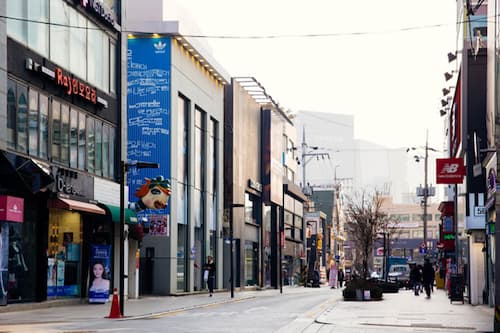 Apgujeong rodeo street is one of the wealthiest in Korea with a large variety of shops that follows the latest fashion trends. In every field, these shops excel, be it the category of footwear, clothing, accessories, etc. Every luxurious brand store you can think of is here.
The shops like hair styling for entertainers like actresses, K-pop stars, models, etc., plastic surgery, and dermatology are also located on this street. The fancy lighting arrangements and the departmental stores with famous brands like Bally, Prada, Gucci, etc. increase the spark of every shopaholic.
After shopping, you can visit Garosu-gil Street by walking distance from here for a cup of coffee or beer. If you are planning the Seoul itinerary in the Gangnam area, check the best things to do in Gangnam, HERE.
How to get : Seoul Metro Suin Bundang Line (yellow line) Apgujeongrodeo Station (압구정로데오역) Exit 5.
What to do: Luxry brand shops, Indie fashion brand shops, Beauty shops, Cafes, Restaruants.
Samcheongdong Cultural Street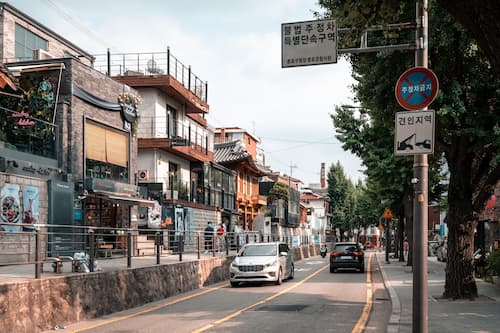 The street includes traditional Korean hanok style restaurants, trendy shops, European-style cafes, beautiful galleries, etc. It's a wonderful place with so many options for shopping. If the visitors don't want to shop, don't worry, there's something for everyone. Here we can click so many pictures with the beautiful sights, every corner of the street is covered up by attractive paintings.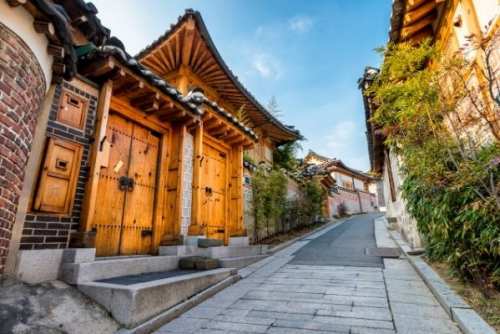 Bukchon Hanok Village is the perfect place to experience the traditional Korean houses filled with tea cafes and small museums. If the visitors crave a unique accessories collection, the Samcheongdong culture Street is for you. There are so many shops containing all the beautiful accessories. It is also close to Insadong district and Gyeongbokgung palace.
How to get : Seoul Metro Line 3 (orange line) Gyeongbokgung Station (경복궁역) Exit 5 or Anguk (안국역) Exit 1.
What to do: Galleries, Shopping, Restaurants, Cafes, Authentic mood.
Tips: It's walking distance from Gyeongbokgung Palace and Bukchon Hanok Village. If you want to see traditional & mixed Korean culture, it's definitely must-visit place!
Sinchon Street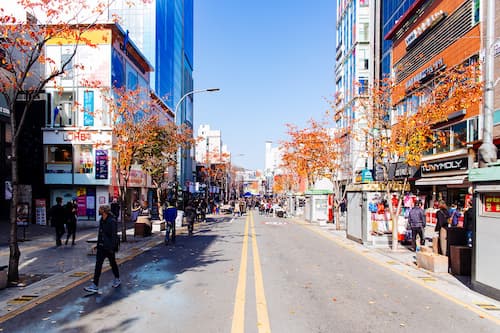 This is commonly referred to as Sinchon street in Seoul. It is located near the Ewha Women's University, which is the world's largest female institution. It consists of a wide variety of products for women like accessories, bags, clothing, shoes, apparel, hair styling clips, etc at the minimal pricing range. There are so many things that are categorized in different sizes and the latest trends. This market targets specifically youngsters and satisfies all the needs of the students at a very friendly price.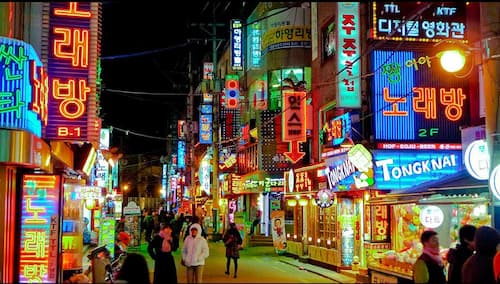 Besides, Sinchon comes alive at night. Since there are many universities like Yeonsie Univ., Sogang Univ., Ewha Women's Univ., and Hongik Univ. around Sinchon, it can be the best place to enjoy the night in Seoul!
How to get : Seoul Metro Line 2 (green line) Sinchon Station (경복궁역) Exit 2.
What to do: Shopping, Restaurants, Cafes, Korean BBQ, Korean style bars, Karaoke, VR game, and more fun things to do.
Mangwon-dong Street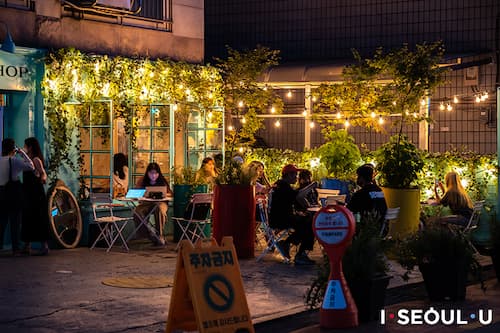 Mangwon-dong is a relatively old neighborhood located not far from Hongik Univ. As the Hongdae area became famous, rents became too expensive, so many artists living in Hongdae moved their studios to Mangwon-dong. Thus, it can be said that a unique sentiment of Mangwon-dong has developed by them.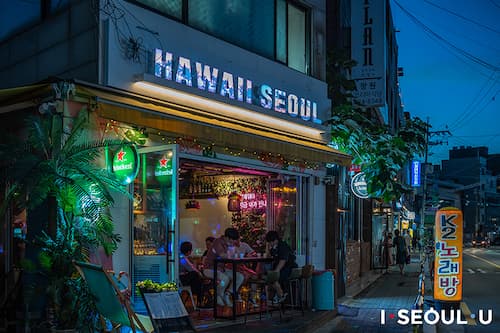 This street is very popular among the youngsters as it consists of stunning restaurants and cafes. Mangwon-dong area is very well known for spending time with friends at cute restaurants and cafes. Mangwon-dong Street consists of a canopied walkway with a beautiful modern installation.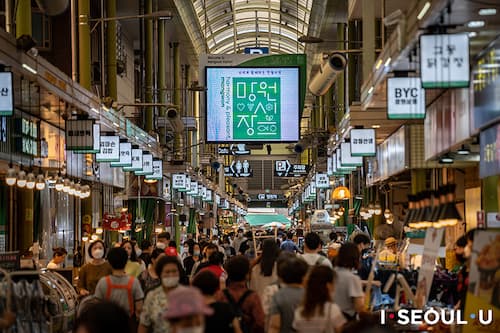 Furthermore, Localities come to the popular Mangwon traditional market here to shop for food and common groceries, tourists enjoy the view of the market and having delicious street food. Tteokbokki, gimbap, and twist Korean doughnuts (Kkwabaegi) are the most famous dishes in this market. People love to have them and enjoy shopping.
How to get : Seoul Metro Line 6 (brown line) Mangwon Station (망원역) Exit 2.
What to do: Cute shops & cafes alley called Mangnidan-Gil, traditional market, Hangang park.
Tips: Mangwon Hangang Park is also close to chill a picnic or hace a cup of beer with friends. 😉
Kon Kuk University street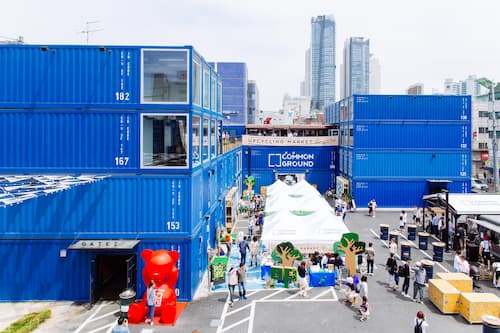 The street is very well known for Korean nightlife. A variety of street food is available at the street that specializes in shellfish, ethnic restaurants, various shells like oysters, mussels, conch and clams, and many more. People wait in queues to try them out.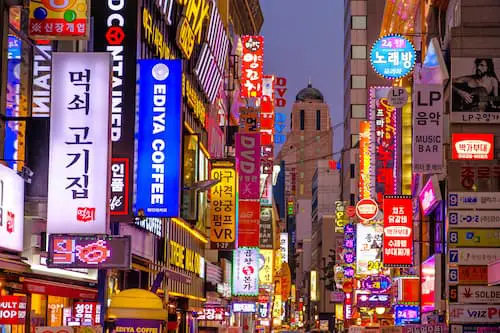 Many visitors like Korean street food and also it outstands when it comes to hygiene. Chinese and Indian dishes are also available, some vendors cook famous Indian food like tandoori, curries, and samosas.
Not only you can find Lots of drink facilities at Kon Kuk university street but also there are so many drink flavors to choose from, the customers can buy according to their choices. Cocktails also raise a spark in the environment.
How to get : Seoul Metro Line 2 (green line) or 7 (khaki line) Konkuk Univ. Station (건대입구역) Exit 2.
What to do: Shopping, Restaruants, Bars, Cafes, Street foods, Chinese food alley.
Sangsu-dong Cafe Street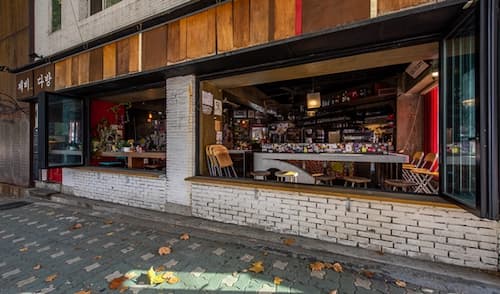 On this street, you will find an atmosphere that is different from the neighboring Hongdae. There is a quiet stillness that draws you to this street. If you want to feel a little more relaxed and artistic atmosphere away from the hustle and bustle of Hongdae, I recommend Sangsu-dong Street.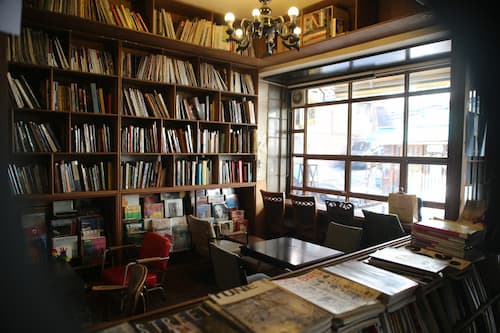 One of the most popular is Yri Cafe which was also one of the first cafes to be opened. The well-settled high-class coffee shops boost the mood of the youngsters as well as the adults. This offers a wide variety of coffee that uniquely identifies each of its customer requirements. All the coffee lovers must visit Sangsu-dong Café Street, the cafés will never dissatisfy you.
Indie music clubs enhance the beauty of the cafes on this street. It is near Sangsu station (line 6). The visitors can enjoy the coffee in peace as they are away from the crowded city light areas of Hongdae. Definitely, the pleasant views attract tourists. Our 'Things to do in Hongdae' post will help your Hongdae area tour.
How to get : Seoul Metro Line 6 (brown line) Sangsu Station (상수역) Exit 4.
What to do: Cafes, Bars, Restaruants, Cute shops.
Songnidan-gil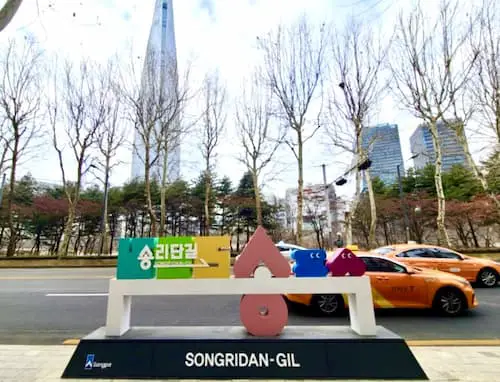 Songnidan-gil is located in Jamsil, where Lotte World Theme Park and Seokchon Lake are located. You can get here by walking from Songpanaru Station Exit 1. Go straight along the main road and then when you enter Baekjegobun-ro 45-gil street towards Lotte Tower Seoul Sky, you can meet various shops and cafes here.


Compared to Itaewon Gyeongnidal-gil or Sinsadong Garosu-gil, this area is a bit small, however, it would be a good half-day course to take pictures at Seokchon Lake, famous for its cherry blossom festival, and stop by this Songnidan-gil to visit small restaurants and dessert cafes.
How to get : Seoul Metro Line 9 Songpanaru Station (송파나루역) Exit 1.
What to do: Seokchon lake, Cafes, Bars, Restaruants, Cute shops.
Conclusion
The famous streets in Seoul provide so much ease for locals as well as visitors. The ease of grocery, cafes, secondhand books, accessories, delicious food items, latest and designer clothing, trendy art galleries, and many more things.
There is a wide variety of things for every age group, it's not only for youngsters to enjoy. Instead, there are certain walking streets, shops, etc for adults and elderly people. The artwork also includes traditional Korean artwork that also describes the history of these streets. So much to explore, a shopaholic would enjoy all the things.
The visitors can also enjoy the latest collection of accessories according to their choice, the traditional, the latest, the fancy, all of them. The tourist must visit these streets to enjoy shopping and explore more. Certain nightclubs attract visitors and represent the nightlife of Korea. We must visit the famous streets in Seoul and make the inner soul relax during our time in these pleasant streets.
You may also like