Last Updated on April 3, 2023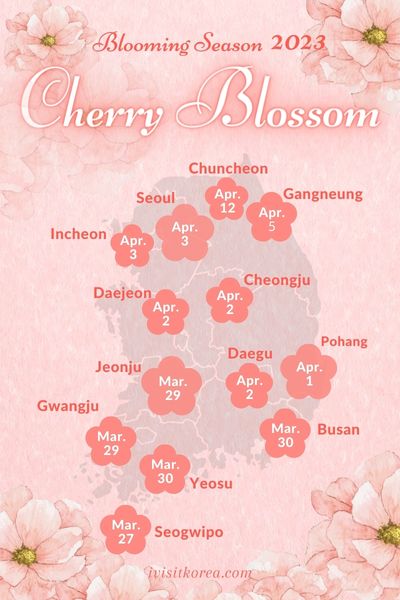 | City | Start Blooming | In Full Bloom |
| --- | --- | --- |
| Jeju | Mar 20 | Mar 27 |
| Busan | Mar 24 | Mar 30 |
| Yeosu | Mar 24 | Mar 30 |
| Gwangju | Mar 22 | Mar 29 |
| Jeonju | Mar 22 | Mar 29 |
| Daegu | Mar 26 | Apr 2 |
| Pohang | Mar 25 | Apr 1 |
| Andong | Mar 30 | Apr 5 |
| Daejeon | Mar 27 | Apr 2 |
| Cheongju | Mar 27 | Apr 2 |
| Seosan | Apr 4 | Apr 11 |
| Suwon | Apr 1 | Apr 8 |
| Seoul | Mar 28 | Apr 3 |
| Incheon | Apr 1 | Apr 3 |
| Gangneung | Mar 31 | Apr 5 |
| Chuncheon | Apr 5 | Apr 12 |
[ 2023 Blooming Dates for Cherry Blossoms ]
Spring, from March to May, is the best season to travel in South Korea. It's generally sunny with mild weather. Bring a light jacket as daily temperatures fluctuate. Further, at this time of year, you can enjoy one of Korea's most beautiful festivals, the Cherry Blossom Festival in Seoul.
There're many charming spots with blooming flowers in Seoul, such as Yeouido, Seoul N Tower, Deoksugung, Seoul forest, Seokchonhosu, and Kyung Hee University.
Here we highlight the major cherry blossom festivals in Seoul and outside of Seoul.
Read also:
Best Cherry Blossom Festivals in Seoul
Yeouido Spring Flower Festival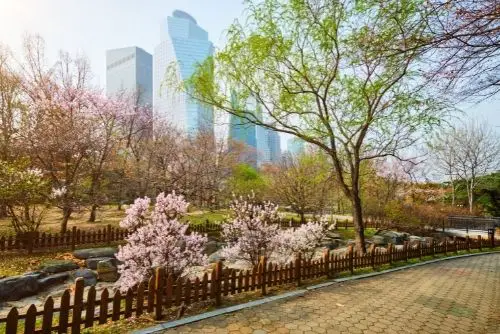 Yeouido Cherry Blossom Festival is a representative festival in Seoul. Yeouiseo-ro, the street behind the National Assembly Building, is lined with cherry blossom trees and is Seoul's most famous cherry blossom street.
There are approximately 1,500 King Cherry Trees along the road, which you can complete in an hour or so. In addition, you can rent bicycles, take a cruise, or just stroll along the river.
Vehicles have limited access to the road around the National Assembly Building during the festival period. Therefore visitors can enjoy the blossoms and festivities freely. At night, the cherry blossoms are lit up with various colored lights.
After that, enjoy Hangang Park.
These riverside parks along Seoul's Hangang River offer various water activities in summer. Many events and festivals are held annually, and locals enjoy camping or picnicking in the parks. Above all, food delivery is available, which is an awesome Korean cultural experience! 😉
Address: Yeouiseo-ro, Yeongdeungpo-gu, Seoul
Transportation Yeouinaru Station (Subway Line 5) Exit 2 or 3. 5-minute walk, National Assembly Station (Subway Line 9), Exit 1 or 6. 5-minute walk, Dangsan Station (Subway Line 2 or 9), Exit 4. 20-minute walk.
Admission/Participation Fees: Free
Phone: 1330 Travel Hotline: +82-2-1330 (Korean, English, Japanese, Chinese), For more info: +82-2-2670-3114
Seokchonhosu Lake Cherry Blossom Festival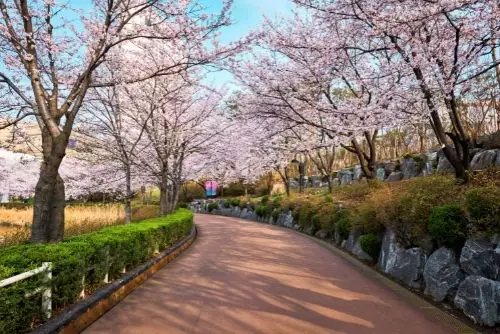 Seokchonhosu Lake Cherry Blossom Festival will take place within Seokchonhosu Lake, located near Lotte World and Lotte World Tower.
Several events, such as concerts, caricature booths, and a cherry blossom market, will make the festival livelier than ever. In addition, you could grab snacks and a cup of beer or coffee here at the lake.
It's a perfect season to see beautiful scenery and take a photo of you with cherry blossoms. Moreover, the night city view is awesome! We highly recommend you go if you plan your spring trip to Seoul.
Address: Jamsil-ro 148, Songpa-gu, Seoul
Transportation: Jamsil Station (Subway 2 and 8), Exit 2 or 10, Walk approx. 200m to Seokchonhosu Lake.
Admission/Participation Fees: Free
Homepage: www.songpa.go.kr (Korean, English, Japanese, Chinese)
Phone: 1330 Travel Hotline: +82-2-1330 (Korean, English, Japanese, Chinese)
Seoul Forest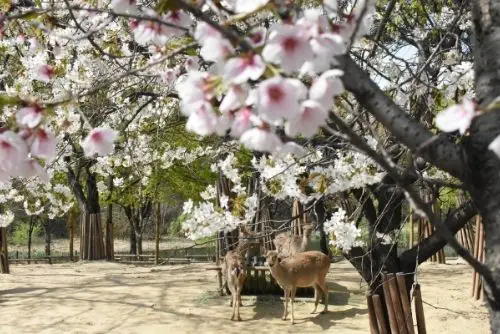 Seoul Forest might not be as famous as the Cherry blossom festivals in Yeouido and Seokchonhosu, but it is relaxing and more adventurous. The Forest is popular in spring with the cherry blossoms and in August during the Gingko tree season.
You can enjoy the cherry blossoms by renting a bicycle for 4,000 won per hour or 10,000 won per day. The rental is outside exit 5 of Seoul Forest. Make sure to bring an ID. There is a footbridge that leads to the Eco forest. You can have a nice picnic there and even feed the deer.
Moreover, there is an insect garden, a butterfly garden, and a splash fountain. The Eunbongsan mountain is near the park, so if you like hiking, check out Seoul Forest.
Transportation: 5 min from Seoul Forest Station
Admission/Participation Fees: free
Phone: +82 2-460-2905
Children's Grand Park
Children's Grand Park is a great place to view the cherry blossoms with the entire family. This family theme park has various experiences for the entire family. The park opens from 5 a.m. to 10 p.m. and within the park is a zoo and amusement park. There is a small fee to enter the amusement park. The Children's Grand Park entrance is free and great for picnics. Usually, the weekends are quite crowded.
Transportation: Children's Grand Park station exit 1 (main entrance of the park), Achasan station exit 4 (back gate of park)
Admission/Participation Fees: the park is free
Phone:  +82 2-450-9311
Namsan Park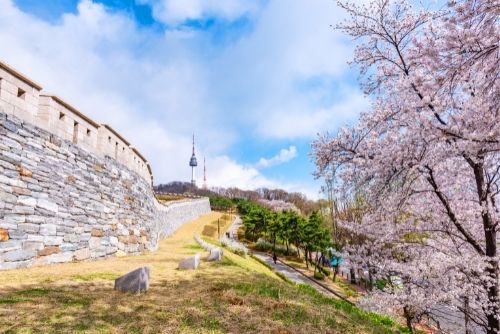 Namsan Park is one of the best attractions in Seoul, with the popular attraction N Tower as its main point. The park is also one of the best places to see beautiful pink and white cherry blossoms in spring. One of the best instagrammable spots. At the top of the N Tower, you can see a 360-degree view of Seoul. Namsan Park is a popular dating course and also a drama location. You can walk or take a cable car for a fee to get to the top of the tower.
Transportation: Chungmuro station exit 2, Dongguk university exit 6, take the Namsan sunhwan shuttle bus no. 2. Or no. 04. The bus rate is 1,100 won.
Admission/Participation Fees: free
Phone: +82 2-3455-9277
Changgyeonggung Palace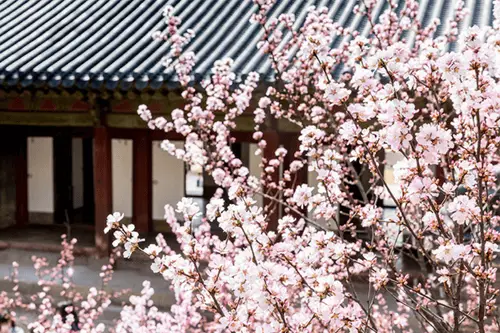 One of Korea's most well-liked tourist destinations is Changgyeonggung Palace, located in Seoul's heart. Still, cherry blossom season is the greatest time to visit this location. Due to the enormous number of cherry trees planted throughout the property during the Japanese Colonial periods, this palace has the most cherry blossoms in Seoul.
Renting a hanbok will be an excellent idea if you want a beautiful springtime photo with pink petals. It is wonderful to wander the palace when dressed in a period costume; it is as though you have been transported back in time. No matter where you take your selfies, you will surely get a beautiful shot because of the grounds' abundance of flowers and trees.
Directions: Take subway Line 4 to Hyehwa Station, Exit 4.
Admission fees: 1,000 won for adults, 500 won for children.
Kyung Hee University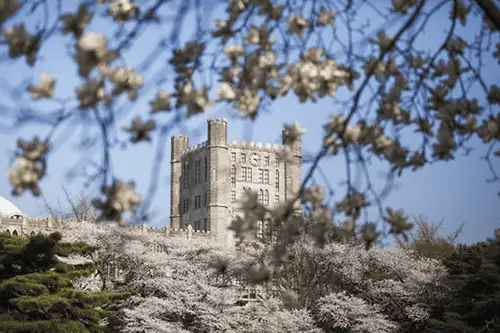 Also on your must-see list during cherry blossom season is Kyung Hee University. This university has one of Korea's most picturesque campuses and is the best university in terms of educational excellence.
In Seoul, Gothic architecture is uncommon. However, it may be found at Kyung Hee University. You are in awe as tourists are greeted at the entrance gate by stunning gardens and more than 200 cherry blossom trees. This is a truly novel experience because the school's design is reminiscent of a European town yet is surrounded by cherry blossoms that are a very Asian pink.
Directions: Exit 1 of Line 1 at Hoegi Station. Kyung Hee University is reachable by foot in 10–12 minutes.
Admission fees: free
Bongeunsa Temple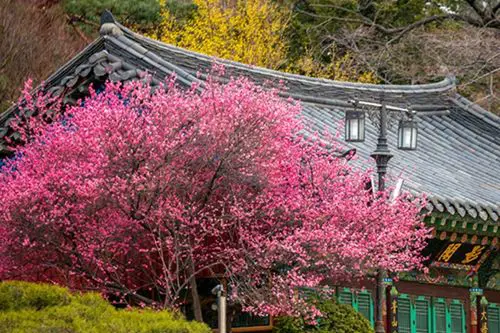 If you're afraid of crowds at flower festivals and want to find a more peaceful location, Bongeunsa Temple is a perfect option. The temple is often crowded on the weekends, but if you visit during the week, it will undoubtedly be the most tranquil setting. 
It's lovely to go about the temple and take in the colorful flower blooms in such a holy and pure atmosphere, isn't it? You can enjoy various brilliant hues in this area in addition to cherry blossoms. Because the blooming of the cherry blossoms coincides with the preparations for the Buddha's birthday. Flags and lanterns will be displayed everywhere. 
Yangjaecheon Stream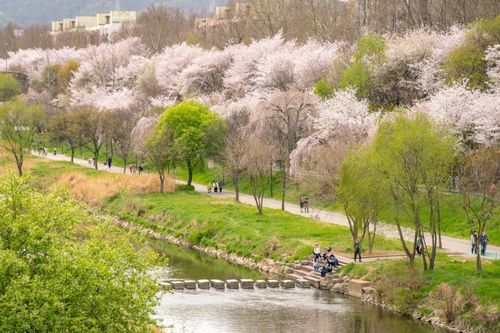 Source: © Seoul Metropolitan Government/Penta Press
This is another safe bet to admire unimaginably beautiful cherry blossom trees away from the busy. Yangjaecheon Stream is a 15.6-kilometer-long Han River tributary. It flows from Gwanaksan Mountain through Gwacheon, Seocho, and Gangnam districts. The 830 enormous metasequoia and cherry blossom trees on the roadway adjacent to the creek are a sight to behold during spring in Korea.
Young couples frequently stroll hand in hand while taking in the cherry trees at dusk in this charming setting. In addition to the walking path, there are also a cycling trail, playgrounds, bridges, stepping stones across the stream, and other attractions nearby.
Directions: Use Exit 2 at Yangjae Citizen's Forest station on the Shinbundang railway line to reach the location. Take about 15 minutes walking straight.
Admission fees: free
Cherry Blossom Festivals in Gyeonggi-do & Incheon
Yongin Everland (Hoam)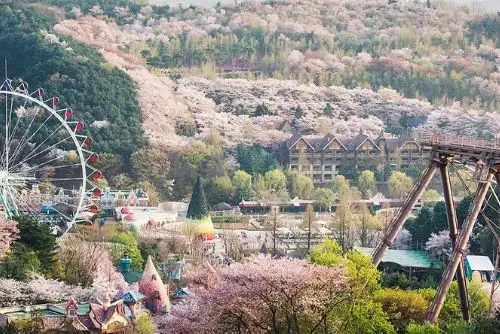 Everland Resort is South Korea's biggest theme park and one of the best places to enjoy cherry blossoms. Going up to Everland, you will be able to see the cherry blossoms lined up. Right beside the resort is Ho-am lake which is surrounded by cherry blossoms.
Near the lake is the Ho-am Art museum. Enjoy a day at the museum and resort. You can take pictures of the cherry blossoms with roller coasters in the background. Within Everland theme park, you can see cherry blossoms during the spring and other beautiful flower arrangements.
Address: Everland Resort: 199, Everland-ro, Pogok-eup, Cheoin-gu, Yongin-si Gyeonggido, Ho-am art museum: 38, Everland-ro 562beon-gil, Pogok-eup, Cheoin-gu, Yongin-si, Gyeonggi-do
Transportation: Jeondae Everland station
Admission/Participation Fees: free
Homepage: https://www.everland.com/web/everland/main.html#, http://www.hoammuseum.org/eng/html/main/index.asp
Phone: +82-31-320-5000
Seoul Grand Park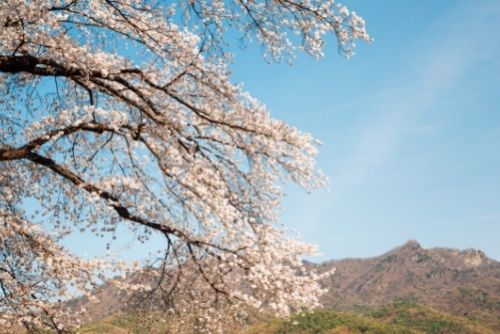 Seoul Grand Park is a great place to relax with nature and enjoy the beauty of spring. The cherry blossoms are seen throughout the park during April. Admission to the park is free, but you have to pay a small fee to see the zoo and botanical garden.
Another special part of the Seoul Grand Park is the Healing Forest program. But reservations are a must. They also have a campsite where you and your family can enjoy nature.
Incheon Grand Park
Incheon Grand Park is the biggest park in Incheon, with many visitors coming every year to see the pathways lined up with big cherry blossom trees. You can rent bikes, walk around the pond, rest at the picnic areas, and they also have a zoo nearby. The Grand Park has many facilities like a botanical garden, marsh garden, forest classroom, restrooms, snack bars, parking lot, and more. If you missed the cherry blossoms in Seoul, coming to Incheon Grand Park will be just as good.
Look at our guide to Incheon – Things to do in Incheon: Chinatown, Wolmido, and More.
Cherry Blossom Festivals in Gyeongsang-do & Daegu
Jinhae Gunhangje
One of the most advertised cherry blossom festivals outside of Seoul is Jinhae Gunhangje. It is usually held at the end of March and attracts at least 2 million viewers. The festival was made to honor admiral Yi-Sun-sin, and now it has become one of the most anticipated festivals in Korea. Take pictures at the Yeojwacheon bridge, famous for appearing in the Korean drama Romance in 2002.
Then head to Gyeonghwa station and take pictures of the train passing by the cherry blossoms. Food stalls and music are playing as you walk through the beautiful pathways.
Address: near Jungwon Rotary, Tongsin-dong, Jinhae-gu, Changwon-si, Gyeongsangnam-do
Transportation: from Seoul, it will take about 4 hours, take the Nambu bus terminal to Jinhae Bus station or take the KTX train, which is faster.
Admission/Participation Fees: free
Phone: +82-2-1330
Daegu E World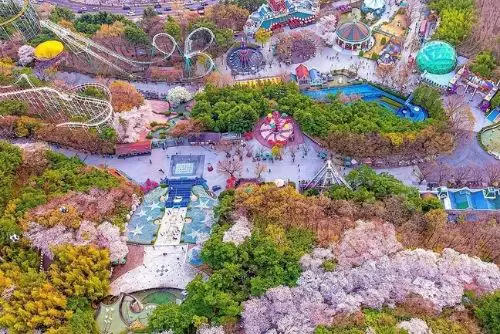 Daegu E World is a European-style park built around the Woobang Tower in Daegu. There is a waterfall, flower festival, rides, exhibitions, restaurants, and performance halls. Daegu E World has a Blossom Picnic where you can relax with nature and cherry blossoms. The red-decker buses and merry-go-rounds are perfect places to take Instagram pictures. The Blossom picnic runs around for two weeks.
Have a picnic with your friends while being surrounded by blossoming flowers. E World is an excellent place for children as they have a children's playground and the Young Town Plaza.
Transportation: Duryu Station (Daegu Subway Line 2), Exit 15
Admission/Participation Fees: 15,000 to 26,000 won
Homepage: https://www.eworld.kr/main/main.htm
Phone:  1330 Travel Hotline: +82-2-1330 (Korean, English, Japanese, Chinese), +82-53-620-0001
Gyeongju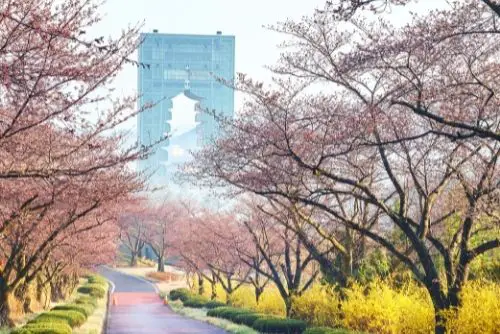 Gyeongju Historic area is one of the best places to view the Cherry blossoms, especially near the UNESCO world heritage sites. The cherry blossoms among the old hanok buildings and ancient tombs are stunning and romantic. Cherry blossoms, the Cheomseongdae astronomical observatory, Woljeonggyo bridge, and traditional villages will be worth the drive.
Another beautiful place to see the cherry blossoms is the Bomun lake tourist complex with the Hwanglyongwon, a 9-story gold cultural building, in the background. Gyeongju is a beautiful and historical place, but going during the Cherry Blossom season will be the extra cherry to your memorable trip.
Transportation: Dong Seoul Terminal, take a bus to Gyeongju Bus Terminal., from the Gyeongju Express Bus Terminal, take a taxi for approx. 5 min.
Admission/Participation Fees: free
Homepage: www.gyeongju.go.kr 
Phone: 1330 Travel Hotline: +82-2-1330 (Korean, English, Japanese, Chinese), +82-54-779-6100
Cherry Blossom Festivals in Jeolla-do
Seomjin River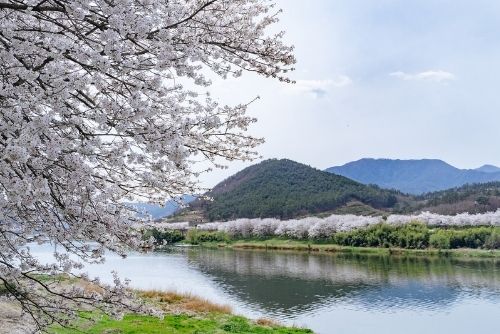 Seomjin River is hailed as one of the most beautiful roads in Korea, with the Seomjin River being one of the cleanest rivers in Korea. The clean water makes it home to over 30 species of freshwater fish and the cherry blossom festivals along the river. There are restaurants along the river where you can enjoy crab and hot spicy crab soup.
Along the Seomjin river is the cherry blossom pathway. When you are walking through this pathway, you will know why it is one of the most beautiful roads in Korea.
Address: 178, Beotkkot-ro, Donghae, Muncheok-myeon, Gurye-gun
Admission/Fees: free
Hwagae
Hwagae is one of the longest pathways to view cherry blossom trees. Walking along the 4 kilometers of cherry blossom trees will make you feel like you are in a storybook. You can start from the Ssanggyesa temple and walk along the Hwagaecheon stream to the Hwagaejangteo market.
Also, if you want, you can walk along the Seomjingang River. The Ssanggyesa temple is one of the most famous temples in the Jirisan area. After viewing the temple, you can walk along the Simni cherry blossom road to the traditional market. Try the market's rice makgeolli, green tea, and Korean pancakes.
Transportation: From Seoul, Nambu bus terminal, take a bus to Hadong Bus Terminal
Admission/fee: free
Homepage: https://www.hadong.go.kr
Phone: 055-880-2651
Cherry Blossom Festivals on Jeju Island
Jeju Jeonnong-ro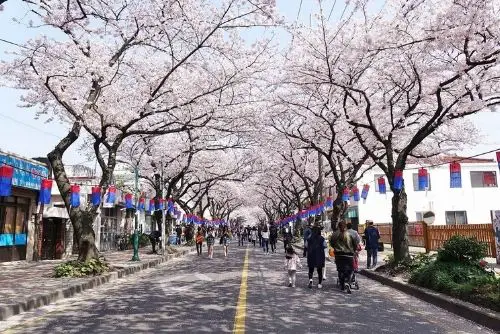 Jeju Island Jeonnong-ro is where locals and visitors flock to see beautiful cherry blossoms on Jeju island. Cafes and restaurants surround the cherry blossom pathway. As you look in the sky, you will see the white and pink flower petals. They will be healing to your soul.
Also, the pathway is about 1.2 km, and the roads are closed during the festival. The cherry blossoms in Jeju island will be the first ones to bloom in the nation.
You may also like:
IVK's Top Picks – Day Tours, Tickets, and Travel Activities
Seasonal Picks!😍