Special Evening Admission To Gyeongbokgung Palace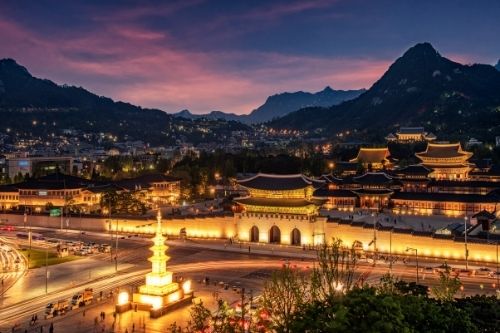 Gyeongbokgung Palace is normally open to the public only during the day. But you can enjoy seeing a different side of Gyeongbokgung Palace's beauty during the night; for only a designated period. You will love this unforgettable and special experience at Gyeongbokgung Palace. Many locals also visit Gyeongbokgung Palace during this period.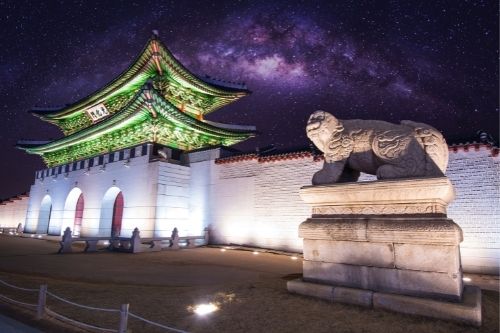 Schedule of Special Nighttime Opening
Opening Period in the 1st half of 2023

Dates: 2023.04.05 ~ 2023.05.31
2023.4.26.~5.2.(Tue): Gyeongbokgung Nighttime Opening is closed.
Open: 19:00-21:30 (Last Entrance 20:30)
※ Heads Up! – Closed on Monday and Tuesday
Limited to the sale of 2,700 one-day tickets with a maximum of 2 tickets per person.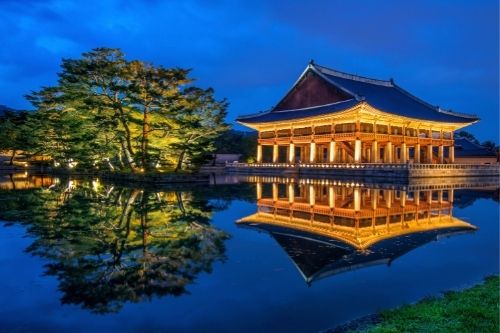 The palace is a feast for the eyes as it illuminates with a stunning display of lights at night. Stroll through the palace grounds, and you'll be met with unique and breathtaking scenery that's perfect for capturing memories that last a lifetime.
Don't miss the opportunity to see the palace's iconic landmarks, including the Geunjeongjeon and Gyeonghoerue, which take on a whole new dimension at night. The lack of crowds and the tranquil atmosphere add a touch of peace and serenity that's difficult to come by in a bustling city like Seoul.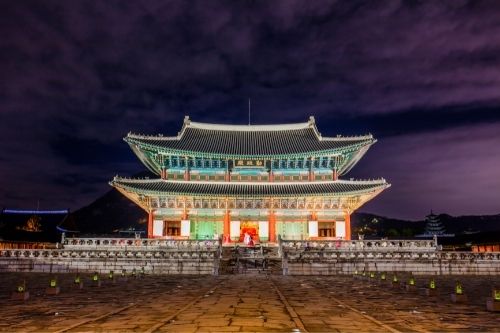 How To Buy Admission Tickets
Price: 3,000 KRW / person
Admission Tip: Hanbok wearers can enter even if the maximum number of visitors per day is exceeded. And the admission fee is free. Why don't you rent Hanbok for your admission and cultural experience? It's catching two birds with one stone.
Compare Hanbok Rental Services near Gyeongbokgung Palace
While exploring the Gyeongbokgung Palace during the Nighttime Opening, keep in mind that visitors can only access Gyeonghoeru, the stunning palace pavilion situated on an artificial island. Hyangwonjeong, another palace pavilion, is unfortunately closed during this time. Nonetheless, it's still worth a visit during the day to admire the gorgeous pond and architecture.
Remember that the Nighttime Opening has limited availability, with only 2,700 one-day tickets sold and a maximum of 2 tickets per person. Also, take note that the palace is closed on Mondays and Tuesdays. Plan your visit ahead of time to ensure that you don't miss out on this magical and unforgettable experience.
Address: 161, Sajik-ro, Jongno-gu, Seoul
Directions: It takes about 5 minutes by foot from exit no 5 of Gyeongbokgung Station(Seoul Subway Line No.3).
Phone: +82-2-3700-3900 (Korean, English, Japanese, Chinese)
Royal Cultural Festival
They run various cultural programs including Royal Cultural Festivals 2022. The main idea of this year's festival is "Today, we meet palaces."
– Spring Festival: Apr 29 – May 7
The Royal Cultural Festival is held in 7 historical spaces including 5 Royal Palaces in Seoul
Gyeongbokgung Palace, which contains the founding ideology of Joseon,
Changdeokgung Palace, a UNESCO World Heritage Site and the most loved by kings,
Changgyeonggung, a space for women in the palace and the practice of filial piety for the king,
Deoksugung Palace, where the Korean Empire was proclaimed in 1897.
Gyeonghuigung Palace, the central space in the history of the late Joseon Dynasty,
Jongmyo Shrine, a shrine dedicated to the spirits of kings and queens
Sajikdan, where sacrifices were made to the gods of land and grain.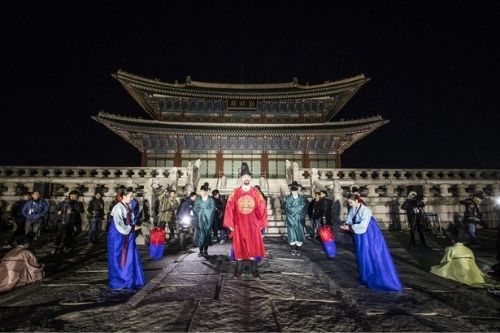 This year's programs are not open yet. IVisitKorea will let you know the detailed program information as soon as we get information about the festival.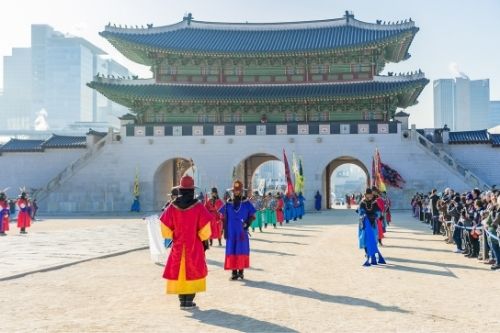 For more information about Royal Cultural Festival, please, check the official website. http://www.royalculturefestival.org
You also may like;