Before the Hip-Jiro craze, Euljiro was just a rundown, rustic Seoul neighborhood where people bought and sold everyday goods like tools, lamps, and tiles. In 2018, the area's distinctive charms began to attract young Seoulites, and small cafés and restaurants began popping up in the area's ancient buildings, establishing the neighborhood as one of the city's burgeoning hotspots.
Euljiro has rapidly become known as one of Seoul's most beautiful and popular tourist destinations. If you're "crawling" for a taste of the fantastic local scene, Euljiro is the place to go. To help you plan your trip to Euljiro, we've compiled a list of our favorite bars and eateries!
Read also:
Euljiro – Seoul's Rising Hip Place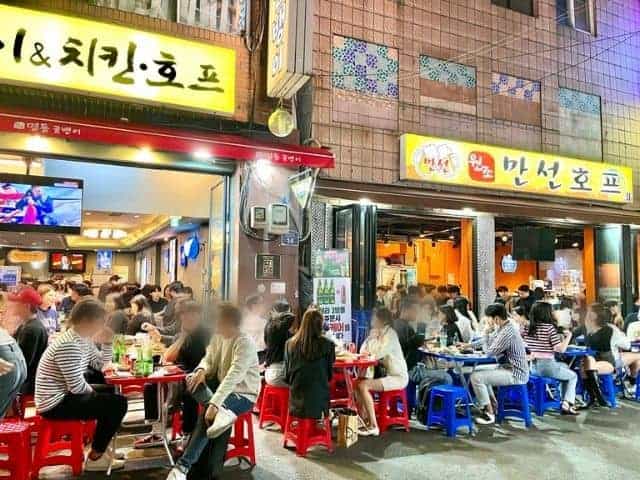 The street in Seoul called Euljiro is named after Eulji Mundeok. The Sui dynasty of China tried to take over Korea, but this general stopped them. When Japan was in charge, the street was called Kogane-Cho (황금정; 黄金町 ).
The area is known as "Hip-Jiro," a combination of the words "hip" and "Euljiro," and its main allure is the unexpected sophistication of its many cafes, restaurants, and bars. When you look closer at Euljiro, you'll see that it's a concrete example of the problem with modernization. While the younger generation decorates their homes with neon lights and plants, it's tangled up with older manufacturers working hard at their craft in hardware stores and furniture shops for decades. 
Millennials looking for photogenic destinations on Instagram have made "Newtro" a trending search term. As more and more artists from the surrounding area make their homes here, the neighborhood's architecture has begun to undergo a period of modernization. Euljiro, with its historic industrial roots and recent inflow of artists, is rapidly gaining popularity as a place to be. Its hipster bars and vintage attractions will transport you straight back to the 1970s when it was the center of the industrial revolution. 
The eclectic vibe of Euljiro comes from its combination of old Seoul's industrial vibe with new Seoul's urban flair. Within a network of ten thousand hardware stores, furnishing stores, and more, seasoned producers toil away. At the same time, up-and-coming business owners spruce up their establishments with bright lights and potted plants. The most exciting part for tourists is entering a rundown building and finding a trendy hangout with artist studios and fine dining establishments.
Regardless of where you stand on the gentrification debate, there's no denying that Euljiro is one of the most fascinating neighborhoods in all of Seoul. We've compiled this guide of our favorite local attractions to help you plan your next trip.
How to get to Euljiro?
Euljiro starts at 97-3 Sogong-dong, Jung-gu, Seoul (서울 중구 소공동), and reaches 224-2, Sindang-dong, Jung-gu (중구 신당동), and is the name of Beopjeong-dong (법정동).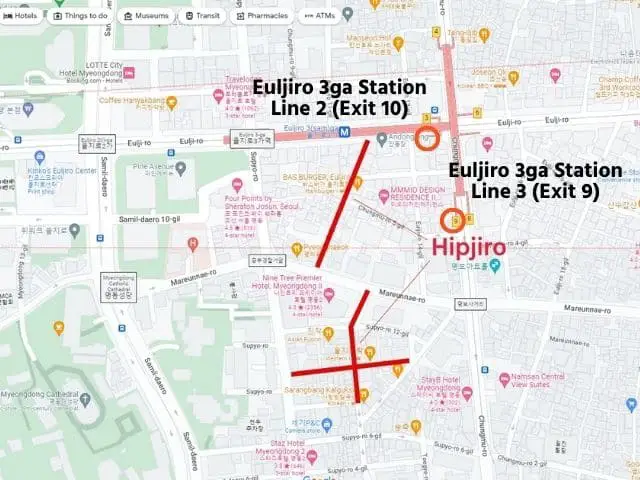 You can visit Euljiro Street from the Euljiro 3-ga subway station (Exit 9/10), subway line no.2 and 3.
Get off at the Euljiro 3-ga metro stop for most sights, or use the addresses provided to decide between Euljiro 1-ga, Euljiro 3-ga, and Euljiro 4-ga.
Top Things To Do in Korea!
What to do in Euljiro?
Sewoon Arcade (Makercity Sewoon)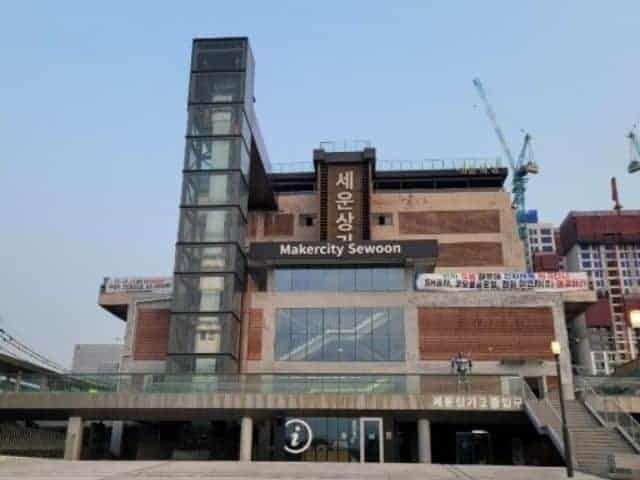 Address: Jongno-gu, Seoul, South Korea
Opening hours: Monday – Friday, 8:30 a.m.–6:30 a.m.
The first Korean electronics store, Sewoon Plaza, opened its doors in 1968. It's a hub for creatives and entrepreneurs of all ages to network and share ideas. Combining Sewoon Plaza's rundown industrial aesthetic with the area's new hipster and creative culture has transformed it from a stale place. The wholesale market has been transformed into a creative hub filled with hip cafes and one-of-a-kind boutiques.
This was the most excellent East Asian market at the time. After a period of decline, its well-preserved retro atmosphere contributed to its rebirth as an iconic destination in Euljiro. Sewoon Plaza also is a known location to viewers of Korean dramas like Guardian: The Lonely and Great God and Vincenzo. The plaza is more than just where these two shows take place. It is also a multi-use commercial building in South Korea that represents the country's technological revolution in the 1970s and its digital revolution in the late 1980s when it sold software and computers.
Seasonal Picks!
Cheonggyecheon Stream
Source: @cheonggyecheon_official
Address: 1 Cheonggyecheon-ro, Jongno-gu, Seoul, South Korea
Opening hours: 24/7
The artificial waterway passes through several significant city sections, including Dongdaemun Market, Gwangjang Market, City Hall, and Euljiro. It is 13.7 kilometers long and passes through 5.8 kilometers of urban areas in Seoul.
Your travels along Cheonggyecheon will start at Cheonggye Plaza, where you'll stay for the first night. Attractions such as Gwanghwamun, Gyeongbokgung, City Hall, Jongno, and Deoksugung are situated in the neighborhood. In addition, it is the site of the city's most notable annual festivals and celebrations. 
One of the most important annual events that take place in the town is the Seoul Night Market, which takes place from the end of spring until the beginning of October. On weekdays, Cheonggyecheon Park draws many visitors, both during the day and at night, who come to enjoy a tranquil stroll.
Cosmos Wholesale
Source: @cosmoswholesale
Address: 29 Eulji-ro 11-gil, Supyo-dong, Jung-gu, Seoul, South Korea
Opening hours: Monday, Thursday, Friday, Saturday, and Sunday (14:00 – 20:00)
When you enter the cosmos wholesale store on the second floor of the Euljiro 3-ga Shopping Center, you will see that every single thing in the universe has been brought together in this one location. For instance, the shop buys and sells vintage records, classic books, and antique accessories from Korea and other nations. It also stocks these items. 
In addition to that, it provides consumers with beverages such as traditional Korean teas. The shop reflects the current popularity of new-tro, a combination of the words "new" and "retro." The shop is filled to the brim with unique items that bring to mind ancient Seoul. Because most of the goods are so rare, it may not be possible to find out where they came from or how much they cost.
N/A gallery
Source: @nslasha.kr
Address: 27, Changgyeonggung-ro 5-gil, Jung-gu, Seoul, South Korea
Opening hours: from Tuesday to Saturday (12:00-19:00)
The photographers Park Jinwoo and Oh Jinhyeok run the N/A gallery, which opened its doors in 2018. A gallery is an offline place that allows crowds to congregate and admire art in person. Works of photography, sculpture and other types of art are frequently displayed at the event.
The ARMYs are not unfamiliar with AJO AJOBYAJO at all — BTS members have been seen on multiple occasions wearing their clothes. 
One of the most recent examples is an image that has emerged online showing Jungkook wearing a shirt from the company while posing with Jay Park in a recording studio. After Jerk Off is their flagship store's name, which is just a short three-minute walk from the number 11 exit of the Euljiro 3-ga station. Suppose you are interested in perusing their wares. In that case, you may visit this location, which also features an attached bar and cafe.
Gwangjang Market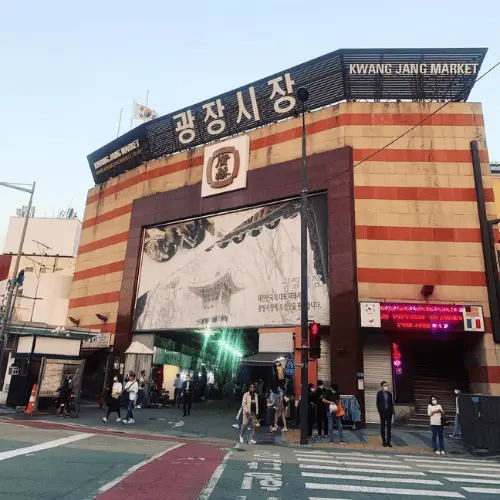 Address: 88 Changgyeonggung-ro, Jongno-gu, Seoul, South Korea
Opening hours: Traders selling food are open from 9 a.m. – 11 p.m. daily, while those selling vintage items are open from 10 a.m. to 7 p.m.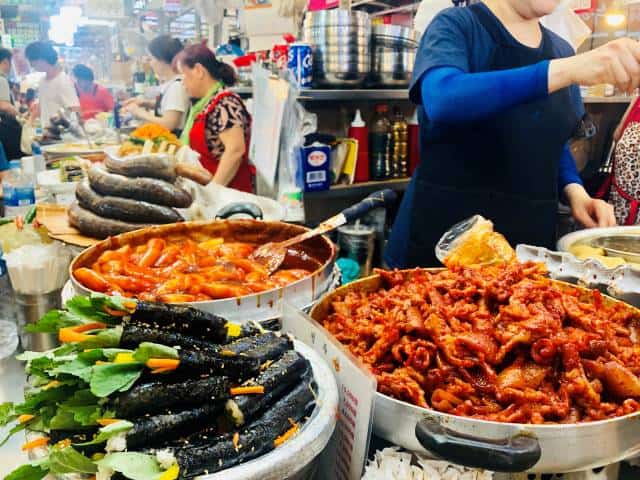 The Gwangjang Market in Seoul is one of the biggest traditional markets in Korea and has been around for more than 150 years. Local Koreans have been getting food from their booths and markets for a hundred years, so there must be a good reason they keep coming back for more. As one of the biggest traditional markets, you can find anything and everything there. 
Here, you'll find classic arcades, thrift stores, and vendors selling delicious traditional Korean street food. We'd recommend getting a bindaetteok, a Korean mung bean pancake, and a sundae – a Korean blood sausage. If you're tired of trying new foods from these stands, you can go with a guide to the best places to eat street food in Seoul.
Where to eat in Euljiro?
Munhwaok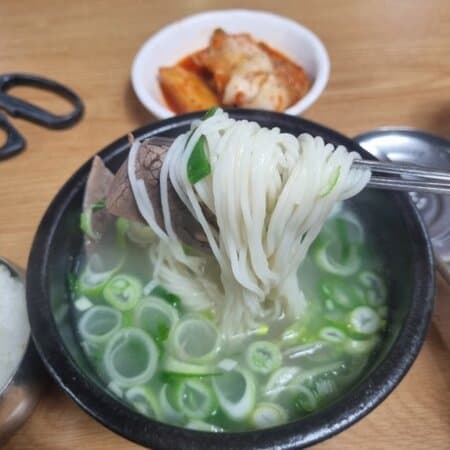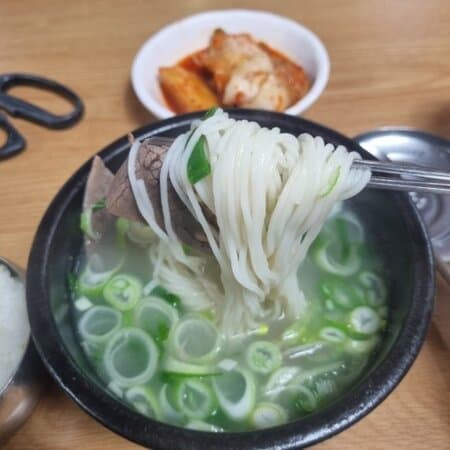 Address: 118-3, Jugyo-dong, Jung-gu, Seoul, South Korea
Price range: 10,000 ~ 20,000 Won (8 ~ 15.90 USD)
Opening hours: 06:00 – 21:30
Located conveniently next to Euljiro 4-ga Station, Munhwaok is a classic Korean eatery that has been around for more than half a century. You may travel to Sinchon easily by using the Euljiro Station's Exit 4. It's not uncommon to see retirees enjoying a midday meal of soup, rice, and soju. 
Munhwaok's most well-known dish is seolleongtang (a milky beef bone soup). As the saying goes, "fight fire with fire," so why not try the traditional Korean method of "iyeolchiyeol" and cool off with a bowl of delicious and healthy seolleongtang?
Euljiro Boseok 
Source: @euljiro_boseok
Address: 84-11, Jeo-dong 2-ga, Jung-gu, Seoul, South Korea
Price range: 10,000 ~ 20,000 Won (8 ~ 15.90 USD)
Opening hours: 18:30 – 24:00 (except Sat & Sun)
The quality of the cuisine is great but it can be challenging to acquire a seat at the eating bar because only ten chairs are accessible at any moment. The bar is hidden away in a side street of Euljiro. 
You may combine your meals with a wide variety of sake and natural wines at this restaurant, which serves food influenced by Korean and Japanese cooking styles. The Minari-prawn pancake and the Spicy Fermented Octopus Capellini are two of the most popular dishes among customers here.
Meeting Room
Source: @euljiro_meetingroom
Address: 110, Cho-dong, Jung-gu, Seoul, South Korea
Price range: 10,000 ~ 20,000 Won (8 ~ 15.90 USD)
Opening hours: 11:30 – 21:30 every day, except break time (15:00 – 17:00)
Meeting Room is the place to go for those with an appetite for Italian food; well, we are now in Korea, but by now, you should be used to the fact that food is available worldwide. They are most well-known for their Cloud Pasta and Fat Cheese Tteokbokki, which are highly tasty and incredibly artistically attractive. Both of these dishes bear their namesake characters.
Manseon Hof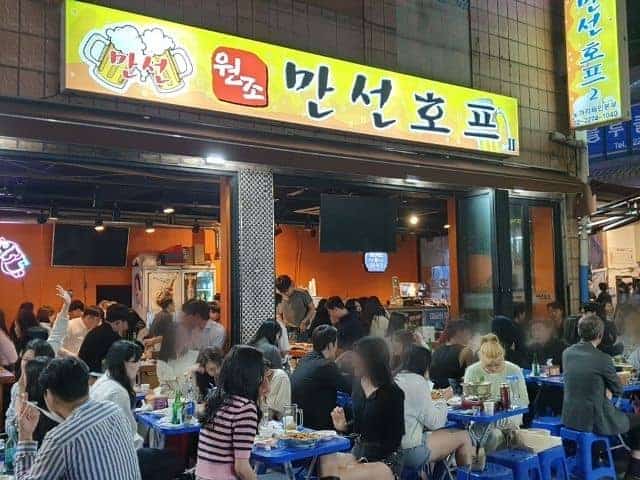 Address: 95-1, Euljiro 3(sam)-ga, Jung-gu, Seoul, South Korea 
Price range: Less than 10,000 Won (8 USD) 
Opening hours: 12:00 – 24:00 every day
Nestled within the bustling streets of Euljiro lies the quaint and unassuming Manseon Hof, a bar that's frequented by a plethora of locals who've just finished a long day's work. It's the ultimate destination for those seeking an authentic Korean experience, where the must-try item on the menu is undoubtedly the chewy dried pollack, best paired with a refreshing lager. And while there are a variety of other delectable dishes to choose from, including succulent pork cutlet, juicy chicken, and a tantalizing pineapple sherbet, the real allure of Manseon Hof lies in its star-studded clientele. From A-list actors to K-pop idols, it's not uncommon to rub shoulders with Korean celebrities at this hidden gem. So if you're looking for a lively night out with delicious food and a chance to catch a glimpse of your favorite stars, Manseon Hof is the place to be.
The bright lights of Euljiro make it easy to find, and it's one of the many photogenic spots in the neighborhood. Late-night hunger? This bustling street is the perfect place to wind down with a snack and a beer.
Woo Lae Oak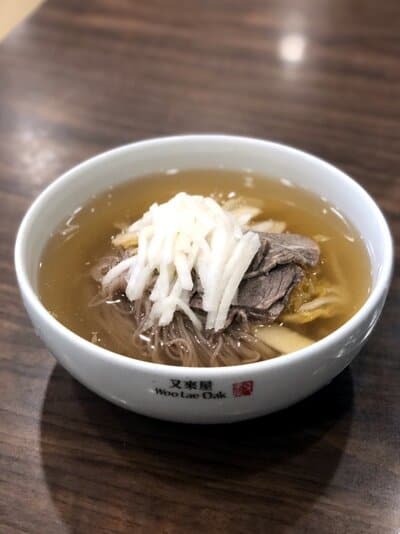 Address: 118-1, Jugyo-dong, Jung-gu, Seoul, South Korea
Price range: 10,000 ~ 20,000 Won (8 ~ 15.90 USD)
Opening hours: every day from 11:20 to 21:00, except Monday
Cold noodle dishes, or Naengmyeon, have been on the menu at this restaurant for the past three decades. They follow a Pyongyang recipe that has been used in North Korea for a long time and has been carefully preserved. 
This kind of cold noodle has been popular in the area for some time. Still, its popularity has skyrocketed in light of recent events. Try this regional favorite with spicy mustard and zingy vinegar to balance the flavors: rich beef broth with chewy noodles topped with mouthwatering braised beef.
Eulji Darak
Source: @euljidarak
Address: 156-9, Cho-dong, Jung-gu, Seoul, South Korea
Price range: 10,000 ~ 20,000 Won (8 ~ 15.90 USD)
Opening hours: Mon-Fri: 11:30 – 22:00, Sat: 11:30 – 21:30, Sun: 11:30 – 20:30 & Break Time 15:00 – 17:00
Euljidarak, a Western restaurant and wine bar, is among all the hardware stores. The building may look old and worn from the outside, but as you enter, you'll find yourself in a chic and spotless environment.
Visitors to the area of Euljiro are often taken aback by the modern and well-kept interiors of the dilapidated buildings they see. Euljidarak is the best place to soak up the genuine enchantment of Euljiro.
Though Euljidarak is often considered a western-style restaurant, it offers several fusion dishes, such as hot cream spaghetti, which combines the Korean penchant for spicy food with the worldwide popularity of spaghetti. Try something different in Euljiro, where Koreans have put their spin on Western cuisines, like Spicy Cream Spaghetti.
Nogari Alley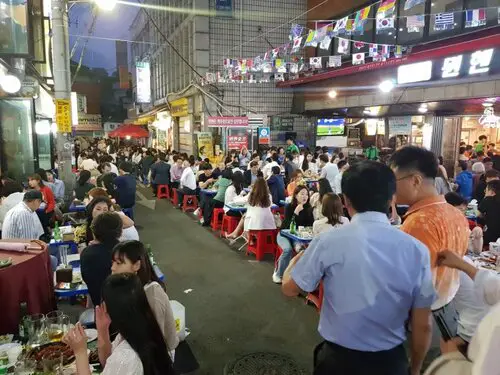 Address: 1F, 19 Euljiro 13-gil, Jung-gu, Seoul, South Korea
Price range: The price of a fillet of nogari is 1,000 won (1 USD), and a pitcher of beer costs 3,500 won (3 USD)
Opening hours: 12:00-24:00
After a hard day at the office, people in the printing industry in Euljiro would frequent local bars for a cold one and some nogari. Dried pollack, or "nogari," was a popular snack among low-income laborers because of its low price.
Thus, numerous bars in Euljiro started offering nogari appetizers and eventually became well-known for both the snacks and the drinks they served. Tourists and locals still go to this lane today to taste yesteryear at one of the many bars serving nogari. In 2015, this passageway was designated as a Seoul Future Heritage Site because of its historical significance.
Manseon Hof, one of the alleyway's central bars, has multiple locations across the area, making it easy to find. So many people sit at tables in this alleyway eating and drinking during the summer nights that it is nearly impossible to get past. A visit to this alley will allow you to take part in and witness a fascinating piece of Korea's and Euljiro's history.
Sarangbang Kalguksu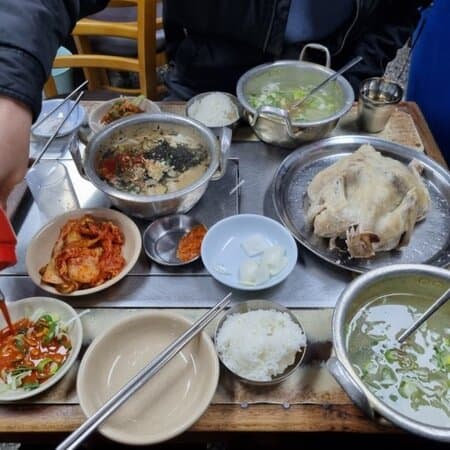 Address: 23-1, Chungmuro 3(sam)-ga, Jung-gu, Seoul, South Korea
Price range: Less than 10,000 Won (8 USD) 
Opening hours: Mon-Fri: 10:30 – 21:40, Sat: 10:30 – 21:00, Sun: 10:30 – 16:00
Suppose you visit this restaurant in Euljiro around lunchtime. In that case, you may notice a surprising number of locals waiting in line outside. This eatery has been serving the community since 1968 and has been featured on numerous television shows.
The historic, crowded restaurant is frequented by many diners, from retirees to young couples. Everyone, no matter their age, may find something they like to eat at this restaurant. We suggest the Baeksuk Baekban (7 USD) and the Kalguksu (6 USD) for a satisfying and hearty supper for two people.
Pyeongnaeok
Source: @zolzyolo
Address: 21-1 Mareunnae-ro, Jung-gu, Seoul, South Korea 
Price range: 10,000 ~ 20,000 Won (8 ~ 15.90 USD)
Opening hours: 11:00-21:30 every day (Break Time 15:30-17:00) 
Despite being open since 1950, the wait outside this shop seems to continue. In the Seoul neighborhood of Jung-gu, a restaurant that specializes in Pyeongyang Naengmyeon (the cold buckwheat noodles) may be found. Pyeongyang Naengmyeon is originated from Pyeongyang, the capital city of North Korea, and the recipe was delivered to South Korea by the people who moved to South Korea during the Korean war. Now, many South Koreans love Pyeongyang Naengmyeon, and it became the city's signature dish.
Because of its popularity, a line forms at Euljiro's Pyeongaeok restaurant at all day hours. Traditional Korean fare at this eatery is both delicious and good for you. In addition to Naengmyeon, ordering the Chongyetang (About 25 USD for 2 people) would allow you to indulge in a nutritious Korean summertime meal. The broth and chicken in this meal are served chilled, making it distinct from Samgyetang. Your food will taste even better with adding mustard and vinegar.
Cheongwaok
Source: @cheongwaok 
Address: 346-1, Euljiro 3(sam)-ga, Jung-gu, Seoul, South Korea 
Price range: Less than 10,000 Won (8 USD) 
Opening hours: 08:00 – 22:00 every day
Cheongwaok is a hidden gem that may be reached by exiting Euljiro 3-ga Station at Exit 11. Its gorgeous traditional blue roof exterior is hard to overlook. They have great sundae dishes which are savory blood sausages.
The Sundae-Gukbap, a set consisting of Sundae stew and rice, is about 7 USD. It is served in an earthenware bowl to keep the warmth while you enjoy your Sundae. This dish is a staple of Korean cuisine, and for a good reason: it's hearty, flavorful, and perfect for the cold winter months. You can season to taste and add salted shrimp if you like.
Hwangsogojib
Source: @hwangsogojib
Address: 75-175-1 Cheonggyecheon-ro, Jongno-gu, Seoul, South Korea 
Price range: 7,000 ~ 30,000 Won (5.57 USD ~ 23.86 USD)
Opening hours: 10:30-21:00, Closed on Sundays
Another well-liked spot in Euljiro for a dinner that won't break the bank but will satisfy your hunger is Hwangsogojib. They provide a Gochujang Bulgogi package for the low price of 7,000 won (5.57 USD) during lunchtime sales.
This mouthwatering lunch package comes with large slabs of sweet and spicy pork roasted over charcoal to impart a flavorful charred aroma. In addition, it comes with a selection of other side dishes, including bean sprouts, kimchi, fish cakes, and a mountain of vegetables for you to wrap your meat in! You would be making a mistake if you skipped out on this lunch because it is not only delicious but also inexpensive and healthful.
Sansu Gapsan 
Source: @foodplanet_kim 
Address: 15-4, Inhyeon-dong 1(il)-ga, Jung-gu, Seoul, South Korea 
Price range: Less than 10,000 Won (8 USD) 
Opening hours: Mon-Fri: 11:30 – 22:00, Sat: 11:30 – 20:00 
Sansu Gapsan may look petite and dated from the outside, but the locals know it for its excellent cuisine and frequent it. And there's a good crowd here because it's famous for day drinking.
Make sure to get the excellent and relaxed Sundae Gukbap that many Korean retirees love. The superb variety of Korean sausages at Sansu Gapsan is another reason to visit the shop. Koreans of all ages enjoy this meal despite its scary appearance. It's great as a midday snack or added to a hearty stew for dinner.
Dongwonjib
Source: @koreanfoodguide 
Address: 48 Toegye-ro 27-gil, Jung-gu, Seoul, South Korea
Price range: 10,000 ~ 20,000 Won (8~15.90 USD)
Opening hours: 09:00-22:00, Closed on Sundays
Amazing Gamjatang is why Dongwonjip earned such a stellar reputation in Euljiro. The pork ribs, potatoes, and a unique spicy broth are the main ingredients of the traditional Korean dish gamjatang. For the past four decades, Dongwonjip has specialized in producing traditional Gamjatang (a spicy Korean pork bone soup). 
Approximately about 8 USD is put on the table to purchase one portion of Gamjatang, packed to the gills with pork and potatoes. This meal will satisfy your hunger to the fullest!
Where to drink in Euljiro?
Euljiro Brewing
Source: @euljirobrewing
Address: 48-16 Supyo-ro, Euljiro 3(sam)-ga, Jung-gu, Seoul, South Korea 
Price range: Beers from 7,000 Won (5.57 USD)
Opening hours: Every day, 3:30 p.m.–2 a.m.
Most locals frequent Euljiro Brewing, a dive bar known for its retro decor, craft beer selection, and bright neon signs.
The enormous wooden signboard is a traditional Korean-style sign. It is situated next to a lively pink entryway; the contrast between the conventional and the bright and vivid colors is a great way to get a feel for Euljiro's personality.
Craft beers are available and come in entertaining vessels. Prices for these handcrafted brews begin at about 6 USD. Many different beers are available, so you should be able to pick one that suits your tastes.
Seendosi
Source: @seendosi
Address: 11-2, Supyo-dong, Jung-gu, Seoul, South Korea 
Price range: Less than 10,000 Won (8 USD)
Opening hours: Mon-Thu: 18:00 – 02:00, Fri-Sat: 18:00 – 03:00, except Sunday 
Seendosi (신도시) is another "new-tro" location worth checking out. The only indication of the bar and lounge area recently renovated by the photographer Lee Yoon-ho and the artist, designer, and musician Lee Byeong-Jae is a vintage sign in RGB colors displayed in front of an abandoned building. 
Once you step inside this bar, you'll be transported back to the 1980s thanks to the venue's neon signage and its collection of retro furnishings. Check out their Instagram for the latest news and updates because they host events and performances consistently.
MindYourHead
Source: @__mindyourhead__
Address: 37-1, Inhyeon-dong 1(il)-ga, Jung-gu, Seoul, South Korea 
Price range: 10,000 ~ 20,000 Won (8~15.90 USD)
Opening hours: 18:00 – 23:00 every day
If you visit this hip bar, you'd be wise to keep your wits about you. If you squeeze through that narrow doorway, you'll find yourself in the 1970s. Remember to snap a snapshot in front of the famous (but modest) entryway. Follow the creaking staircase straight up through the dated factory building until you reach the fifth floor. 
This hipster hangout welcomes you inside with its cool decor and eccentric lighting! Grab a drink of wine and relax in the oddly familiar setting. Take some pictures along the route.
Pyeonggyunyul
Source: @pky_seoul
Address: 17-4, Cho-dong, Jung-gu, Seoul, South Korea 
Price range: Less than 10,000 Won (8 USD)
Opening hours: 12:00 – 24:00 every day except Sunday
This jazzy LP record player bar, Pyeong-gyun-yul, is a must-visit for music aficionados. The bar's peak hours are Friday and Saturday nights around 9 p.m., so expect a short wait if you go then. The wait is well worth it because this bar is unique and welcoming. Relax with a glass of wine or whiskey next to a stacked record shelf. They take requests and will play a vintage Chet Baker album if you want to listen.
Coffee Hanyakbang
Source: @coffee_hanyakbang
Address: 101-34, Euljiro 2(i)-ga, Jung-gu, Seoul, South Korea 
Price range: Less than 10,000 Won (8 USD)
Opening hours: Mon-Fri: 09:00 – 22:30, Sat: 11:00 – 22:00, Sun: 11:00 – 21:00
Coffee Hanyakbang, located down a little alley in Euljiro, is a cafe decorated to resemble a herbal medicine shop. You'll need to explore several backstreets to discover this hidden gem. Dr. Heo Jun, a court physician in the 16th century, used to practice here. His famed herbal treatment is associated with this location. This cafe is unique, radiating an enchanting blend of modern comfort and a rich past. Learn about the history and enjoy some traditional Korean fare at this cafe.
Baekdugangsan
Source: @baekdugangsan
Address: 24-3, Chungmuro 3(sam)-ga, Jung-gu, Seoul, South Korea 
Price range: Less than 10,000 Won (8 USD)
Opening hours: Mon-Sat: 12:00 – 22:00, Sun: 13:00 – 20:00 
Baekdugangsan, named after the Korean Peninsula's highest mountain, Baekdusan, features a distinctively Korean aesthetic. Thanks to the subtle Korean calligraphy and sculptures that adorn the walls, it has a traditional feel. In addition to the many excellent museums and galleries, this is a great site to come to if you're curious about Korean art. You may relax at this seemingly abandoned cafe with some hand-drip coffee and vintage Korean artwork.
George Seoul
Source: @george_seoul
Address: 334-7, Euljiro 3(sam)-ga, Jung-gu, Seoul, South Korea 
Price range: Less than 10,000 Won (8 USD)
Opening hours: Tue-Sat: 13:00 – 22:00, Sun: 13:00 – 21:00, except Monday
Want some kooky dessert that's been stashed away in a historical structure? It would be best if you went to George Seoul. This homey nook is furnished with simple vintage sofas, steel tables from the industrial age, and many old candles. Famous cakes, packaged in a custom box, are also available for takeout. Along with the cake, they also provide a variety of rich beverages and coffees. Enjoy a calm and sugary evening there.
The Ranch Brewing
Source: @theranchbrewing
Address: 320, Euljiro 3(sam)-ga, Jung-gu, Seoul, South Korea 
Price range: 20,000 ~ 30,000 Won (15.90 USD ~ 23.86 USD)
Opening hours: Mon-Fri: 17:00 – 24:00, Sat-Sun: 15:00 – 24:00
We have both good news and some bad news for beer drinkers. Now for the bad news: this is not just a functional beer vending machine; the good news is that this is a pub! Opening this vending machine door will immerse you in the bar's hip atmosphere. Amazing murals that take their inspiration from street art are a visual feast.
You may taste Korean-Western fusion food and learn about Korean drinking culture at this bar. Anju, food that is eaten with alcohol, is a standard accompaniment to any alcoholic beverage. This pub offers many delicious craft beers and novel fusion anjus.
If you like beer and are wondering what this bar is like, you can read the full review here!
Dressing Room
Source: @euljiro_dressingroom
Address: 296-26, Euljiro 3(sam)-ga, Jung-gu, Seoul, South Korea 
Price range: 10,000 ~ 20,000 Won (8 ~ 15.90 USD)
Opening hours: Mon-Fri: 11:30-23:00, Sat-Sun: 13:00-23:00
Located in the heart of Euljiro, Dressing Room is a cocktail lounge and restaurant with an upscale, opulent atmosphere. You can't miss it because of their adorable vintage mirror sign.
The room has a Swan Lake motif and the atmosphere of a dressing room, complete with mirrors, ballet slippers, and stage accessories. The illuminated mirrors found throughout the eatery provide fun lighting and a distinct atmosphere. If you want to update your Instagram account, this cafe is a great place to do so.
In the evening, stop by the bar for a drink (cocktails start at about 7 USD, wine at about 6 USD).
Ggeek Beer Company
Source: @ggeek_beer
Address: 207-2, Sallim-dong, Jung-gu, Seoul, South Korea 
Price range: Less than 10,000 Won (8 USD)
Opening hours: Mon-Fri: 17:00 – 23:00, Sat: 15:00 – 23:00 except Sunday
Ggeek Beer Company is another place you should head to next if you plan to go craft beer hops. They have ten different sorts of craft beer selected from Korea's breweries. Try your luck by spinning the wheel in the bar and picking a beer randomly, or have a conversation with a staff member to learn more about the brews.
Are you ready to groove in Euljiro at these Instagrammable spots where you can relive the '70s? You can visit Yeonnam-dong to find other cafes suitable for Instagram or go to Jamsil to find secret restaurants with rooftop views. You might also pick your destination from the extensive list of Instagram-worthy spots in Seoul.
Because of its remarkable juxtaposition of modern and traditional architecture, Euljiro is rapidly gaining a reputation as one of the city's most fashionable neighborhoods. It provides access to various entertainment options, ranging from hip areas to quintessentially regional experiences. You can taste some of the city's more charming neighborhoods, or you can experience local life in Euljiro. It's time for you to explore this hip spot!