Last Updated on November 24, 2023
On your way to Myeongdong, South Korea? You are landing in a paradise full of brand-name cosmetics, the newest and most stylish clothes, mouthwatering foods, famous K-pop stars, and beautiful four-season scenery. If you love them all, you are definitely in the right place. 
Myeongdong, a "bright town," is one of the best places in Jung-gu, Seoul. As the name suggests, it's a busy area at night with neon lights and in the mornings with tourists and shoppers. One night or day is not enough to enjoy this attractive neighborhood. It needs longer for a foodie and a shopper to shop in Myeongdong, which has long, busy lines of food stands, shops, and department stores. 
In the 1960s, after the Korean War, Namdaemunro and Euljiro grew, leading to the growth of Myeongdong. In the 1970s, as Korea's economy grew, Myeongdong quickly became a center for business, fashion, and the latest trends. It is still a top tourist attraction and hangout place for locals. Check out our best Myeongdong restaurants and cafes to enjoy and learn more about this popular spot!
Read also:
Why is Myeongdong a famous place to visit?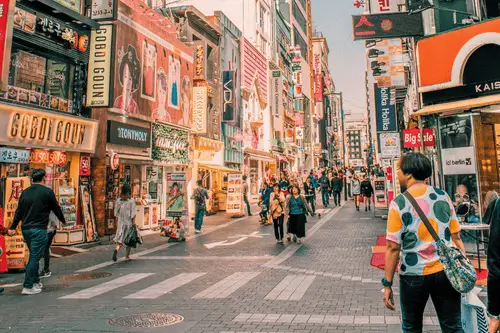 One of the best destinations to shop in Seoul is Myeongdong. In the middle of the block, the two main streets meet. One starts at Myeongdong Subway Station (Line 4 of the Seoul Subway) and the other at Lotte Department Store in Euljiro. 
The Korean Wave, or Hallyu, has made its way to almost every modern part of the world, from fashion trends to beauty miracles, from tear-jerking K-dramas to the colorful and lively K-pop scene. Because Korean culture has become more popular, Korean food is now one of the many things that bring people to Korea and has inspired many food trends. So, if you go to Korea and don't eat, it's not just a shame but a big mistake. So, if you're in Myeongdong and hungry for Korean street food, here's what you can eat and drink.
Find & Compare Things To Do in Seoul!
Korean street foods in Myeongdong
Before jumping into restaurants & cafes, it is worth knowing that street foods in Myeongdong are amazing! The Korean street food scene is constantly changing, with new dishes showing up every few weeks. Because of this, it is best to start with the basics.
Many of the stalls have English menus, and some of the owners could also speak Mandarin. Depending on the season, stalls could move or serve different food. A glimpse of what Myeongdong street food has to offer:
Tteokbokki (Spicy rice cakes)
Odeng / Eomuk Tang (Fishcake on skewers served with hot broth)
Hotteok (sweet Korean pancake)
Hweori Gamja (Tornado Potato)
Ojingeo Twigim (Deep Fried Giant Squid)
Gimbap (Gimbap or kimbap is like a sushi roll)
Korean Fried Chicken (Yangnyeom Tongdak)
Mandu (Korean dumplings)
Baked Cheese
Korean Style Yaki Noodles (Pan-fried Korean noodles)
Bulgogi Beef and Japchae (Korean stir-fried beef noodles)
Sundae (Blood sausage)
Kimchijeon (Kimchi Pancake) 
Cheese Shrimp Rolls
Jajangmyeon (Korean-Chinese noodle)
Bungeoppan (goldfish bread)
Bindaetteok (Mung Bean Pancakes)
Roasted Sweet Potatoes
Tip: Prepare to make quick changes. Most foods should cost between 2,000 and 5,000 Won (2 – 4 USD). Bring a paper trash bag because finding a trash can takes time. 
Besides street foods, what are some excellent restaurants in Myeongdong? This Myeongdong guide will give you all the information about the top Myeongdong restaurants and cafes.
Find & Compare Things To Do in Seoul!
Top Myeongdong Restaurants
When you think of Myeongdong, you probably think of street food, beauty shops, and many restaurants and cafes. Read on to find out what to eat in Myeongdong and the best Myeongdong restaurants.
Myeongdong Kyoja (명동교자 본점)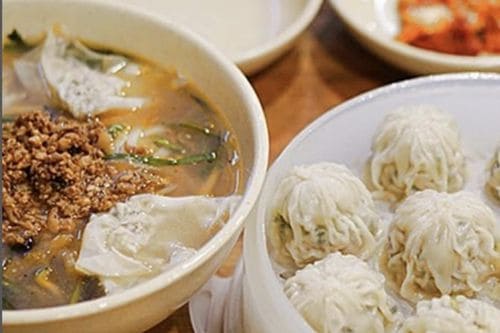 The restaurant Myeongdong Kyoja has been serving noodles for more than 50 years. The restaurant is known for its kalguksu (noodle soup), noodles made by hand and cut with a knife. Also popular are the mandu (dumplings), bibim guksu (spicy noodles), and kongguksu (noodles in cold soybean soup). 
Many people come here daily, mainly because all the food is made in-house, including its famous garlicky kimchi. The decor and service are simple, but the portions are significant, and the prices are reasonable.
Specialty: Kalguksu (knife-cut noodles in soup), noodles and dumpling dishes.
Price range: about 10,000 won (7-8 USD)
Address: 29 Myeongdong 10-Gil, Jung-gu, Seoul, South Korea
Hadongkwan (하동관 명동본점)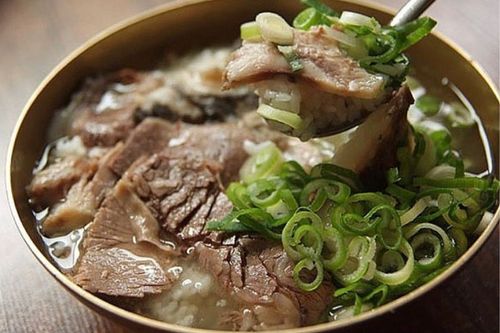 Since 1939, this well-known family-run restaurant on a busy side street in Myeongdong has been serving simple bowls of beef bone soup. This version is done in traditional brass bowls with the rice already in the hot soup. The broth is clear and full of flavor. It has a distinct sweetness that can only come from boiling a lot of beef for a long time. This simple, old-fashioned restaurant opens early in the morning until the soup runs out.
Specialty: Gomtang – a beef broth soup made in the Korean style and served with slices of brisket and beef intestines.
Price range: about 10,000 won (7-8 USD)
Address: 12 Myeongdong 9-Gil, Myeong-dong, Jung-gu, Seoul, South Korea
Gangnam Myeonok (강남면옥 명동점)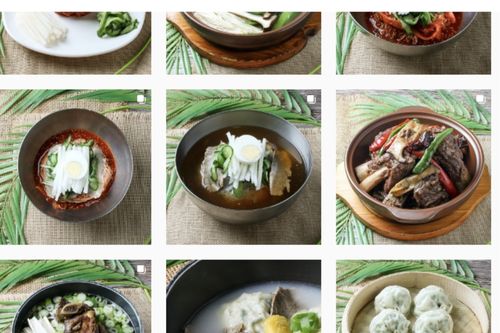 A traditional Korean restaurant that is cozy and not too fancy. A place you have to go to if you want to eat Galbi Jjim, which is braised short ribs. The meat is very soft and falls right off the bone. In Garosugil, Gangnam, there is another branch. Order Korean cold noodles called Naengmyeon along with the galbi. "Return of Superman," a Korean family variety show, talked about this restaurant.
Specialty: Galbi (braised beef short ribs)
Price range: less than 10,000 won (7-8 USD)
Address: 8 5th floor, Milae Building, Myeongdong 7-Gil, Jung-gu, Seoul, South Korea
Yoogane Myeongdong (유가네닭갈비 명동2호점)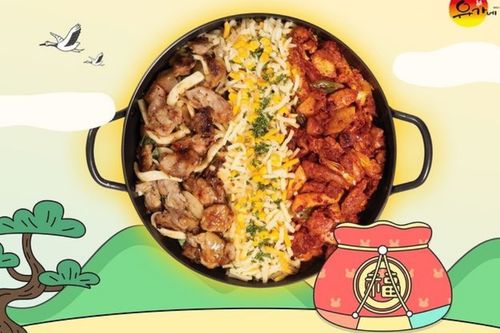 Since 1981, Yoogane has become one of South Korea's most popular chicken galbi brands. Galbi is the name for a wide range of grilled Korean dishes made with meat marinated in a sauce made from ganjang (soy sauce). Their unique selling point is the side dishes you can add to your Galbi Chicken to cook together in a pan. 
Specialty: Dak galbi (a tasty and spicy stir-fried chicken dish with gochujang, vegetables, and rice)
Price range: from 10,000 to 20,000 won (7-16 USD)
Address:  8 Myeongdong 4-Gil, Jung-gu, Seoul, South Korea
Wangbijib Myeongdong (왕비집 명동본점)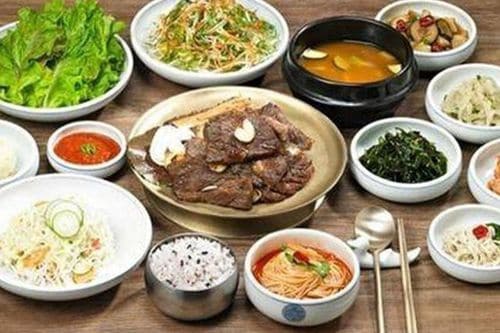 Wangbijib BBQ Restaurant in Myeongdong was one of the best and most expensive meals in Seoul, South Korea, while we were on a budget. Even though it was expensive, we were glad we tried it. Wangbijib BBQ Meat Set was worth every penny we paid because it had many different kinds of meat, went well together, and tasted good.
Wangbijib is known for its high-quality Korean beef, so the price for each a-la-carte meat order is high. Pork cuts are less expensive, so it's best to get a mix of both. There are also set meals, chicken ginseng soup, pancakes, Korean cold noodles, and more on the menu.
Specialty: Premium BBQ
Price range: 10,000 to 20,000 won (7-16 USD)
Address: 26 Myeongdong 8ga-Gil, Jung-gu, Seoul, South Korea
Yuk Tong Ryeong Myeongdong (육통령 명동본점)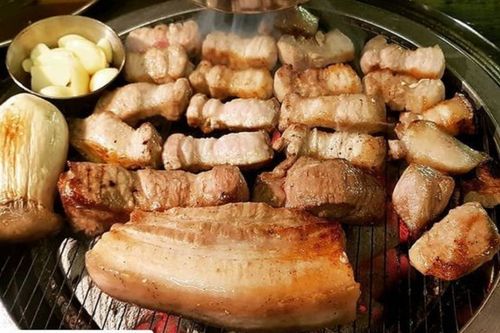 This Myeongdong BBQ place serves meat from Jeju black pigs. If you've never had Jeju black pig, this is the best BBQ place in Myeongdong. Black pork tastes delicious; the fat is just right, and the meat is soft and juicy. However, eating in Myeongdong is more expensive than in other parts of the city, so the prices are high.
Specialty: Jeju black pig meat
Price range: from 10,000 to 20,000 won (7-16 USD)
Address: 37-2 Myeongdong 8na-Gil, Myeong-dong, Jung-gu, Seoul, South Korea
Miseongok (미성옥)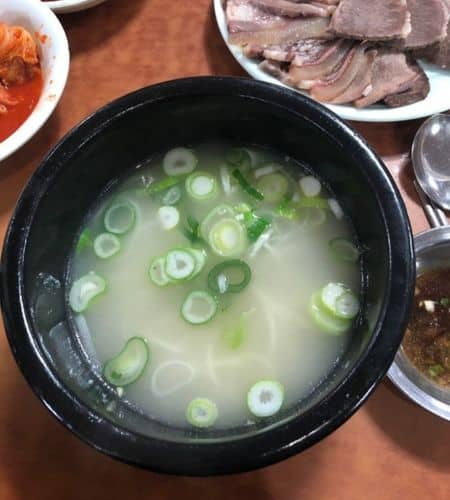 This Seollongtang restaurant is tucked away in the back streets of Myeongdong. Most of its customers are Korean workers. The restaurant has been around since 1966, but it still looks the same as when it first opened. An old-style restaurant serving amazing Seolleongtang. This soup is light enough to eat for breakfast or lunch.
Specialty: Seolleongtang – a beef bone marrow soup with ground salt, black pepper, red chili paste, and chopped green onion.
Price range: from 10,000 to 20,000 won (7-16 USD)
Address: 25-11 Myeongdong-Gil, Jung-gu, Seoul, South Korea
Instagram #미성옥
Chir Chir Fusion Chicken Factory (치르치르&뉴욕야시장)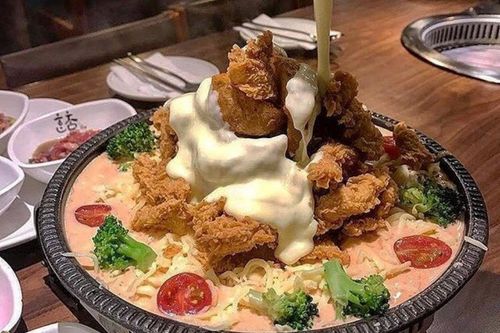 This is the largest restaurant chain in South Korea, is based in Seoul, and is known for its freshly cooked Korean chicken dishes. Chir Chir Fusion Chicken Factory is known for its big servings of fried chicken made to order with fresh chicken and sauces like soy garlic and spices imported from Korea. They also serve hot plate dakgalbi and tteokbokki, which are great for sharing.
Specialty: Crispy fried chicken
Price range: from 10,000 to 20,000 won (7-16 USD)
Address: 7 Myeongdong 8ga-gil, Seoul, South Korea
Jogabi Seafood Bar & Restaurant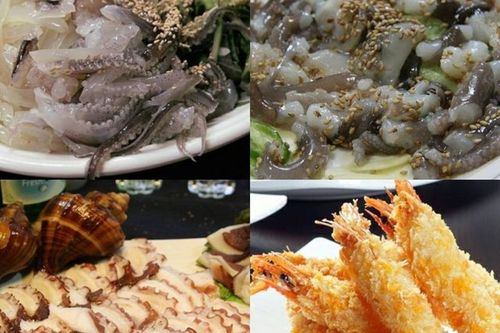 You're traveling with a fish-only eater or want to try something new? One of the few Korean barbecue places in Myeongdong that serve seafood instead of pork or beef is the Jogabi Seafood Bar & Restaurant. Most people probably order shellfish and shrimp, but you can try something new and order conches or shellfish instead.
The dishes on this restaurant's menu, considered part of the Korean culinary tradition, are genuine. Your mood can be "lifted" by eating octopus cooked to perfection, sushi, or steamed mussels. Their beer, known for its high quality, is one of the most enjoyable drinks. 
Specialty: Steamed & tasty shell seafood 
Price range: from 30,000 – 40,000 won (23-32 USD)
Address: 38-1 Myeongdong 1(il)-ga, Jung-gu, Seoul, South Korea
Hamheung Myeonok (함흥면옥)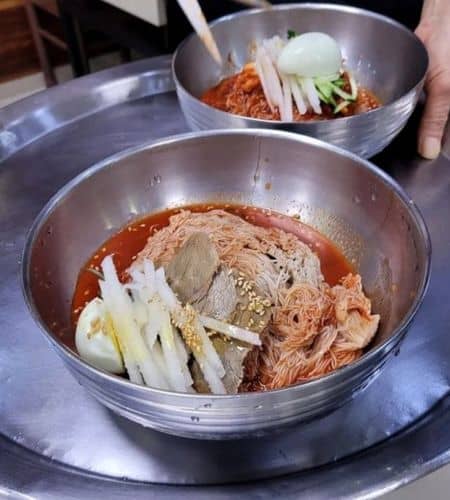 Hamheung Myeonok Myeongdong is one of the best places in Seoul to eat cold noodles while taking it easy. You can eat their sweet potato noodles in a tasty oxtail broth or maybe with spicy (raw fish).
Only so many restaurants in Myeongdong have been around for more than 30 years. The restaurant is near the Myeongdong Cathedral and is known for its North Korean-style naengmyeon dishes, especially its mul-naengmyeon (chilled buckwheat noodles in cold broth) and hoe-naengmyeon (spicy buckwheat noodle with marinated raw fish).
Specialty: Chilled buckwheat noodles 
Price range: about 10,000 won (7-8 USD)
Address: 35-19 Myeongdong 10-Gil, Jung-gu, Seoul, South Korea 
Instagram #함흥면옥
Those were our top Myeongdong restaurants; afterward, you don't want to miss dessert at these top cafes.
Top Myeongdong Cafes
Poem (포엠)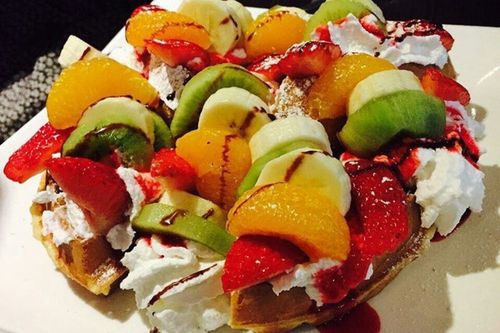 This is a modest, charming coffeehouse in Myeongdong's crowded district. All the beverages are reasonably priced and come with a complimentary cake. This dessert business specializes in waffles and cool drinks, freshly baked; the crispy waffle skin is topped with a variety of fresh fruits and sweet, but not greasy, whipped cream.
Specialty: Strawberry waffles 
Price range: less than 10,000 won (7-8 USD)
Address: 13 Myeongdong 4-gil, Myeongdong 2(i)-ga, Jung-gu, Seoul, South Korea
You Are Here Café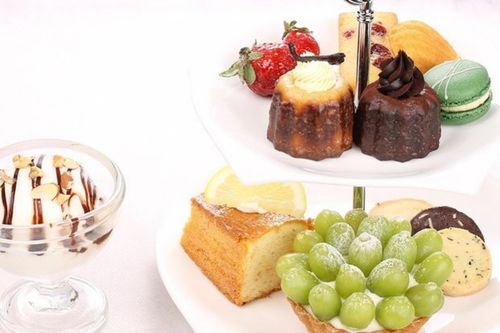 This smoky cafe in Myeongdong serves sweets and pastries made with high-quality ingredients from France. Most people know this place as a Korean dessert cafe in Myeongdong. 
For the best taste, You Are Here uses high-quality ingredients like French chocolate and butter. Not only does it taste good, but it's also big enough to keep you full. In contrast to some brunch cafes, the portions need to be more significant to fill you up.
Specialty: Cake and toast
Price range: less than 10,000 won (7-8 USD)
Address:  23 Myeongdong 9-Gil, Jung-gu, Seoul, South Korea
Sulbing (설빙 명동점)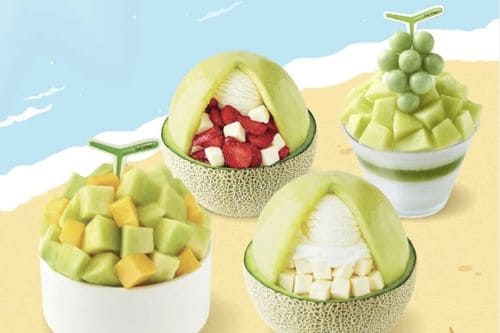 In South Korea, Sulbing is a well-known snow ice shop. This snow ice is famous in Asia and has many variations at home and abroad. For example, there is rice cake snow ice, cheese snow ice, blueberry cheese snow ice, black sesame snow ice, berry snow ice, milk red bean snow ice, etc. 
There will also be unique flavors only available during some specific times of the year. In the winter, you can get strawberry snow ice. In the summer, you can get mango cheese snow ice and cantaloupe snow ice. Each one tastes very real and significant. Everyone who has eaten snow ice gets hooked on it, whether it's winter or summer. 
Specialty:  Sulbing – a bowl that looks like bingsu, a popular and fancy snack or dessert in Korea. Instead of shaved ice, though, it has white frozen milk flakes in it. It tastes sweet and smooth, like snow. 
Price range: 10,000 won – 20,000 won (7-15 USD)
Address: 27 Myeongdong 3-Gil, Jung-gu, Seoul, South Korea 
Coin Cafe (카페코인 )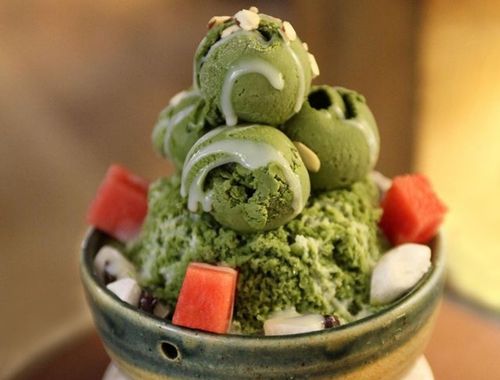 Cafe Coin is one of Myeongdong's oldest and most famous cafes. Cafe Coin opened 17 years ago and has since moved to other popular areas like Samcheongdong, Sinsa, and Ewha Women's University.
About 80 drinks, cakes, and side dishes are available at Cafe Coin. About ten types of drip coffee are the most popular. It also has about ten types of traditional Korean tea. They grow tea plants and trees in the countryside to serve fresh, high-quality teas.
You can also try different black, herbal, and fruit smoothies. Depending on the weather, it has different kinds of unique fruit smoothies, like peach and raspberry smoothies.
Specialty: Green Tea Bingsu 
Menu: Americano, Coin Blend Coffee, Green tea shaved ice (bingsu), Milk tea ice water, Homemade Tiramisu
Price range: from 5,000 won to 15,000 won (3.5-11 USD)
Address: 54-20 Myeongdong 2(i)-ga, Jung-gu, Seoul, South Korea
Coffee Libre (커피 리브레 명동성당점)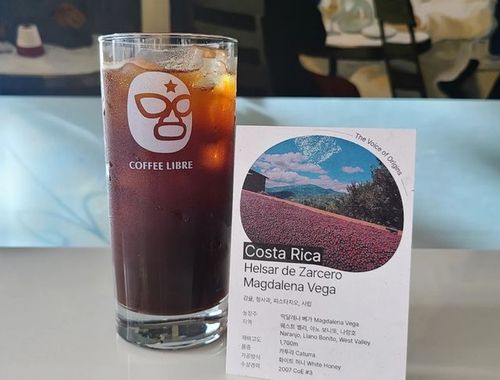 This small Coffee Libre location in Myeongdong is unusual, as it is inside the Myeongdong Cathedral building. The owners of Coffee Libre are passionate about coffee, which sets it apart from other coffee shops in the city. This is because they find the best coffee beans in the world and use different ways to make coffee.
They are known for getting their single-origin coffee beans through fair trade and highly regarded CoE (Cup of Excellence) beans. As one of the best independent coffee roasters, they participate in coffee-related events in Korea. Some of the well-known baristas in the world say they used their beans in the World Barista Championships.
Specialty: Coffee
Price range: Less than 10,000 won (7 USD)
Address: 74 Myeongdong-Gil, Jung-gu, Seoul, South Korea
The Spot Fabulous (더스팟패뷸러스)
If you're hungry after looking at the Korean Postage Stamp Museum, you can eat at this cafe. At The Spot Fabulous, try the tiramisu, cooked just right. After a long week of work, you can enjoy a nice cup of latte or tea.
The style and personality of this place are shown by the creative people who work here. In their comments, people talk about how excellent the service was. You will like how nice this place looks and how nice it feels. 
Specialty: fig tart
Price range: Less than 10,000 won (7 USD)
Address: 22 Myeongdong 2-Gil, Jung-gu, Seoul, South Korea 
A Twosome Place (투썸플레이스 명동올리브영점)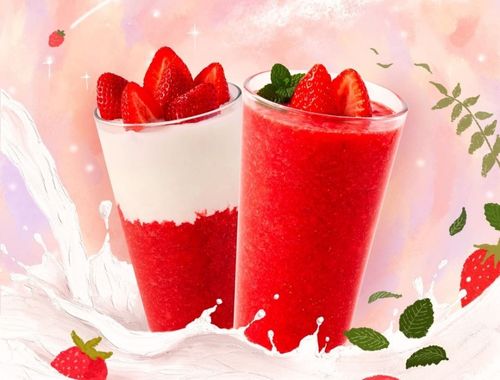 Twosome Place is a dessert café in the style of Europe that offers small indulgence through a diverse selection of quality beverages, including deeply roasted coffee and desserts such as mousse, tiramisu, tarts, shortcakes, cupcakes, muffins, yogurt ice cream, macaroons, and crème Brulee.
The Twosome Place, which can be found in ChungJeongno, is well-known for having served as the setting for the filming of numerous television dramas, including "MONSTAR" and "ONLY YOU."
Specialty: dessert, sweet cakes
Price range: Less than 10,000 won (7 USD)
Address:  53 Myeongdong-Gil, Jung-gu, Seoul, South Korea 
Tempter Coffee Roasters (템프터 명동점)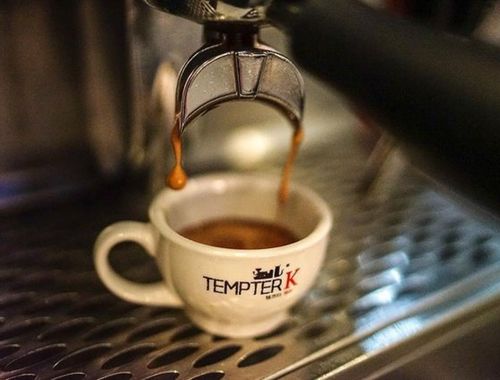 Myeondong is a bustling and active place, yet a treasure trove of true artisanship is nestled away in one side street. After an exhausting day of shopping, you'll want to go to this location if you're looking for somewhere peaceful and inviting to relax with your loved ones and catch up with old acquaintances. 
This is the place for coffee enthusiasts looking for coffee that has yet to be marketed and is packed with taste. After a day of walking about Myeongdong, this is a lovely spot to stop, take a seat, and relax. Excellent coffee and comfortable seating space. 
Specialty: coffee & pastry
Price range: Less than 10,000 won (7 USD)
Address: 35-9 Myeongdong 10-Gil, Jung-gu, Seoul, South Korea 
Beansbins Coffee (빈스빈스커피 명동점)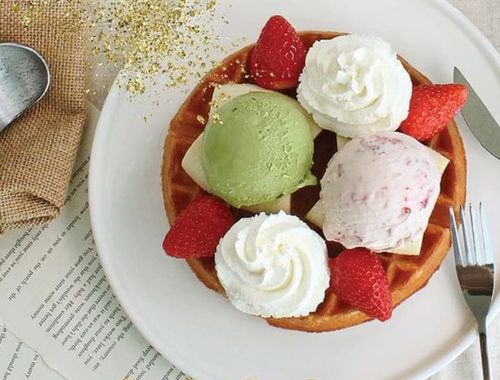 When you come to Beansbin, you will be presented with an impeccable selection of mouthwatering desserts, most notably waffles.
The location above the Savoy Homan Hotel contributes to the establishment's charming and homey atmosphere.
Their vast waffles collection ranges from traditional Belgium Waffles to more unique varieties such as Fresh Mango Waffles, Apple Cinnamon Waffles, Fruit Waffles, Blueberry Cheesecake Waffles, and Strawberry Cheese Waffles. They also provide a diverse selection of breakfast foods and savory items.
Specialty: Scrumptious Waffles
Price range: Less than 10,000 won (7 USD)
Address: 10 Myeongdong 8na-Gil, Jung-gu, Seoul, South Korea 
LUFT COFFEE (루프트 커피)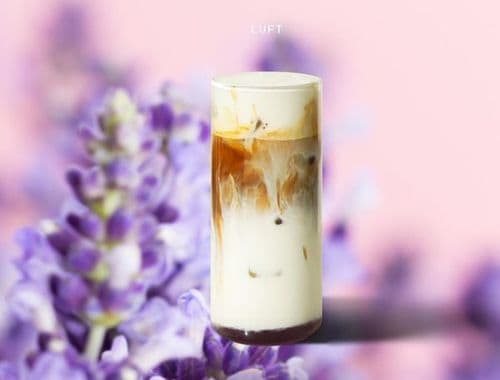 This spot has a Hawaiian theme and a minimalist look and is right across from the center of Myeongdong street. There was a lot of open space, with a big table in the middle where everyone could sit together. There were also many quiet places to sit and read or hang out.
With its clean, tropical setting and laid-back vibe, Luft Coffee is a great place to meet up with friends over coffee and pastries. Seoul workers can also get a cup of coffee before heading to work.
Specialty: coffee & pastry
Price range: Less than 10,000 won (7 USD)
Address: 308 Samil-daero, Jung-gu, Seoul, South Korea
What do you think of our list of the best Myeongdong restaurants? While you're in the fashion hub of Korea, Myeongdong, why not take a break at one of the area's many excellent Myeongdong restaurants and cafes? Which Myeongdong restaurants and cafes are at the top of your must-eat list? We would like to know if you can give us any additional suggestions. Leave a comment, and we will get back to you.
IVK's Top Picks – Day Tours, Tickets, and Travel Activities
Seasonal Picks!😍