Seoul or Seoul Special City is the capital and largest metropolis of South Korea. This fabulous city houses marvelous cultural and historical places. But it is also home to one of the most exotic markets named Gwangjang Market. It is a traditional street market in Jongno-gu. Also, known previously as Dongdaemun Market, which later changed to Gwangjang Market in 1960. This market holds massive significance as it was the first permanent market that remains open seven days a week. Not to mention, it is also one of the largest and oldest markets in Seoul. It is established in an area of forty-two thousand square meters. Moreover, there're over five thousand shops and more than twenty thousand employees working here.
Almost sixty-five thousand people visit the Gwangjang traditional market every day, making it one of the busiest spots in Seoul.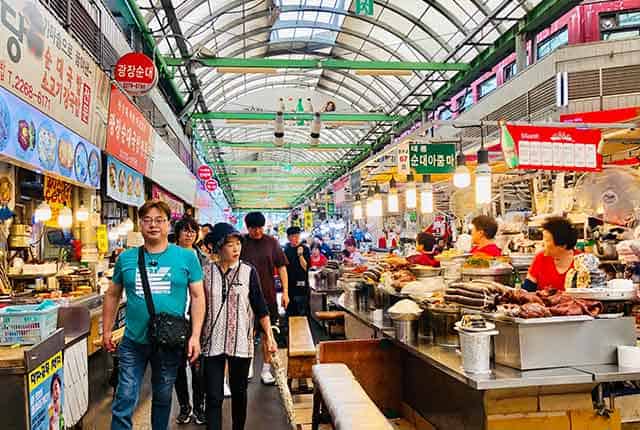 During the first few years of its opening, you could only get seafood and agricultural products from here. Later, as it slowly converted into one of the major markets in Seoul, it began selling a wide array of goods to its local and foreign customers. Now, if you come to this place, you can see almost fifteen hundred to two thousand vendors. They sell meat, fish, fruit, clothing items, vegetables, bread, souvenirs, kitchenware, textiles, handicrafts, and traditional Korean medical products. Gwangjang Market also has a number of food stalls and restaurants that sell traditional Korean delicacies. However, this place has gained immense popularity due to its mung bean pancakes or Bindaetteok, Tteokbokki, and Mayak-Gimbap.
How to get this place
If you are planning on coming here, the address of this place is 88 Changgyeonggung-ro, Jongno 4(sa)-ga, Jongno-gu, Seoul, South Korea. You can reach this place from Jongno 5-ga or Euljiro 4-ga metro station.
The opening and closing hours for the food section of this place are from 08:30 am to 6 pm, seven days of the week.
Best Korean Street Food You Must Try in Gwangjang Market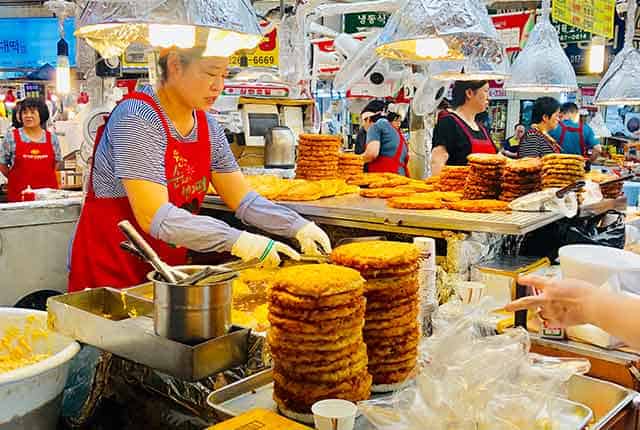 Bindaetteak or Mung Bean Pancakes
Mung bean pancakes are a mixture of mung bean mixed with mung bean sprouts, pepper, and onion. Once the mixture is ready, it is dipped in oil to be deep-fried. This delicious Korean delicacy has a crispy crust and is marvelously soft from within. It is full of flavors and is an ideal treat for your taste buds after exploring and shopping all day. There are two varieties of mung bean pancakes; one is the classic mung bean pancake with chopped kimchi, and the other one is with mung bean sprouts with a pancake full of minced pork. This delicious treat is often paired with chilled makgeolli or Korean rice wine to enhance the taste
Tteokbokki
Tteokboki is one of the best Korean street foods you can find in Gwangjang Market. This Korean delicacy is basically rice rolls made up of thick and chewy rice cakes that are served in a spicy tomato soup. These rice rolls are stewed in a thick red chili sauce and hence, are flaming hot but extremely flavorful as well.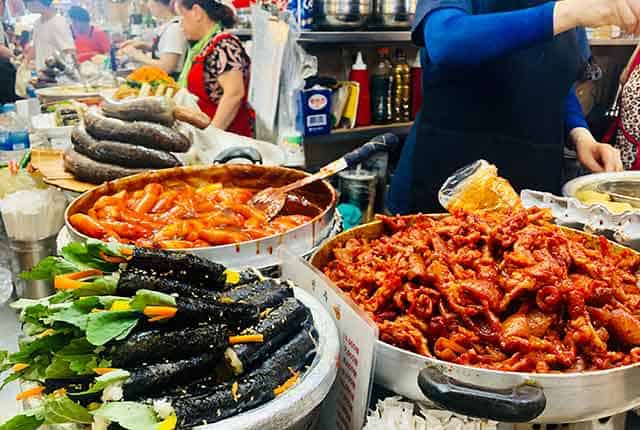 Mayak Gimbap
Mayak Gimbap is another popular street food that you can easily find in all of South Korea. Comprised of pickled vegetables and rice wrapped in seaweed. You'll particularly like this local cuisine if you are a vegetarian.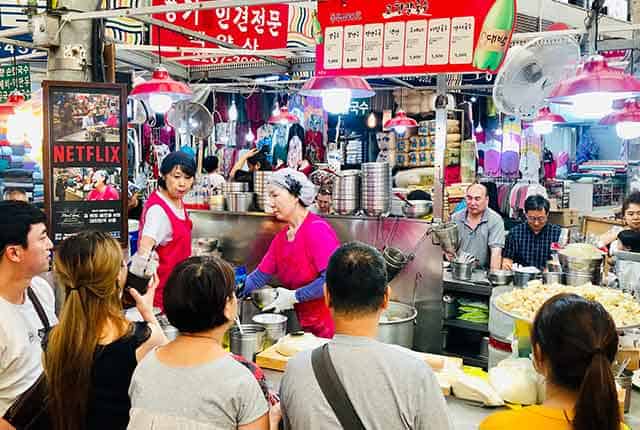 Mandu or Korean Dumplings
If you are a foodie wandering through the Gwangjang Market, then you must try mandu or Korean dumplings at least once. You don't want to regret missing out on this exotic experience once you have gone back home. Mandu or Korean dumplings are a delicious Korean street food that you can find with a number of varying fillings. Some of the fillings include pork, ground beef, Korean marinated beef, and shrimp.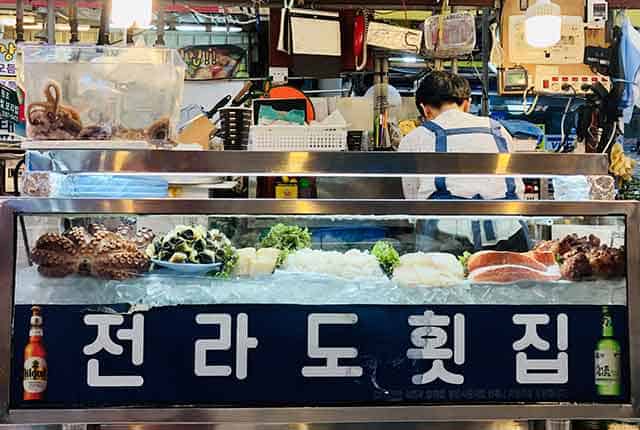 Fresh Seafood
Gwangjang Market also has a number of seafood items that include Sannakji or Live Octopus seasoned with sesame seeds and sesame oil, and urechis unicinctus (aka the sea penis). There are two ways of enjoying Sannakji; first, you can eat a small octopus cut into bite-size pieces and second, you can eat a whole live baby octopus. You would have a number of sauces to enjoy Sannakji, Live octopus, and the sea penis. These seafood delicacies are for the ones who love adventure and don't hesitate when it comes to food items that require courage to enjoy.
You may also like
IVK's Top Picks – Day Tours, Tickets, and Travel Activities
Seasonal Picks!😍