Most of us keep on traveling to different destinations and try different food items. Just trying and getting used to it is a different thing, but what about trying for the first time and getting in love with that recipe. For all food junkies, who love to try the new dishes that are the best in their form, let's take you on a food tour. We are here to introduce all the food lovers out there about the best restaurants in Itaewon and the trendiest area in Seoul where you can find many international restaurants, pubs and dessert cafes.
The 15 Best Itaewon Restaurants & Bars
Low & Slow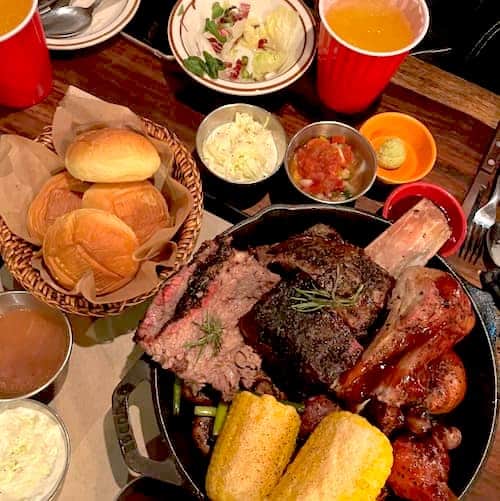 Don Spike is well known Korean musician, but he also has a sincere love for meat. By a Korean TV show, many Korean people know his barbecue skills and go to his barbecue restaurant. The menu is full of grilled juicy meat, so if you are a meat lover, I recommend a visit. However, do not forget to make a reservation at least a week in advance as they are currently 100% on a reservation system via this page. Lastly, the rice and beef mutton soup that you can taste at Low & Slow for free really amaze you.
Address: 126 Bogwang-ro Yongsan-gu Seoul
Open hours: 12:00 – 20:50
Price: 39,900 KRW ~ 164,900 KRW
Phone: 02-793-2268
Maple Tree House Itaewon Branch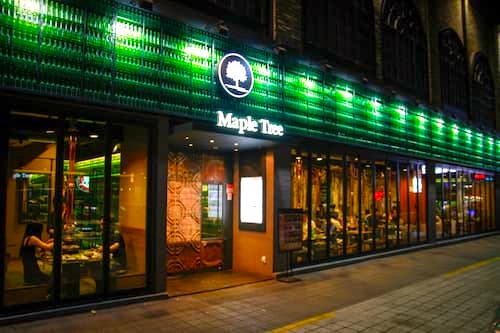 All the BBQ lovers, your wait to find a good restaurant is over. Because Two Plus Itaewon restaurant is the best Korean barbecue restaurant that serves Korean Beef Barbeque. They serve the best-qualified beef with marble and it's called ++ (Two Plus) in Korea. It includes the seating, reservation as well as the table service. The meals that it consists of are lunch and dinner. In addition, this restaurant does not charge any fee for wine. The restaurant also serves delightful food items with wine. The beef is of top quality and no need to worry about hygiene.
Open hour: 11:30 – 22:00 | Break time 15:00 – 17:00
Address : 26 Itaewon-ro 27ga-gil, Yongsan-gu, Seoul
Tel.: 02-790-7977
Price: 16,900KRW – 50,000KRW
Direction: A minute walk fallowing Hamilton Hotel's side road from Iteawon Station Exit 1 (line 6)
Anssi Makgeolli 안씨막걸리
Anssi Makgeolli was listed in the Michelin Guide for the first time as a Korean bar. Not only they serve a variety of traditional Korean liquors but also beautifully decorated dishes are available. It was very attractive because of the different from the regular one that I think of when I hear Makgeolli House. I love the modern yet traditional interior and the food was served in stylish and sophisticated. If you want to taste various local makgeolli and reinterpreted Korean food, I highly recommend a visit.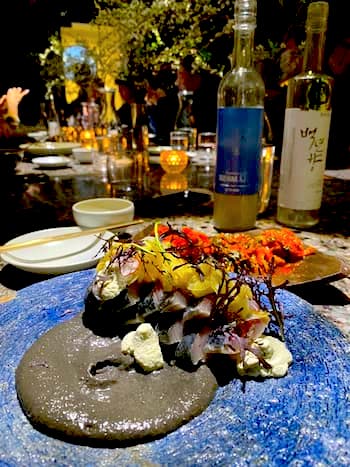 Address: 3 Hoenamu-ro Yongsan-gu Seoul
Open hours: 18:00 – 23:00
Price: 10,000 KRW ~ 45,000 KRW
Phone: 010-9965-5112
Vegetus
Vegetus is a vegan restaurant located in Haebangchon, Itaewon. The signature menu of this restaurant is the Vegetus Burger, which does not use any animal ingredients at all, but has enough flavor. Also, the gluten-free burrito balls were very tasty. It is the best place for vegetarians as you can taste not only the main dish but also vegan desserts like banana bread, chocolate cake, walnut pie, oatmeal cookies, and more! Check my detailed review and menu of Vegetus here. 🙂
Gongi
Do you want to eat neat Korean food? Then Gongi is the best place for you. Gongi has modern Korean style interior and various delicious menu. You can order not only traditional Korean alcohol but also red/white wine that goes well with Korean food. The biggest advantage is that you can feel as if you are in a high-class restaurant despite the reasonable price! However, I recommended you to make a reservation in advance to avoid No-seats. Private rooms can also be reserved.
Address: 4 Itaewon-ro 45-gil Yongsan-gu Seoul
Open hours: 12:00 – 21:30 | Break time: 15:00 – 17:30 | Sunday closed
Phone: 02-797-7753
Price: 16,000 KRW ~ 48,000 KRW
Instagram: https://www.instagram.com/gongi.seoul/
Buddha's Belly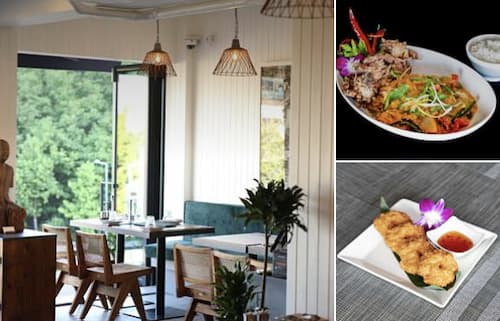 The name of the restaurant itself describes that it is a vegan-friendly restaurant. Buddha's Belly is a Thai restaurant that started in Itaewon in 2005. If you want to taste real local Thai food, I'd like to recommend visiting because of all the Thai staff, including 5-star hotel chefs. Moreover, this restaurant has been certified by the Thai Ministry of Commerce, which is the highest level among Thai Select.
It is a beautiful place with beautiful pictures of skyscrapers imprinted all over the walls. The main cuisines it includes are Asian and Thai. The Tomyam Pizza is the signature menu on a fusion version. The set menu for 2 or 4 people is available including 5 ~6 main dishes and drinks.
Besides, it consists of vegan options. If a traveler is a pure vegetarian or vegan, Buddha's Belly is a must-try place. The quality of the food is outstanding as well as it excels when it comes to taste. But like many other places in Itaewon, there is no parking area available. So try to use public transportation while visiting this restaurant. Just in case, you can use ballet parking, it costs 3,000KRW for 2 hours.
Address: 48 Noksapyeong-daero 40-gil Yongsan-gu Seoul
Open hours: Sun. – Thu. 11:30 – 23:00 | Fri. Sat. 11:30 – 24:00 | Break time: 15:30 – 16:30
Phone: 02-796-9330
Price: 15,400 KRW ~ 99,000 KRW
Web & Reservation: https://app.catchtable.co.kr/ct/shop/buddhasbelly
Troika Russian Restaurant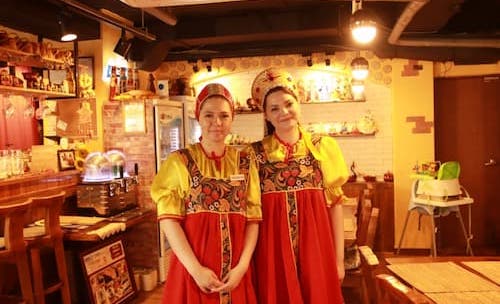 As the name of the restaurant suggests, it consists of Russian food along with the cuisines of eastern European and European food. Here in Troika, run by Russian locals, you can enjoy the Russian cuisine near Lake Baikal. What I liked the most about this restaurant was the rooftop table where I could have dinner while looking down on the main Itaewon street. Let's make special memories with the cool breeze on the rooftop. Needless to day, Troika excels for its tasty and homely Russian food and is also a vegetarian-friendly place.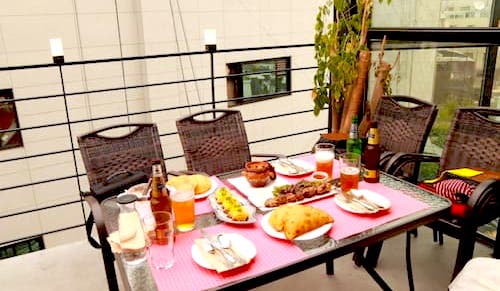 No need to worry about the food expenses, because this is a budget restaurant. A family can spend a good time together with loveable food. Moreover, no need to wait for a longer period, it allows timely service. The timings of this restaurant are from 12 p.m. to 11 p.m. which is the perfect time for all the travelers. Couples must have a romantic dinner at this restaurant.
Address: 164-1 Itaewon-ro Yongsan-gu Seoul
Open hours: Mon. – Sun. 12:00 – 23:00
Price: 18,000 KRW ~ 20,000 KRW
Phone: 02-794-7724
The Flying Pan Blue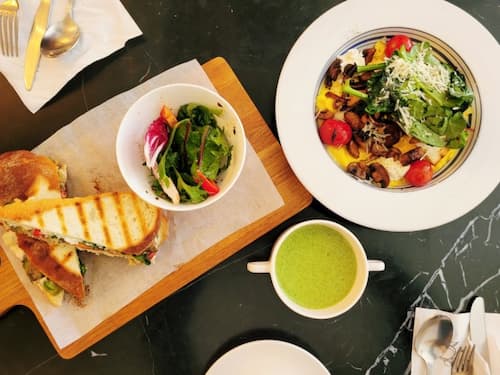 It is one of the best Korean brunch cafes that serves international food and ambiance. Not only the Flying Pan Blue includes American cuisine in the form of a Cafe but It also is vegetarian friendly and serves vegan options. Moreover, It is a famous brunch spot located in Itaewon and the quality food satisfies all the needs of a food lover.
Even breakfast is really tasty but it consists of one entry per person, no sharing is allowed in this restaurant. The best menu of The Flying Pan Blue is 'the morning in Itaewon' (이태원의 아침). It's a bit expensive (15,000KRW) but serves the great quality and quantity. Consequently, people who eat little less might face a situation of overeating or the wastage of food. But it all goes well as we get the services of the overwhelming food.
Address: 13 Itaewon-ro 27ga-gil Yongsan-gu Seoul
Open hours: Mon. – Sun. 10:00 – 20:00
Price: 15,000KRW ~ 20,000KRW
Phone: 02-793-5285
Maddux Pizza
This is another place that serves great Pizza concerning the quality as well as quantity. Maddux Pizza not only provides the pizza but it also provides various craft beer. Maddux Pizza is like American style so a bit salty than regular Korean pizza but still tasty and It is perfect to go with a friend on a romantic date.  Pizza just not only boosts your mood but even refreshes your taste buds. It is located at the entrance of the Itaewon. The great quality food served, this restaurant won't dissatisfy its customers. Enjoy the pizza with beer and chill.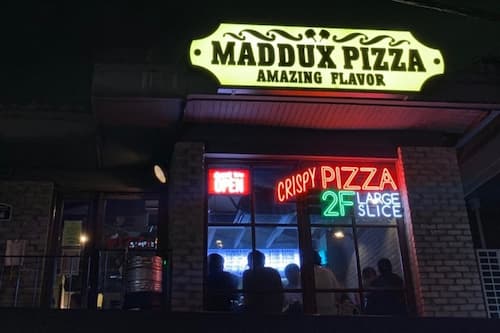 Address: 26 Itaewon-ro 26gil Yongsan-gu Seoul
Open hours: 12:00 – 22:00
Price: 4,800KRW ~ 49,000KRW
Phone: 02-792-2420
Trench Town
This restaurant outstands for Caribbean cuisine and is located near Itaewon station. Trench Town consists of a small pretty room containing all the foodstuff by serving only the dinner as the meal. Table service is provided by almost every restaurant, but this also includes the table reservation system. The quantity, as well as the quality of food, is great for customer satisfaction. The platter system allows a sufficient quantity. In short, all the food junkies who love Caribbean cuisines must give it a try. Because it is the best Korean restaurant with Caribbean cuisine. I highly recommend you to have a half & half platter with Jamaican Barbecue!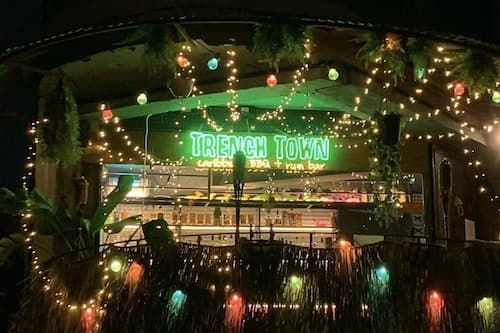 Address: 105 Bogwang-ro Yongsan-gu Seoul
Open hours: Sun. Thu. 17:30 – 22:00 (Break time 15:00 -17:30) | Fri. Sat. 17:30 – 23:00 (No Break time) | Mon. Closed
Price: 18,000 KRW ~ 65,000 KRW
Phone: 02-794-9992
Awesome Lounge Pub 감성주점 어썸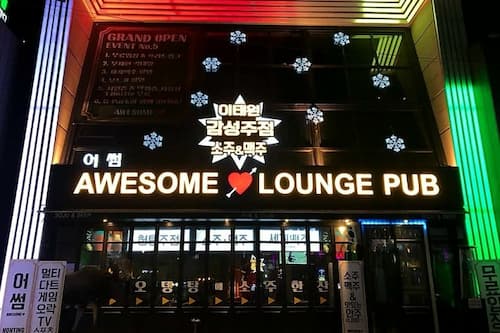 The term midnight attracts visitors to the beauty of Seoul nightlife. Visiting Itaewon with friends, but not enjoying the nightlife might be a regret for the youngsters. This restaurant introduces amazing facilities for youngsters like the pub, fusion, and gastropub. It is so much fun enjoying with friends and having the perfect meal. The popular menus of this bar are cheese-meat scramble and kimchi-jjigae. Why don't you try fusion foods mixed with Korean and western style? 🙂 Plus, they offer unlimited cocktails for only 15,000KRW (women)/ 20,000KRW (men) until 11 pm on weekends and no time limit on weekdays!!
Address: 16 Itaewon-ro 27ga-gil Yongsan-gu Seoul
Open hours: 17:00 – 05:00
Price: 18,000 KRW ~ 2,3000 KRW
Phone: 0507-1426-4749
Glam Lounge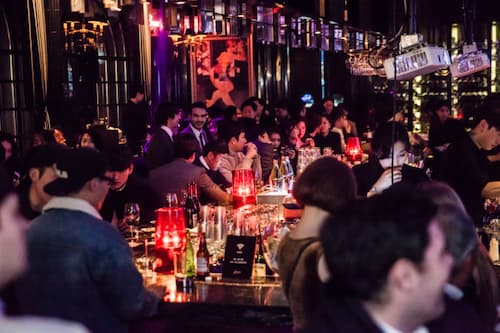 This lounge bar is not only for the youths, the cuisine included in the bar that also introduces the beauty of Korean nightlife. The staff serves great quality food with great courtesy. It serves the meals for after hours, drinks and dinner. Furthermore, Glam Lounge is Seoul's hottest place for the fashion and lifestyle industry and celebrities from around the world.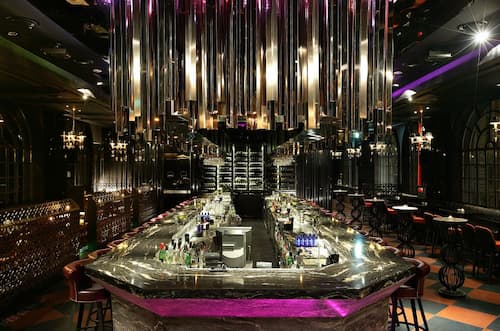 Apart from the unique luxury interior, I like that the food and drink prices are very reasonable. If you reserve the seating, you will get a more pleasant service. Plus, It proves the DJ facility with a piece of decent music. A good place to go and spend time with friends.
Address: 26 Itaewon-ro 27ga-gil Yongsan-gu Seoul
Open hours: Wed. – Thu. 18:00 – 23:00 | Fri. – Sun. 17:00 – 23:00
Price: 10,000KRW ~ 40,000KRW
Phone: 010-2657-6853
Sam Ryan's Sports Bar and Grill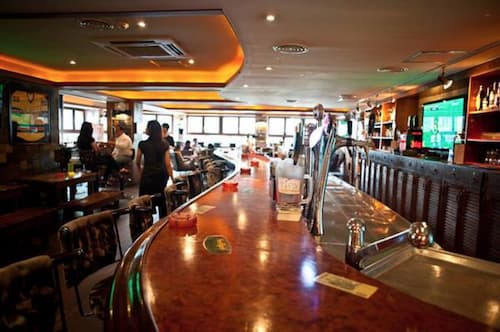 This is another overwhelming restaurant that provides several facilities such as bar, gastropub, and American cuisines. Here in Sam Ryan's Sports Bar and Grill, you can have a great dinner or lunch. It allows seating with television and the best of all it also serves the alcohol. When we enter this restaurant, a different type of spark is generated in the atmosphere. A lot of party vibes with full refreshments are provided. If you don't want to get involved in the party don't need to sit alone and get bored, watch the television and anything related to sports will be there.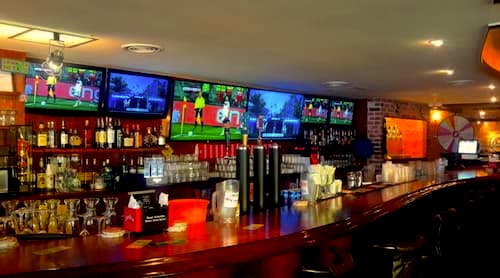 Enjoy the sport with your favorite drinks. Go along with friends, enjoy the evening/night with good quality food and drinks. The staff is very friendly and understanding. To make the blissful memories with your loved ones, a traveler must visit this restaurant located in the Itaewon.
Address: 50 Itaewon-ro 27ga-gil Yongsan-gu Seoul
Open hours: Weekdays 16:00 – 24:00 | Weekend 11:00 – 03:00
Phone: 02-749-7933
Globe Lounge
For all Pizza lovers, it is a place for you. Because Globe Lounge is the best Korean restaurant with Italian, French, European dishes and wine. In addition, it is rated as 5 stars by the locals. The customers love this restaurant as it provides the best pizza services at an affordable range. The staff is so comfortable and all you want will arrive with ease. The most stylish club with an elegant look is a must-visit for visitors. A lot of celebrities arrive in this lounge and one can make unforgettable moments with their loved ones. It is located at the center of Seoul that means you can enjoy the surroundings with blissful memories.
Address: 12 Itaewon-ro 27ga-gil Yongsan-gu Seoul
Open hours: Sun. – Thu. 18:00 – 03:00 | Fri. Sat. 19:00 – 05:00
Phone: 02-792-1127
International Food in Itaewon: Excel In Quality
We have discussed the top 10 restaurants in Itaewon, let's discuss the international foods that all the foreigners would enjoy. Like Itaewon is famous for its international food street, you can try various food items like Greek, Turkish, Middle Asian, African and of course Japanese. Additionally, Halal foods are served by many restaurants located in Itaewon. On THIS POST, you can check the official Halal-certificated restaurants in Seoul. Foreigners seeking halal can get their favorite dishes in these restaurants.
HAEBANGCHON: A Beautiful Destination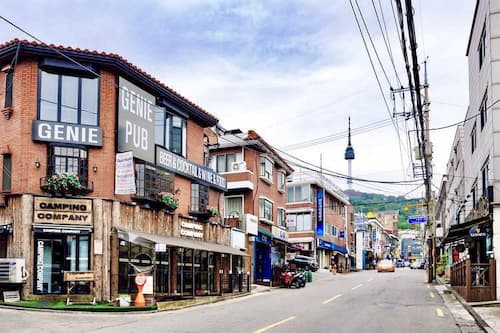 Haebangchon is one of the hippest areas in Seoul. Also, the sunset view is an attraction to it as It is a village with beautiful hills, there are so many restaurants, pubs and cafes surrounding this place, but the most popular ones are
Linus' BBQ (HBC) Haebangchon (10 a.m. to 10 p.m.) 
Haebangchon Chimac Life (4 p.m. to 4 a.m.) 
McCoy Haebangchon Grill (11 to 3:00 p.m. and 5 to 10 p.m. on weekends)
All the visitors who are going to Itaewon must try the restaurants listed above with their favorite cousins. More, international foods like halal and vegan food items are offered by many restaurants in Itaewon.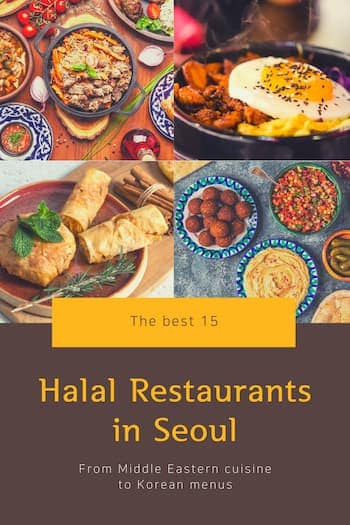 Visitors craving for any of their favorite dishes can go through any of the restaurants and have delightful food in Seoul! In addition, check the best things to do in Itaewon HERE.
You may also like