Korea is an amazing country to visit. Seoul is the capital of South Korea and is famous for temples and palaces, in other words, historical places. It has become a place of attraction for tourists from all around the world. During a trip to Korea, one must visit Seoul if you love hiking and visiting historical places. It is not only famous for historical buildings but also for traditional foods and Korean drinks. One of the most popular traditional drinks in Korea is Makgeolli. Here you will be able to know about this drink, how can you drink it, what foods are all in all good with and where you can find it in Seoul.
Makgeolli Bars in Seoul
What is Makgeolli?
You may have already known of Makgeolli even if you are not Korean. It is the most consume away alcohol in the country is also famous as Takju which means opaque wine. This is a Korean rice wine with a sweet, tangy, astringent and bitter taste. And It is a happy beverage with about 6 to 7% alcohol, 80% water by volume and white cloudy appearance. Mostly it is unfiltered so it contains lactobacillus and lactic acid bacteria at high levels which is good for digestion, slows the aging process and improves immune response.
Traditionally it is prepared by fermentation of rice with water and Nuruk in a crock for about a week. Nuruk is a cake create all through the barley wheat and rice act as a fermentation starter. It is an amazing drink with simple ingredients and a simple fermentation procedure. If you are interested in how to make this traditional Korean drink, you can book the class for it. Just follow the recipe and you can make your own.
How to serve and drink traditional Korean rice wine?
Makgeolli has a complex flavor profile. With a chalky texture, it can have a dusty fruit floral aroma.
Serve it cold in shallow bowls. Do not fill the cup. You can also use small bowls to enjoy this delicious wine.
You will see sediments at bottom, for those who like it unmixed can wait for sediments to settle down. But if you like it mixed, gently turn the bottle upside down, again up and enjoy.
Pasteurized wines a good for few months but unpasteurized ones have a limited shelf life of one month or it can be two months.
You can enjoy this Korean alcohol alone. But you can also pair them with different Korean foods. You will love different combos of Korean foods and makgeolli. Some of them are highlight down here.
Best menu combination with Makgeolli
Makgeolli is easy to try. During scarcer times, it was also famous as a suitable replacement for a meal. It is an amazingly flavor drink that can be pair up with almost every kind of Korean food. But it is best with Korean pancake, Jeon in Korean, and Fried Kimchi with tofu. Here are a few menu combinations with makgeolli famous all around Seoul. You would love them!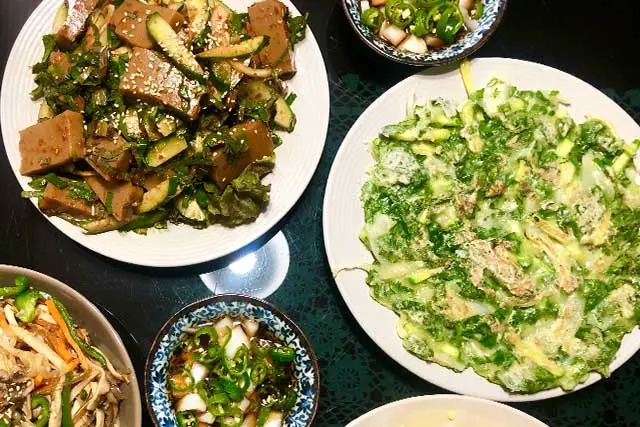 Jeon (Vegetables, Seafoods, Kimchi)
Unpasteurized tiger Makgeolli is a fragrant drink full of flavors and It is prepared with ingredients of raw rice. The best dish you can pair with it is Jeon, Korean pancake. It is a pan-fried vegetable or seafood dish coat up in flour as well as eggs. A sip of this wonderful drink cuts through the fattiness and richness of the vegetable and seafood and prepares your mouth to have the next bite after gentle cleansing.
Bossam (Steamed Pork)
For making this amazingly delicious dish pork is boil down. Once it boils away completely, it is then fry up on pan to give it firm texture. Fragrant scallions' fried in olive oil are used up for garnishing. Hongcheon-gang Takju, dry Makgeolli is the best drink to serve all in all along with this dish. It has floating Nuruk particles having 10 to 12% alcohol content which is rather higher than a regular one.
Kimchi and warm tofu
Here comes a classic combo of tofu, kimchi, and makgeolli. Handmade tofu's are lightly poached and warmed then served with pan-fried kimchi. It is naturally carbonated and rich in flavor. More, the best makgeolli you can have with this dish is Eunjagol Takbaegi in Sangju, Gyeongsangbukdo, southern part of Korea. Here you can have a brewery tour and a class as well.
Crispy beef served with chili garlic sauce
Strips of beef are marinated out in the sesame oil, oyster, and garlic sauce. After some time these marinate forms of strips are coat up with flour mixture made up of rice flour and cornstarch. After coating these are fry to crisp and then mixed with garlic and chili oil. It is first glazed with soy sauce and then chili peppers are added up to it. This sweet and spicy dish along Makgeolli is a perfect combo to try.
Pork Bulgogi and Chamnamul salad
Pork is marinated with soy sauce and ground fruit for some time. It is then grilled on a high flame like Korean BBQ. This delicious meat is then served with Chamnamul, Short-fruit Pimpinella Salad. Green plum gochujang, red chili paste, and sesame oil are used to dress Chamnamul salad. The best drink to serve with it is Sobaeksan Makgeolli which is fermented in about 80 years old vessel. It is an n old fashioned traditional drink having yogurt-like tartness. Try it!
Makgeolli-marinated grilled pork shoulder steaks
Makgeolli is using up to marinate pork shoulder for about 3 hours and 15 minutes. This gives all in all meat tenderness. After the meat is cook up it is served out with Makgeolli. The mild sweetness of this traditional drink that enhances the taste of the pork much more!
Chargrilled pork neck marinated with soy sauce
For making this amazing dish full of flavors pork neck is fried on a pan first after marinating with soy sauce. Charcoal is used to grill, which produces a smoky aroma. And the best drink you can have with this is Baek-Ryun Misty Makgeolli. With a little sweetness, it improves the flavor of the pickled vegetables served along with pork.
Best Makgeolli Bars in Seoul
No doubt Makgeolli is one of the best Korean alcohols one must try during his trip to Korea. It is one of the best traditional Korean drinks. There are a lot of places in Seoul where you can all in all enjoy this rich in flavors drink. Here are some of the best Korean bars I recommend:
Baekgom Makgeolli
If you want to enjoy any kind of Korean drink during your stay in Seoul, Baekgom makgeolli is the best place you should visit. Anything you want you can find it here. Over the past few years, it has become very popular. Here you can enjoy different flavors of drinks. This place is a bit expensive but you will have the best experience there. All of their employees are professional sommeliers. So, no need to worry about what to choose.
Address: 39 Apgujeong-ro 48-gil Gangnam-gu Seoul
Open hours: Mon. – Thu. 17:00 – 24:00 | Fri. – Sat. 17:00 – 1:30 | Sun. Closed
Phone: 02-540-7644
Hanguk Bar Anssi Makgeolli
Situated in Yongsan-gu, it is one of the finest Makgeolli places to visit in Korea. This place gives you a variety of traditional Korean drinks like Takju, Cheongju, and Soju. And it's picked on Michelin Guide Seoul 2018 with various Korean drinks and seasonal food menus. Furthermore, the atmosphere and interior is loved by many locals and visitors from all around the world. Drink offered here is available in a variety of flavors you can all in all choose the one that suits your taste.
Address: 3 Hoenamu-ro Yongsan-gu Seoul
Open hours: Sun. – Thu. 18:00 – 24:00 | Fri. – Sat. 18:00 – 01:00
Phone: 010-9965-5112
Sanjang in Hongdae
Here comes another place to visit in Seoul for enjoying your favorite drink makgeolli. Not only it is the best thing about this place, but people also love the food here. Kimchi pancake, spicy rice cake, and spicy pork belly are the most delightful dishes over here. The environment is excellent for friends and families. As the atmosphere and mood are good, Decedents of the suns, a wonderful Korean drama have also been filmed out here in Sanjang.
Address: 42 Wausan-ro Mapo-gu Seoul
Open hours: Mon. – Thu. 17:00 – 03:00 | Fri. – Sun. 17:00 – 04:00
Phone: 02-322-3637
Neulin Maeul Brewery Gangnam Branch
Having three other branches in different places, Hongdae, Gangnam, Euljiro is famous as one of the best places to visit in Seoul. You will have the best makgeolli experience seeing the brewery and tasting seasonal Makgeollies. It served at this bar is free from artificial sweeteners or preservatives giving you the natural flavor. They use all in all local agricultural products to give you the best drink. In addition, Neulin Maeul Brewery will serve you unlimited draft Makgeolli on 10,000 KRW for two hours! If you are a Korean food and drink lover, you must go!
Address: 7 Seocho-daero 73-gil Seocho-gu Seoul
Open hours: Mon. – Sat. 17:00 – 01:00 | Sun. 16:00 – 23:00
Phone: 02-587-7720
Yumongmin Nomad Bar
Situated near Anguk station it is one of the best bars to visits if you are in love with makgeolli. Yumongmin nomad bar has asserted itself as one of the best bars of Seoul. It inspires all by all in all the era of a speakeasy with a modern touch. This place takes a presentation seriously and leaves a strong impact on visitors.
Address: 13-1 Insadong 16-gil Jongno-gu Seoul
Open hours: 11:00 – 02:00
Phone: 02-733-1171
Conclusion
For a person who loves to travel, Korea is a visit-worthy country due to a lot of traditional and modern attractions over there. As a result Makgeolli is one of the best traditional drinks in Korea. You cannot miss it during your stay in Korea. So if you are planning to travel to Korea make sure to try this amazingly delicious Korean drink. There are a lot of bars in Seoul where you can have this drink; you can also enjoy it with your food. In this article most of the good bars in Seoul are highlight down, you can visit any of them. Enjoy your trip to Korea.
You may also like
IVK's Top Picks – Day Tours, Tickets, and Travel Activities
Seasonal Picks!😍