Our lives are being influenced and driven by some significant factors i.e., styling, fashion, and fulfilling the requirements to meet the standards of society. You might have noticed that everyone around you wants to be as stunning as the celebrities that you see on TV screens or the models that you see in the advertisements. To have that perfection in yourself, the easiest and convenient procedure will be to go through plastic surgery. Plastic Surgery in Seoul is a process of surgically enhancing the bodily or facial features to give you a gorgeous appearance.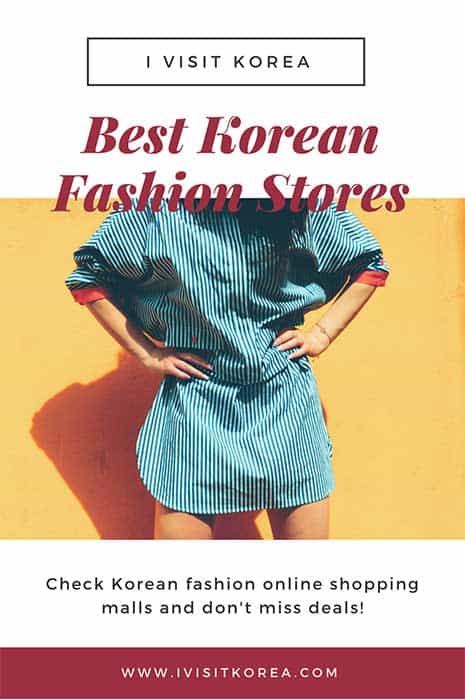 Korea is known to be the hub of plastic surgery as various plastic surgery clinics are not only qualified but also provide you high-quality services at very affordable rates. That does not mean every clinic out there is certified and you can handover your face to anyone. If you are trying to find plastic surgery in Seoul, Korea, it could be the hardest thing for you to do as it is a matter of your appearance, your identity, in fact, your whole life. Therefore, it is of much importance to have proper research about plastic surgery in Seoul and verify the surgeon before you go for surgery.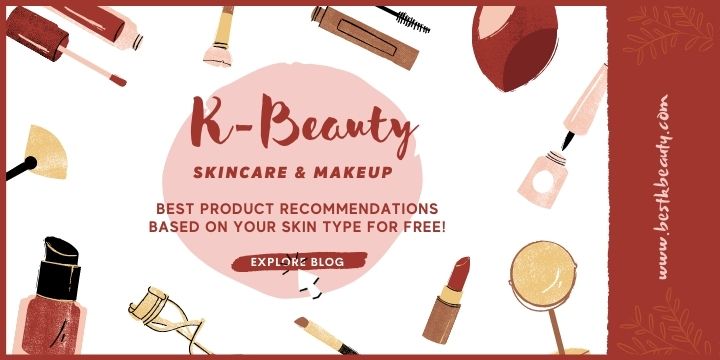 Plastic Surgery in Seoul
How long should you stay in Seoul for plastic surgery?
If you have selected a certified and verified clinic for surgery in Seoul, you need to get your appointment and get your treatment started. It usually takes about 2-3 weeks for you to complete the procedure. So you will have to schedule your trip to Korea accordingly, especially when you can't have repeated visits. However, the time for completion of your plastic Surgery in Seoul varies depending on the nature and type of your Surgery. You might be willing to see the immediate results, but that's certainly not the case as you will need a healthy amount of time to heal the Surgery and see the final results before you can get back to your home.

Where is the best area in Seoul, Gangnam?
The best areas for beauty belts and plastic surgery in Seoul, Gangnam are Gangnam Station and Apgujeong streets, where most of the trusted surgeons perform their operations. If you visit these two places, you would see a lot of Koreans and foreigners wearing big sunglasses or masks to cover up their faces after getting surgeries. Gangnam station is quite popular among Koreans for the quality of their plastic surgeries though they are expensive.
Quality of Plastic Surgery and the certification of the surgeon must be the first thing to check before going for surgical procedures for beauty treatments. Because plastic surgery is a one-time decision that will last its impact for the rest of your life. Therefore, you need to find the ideal clinic for your transformation. No surgeon in Korea wants foreigners to have bad experiences, who have traveled all the way to get beauty treatments. Still, in some cases, unexpected results may happen due to a non-professional attitude.
If you are traveling from another country to have your plastic surgery, you can find some plastic surgery clinics in Seoul that are internationally recognized, such as ID, BK, Regan, Grand, JW, JK, etc. The most common question that might pop in your mind would be to know about the best Plastic surgery clinic in Seoul. But It depends on the skills and competitiveness of the surgeon who will perform surgery and the clinic and its reputation in this industry. If you can speak Korean, you can get all kinds of beauty information and check the reviews and great deals on the app called Gangnam Unni, 강남언니. Download it on Appstore or Google Play.
How to find the best Korean plastic surgery clinics?
To find the best plastic surgery in Seoul, you need to follow these simple guidelines that will help you decide for yourself.
1. Don't rush and research well
The most convenient method to find plastic surgery clinics in Seoul is to run research on the search engines. Then you will find various websites and clinics from which you can pick and choose based on customer reviews as a result, the experiences of other patients. Getting to know the offerings at multiple sites is not enough as capital intensive plastic surgery clinics are expected to be showing out there. So which are not quite a good option to choose for your Surgery.
2. Do not go behind alluring before and after photographs
There is a significant misconception that is being created in your minds by creative advertisements of before and after pictures of Plastic Surgery in Seoul from which you cannot judge the 100% effective results. In most cases, before-photos are taken in dim lights along with no makeup on the patient's face, whereas the after-photos are taken in bright lights with make-up on and photo-shopped as well. So it is highly recommended that you do not have to rely solely on the pictures.
3. Do not just listen to celebrities
Remember, whenever you hear stars talking about their beauty treatments or surgeries from a particular clinic, they are sponsored to get those clinics achiever higher sales volume and earn revenues. I know you would already be familiar with the fact that celebrities usually get beauty treatments as a requirement of their work. Thus, you cannot expect similar results by treatments from the same clinic.
4. Don't just pick one clinic
You do not have to pick any clinic based on the customer reviews, celebrities or public figures recommendations, or the hype of that clinic. It not all to be considered before choosing a clinic for your plastic surgery. Since a surgeon has to perform the surgery on your face or body, it is highly essential to verify the surgeon firsthand. Trusting blindly or following other's recommendations is an easy way to ruin your appearance and life.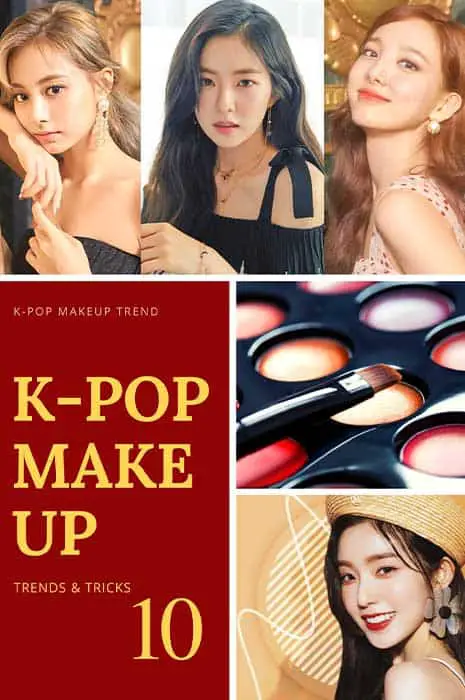 Best Plastic Surgery Clinics in Seoul
If you want to know about the best clinics in Seoul, please follow below mentioned 10 best plastic surgery clinics in Seoul, Korea.
ME Plastic Surgery clinic in Seoul
Me plastic surgery clinic is an approved and certified clinic by the country's government especially planned to provide its services to foreign clients. Every employee at the ME surgery clinic in Seoul will be highly skilled and fluent in English. Thus, you don't need to worry about the language barrier. Moreover, there are various packages available for the international clients that include transportation, housing, consultation at non-refundable reservations with 10% of pre-deposit, and a Seoul tour.
The available surgery options include
Breast Fat Graft
Nose
Double Eyelid
Blepharoplasty
Breast Implant
Epicanthoplasty
Liposuction
Face Lifts
Hair Transplantation
Address: 749 Seonlleung-ro Gangnam-gu Seoul
Open hours: Mon. Fri. 11:00 – 20:00 | Tue. Thu 14:00 – 20:00 | Wed. 11:00 – 19:00 | Sat. 11:00 – 18:00
Web: https://www.meclinic.net/
Phone: 010-6501-7508
Banobagi Clinic of Plastic Surgery in Seoul
Situated in the middle of Gangnam City, Banobagi Plastic surgery sets an entirely new meaning of "Details". Because their fundamental viewpoint is to take great care and precision in minute details for each of their patients. As a result, This hospital is recognized for its outstanding reputation in surgical techniques. Also, its concern for the clients to save their money by not asking them to undergo unnecessary procedures. In addition, the hospital is firm in its integrity and honesty and the concern for its patients by providing a full support system for English customers.
Moreover, the surgeons at this hospital are skillful and know how to handle various surgery types with high precision and deliver quality services. Their offerings include
Facial Contouring
Available Procedures
Mammoplasty
Body Liposuction
Eyes
Rhinoplasty
Anti-aging
Revision Surgery
Address: 517 Nonhyeon-ro Gangnam-gu Seoul
Open hours: Mon. – Fri. 09:30 – 18:30| Sat. 09:30 – 16:00
Web: https://www.engbanobagi.com/
Phone: 02- 522-6636 | 010-2216-6508
JW Plastic surgery in Seoul
The best part about JW plastic surgery is that you will get multilingual coordination, which means that you will not face any language barrier if you are Chinese, Russian, Vietnamese, Thai, or the US. You will get a coordinator who will work with only you as long as you stay in Korea for your Plastic Surgery. What's more, most of the Surgeons in the JW plastic surgery clinic have certified degrees from the renowned "Yonsei University" in Asia.
The available procedures at JW plastic surgery clinic are
Revision
Breast
Nose
Double Eyelid
V-line
Liposuction
Double Jaw
Anti-Aging
Address: 553 Samseong-ro Gangnam-gu Seoul
Open hours: Mon. – Fri. 10:00 – 19:00| Sat.10:00 – 17:00
Web: https://jwbeauty.net/
Phone: 02-541-5104
E-mail: [email protected]
Regen Plastic Surgery Clinic in Seoul
The philosophy of the Regen Plastic surgery clinic is to treat you with great care and improve the overall branding of Korea through advanced medical technology. So, to have a complete range of tests, operations, treatments, diagnoses, and other regimes, you can visit Regen tower as it has got all in one place.
In Regen plastic surgery clinic you will get treatments of
Facial Contouring
Two Jaw Surgery
Eye Surgery
Mammoplasty
Anti-aging
Rhinoplasty
Petit Plasty
Body Obesity
Men's Plastic Surgery
Address: 463 Gangnam-daero Seocho-gu Seoul
Open hours: Mon. – Fri. 10:00 – 19:00| Sat. 10:00 – 16:00
Facebook page: https://www.facebook.com/RegenMedicalGroup
Phone: 010-4345-8766
E-mail: [email protected]
Subscribe & Get Coupons for K-Fashion Online Stores!
ID Hospital of Plastic Surgery in Seoul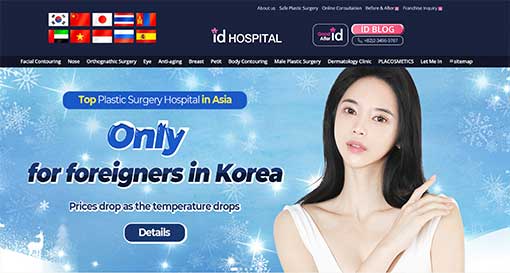 ID plastic surgery clinic is yet another leading brand of Korean Plastic Surgery which offers its clients complete beauty solutions. Government of the Republic Korea has certified ID hospital which provides you with various surgical processes such as Cosmetic Surgery, Bones Surgery, Jawline surgery, Dentistry, dermatology and lot more all by skillful and certified surgeons.
At ID plastic surgery hospital, you will get
Virtual Plastic Surgery (free)
Eyelid Surgery
Rhinoplasty
Facial Contouring Surgery
Orthognathic Surgery
Petit Plasty
Breast Surgery
Facelift
Brazilian Butt Lift
Address: 142 Dosan-daero Gangnam-gu Seoul
Open hours: Mon. – Fri. 10:00 – 19:00| Sat. 10:00 – 16:00
Web: https://eng.idhospital.com/
Phone: 02-3496-9783
E-mail: [email protected]
Wonjin Clinic of Plastic Surgery in Seoul
There are over 40 Plastic Surgeons each for a special kind of Surgery by making use of the most advanced technology of miracle jet and ultrasonic waves to provide its customers extensive care. They also offer its clients a multilingual support system for accessible communication and a better understanding of the medical procedures.
They offer their services in
Eye Surgery
Two Jaw surgery
Nose Surgery
Breast Surgery,
Anti-aging
Body Contour
Dentistry
Dermatology
Medicine
Address: 1306-6 Seocho-dong Seocho-gu Seoul
Open hours: Mon. – Thu. 09:30 – 19:00| Fri. 09:00 – 20:00 | Sat. 09:30 – 17:00
Web: https://wonjinbeauty.com/
Phone: 070-4700-7282
E-mail: [email protected]

View Plastic Surgery clinic in Seoul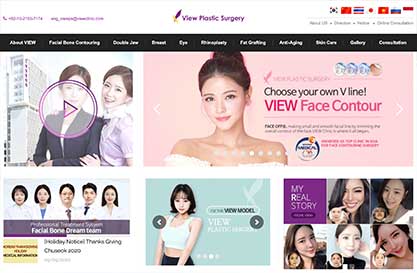 If you are looking to have cosmetic treatments surgically, you must visit View Clinic of Plastic Surgery in Seoul. Because they have doctors of qualified caliber and specialization in surgical procedures to give you the look of your desires. Therefore, the surgeons perform around 4-5 procedures in one intervention to provide you with the required Surgery.
They offer you Surgery of
Breast
Eyes
Nose
Belly
Face lifting
Combined Surgery
Face contour
Body Contour
Address: 107 Bongeunsa-ro Gangnam-gu Seoul
Open hours: Mon. – Thu.10:00 – 19:00| Fri.10:00 – 21:00 | Sat.10:00 – 17:00
Web: https://www.viewplasticsurgery.com/
Phone: 02-539-1177
E-mail: [email protected]
JK Clinic of Plastic Surgery in Seoul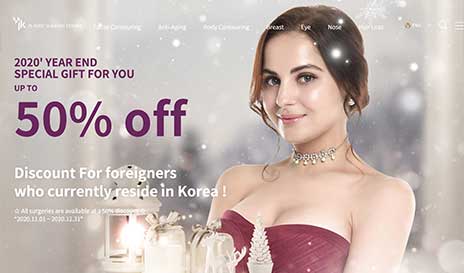 It has taken about 20 years in the establishment of JK hospital in Seoul, Korea. Many customers visit JK from all over the world because of the specialized and certified surgeons. Currently, JK clinic has ten anesthesiologists and plastic surgeons who perform their surgical procedures with high precision on their clients. JK clinic is a center of attraction for foreign clients because of its recognition by the Health and Welfare ministry.
They offer Surgery of
Double eyelids
Liposuction
Botox
Hair transplant
Eye revision
Breast surgery
Fillers
Nose
Address: 835 Nonhyeon-ro Gangnam-gu Seoul
Open hours: Mon. – Fri. 09:30 – 18:30
Web: https://www.jkplastic.com/
Phone: 02-777-0337
E-mail: [email protected]
Hershe Clinic in Seoul
Hershe clinic of Plastic Surgery offers a wide variety of surgical and beauty treatments to its customers. Therefore, they solve your problems of stressful imperfections in the face and body. Furthermore, high-end plastic surgery will give you a full range of services regarding aesthetics. The modern clinic with advanced equipment offers you unique surgery options such as
Breast Augmentation
Facelift
Eye surgery
Botox
Fillers
Facial contouring
Laser treatment
Reduction lift
Nose
Liposuction
Resurfacing
Dermatological procedures
Address: 502 Dosan-daero Gangnam-gu Seoul
Open hours: Mon. – Fri. 10:00 – 19:00 | Sat. 10:00 – 16:00
Web: http://eng.hershe9.com/
Phone: 010-3420-4624
E-mail: [email protected]
Grand Hospital of Seoul
As the name suggests that this would be something grand not only by name but in its services and premises. Not only this 21 story building of Plastic surgery hospital has each floor for different surgical treatments but the Grand Hospital of Seoul also offers its clients specialized surgeries with great care to make their experience better and improve the efficiency of the hospital.
They are offering their services in
Breast Lift
Reduction of Breast
Breast augmentation
Upper Blepharoplasty
Lower Blepharoplasty
Double eyelids
Facelift
Rhinoplasty
Forehead lift
Neck lift
Botox
Fillers
Liposuction
Address: 121 Dosan-daero Gangnam-gu Seoul
Open hours: Mon. – Fri. 10:00 – 19:00 | Sat.10:00 – 17:00
Web: https://eng.grandsurgery.com/
Phone: 070-7119-1580
E-mail: [email protected]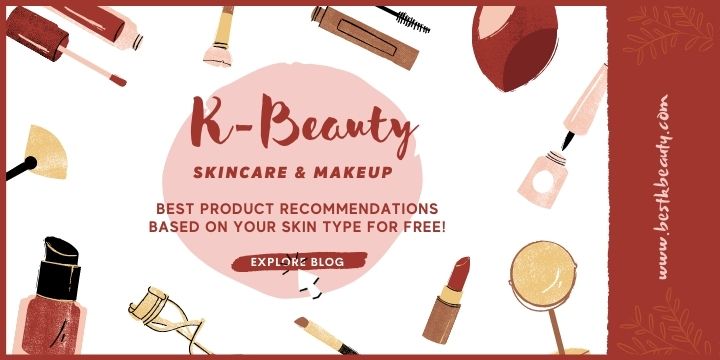 Located in the heart of Seoul, Korea, the luxurious and modern yet certified clinics of Plastic Surgery are providing their customer with great options to get beauty treatments. Besides, you can get more certified information on the medical tourism website run by the Korean government. But one thing that you must remember is that beauty comes from inside of you, not from the outside. The outer beauty is just the visual aesthetics and temporal, whereas the inner beauty of your character, your soul, your mind, and your behavior is eternal.
You may also like
IVK's Top Picks – Day Tours, Tickets, and Travel Activities
Seasonal Picks!😍