Korea is a great place to visit if you are looking for a place jampacked with culture and amazing cuisine. The best part is that everything about Korea is so instagrammable. From the beautiful and tasty food to the tourist attractions and Korean products, everything is in such an aesthetic manner that you can resist taking and posting pictures. Now, we do not make the rules but, every time one visits a new place, they must collect souvenirs. So, if you are wondering "what to buy in Korea", check the top 10 things to buy on this post. And we have covered for you a list of unique Korean souvenirs as well that one must get their hands on. Here are all the amazing and fun items that only you can buy in Korea.
Top 14 Unique Things to Buy in Korea
Korean Red Ginseng Products
Traditionally Korean people have red ginseng as an herbal medicine. It's known to enhance the immune system and memory, recovers the vitals, alleviates stress and fatigue, improves the flow of blood in the body. Also, it has many positive effects on people with menopausal disorders. Red ginseng is prepared by processing fresh ginger by steaming and drying it multiple times. Moreover, the side effects of red ginseng are almost none so, it's completely safe to consume and apply, unlike ginseng. If you find products with red ginseng as an ingredient then don't hesitate to buy it as it makes the perfect Korean souvenir for your parents and family.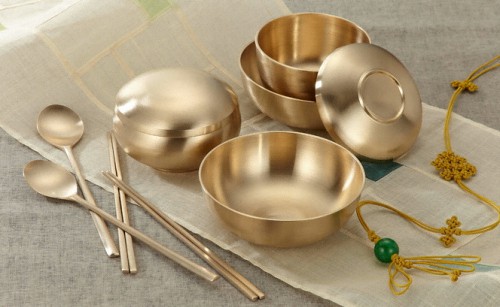 Bangjja Yugi
Bangjja or Yugi is a traditional Korean bronzeware that is typically forged with bare hands. You can purchase a complete set of Bangjja and it shall include different sized bowls, dishes, chopsticks, and spoons. It is definitely an "only you can buy in Korea" item because the Bangjja that you will find in other parts of Far East Asia will differ in ingredients and the ratio of tin and copper used in their making. Bangjja does not only hold a traditional value in Korea but also has a deep history to it. The brassware finds its origin in the Bronze age and the Bangjja technique was used for making various items such as ritual tools, tableware, etc. Initially, only royals use these items but, now it can be found in the traditional markets of Korea. You can feel It's rather expensive but it's so beautiful.
Korean Traditional Liquor
There is a wide variety of traditional Korean liquor that one should try. In Korean, we call "Sul" (술) for alcohol drink. Approximately, there are over a thousand different kinds of traditional Korean alcohol. The most common ones are milky rice wine also known as Makgeolli or Takju, distilled liquor is also known as Soju, fruit wines which are also known as Gwasil-ju, and clear rice wine is also known as Cheongju. These liquors are typically made from rice, Nuruk, yeast, and various other natural ingredients.
Furthermore, you can get these liquors in 6 different flavors, such as pungent, bitter, roasted, spicy, sour, and sweet. The way to guess if the liquor is of good quality is if the flavors are nicely balanced out. Don't miss out on trying Korean traditional drink and get them back to your country and share with your friends by memorizing your Korea travel!
Korean Hangover Cures
Yes, Korea has products made specifically for dealing with hangovers and you should definitely take them back with you as they are highly effective. Some of these include Morning care, Condition, and Dawn 808, etc. It works well if you have it before drink or the day after heavy drink.
Dead Skin Scrub Gloves
Korea has to be one of the largest skincare and self-care industry. They have thousands and thousands of fun and highly effective skincare products. You are seriously missing out on experiencing Korea in its truest form if Dead Skin Scrub Glove is not a part of your "Korean Things to Buy" list. With the help of these gloves you can easily remove all the dead skin, blackheads, and other unwanted items off your body. I could guarantee that this experience will leave your skin incredibly soft and fresh.
All you have to do is wear them and vigorously exfoliate your skin. However, do not be too harsh that you end up hurting yourself. Make sure that you are not rubbing it in circles by making long strokes in one direction for immediate and effective results. Moreover, do not use them on your face because your face does not need such a strong exfoliant. In the end, don't forget to rinse and moisturize yourself as it is the best time for your body to absorb moisture and hydrate itself. 
Hanji
Hanji is known to be a type of traditional Korean paper that is made from the bark of a mulberry tree. The ancient Koreans initially imported Hanji from China and then later developed mechanisms to give it their own touch. Hanji is very firm, durable, and strong while still be soft at touch. Besides, you can find it on the doors and windows of a Hanok which is a Korean traditional house made from environmentally friendly raw materials. If you are interested to stay in this traditional hanok, check this post.
When talking about the endurance of a Hanji, you can easily compare it to that of a microfilm or a compact disk. Yes, it's a paper with the endurance of a cloth. Hanji does not harm the environment as it uses the non-wood pulp. Furthermore, Hanji can be used as flooring, napkins, masks, and even as a diaper as there are no side effects of it and it stays in place for however long.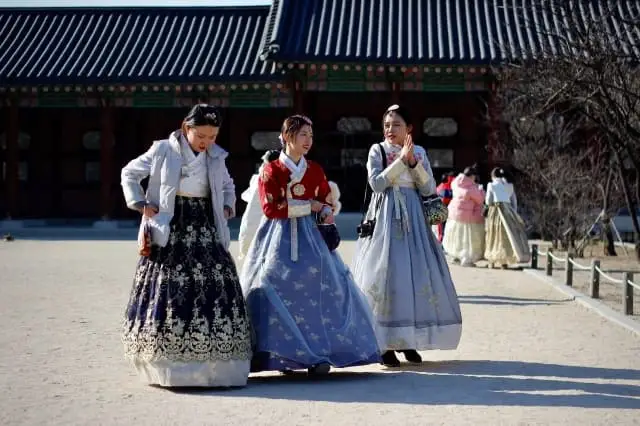 Hanbok
Hanbok is the traditional dress of Korea. You can describe what a kimono is to the Japanese, the shalwar kameez is to the Pakistanis, and the sari is to the Indians. It is their national dress. Even though it is not worn in the daily routine but, the Korean women tend to wear it on their special events, celebrations, and occasions. You can either purchase it or get it made for you from the Dongdaemun or the Gwangjang market. Otherwise, you can rent it and take a photo of you with this gorgeous traditional dress in Gyeongbokging palace or Bukchon Hanok village that is one of the must things to do in Korea travel. The entrance fee is free if you are in wearing Hanbok.
Dojang
Do not confuse this dojang with the Korean gym as we are talking about the traditional Korean stamps. These stamps are customized with your name or signature. The dojang has been a part of the Korean tradition for centuries and still, we use it frequently in this day and age for signing official documents. Even foreigners can also use them by getting one customized for themselves. Dojang is such a perfect souvenir with your name or lovers in Korean by making it yourself with the guide of the cultural class. For more details, click HERE.
Cute Korean Socks
Do you think your country has the best collection of cute socks? Well, think again. Korea is second to none when it comes to cute stuff. You absolutely have to get yourself some Korean cute socks to complete your experience in Korea. Easily you can find them in Namdaemun market, Myeongdong shopping street and Insadong street!
Korean Beauty Products
There is no way you can leave Korea without getting your hands on the Korean beauty products. You can find a wide range of Korean beauty and skincare products to choose from and the best part is that they are available almost everywhere in Korea. You can either go to their designated shops, such as Etude House, Missha, Nature Republic, The Face Shop, Toly Moly, Holika Holika, and Style Nanda, etc. or any departmental store or even at the underground metro station shopping center.
Missha is known to have the best velvet touch bb cream that prevents your skin from getting oily so it is definitely a must-have product. In addition, you should also try the unusual and unique skincare products. Such as Korean sheet masks with animal faces printed on them or the sheet masks with gold flecks, or watery toners, or any of their products that contain snail and/ or bee extracts you can try. In some malls, these face masks are being handed over for free as samples to be on the lookout for that. Here you can check the best Korean sheet masks and moisturizers, any other best-selling products from Korean cosmetic brands like Innisfree, Etude House, Missha and more.
Fun Korean Snacks
Koreans are extremely creative with their snacks. The only thing you need to do for that is going to a convenient store, at the snack aisle and choose the snacks that you have never tried. Some of these fun snacks include the pepper sticks, banana chips covered in chocolate, bibimbap flavor chips, Tteokbokki snack. Plus, all the fun ramen noodles!
Milkis
Milkis is a Korean soft drink that is made by using sugar, carbonated water, and milk which gives it a creamy taste. The drink is available in various fun flavors, such as banana, melon, peach, strawberry, classic, apple, orange, and mango. Try it!
Dried Seaweed
Koreans love dried seaweed. They use it in a good amount of their recipes and sometimes they even use it to scoop and wrap their food with it. You can also find it packaged and some snacks by dried seaweed at any convenient store or grocery store with ease. It tastes good and healthy!
Jukbuin (Bamboo Wife)
A Jukbuin is a hollow bolster, almost the size of an adult human and is made out of bamboo. They are hand-woven and are using for hugging by placing it between your legs. It is mainly used as a sleep companion in summers because it is cooler than a sheet or fabric pillow. Moreover, it can also be used for effectively alleviating backache. 
You will have a great time in Korea with so unique and fun things. The credit definitely goes to their cute and creative presentation.
You may also like
IVK's Top Picks – Day Tours, Tickets, and Travel Activities
Seasonal Picks!😍