Last Updated on December 24, 2021
With a lot of delicious local Korean dishes, Korean food culture is blooming. With a variety of restaurants and street foods, you have several options to cherish different foods. Sometimes you want your usual food for breakfast, dinner, etc. but sometimes you want to try something new and if you are in Korea you will not be disappointed.
Breakfast is an important part of the day. You can say that the whole day depends on it. If breakfast is good and healthy your day will be good. Starting your day with something boring makes your whole day boring. If you are in Korea and want to explore different breakfast options here, you won't be disappointed.
Breakfast In Korea
Traditional Korean Breakfast
Traditional Korean breakfast is not very different from other meals of the day. Hence the traditional breakfast includes rice, soup, and banchan (side dishes). Breakfast dishes vary from area to area. Most commonly sandwiches are used as a breakfast food. Here are some of the traditional Korean breakfasts you can enjoy during your stay in Korea:
Korean Cuisine
Korean cuisine is another traditional breakfast; ingredients are varied from area to area. It mainly consists of vegetables, rice, meat or fish. Common ingredients are doenjang(soybean paste), salt, as well as soy sauce, garlic, pepper flakes, sesame oil cabbage, gochujang (red chili pepper), and ginger.
Kimchi
Kimchi is a dish served at every meal of the day. Mostly it is served as a side dish. In Korea, it is available in different forms depending upon the area. It is also cooked into rice dishes or soups as per choice.
Soup
As mentioned above soups are also a part of Korean breakfast and one of the amazing Korean breakfast soup is egg drop soup. It is a very light and excellent option when you are in a rush. As the name indicates the main ingredient is egg. Other ingredients include alt, sliced onion, and sesame oil. 
Best Breakfast Options in Korea
Those who are food lovers always try to explore new places. If you are a morning person you will always be in search of a fine place where you can appreciate the beauty of nature with your breakfast. In Korea, there are several places where you can have the best breakfast in Korea. Most of these places are affordable and a variety of food products are available here. Here are some of the best places where you can have the best breakfast experience. Give them a try and you will love it!
Isaac Toast
Having over 700 retail stores is one of the leading breakfast toasts in Korea. It also has branches overseas in Taiwan, Malaysia, and Macau. Isaac Toast is one of the most popular breakfast places in Korea for visitors. Different varieties of toasts are served at different outlets. These include hot chicken, ham special, bacon best, hot Tteokgalbi, steak ham, double cheese potato, spicy cutlet, cheese bagel, shrimp and Bulgalbi (spicy pork). The most popular branch in Myeongdong does not have a sitting arrangement and you have to wait in line for your turn. Furthermore, Breakfast here is affordable ranging from 2,000KRW to 4,000KRW ($2 – $3.5 USD).
The branch in Hongdae has a café arrangement in front of Hongik University. Providing the best environment for students for breakfast it is the favorite place of university students. They love to enjoy a simple food there with their friends.
Isaac Toast Seoul Myeongdong Branch
Address: 105 Toegye-ro Jung-gu Seoul
Open hours: Weekdays 08:00 – 21:00 | Weekend 09:00 – 21:00
Phone: 02-752-3002
No seats
Isaac Toast Hongik Univ. Branch
Address: 93 Wausan-ro Mapo-gu Seoul
Open hours: Weekdays 08:00 – 21:00 | Weekend 09:00 – 21:00
Phone: 0507-1419-2492
Egg Drop
Egg drop is one of the finest places in Korea you must try. They offer a variety of egg-filled sandwiches to satisfy your appetite served with egg sauce and sweet cream. These include sweet ham cheese, Avo Holic, bacon double cheese, teriyaki BBQ and Mr. Egg. Their price range is between 2,900KRW and 4,400KRW. This place does not only offer you sandwiches but also coffee drinks, Tamango Sando and egg Cob salad at affordable prices.
They are a close competitor of Isaac Toast by having various branches in Seoul at Gangnam station, Myeongdong, Mapo, Samcheong and more. Their sandwiches are amazingly delicious and prices are reasonable. Moreover, food over there is freshly made for you. It takes about ten to fifteen minutes to get your food. Sandwich options over there are limited but you will love them which are in a perfect visual for Instagram too! For having a satisfying breakfast you must visit this place during your stay in Korea.
Egg Drop Gangnam Station Branch
Address: 22 Gangnam-daero 78-gil Gangnam-gu Seoul
Open hours: 07:30 – 22:30
Phone: 02-567-7822
Egg Drop Seoullo Terrace Branch
Address: 18 Toegye-ro Jung-gu Seoul
Open hours: Weekdays 07:30 – 20:00 | Weekend 10:00 – 20:00
Phone: 0507-1360-1209
Paris Baguette
Paris baguette is the largest franchise bakery in Korea. You can easily find Paris baguette nearby and some of their branches are also in North America especially in New York, California, etc. It is an excellent place to have breakfast with a variety of options. They offer you pastries, cakes, sandwiches, salad, buns, and coffee. They offer you a variety of bread in different flavors. Some of their delicious food products are Bononcini salad, avocado shrimp salad, Bingsu, cloud-like double cream bread, grain pastry with almond flakes, and green tea sweet potato cake. You can eat there if you want, in the sitting area.
Paris Baguette Jongnogu Office Branch
Address: 95 Sambong-ro Jongno-gu Seoul
Open hours: 07:00 – 23:00
Phone: 02-737-6330
Gimbap Cheonguk
Gimbap Cheonguk is an amazing place to visit for a Korean breakfast. It is a small restaurant famous for traditional Korean sushi called Gimbap. Gimbap is rice seasoned with salt and sesame oil. And then rolled up in a sheet of roasted gim (dried laver) with various vegetables like spinach, carrots, and pickled white radish. The long roll is sliced and served in bite-sized pieces.
Most of their customers are Korean. But their services are also good for non-Koreans. It is an affordable place to visit. The menu comes with twenty different food items. Some of these are kimchi radish, beef broth, as well as pickled daikon, Tuna Gimbap, Tteok mandoo guk, Tteok ramen, and Al bap which is Another famous dish in this place. The most recommended dish among these are tuna Gimbap, as well as Tteok mandu guk and Tonkatsu (port cutlet). Give Gimbap Cheonguk a must-try if you are a Korean food lover.
Gimbap Cheongug Gwanghwamun Branch
Address: 36 Samunan-ro 3-gil Jongno-gu Seoul
Open hours: 07:00 – 24:00
Phone: 02-2195-4550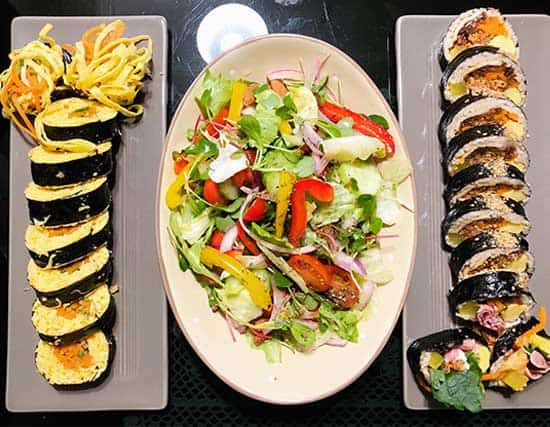 Egg Cellent
Egg Cellent is an amazing place for brunch in Korea. A simple small as well as a place with delicious food. High-quality ingredients from the local source are used to provide you with fresh food. They have friendly staff and the environment is perfect for a family visit. Egg Cellent sells cheesy egg sandwiches of different types. You can choose the one according to your taste. In addition to egg sandwiches, they also offer you some drinks like coffee if you want.
Egg Cellent Hyundai City Outlet Branch
Address: 20 Jangchungdan-ro 13-gil Jung-gu Seoul
Open hours: 11:00 – 22:30
Phone: 02-2283-2270
Famous Lamb in Hongdae
Famous Lamb is an amazing breakfast café situated in Hongdae. It is very quiet as well as a calm place with colorful paintings and simple furniture. The best thing about this place is their all in all delicious sandwiches. Salmon sandwich is their best sandwich filled with Cucumbers, as well as onions, cream cheese, lettuce, and salmons. It is served with special sauce. Famous Lamb is a very good option for those who want to have healthy food. Another delicious sandwich you will find on the menu is an Italian chicken sandwich. Fresh chicken is used up in this sandwich giving you an amazing experience. In addition to this, every sandwich comes with a side salad.
Sandwiches are not only the best food you can have here, but there are a lot of drinks options also. You can have coffee, tea or smoothie if you want but the best drink they offer you is a strawberry banana on Leche as it is prepared with milk, banana, and strawberry with coconut touch. It is a perfect drink to enjoy. You can also try the famous lamb chocolate drink. Besides, they offer a buffet for breakfast from 8 am to 1 pm. Don't miss out on fresh salads, fruits, eggs and more!
Famous Lamb
Address: 19 World Cup buk-ro Mapo-gu Seoul
Open hours: 07:30 – 23:00 | Breakfast 08:00 – 13:00
Phone: 02-334-2352
Chedda and Oli
During your visit to the forest in Seoul, if you feel hungry, it is the best place where you can satisfy your appetite. It is positioned out near the outskirts of the Seoul Forest. Moreover, the food they offer their customers is very delicious a satisfying. Sandwiches are perfect for the brunch and Caesar salad is the most consumed salad over here. Chili shrimp sandwich is also one of the most delicious sandwichs you can have here.
Chedda and Oli
Address: 32-14 Seoulsup 2-gil Seongdong -gu Seoul
Open hours: Weekdays 10:00 – 20:00 | Weekend 09:00 – 21:00
Phone: 02-468-1003
Butter Finger Pancakes
If you are in search of a simple brunch to try their sandwiches Butter finger pancakes is right place for you. They have branches all across Seoul and you would to visits this café. You can have waffles, pancakes, as well as other different types of brunches over there. It is an amazing place to visit with your family and friends.
Butter Finger Pancakes Gangnam Branch
Address: 13 Gangnam-daero 61-gil Seocho-gu Seoul
Open hours: 08:30 – 01:00
Phone: 02-638-5740
Final thoughts
Korea is a place rich in culture. That's why it has a lot of historical places as well as tourist attractions where you can have the best time. In a foreign country, the main issue is food. People do not know where they can all in all find food in their taste. So those who are morning people want to know a place where they can have their breakfast. And coffee in a calm environment is the best to start a day. Luckily Korea has a lot of cafes as well as restaurants providing the best breakfast options.
Most of these places offer you traditional Korean breakfast along with some delicious side dishes. Also, sandwiches are consumed a lot as breakfast and it's available in all in all different flavors. In this article, some of the popular breakfast in Korean restaurants, as well as cafes, are mention away. So you can visit any of these according to your taste. If you want to enjoy breakfast at home you can also make it yourself or use take away option. Do breakfast in Korea and have the best experience.
You may also like
IVK's Top Picks – Day Tours, Tickets, and Travel Activities
Seasonal Picks!😍