Seoul has everything when it comes to technology and the internet. A large community of tourists chooses Seoul to enjoy experiences fundamentally created for pleasure and better tourist options. The complete overview of Seoul appears quite materialistic but it is equally a good place for spirituality. Many souls come each year with religious and spiritual intentions and there are many well-constructed temples for this purpose too. The magnificent Temples in Seoul display beauty and elegance, unlike any other temples. Spirituality grounded at such places and it completes the diversity of this great capital of the world, Seoul. Here, we would mention some of the best temples in Seoul that would be very good for the students of spirituality who are craving intuition in the world of materialism.
Best Temples in Seoul
Bongeunsa Temple 봉은사
The Bongeunsa Temple, Seoul, one of the oldest temples in South Korea. It was constructed during 794 A.D by monk Yeon hoe during emperor Wonseong's reign. Founded on the street of the famous COEX Mall and later re-constructed in 1498 on the command of Queen Jeonghyeon of the Joseon dynasty giving it other historical connections too. Bongeunsa has a large statue of  Maitreya and it appears very beautiful especially at night-time. This temple contains some upright stones of different structures and they also represent ancient architecture.
Moreover, there are some artifacts as monks present within the premises of this temple. The Seoul Bongeunsa Temple is one of the best temples in Seoul and a place of religious as well as cultural significance for the Koreans. While there visit the COEX mall nearby, the aquarium is quite an attraction. Also, the temple has some restaurants close-by and it offers a "Temple Stay Program" for those who want to experience spirituality here. Check more best things to do in Gangnam while you visit Bongeunsa temple in the center of the city.
Address: 73 Samseong-dong Gangnam-gu Seoul
Phone: +82-2-3218-4826
Bongwonsa Temple 봉원사
Among the temples in Seoul, Bongwonsa temple is also famous due to its history. A historical Buddhist tradition is saved through this temple. This historical tradition is the Taego Order of Korean Buddhism. The people who seek different traditions can learn more about this unique order and people belonging to this order can practice stays at night here to feel the essence of spirituality as taught by the religion or to be more precise, this order.
It was founded by Master Dose-on of Buddhist tradition about one thousand years back and it has been reconstructed and shifted from its place some centuries ago. And it is close to the famous Yonsei University, which is one of the most reputed universities along with Seoul National University and Korea University. More than 50 monks live inside the Bongwonsa temple for welfare and educational purposes. It has been discovered that the serial killer Yoo Young-Chul buried many dead bodies here, after killing them.
Address: 120 Bongwonsa-gil Seodaemun-gu Seoul
Phone: +82-2-392-3007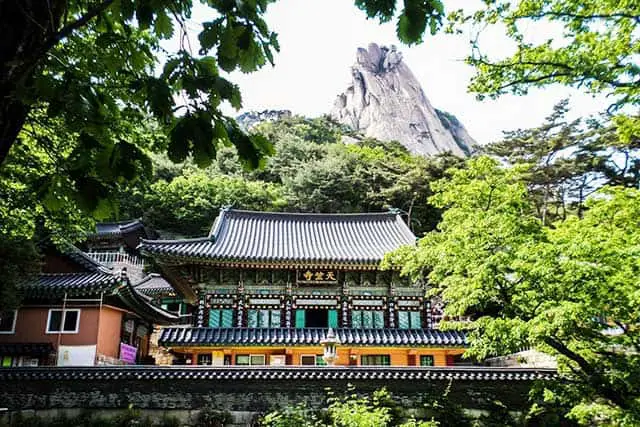 Cheonchuksa Temple 천축사
Cheonchuksa lies on the famous Dobongsan Mountain and you can enjoy a magnificent view of the city here. A temple stay opportunity is also available. Besides, this famous temple is more than a thousand years old. Since India was called Cheonchuk, this temple was named after an Indian monk according to a legend. This still exists on the mountain and mountains are famous for this spiritual relevance for many people. The famous Dobongsan mountain which occurs near-by is also a treat for your eyes.
Address: 92-2 Dobongsan-gil Dobong-gu Seoul
Phone: +82-2-954-1474
Hwagyesa Temple 화계사
It's one of the best temples in Seoul and is located in Samgaksan woods. Although the temple is located in the city of Seoul, it doesn't give the feeling of being in a city as it is far from the pollution of the city and people go there to witness nature. The sound of water coming from the valley is soothing and many people stop by the stream as well. A 3000 bow ceremony takes place every last Saturday of each month and is quite fascinating. Historically, it represents the Zen Buddhism and its traditions. You can observe that these best temples in Seoul are representing enormously diverse Buddhist traditions practiced throughout the world.
Address: 117 Hwagyesa-gil Gangbuk-gu Seoul
Phone: +82-10-4042-4326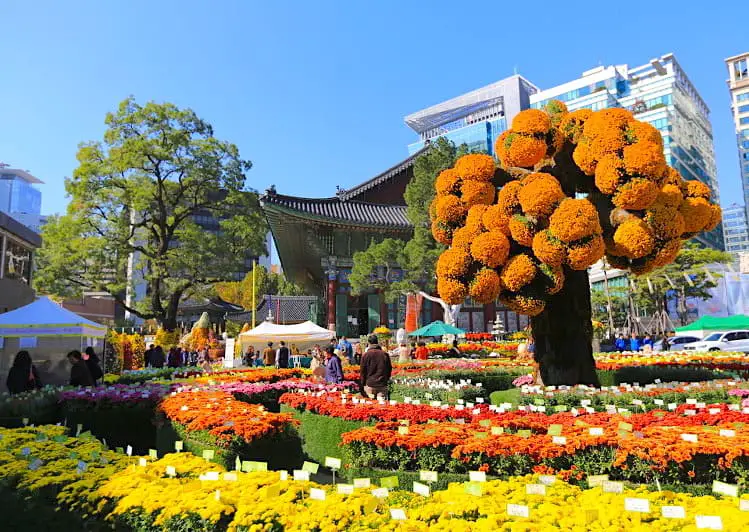 Jogyesa Temple 조계사
Another temple, but with a different order called Jogye order, is extremely famous due to its history and tradition. It was formed in the Joseon dynasty in about 1395. The Seoul Jogyesa Temple is now recognized because it resisted against the harms that the Japanese army brought to Korean Buddhism. The place is vast and it has lanterns, statues, and much more which represent culture completely. Stays at night are offered at costs along with food and other provisions for night-stay. Everything about this temple is very interesting and if we start discussing its glory, it will probably not end.
The Seoul Jogyesa Temple is like a heritage sight for Koreans and especially the Jogye Order. There are some restaurants close-by Jogyesa temple Seoul and, especially, the Museum of Korean Arts is a great place to visit and experience the arts of Korea. Furthermore, this temple is so peaceful though it is in the heart of Seoul. They have the annual Lotus Lantern festival along with a 500-year-old pine tree and a cultural heritage statue of a seated Buddha statue.
Address: 55 Ujeongguk-ro Jongno-gu Seoul
Phone: +82-2-768-8523
Gilsangsa Temple 길상사
Gilsangsa temple, Seoul is named after the woman who donated the building. The Gilsangsa temple is exciting and fascinating as it allows the people to experience the Buddhist religion and has involvement in the cultural exchange of different other religions. This temple is located in the way of Korean Furniture museum so if you are planning to visit the museum do visit this temple. The gate of Gilsangsa temple Seoul is beautiful and impressive even though it doesn't have much history as it is built in the year 1997 making it one of the newest temples in Seoul. You can feel the temple is a bit out of the way but there are shuttle services that take you to the Gilsangsa temple, Seoul.
Address: 323 Seongbuk 2-dong Seongbuk-gu Seoul
Phone: +82-2-3672-5945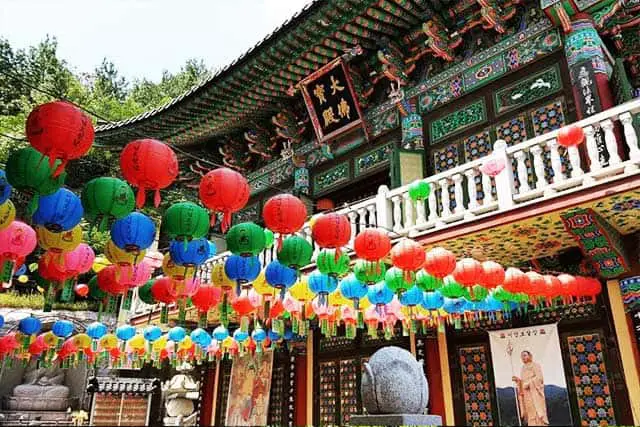 Myogaksa Temple 묘각사
This temple is a brilliant and magnificent piece of architecture that can be seen in the heart of South Korea, Seoul. During the days of the Japanese invasion and other difficulties, certain predictions implied that a new temple constructed could save the people of Seoul from the enmities and other problems. This temple was created for the peace of the city in May 1942 and it is near Dongdaemun Market which is a special tourism zone of this city. There are two kinds of cultural and religious stay programs within this temple
The first program is relatively long and includes two days and one night to discover the numinous truths of life according to the Buddhist tradition. 
A day-long program called "Laying Down My Mind."
There are some expressions of prostration and modes of spiritual exercises here. 108 Prayer Beads is the highlight as a prostration is made at each bead. Bell striking and other tea ceremonies are also part of the lifestyle of this temple. Another thing to note, their beautiful statues and walls catch your eyes. This temple follows the Gwaneum Order of the Korean Buddhist tradition. A new experience in traditional Buddhism is experienced here. Those who are interested in Buddhist culture should consider this temple.
Address: 31 Jongno63ga-gil Jongno-gu Seoul
Phone: +82-2-763-3109
Geumsunsa Temple in Jeonlldo, Southern Korea
The Geumsunsa temple was built about 600 years ago and is surrounded by a beautiful landscape of pine trees. This temple is near to Moaksan mountains in Jeolla province. Thus giving it a beautiful woodsy environment which will eventually relax your mind. The temple also offers temple stay programs of 3 hours to 3 days. The trees that are close to this temple are relaxing and further intensify the spiritual taste that they offer. It is close to the Moaksan provincial part and it is full of greenery and many close-by places can be visited.
Address: 39 Geumsan-ri Gimje-si Jeollabuk-do
Phone: +82-10-6349-2414
Himalayan Meditation and Yoga Sadhana Mandir
Himalayan Meditation and Yoga Sadhana Mandir is a Hindu temple located in the Seocho district in Seoul. They provide local Hindus and Korean communities the meditation and yoga programs. Tourists from South Asia also visit this place and takes advantage of the various classes and training programs that the temple offers.
Sri Radha Shyama Sundar Mandir
It is one of the best temples in Seoul representing Hinduism and located in Haebangchon, Itaewon in Seoul. This temple opened to all people at specific times, teaches Hindu culture and different elements of tradition. It's a place of welfare and a meeting point of Hindus from numerous countries. Vedic knowledge and Sanatana Dharma (Hinduism) expressed here and it is probably the only such center in Korea representing Hindus and their culture.
Address: 44-8 Yongsan-dong 2ga Yongsan-gu Seoul
Phone: +82-10-2448-6441
Conclusion
This is something a person will always mention about Korea and that is its diversity. Just in one city of Seoul, I can find numerous different kinds of traditions and temples representing their particular orders. Many temples represent distinct religions and sometimes distinct traditions. They have spiritual significance and many people visit and stay here. Seoul is although famously a technological hub, the best temples in Seoul do represent spirituality in equal terms. If you visit Seoul for a month or more, you can experience a lot more than a portion of materialistic experiences found in this city.
You may also like:
IVK's Top Picks – Day Tours, Tickets, and Travel Activities
Seasonal Picks!😍