K-style Hub is a useful attraction or a tourist information center. The place is all about Korean culture and they provide you with all the guidance about Korea. K-Style Hub has four levels and each level has its importance and specialties to guide the tourists perfectly. It is a one-stop complex and has various experience zones, exhibition halls, and an information center.
What to expect in K-Style Hub
Introduction to K-Style Hub
The second floor has a Tourist Information Center where you can see comprehensive information on Korean tours and medical tours. The third floor is an exhibition hall on Korean culinary culture with a Korean ingredients experience table. The fourth floor is the Regional Tourism Experience Hall where you can cook Korean dishes. Lastly, the fifth floor is the regional tourism experience hall where you can experience Korean culture and regional tourism.
It's an undiscovered paradise for all the Korean culture lovers. The most interesting part about K-Style Hub is that many of the things here are free. You can know a lot about Korean food, clothes, real-life movies, to be specific a lot about Korean culture. Moreover, you will be able to attend classes and can get a hand guide book for free which will tell you about Korea.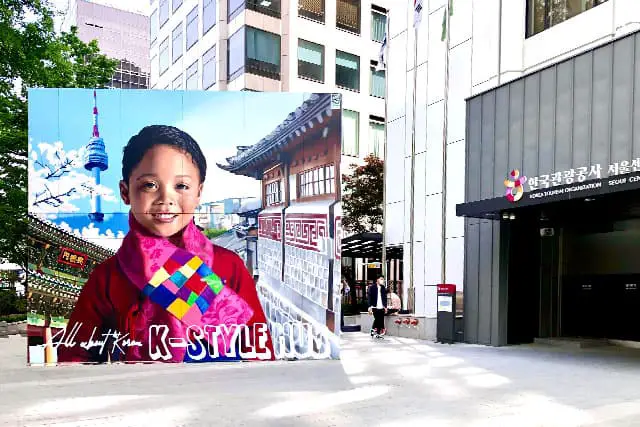 Location
Its located at 40 Cheonggycheon-ro, Jung-gu, Seoul, South Korea, 3 minutes from the Jonggok Station Exit 5 in the heart of Seoul.
Open hours
2F Tourist Information Center 09:00 – 20:00
3F Korean Culinary Culture Exhibition Hall 09:00 – 19:00 Weekdays | 09:00 – 20:00 Weekends
4F Korean Cusine Culture Center 10:00 – 20:00
5F Regional Tourism Experience Hall 09:00 – 19:00 Weekdays | 09:00 – 20:00 Weekends
Web: https://english.visitkorea.or.kr
Why I have to go to K-style Hub?
It's a must-visit place and is highly recommended by the tourists and travelers who went there. In K-Style Hub, you can learn almost everything about the Korean culture, starting from the food and clothes to the history, agriculture, and archaeology of South Korea. Besides, they will guide you about the next places you need to visit or about the bus routes. It's a complete hub and you will not regret your decision to visiting this place. We must say that this is the place that you must visit on the first day of your trip to Korea. If you are a Korean culture lover or you are eager to know about the Korean culture then this place is for you. You will get to know Korea from a local person's point of view.
What to do?
What to do while I am in K-Style Hub? An important question. Here we will tell you some of the things that you can do there and enjoy your time to the most while you are in K-Style Hub. This place has many things to do. Also, It offers some exhibitions and fun activities.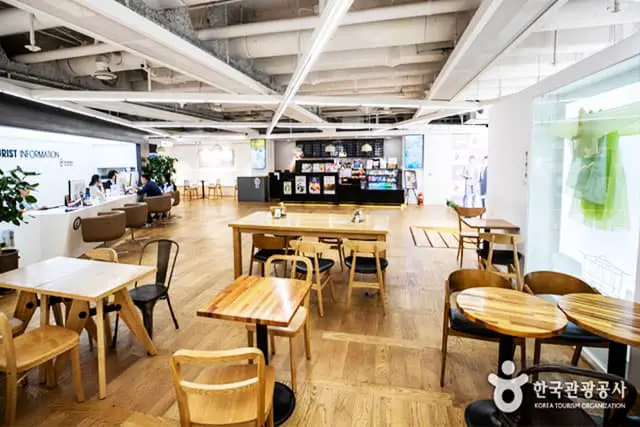 Obtain Travel information
If you want to relax your travel fatigue or you are tired, the Tourist Information Center can be a perfect resting place for you. You can relax there while sitting in a comfortable café and can get information about your trip to Korea. There are many brochures, travel guides, and maps. They'll help you know where you should visit for sightseeing next or at which time. The staff in K-style hub is very friendly and if you are finding difficulty in anything they are always there to help you.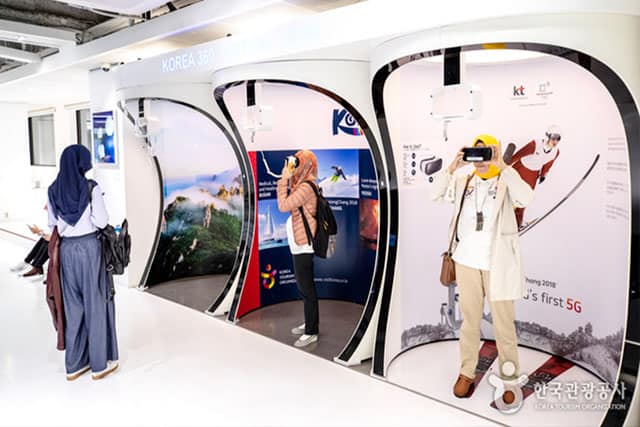 Experience major attractions in Virtual Experience Zone
In the virtual reality experience zone, you can experience some of the major attractions in Korea through advanced technologies. If you get bored with brochures, go try it! The view is so real that you'll feel like you are there in person thanks to the advanced technologies. Furthermore, you can visit the panorama gallery and enjoy the feeling of walking around the beautiful and interesting attractions in Korea.
Photos
Who doesn't love taking photos while you are on a trip? If you are a big fan of K- pop, this is a treat. You can take some souvenir photos with the K-pop stars in the Hallyu Experience Zone with the help of some advanced and modern technologies. You can ring the bell of your idol house or imitate the trademark gesture of any star or can show your love for the K-pop star; these are some of the many options that are available for taking photos with your favorite Korean stars.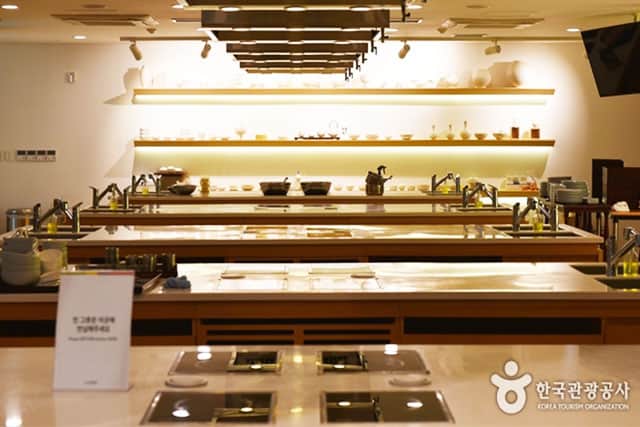 Korean food
This place is not like the other ones where you can try the local food of Korea but here you can cook your Korean food. Yes, your own customized Korean food! You can learn about the Korean Culinary Culture on the 3rd floor and can cook your food on the 4th one. You can make your Korean foods at the learning space, enjoy the taste of the foods that represent Korea in the Festive corner, and can learn some Korean recipes as well. Remember, the fees applicable to the class. But if you want to learn some delicious local Korean recipes the money is worth it. What's more, the Korean Culinary Culture exhibition is an important thing to do and the entrance is eye-catching while the video projection of Korean pottery is breathtaking.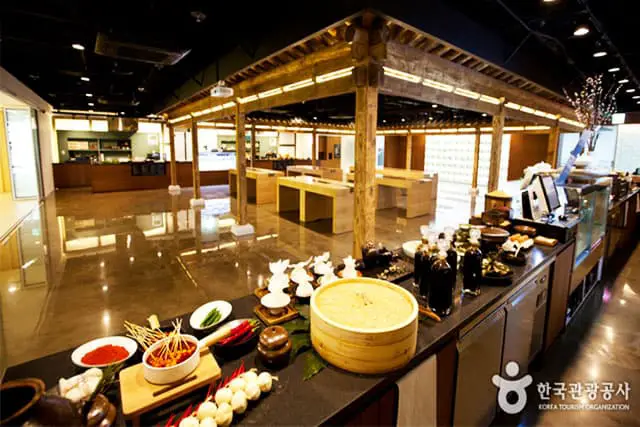 Other Activities
You can do many other things that we are sure you will enjoy while you are in K-style Hub like getting the opportunity to wear traditional Korean clothes. In addition, you can get yourself medically tested here and can increase your medical knowledge. Plus, you can browse the representative products of Korea.
Nearby Attractions
There're many popular Seoul attractions nearby such as Myeongdong street for shopping and Korean street foods, Gwanghwamun, Gyeongbokgung Palace, Cheongyecheon stream, and Bosingak Pavilion where are all walking distances. If you feel hungry before starting your travel to Seoul, check this post for the best Korean restaurants in Jongnogu, Seoul.
Conclusion
A K-Style Hub is a place that you must visit before going to any other place in Korea because here they guide you about the next must-visit destinations in Korea. The place provides you with all the necessary information. They also provide exhibition halls and some fun-filled activities. This place is heaven for all Korean culture lovers.
You may also like