Last Updated on January 22, 2021
Korea is considered to be one of the best countries for tourism. There is something pleasing in Korea for every type of traveler. If you like to sightsee, there are beautiful mountains and oceans everywhere you go in this peninsula. If you like to experience the traditional culture of Korea, you can wear traditional Korean clothes called hanboks and walk around taking pictures in the many palaces being like you were once there. Also, if you like to shop, you won't be disappointed as Korea is one of the trendiest shopping places in the world. All these make it an adventurous combo for all travelers. We are here to provide you with the best Korea travel hacks to make your traveling in Korea memorable.
Best Korea travel hacks for a hassle-free journey
Hack 1: Where to get Korea travel information
To make traveling smooth sailing one must study ahead. One of the best information sites on Korean travel is I Visit Korea. This Facebook page contains all the festival information in Korea. Knowing the festival dates beforehand will help you make the best Korea travel itinerary and transportation decisions. This is an important site with meaningful information about Korea. Before getting start visit THIS PAGE!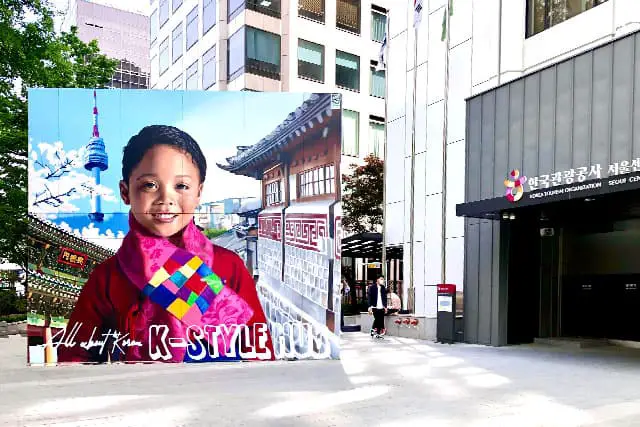 If you are already in Seoul, I strongly recommend you visit the K-Style Hub. You can get a ton of travel information to make your trip fruitful and furthermore, you can learn about many kinds of Korean cultures, foods, and technologies. If you need some quick information about Korea travel, just find the Tourist Information Center nearby.
Hack 2: Transportation
While visiting Korea, we need to travel a lot to different destinations, so you will need to buy a travel card. Purchasing a T Money card will help you save time and money. Check out this post on Seoul Subway and public transportation for more information on T Money cards and subway transportation in Seoul.
Korea's subway transportation system is one of the best and convenient in the world. Having a map of the Seoul subway station will help visitors travel with ease in any district. Downloading a subway map will be a good choice so you don't get confused with the routes. Otherwise, you can download the Seoul subway app.
Hack 3: Useful Apps
As you are visiting Korea, you should know about certain symbols and signs, some specific keywords that are mainly used in daily lives. So whenever you try to communicate with anyone in Korea, you will be able to communicate easily. Prepare some notes on your phone, with specific words and their meanings. Also, if you are having trouble with some of the Korean language, we recommend downloading Papago app on your smartphone. This app will quickly translate the Korean language into English and 14 other languages. Download here in Google Play | App Store.
Furthermore, to make traveling convenient for you in Korea, check out this post on the 7 Best Apps for Korea Travel. This is the point of Korea travel hacks In this tech-friendly age, these apps will help you find a taxi anywhere, book a travel tour in Korea, find the best restaurants, and also help you order delivery food.
Hack 4: Korean Spa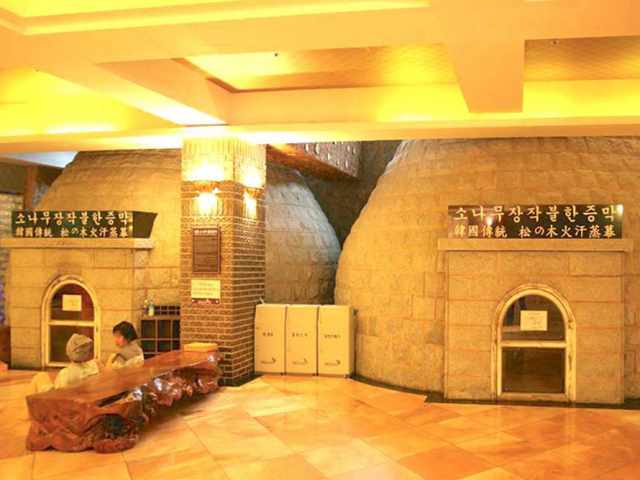 To ease the journey of travelers, Korea consists of public bathhouses. They are known as Jimjilbangs. Approximately 10 $ are charged and you are offered a set of clothes to wear at night and you can sleep there comfortably. Such cheap accommodation with a relaxing nightdress is a great advantage for travelers. Check out this post on the Top 5 Best Korean Spas in Seoul.
Hack 5: Korea Street Food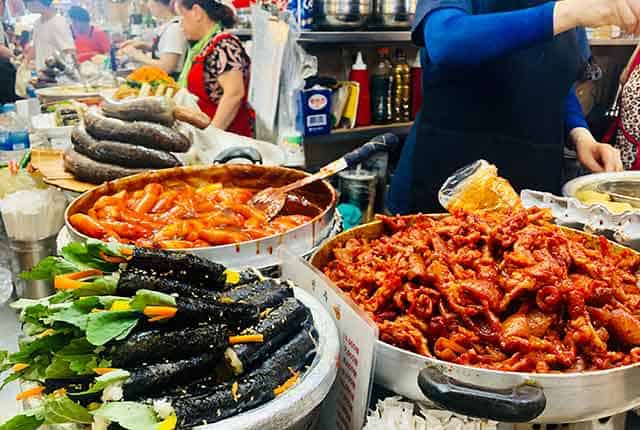 The best way to experience any country is through its food. Korea has the best street food that is easy to find, delicious, and affordable. Check out this post on the Best Korean Street Foods.
Hack 6: Weather
The weather in Korea is very distinct. In summer it is humid and moist, in spring and fall the morning and evenings are chilly but the afternoon warm. We recommend carrying a light jacket in your bag during these seasons. Also, the winter season is quite cold, snowy, and dry. For all the information on Korea weather and what to wear, this is the perfect Seoul weather post.
Hack 7: Recommended Places
We have certain guides to depict the best places like restaurants, shopping areas, malls, picnic spots, etc. But, to confirm the location, cost measures, etc in short why not enquire about the best places in Korea with a local.
Hack 8: Travel Insurance
When traveling, we never know what can happen to us, so we should be prepared in advance. We should buy travel insurance, this will help us in an emergency. Otherwise, a normal visit to the doctor can empty your pockets. And if anything serious happens, without any insurance you will be stuck in between. So, travel insurance is a must-have.
Hack 9: Free WiFi
In Korea, there are a lot of places with free WiFi connections such as subway, parks, even on the road. Use this kind of free Wifi for searching or maps. Still, you need to rent a pocket wifi or buy SIM card, check this post, and get a deal.
Hack 10: ATM
You can easily find ATM in convenient stores and subway stations in Korea. Before starting the journey, alert your banks about the journey, so that they do not block your cards when you are overseas.
Now, let's discuss the small tips!
Tip 1
Instead of reserving a hotel or any motels, ask out the localities for the rental. They will provide you with a better and cheaper accommodation.
Tip 2
Roll your clothes and then put them in your bags, this occupies less space. And provides you to pack more things in your bag.
Tip 3
Scan your documents, this will lead to offline documentation. If you keep hard copies again you have to find them in your bags, while you can go online and show your documents with ease.
Tip 4
Always take a water bottle with you, you never know when you feel dehydrated. If the water available at a particular place does not suit you, no need to worry you have your water bottle in the bag.
Tip 5
Connect yourself with the internet if the flight is more than six hours. You can perform all your important assignments before you reach the destination.
Tip 6
Before you reach the destination, use the restroom 20 minutes before you land and relax. This will prevent you from a fight over the washroom before the plane lands.
Tip 7
Take a pen along with you to fill the form. This will prevent you from a fight over a pen.
Tip 8
While going for the currency exchange, the currency exchange fee is also applied. To avoid the loss, go to ATMs to withdraw money for the local currency.
Tip 9
Shop little eatables from the local groceries, this will prevent you from the expensive food charges in hotels. When feeling hungry, no need to worry, you have the eatables in your bag.
Tip 10
When you are at a hotel, try to avoid unpacking the whole luggage. Only take out the required things and this will prevent time and the mess. There will be no risk to forget the things in the hotel. So, only take the necessary things out of the bag.
Now, we are good to go with all the Korea travel hacks. We are already prepared for our journey. Be safe and enjoy the journey.
You may also like:
IVK's Top Picks – Day Tours, Tickets, and Travel Activities
Seasonal Picks!😍