It's hard to imagine traveling in a foreign country without the internet these days.
South Korea is first in global rankings of ICT penetration including internet speed.
If you search "Where to buy a SIM card or Pocket WiFi for travel in Korea?" you will see too much confusing and unhelpful information.
Should I use an LTE SIM card or a Portable WiFi? What are the terms and the price? Is it the cheapest option? Where can I buy a SIM card for Korea? and where can I pick it up? It's a hassle to find the answers to all the questions.
Staying connected during your travel in Korea doesn't have to be complicated.
Here are the best ways to do so 🙂
How to buy a SIM card or Pocket WiFi for travel in Korea
Which is better, SIM or Pocket WiFi?
As mentioned, you can use the data by changing the SIM card on your phone or renting a pocket WiFi egg as well.
To determine which is best for you, consider these questions:
1. How many people in your group will be connected to the internet?
2. How long is your trip?
You only can use your SIM card in a phone but people can connect up to 3 devices on the same pocket WiFi. (Service providers say up to 5 people can connect, but if you try it, you will understand why I say you can connect up to 3 people.)
Using a SIM card is easy and private. You don't need to return it. They also give a discount for every additional day you buy.
A Pocket WiFi is good for two or three people and also cheaper than a SIM card.
However, you always have to bring it with you and recharge it regularly. You also need to return it when you leave. They provide a huge discount from the 6th day.
Hopefully, this information has helped you determine what works best for your trip!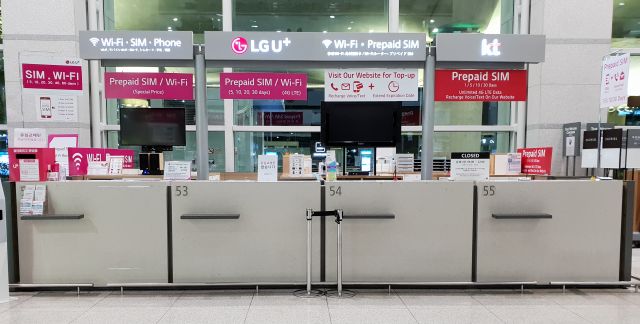 ---
How to Buy a SIM Card for Korea Travel
So now you've decided a SIM card is the best option for you. What happens next? I checked a lot of travel agencies and telecommunication service providers' websites to compile the best information here.
The below online travel agency provides the best prices and services.
Let's compare the 4G Unlimited Data SIM Products (Korea Airport Pickup) of famous global online travel agencies. You can choose the product considering the days you want to rent and move to the product page by clicking the prices.
| | | | |
| --- | --- | --- | --- |
| Jan-08, 2020 | KLOOK | TRAZY | GetYourGuide |
| 1-Day | 5,900 KRW | 5,900 KRW | – |
| 3-Day | – | 14,500 KRW | – |
| 5-Day | 24,800 KRW | 24,800 KRW | 30,204 KRW |
| 7-Day | – | 28,000 KRW | |
| 10-Day | 34,700 KRW | 33,000 KRW | 42,333 KRW |
| 30-Day | 64,400 KRW | 62,000 KRW | 78,720 KRW |
Service Information
This is a data-only plan. Making/receiving calls and sending/receiving text messages are NOT available
m-VoIP call via LINE, KakaoTalk, WhatsApp, and other messenger services are supported
The universal type of SIM is compatible with phones using standard, micro, and nano-SIM
Pick Up Locations:
The main pick up locations are international airports in Korea

Incheon International Airport Terminal 1 & 2
Gimpo International Airport
Gimhae International Airport (Busan)

Check the product page to see the details of pick-up locations
---
When you travel with one or two friends, a pocket WiFi can be the best choice to stay connected. Here's the cheapest pocket WiFi rental service for Korea travel.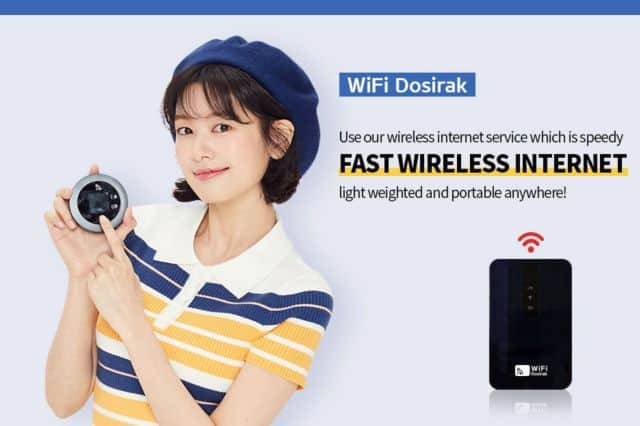 Best portable 4G/LTE WiFi for Korea- Airport Pick Up
Portable WiFi Service Information
Enjoy unlimited 4G WiFi coverage across Korea on a pay per day basis with the KT Olleh pocket WiFi
With services at Incheon (Seoul), Gimpo (Seoul), Gimhae (Busan) or Busan harbor, you can pick up and drop off your device at different locations!
Connect up to 3 devices to the same 4G pocket WiFi for Korea
Decide to stay a little longer? Just pay for any extra days when you return the device
Model: KWD-H1000
Size: 113mm x 63.7mm x 10.4mm
Weight: 105g
Telecom: KT Olleh
Traffic Flow Limit: None
Max Speed: Up – 50Mbps/Down – 150Mbps
Charging Time: Approximately 4 hours (220v)
Battery Life: Approximately 8 hours (when connected to 1 device)
SIM or Pocket WiFi rental service inside Seoul
What about if you couldn't make a reservation to pick up your SIM card or portable WiFi? You can buy or rent them in the stores nearby but the price won't be the same as purchasing it online. But no worries! An online booking service supports a Seoul pick-up in Hongdae and Euljiro (Myeongdong) areas.
Pocket WiFi Rental Service near City Hall, Seoul
4G SIM card in Hongdae station, Seoul
Stay connected during your travel to Korea to help make your trip safe and comfortable.

Written by Dy & Jay.

---

You may also like