A Jjimjilbang is a traditional bathhouse and a vital part of Korean culture – these heated rooms are also known as Korean Spas. It is common for locals to hang out, soak, and engage in various beauty-related rituals and services.
A basic Jjimjilbang offers a traditional experience with various baths and saunas, while the newer ones offer various services, including nail bars, restaurants, movie rooms, and swimming pools! In this post, we will guide you through the top 10 best Korean spas in Seoul, each offering unique features and services to help you make the best decision for your trip.
Read also:
Reviews for the 10 Top Korean Spas in Seoul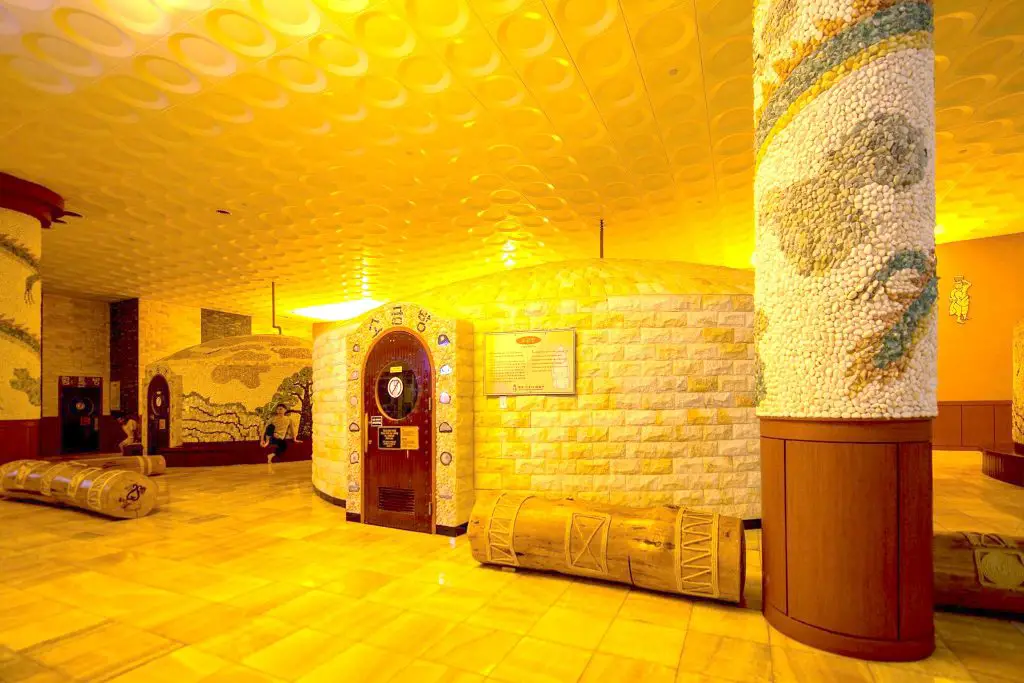 Check Out the Best Spa Activities!
Spa Lei
Spa Lei is a unique fusion of traditional Eastern European-style Hungarian saunas and Korean inspiration, creating an experience like no other. Located in the heart of Gangnam-gu, this women-only spa offers a serene and peaceful atmosphere, perfect for anyone seeking much-needed relaxation.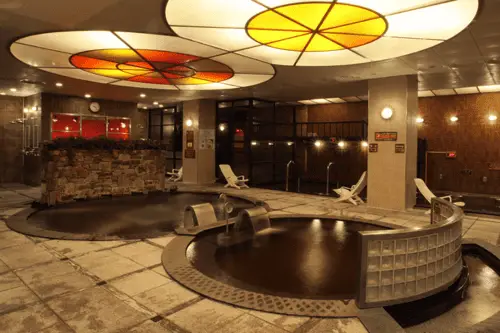 At Spa Lei, you'll find various bath options catering to different needs. The seawater bath is perfect for those looking to hydrate and nourish their skin, while the green tea bath is ideal for those who want to relax and unwind. An open-air bath is a great option for those who want to enjoy the outdoors while indoors. 
But the real highlight of Spa Lei is its range of Korean spas. Each spa offers unique benefits, with the red clay room promoting blood circulation and detoxification, the charcoal room purifying the skin, and the salt room improving respiratory health. These saunas are perfect for those who want to recharge and rejuvenate after a long day.
Food and drink options at Spa Lei are equally impressive. There's something for everyone, from Korean classics like Bibimbap to unique drinks like Chinese yam and ginseng juice. The snack bar and Korean restaurant on-site provide ample options for refueling and recharging. Spa Lei also offers additional services, such as a nail salon and sleeping room, for those who want to indulge in a day of pampering fully. The jewelry shop is another great option for those looking for unique and stylish souvenirs to take home.
Open hours: 24/7
Phone: +82 2-545-4002
Price range: 12.08 USD for the first 12 hours
The Spa in Garden 5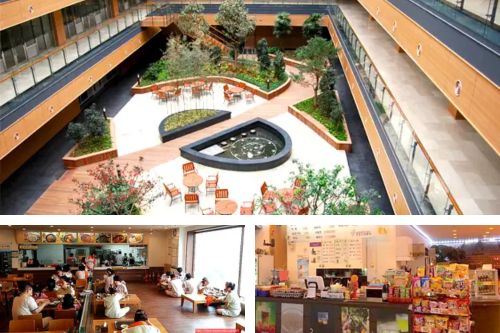 This large Jjimjilbang, located on the outskirts of Seoul, is on the 10th floor of the newly built Garden 5 shopping center. Thus, Spa in Garden 5 is an ultra-modern Korean spa featuring all amenities of a traditional Jjimjilbang and numerous modern facilities. You can enjoy a library, atopy (skin-focused) treatment rooms, luxuriously built lounge rooms, movie screening rooms (English and Korean), an arcade, and various yoga classes. While relaxing in the spa, you can also have the option to have snacks in the lounging areas or head up to the rooftop.
The in-house restaurants offer delicious Korean dishes and treats like Shikhye, a traditional Korean sweet rice drink. The spa is a 15-minute walk from Jangji Station.
Price Range: 8,000 to 10,000 won or $7 to $10 (USD)
Phone: +82 2 404 2700
Find & Compare Things To Do in Korea!
Insadong Spa & Sauna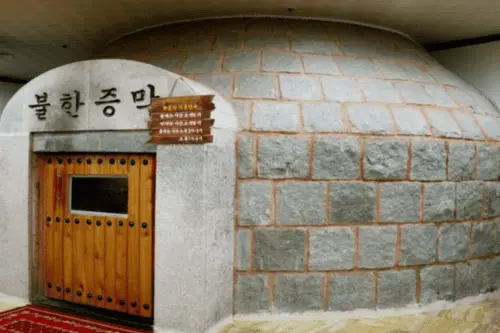 Nestled in the heart of Seoul's historic Insadong neighborhood, Insadong Spa & Sauna, or Insadong Hanjeungmak, is a traditional jjimjilbang that offers a truly authentic Korean sauna experience. The warm saunas at Insadong Hanjeungmak are modeled after those seen in K-dramas, and the unique yellow archer stones and pine trees used for heating make it such a relaxing and calming environment. Plus, the place is so cleverly designed that there's no smoky odor, so you can breathe easily and chill out.
One thing that makes Insadong Hanjeungmak so special is the traditional body scrub. It's not for everyone, but I highly recommend trying it out if you feel brave. An experienced attendant does the scrub, leaving your skin smooth and rejuvenated.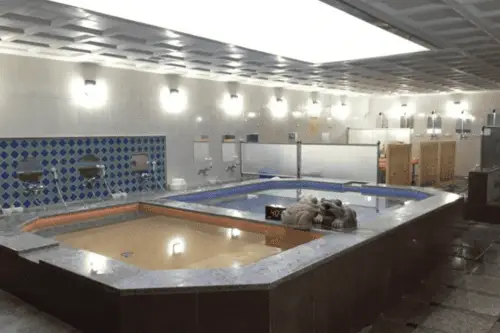 The sauna is open 24 hours a day, so you can go anytime, day or night. There are separate bath and shower facilities for men and women, and the communal saunas are a great place to relax and unwind with friends and strangers. And if you need to take a break, there are plenty of resting and sleeping areas inside, so you can stay overnight and get the full experience.
Insadong Hanjeungmak has a range of facilities, including Han-jeung-Mak, Salt Sauna, Bath, Amethyst Sauna (Gentleman's Bath), Red Clay Sauna (lady's Bath), and a locker room. The staff is friendly and helpful, and the atmosphere is welcoming and relaxed.
Seasonal Picks by IVisitKorea!
Siloam Sauna near Seoul Station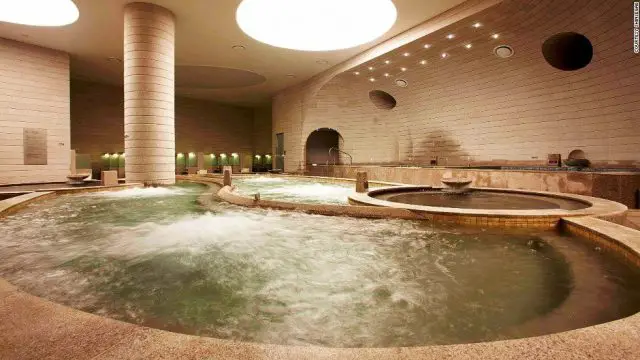 The Siloam Sauna is the perfect place for tired foreign travelers to head over and relax. An added plus is that staying overnight here is much cheaper than hotels and sleeping in bunk bed hostel quarters! Located within Seoul Station, the Siloam Sauna is one of the older Korean Spa in Seoul. The Siloam Jjimjilbang is one of the more authentic experiences in Seoul: a no-frills sauna where pure Germanium water is pumped from underground to the Spa's sauna and hot baths. The bathhouses carry various medicinal baths, including wormwood, charcoal, and jade, to cater to various physical ailments. Additionally, the sauna rooms offer various temperatures and healing experiences using natural mineral rocks, salts, ice, and even oxygen, such as the cold charcoal room.
Update: Many sources state Siloam Bulgama Sauna Spa near Seoul Station has been closed since late 2021. However, they have relocated to a new address in Gwangjin-gu. So you may still enjoy Siloam Sauna at the new site.
Supsok Hanbang Land (Traditional Oriental Forest Land)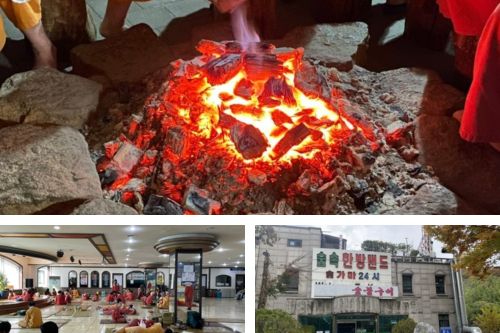 This is the only authentic Jjimjilbang in Seoul. It is located in Seoul city at the center-right base of the Ansan Mountain, making it easily accessible via any transportation. The best thing about Traditional Oriental Forest is the outdoor charcoal-burning kilns, as they are no longer found in other bathhouses in Seoul. Furthermore, they burn pinewood by ancestral methods to heat the sauna. Moreover, they offer the only true traditional sauna Hanjeungmak in Seoul. Lastly, this place will guarantee your body to rejuvenate its mind, body, and soul.
Besides, they offer females a resting room specifically designed by salt called the salt room. It is used for medicinal purposes offered by heated salt. You also do not have to worry about your children as they have a kids' play zone.
Price Range: 8,000 to 10,000 won or 6 to 7.5 USD
Phone: +82 2 365 2700
Riverside Spa Land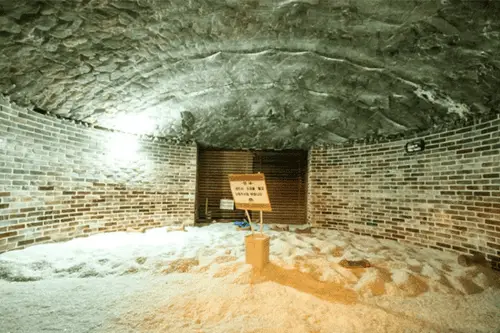 The Riverside Spa Land is a true gem of a traditional Korean sauna. This sauna, located in the bustling area of Dongseoul Bus Terminal and Gangbyeon Station, is the largest jjimjilbang in the area, offering visitors a chance to experience the best of Korean relaxation and pampering.
The sauna on the second-floor basement offers soft water that is good for the skin. In contrast, the public jjimjilbang on the first-floor basement presents a variety of facilities and cultural areas, including a movie room and a comic book room. But it's not just for solo travelers! This jjimjilbang is a popular getaway for families, couples, and friends. You can enter various heated, steamed rooms, each designed with particular themes, providing the perfect opportunity to sweat off and relax. And if you're hungry, Riverside Spa Land offers a variety of dining options, including a restaurant and snack bar.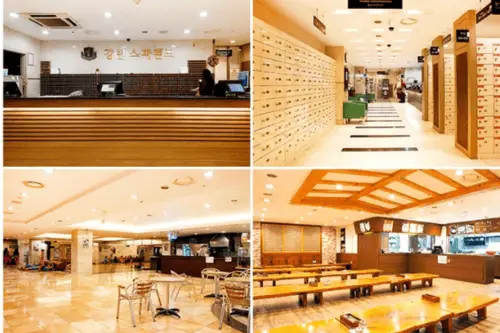 One of the unique features of Riverside Spa Land is its first and best foot massage bath, which visitors can experience for free. This special massage bath uses warm water and pressure to massage the feet, helping to relieve tension and promote relaxation. It's a great way to start your visit to the spa and get your body ready for all the pampering that's to come. 
But that's not all – this jjimjilbang spa has many recreational facilities, such as a fitness club, PC room, karaoke, nail shop, sports massage, arcade, and more. The English and Chinese-speaking staff are always ready to assist and make your experience as comfortable as possible.
Open hours: 24/7
Phone: +82 2-455-3737
Price range: 7 – 9 USD
Golden Spa
Golden Spa, also known as Hwanggeum Spa, is a popular jjimjilbang in Jung-gu, Seoul. As soon as you enter the spa, you will be enveloped in a calming atmosphere, with soft music playing in the background and the gentle aroma of essential oils.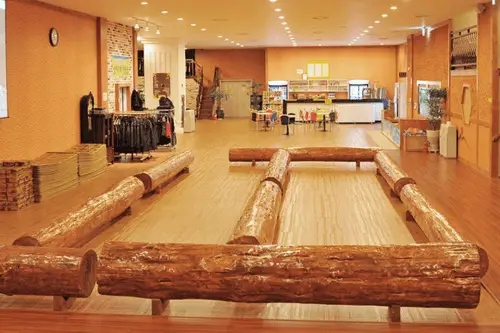 Inside, you'll find a spacious, well-designed interior perfect for unwinding and relaxing. The Spa has a fitness center, a PC room, a kids' play area, and a movie theater. So it's a great ideal destination to unwind with families and friends. They also offer a range of dining options, including a Korean restaurant and a café, as well as a convenience store for any last-minute needs.
At Golden Spa, you can enjoy various hot saunas and baths, including the jade room, salt room, charcoal room, and outdoor pool. Each room has a specific theme and purpose, providing unique health benefits to the body and mind. Moreover, they also offer various additional services to help you unwind and feel refreshed. Their professional massage therapists offer massage options to soothe your aches and pains, including foot, body, and aroma therapies. You can also try their unique facial treatments, using natural ingredients like honey and ginseng to rejuvenate and brighten your skin.
Also, there is a unique room you should try, which is the Golden Pyramid Room. This spacious and luxurious room is decorated with gold tiles and gold-plated fixtures. This room is said to have healing properties. Spending time here boosts the immune system and promotes overall well-being.
Open hours: 24/7
Phone: +82 2-2231-8000
Price range: 7.5 – 10 USD
24-hours Sparex (24시 스파렉스)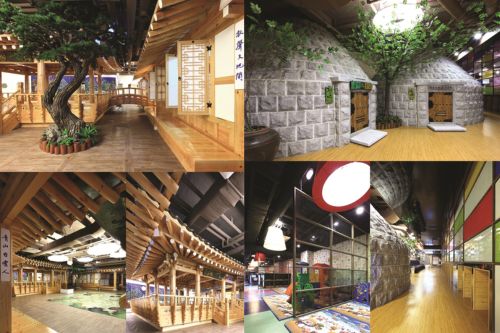 Nestled within the vibrant Good Morning City in Seoul, 24시 스파렉스 (24-Hour Spa Rex) is a one-of-a-kind spa that perfectly blends traditional and modern elements. This spa stands out because of its unique blend of traditional Korean design and modern facilities. The spa is built in the style of a traditional Korean hanok, giving Korean visitors a sense of warmth and familiarity while offering foreign visitors a unique and authentic cultural experience.
Although not all rooms are designed in the traditional hanok style, all rooms are designed with modern comforts and conveniences in mind. 24시 스파렉스 also boasts separate men's and women's areas, ensuring a comfortable and private experience for everyone.
But the most exciting spa feature is the public bath, with more than three types of hot water baths with varying temperatures, perfect for enjoying with friends and relatives. The baths are a great place to relax and unwind, allowing you to soak in the warm water and let your stress melt away. The spa also features a snack bar, where you can enjoy a light meal or refreshments, and a fitness center, perfect for those who want to stay active during their visit. As the name suggests, the spa is open 24 hours a day, so you can visit to relax and unwind at any time of the day or night.
Phone: +82 2-2273-2777
Price range: 9 – 11 USD/adults, 5 – 6 USD/children
Lotte Boseok (Gold Rose) Sauna Jjimjilbang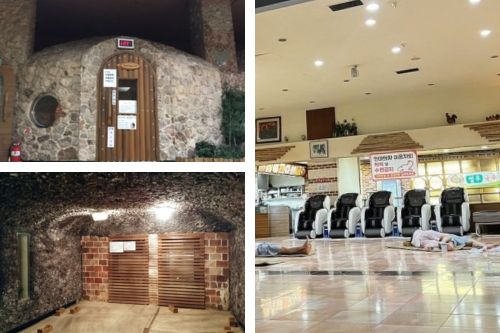 Lotte Boseok Sauna Jjimjilbang is a popular traditional bathhouse on the Han River's southern side in Seoul. Though it may be slightly pricier compared to other jjimjilbangs in the city, its reputation as one of the best in the area makes it a worthwhile splurge for anyone seeking an authentic Korean bathhouse experience.
You will be surrounded by a calming and relaxing atmosphere inside. As with any other jjimjilbang, you can expect to find the standard sauna, hot tub, and showers. They have gender-segregated areas so that you can expect a more private experience. However, what sets Lotte Boseok apart is its broad range of stress-relieving massage rooms that cater to any budget, whether you're looking for a traditional massage or a cheaper machine experience.  
One of the standout features of this jjimjilbang is its strict policy on inebriated customers, which helps to maintain a laidback and peaceful atmosphere. Additionally, suppose you get hungry during your visit. In that case, the in-house restaurant serves delicious and affordable dishes like kimbap and a Korean rice roll to complete the full jjimjilbang experience.
Open hours: 24/7
Phone: +82 2-508-0606
Price range: About 9 USD
Jongro Sauna
Jongro Sauna is a popular traditional bathhouse located in the heart of Seoul. While it may not be as well-known as some of the larger and more touristy bathhouses, it still attracts many visitors seeking an authentic Korean spa experience.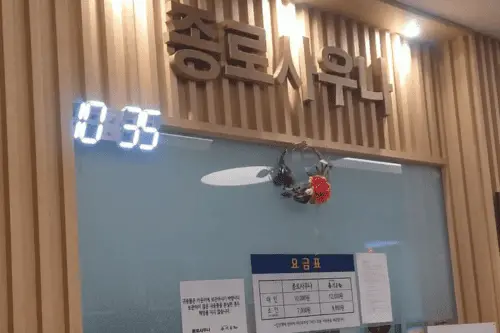 One of the things that makes Jongro Sauna unique is that most of the visitors are local residents. If you decide to visit, you'll have the opportunity to experience the spa alongside Koreans, giving you the most authentic experience possible. It's a great way to immerse yourself in Korean culture and customs while relaxing and unwinding.
The spa offers a range of facilities, including sauna rooms, hot and cold baths, and massage rooms. This is an excellent option for those who wish to experience a traditional Korean sweat sauna but prefer to avoid crowded public bathhouses where nudity is required. This spa provides a more comfortable, relaxing experience with fewer patrons and a more intimate atmosphere. The sauna is ideal for unwinding after a long day exploring the city.
Best foods to eat in a Jjimjilbang
Not only can you refresh your body through the hot Korean spas, but you can also replenish and nourish your body through Jjimjilbang food. The most common are eggs slow-cooked in hot saunas, Sikhye (traditional Korean sweet rice drink), seaweed soup, and traditional Korean red bean ice cream. 
Sauna Eggs and Sik-hye
The baked eggs come with a small package of salt, and the Sikhye is usually iced in this bottle. They are sold in all Korean spas.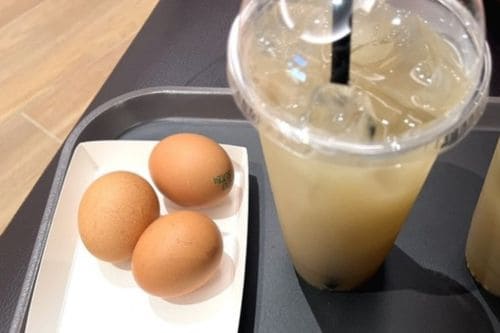 Miyeok-guk
This is seaweed soup. The best choice for those who want to taste Korean food, especially in Korean spas. Seaweed replenishes the body and is a good source of minerals and vitamins. Also, It is usually in a mussel broth, but seaweed goes well with broth made from cow meat or simply by itself. We highly recommend it!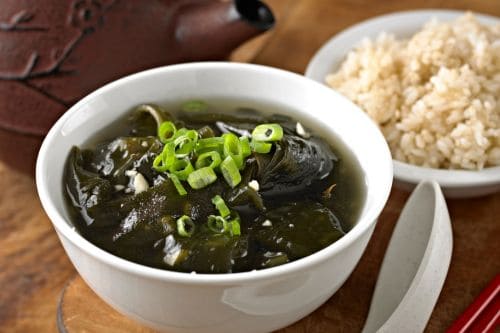 Patbingsu
This is Patbingsu or traditional Korean ice cream made with shaved ice layered with red bean paste, sprinkled with condensed milk and grain powder, and topped with cereal. It's so yummy and perfect for eating in Korean spas! We highly recommend it.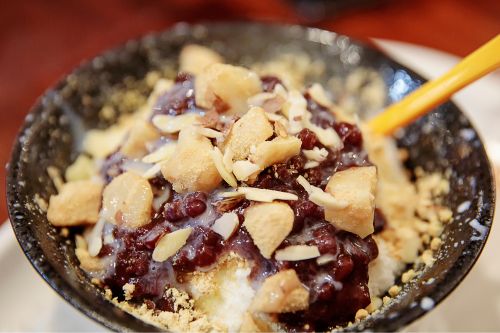 Seoul is the heart of Korea. It shows the history with the modern and offers travelers a nice blend of the old and new culture, food, and experience. The sense of community defines South Korean heritage, which is why Korean Spas or Jjimjilbangs are an important cultural aspect. It is still being resoundingly practiced. I think the Jjimjilbang experience for visitors would be a very interesting and unique glimpse into the life of local Koreans and how they relax after a tough week of work. A visit to these Korean Spas heals not only the body but also the soul.