Whether you're currently in Seoul or have watched a thousand Korean Dramas, you would have surely come across the famous Hangang Park. Situated alongside the heart of Seoul are 12 beautiful parks ready to help you enjoy the Han River to the fullest. Hangang Park is where people flock all year round to experience the distinct flavor each season offers. Enjoy cycling or water sports? Or Relaxing by the river, watching your favorite singers perform? Hangang Park contains it all. So no matter the situation, Hangang Park surely has something right for you.
Read also:
Main Hangang Parks and What to do there?
All 12 of the Hangang Parks contain their own unique charms. For example, some are best for browsing flowers and artwork, and others for watching a show or camping. However, as much as we would love to see it all, we don't have the time. Choosing which Hangang Park to visit on a short trip can be impossible. Nevertheless, here are the most popular Hangang Parks you MUST see and the top things to do there.
IVK's Pick! – Han River Activities
Yeouido Hangang Park
Yeouido Hangang Park is by far one of the most popular choices. It can become very crowded, with dozens of people going in and out of the park daily, especially on weekends or during the summer. This Hangang Park has a lot to offer, and it's many people's 'go-to' choice for many reasons. I would suggest looking at the other Hangang parks for those who enjoy quiet and more nature-focused areas. On the other hand, keep reading for those who want to experience a lively atmosphere and immerse themselves in everyday Korea.
Firstly, Yeouido Park is one of the easiest Hangang parks to find. It's directly opposite Yeouinaru station Line 5, Exit 2 or 3, and is convenient for those experiencing Korea for the first time. This park also has the biggest 'I Seoul U' stature. So for those who love taking pictures for the gram, this is a perfect spot.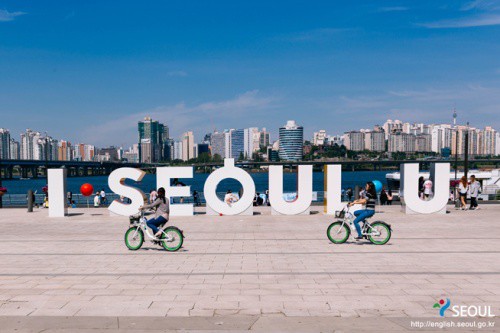 This park showcases great views of the Han River, which can best be enjoyed by visiting one of the two bicycle rental shops. Furthermore, a 1-hour rental price for a regular bike starts from $2.3 USD (3,000 KRW), adding an extra $0.40 USD (500 KRW) every 15 minutes. Alongside your standard bicycle, they offer Tandem bikes (2-person bikes) and Children's bikes. So for couples or families, they've got you covered. 
Another one of my favorite ways to enjoy Yeouido Hangang Park is during the evening. This is when the park comes to life, filled with locals relaxing, drinking, and eating by the river. Moreover, paired with the spectacular views of the city, lit water features, and lively buskers, create a perfect atmosphere for an enjoyable evening. 
How to Enjoy Hangang Park Like a Local?
Visit one of the Convenience stores and buy some drinks, snacks, or instant ramen (라면). Or alternatively, grab some food flyers and order food to pick up in the Delivery Zone (배달 존). You can also use apps such as 배달의민족 or Yogiyo (요기요) to order food. Want to know how to use Korea's number 1 delivery app? CLICK HERE
On the Han River
What best way to see the Han River than by being directly on it? The Yeouido Hangang Park is a top location to participate in adventurous water sports and to experience one of the Eland Han river cruises in the city.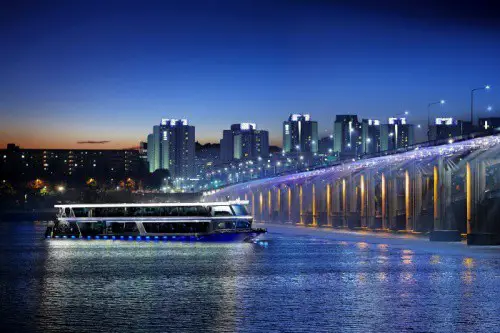 Source: Klook
For English speakers, I would highly recommend using the app/website Klook to book a tour. Please note that you must show your ID/Passport when collecting your tickets, and Korean Passports are not valid for this offer. Personally, I would opt for the dinner buffet package as it's the lengthiest option, and I love food. However, I recommend the Han River moonlight cruise for those who want something quick (40 minutes).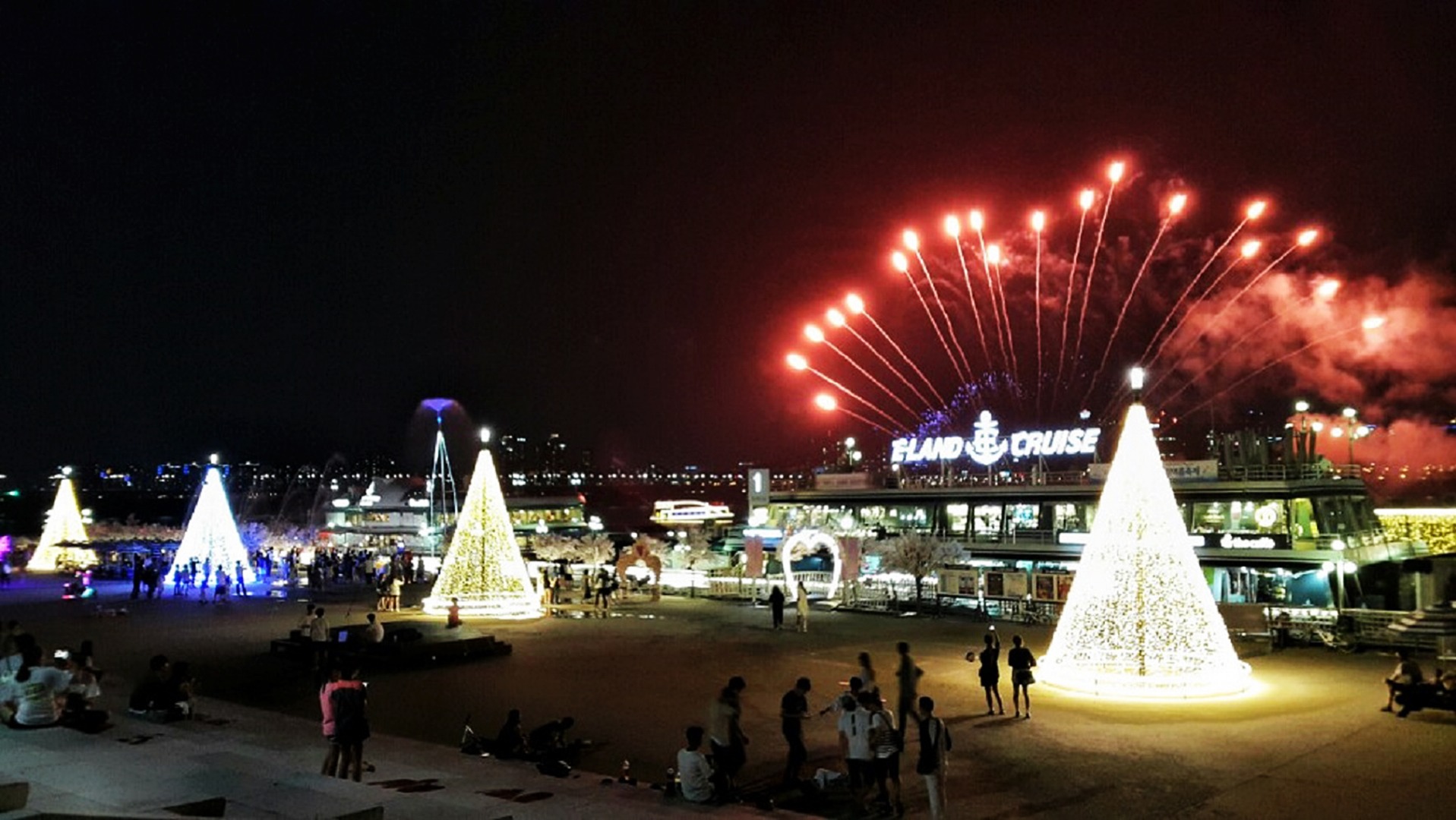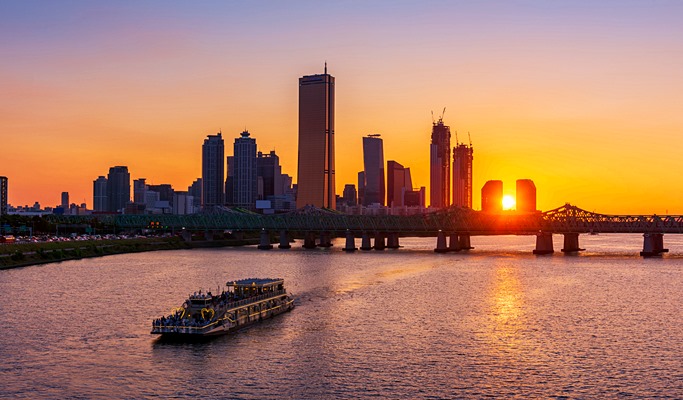 Hangang Park Events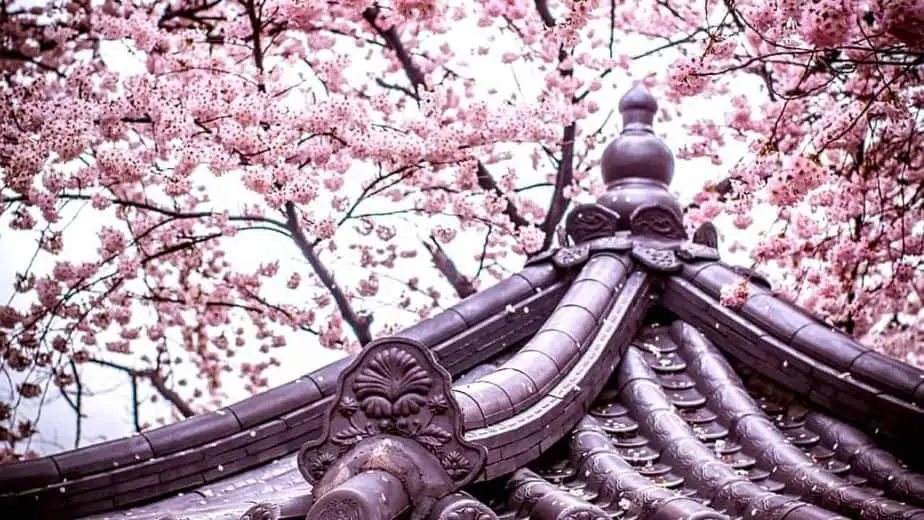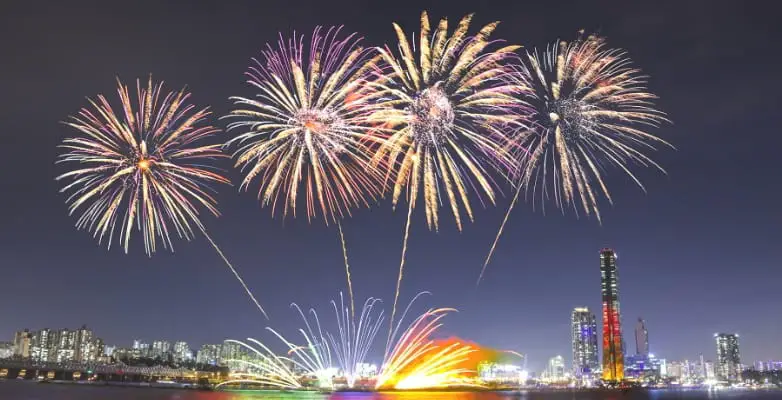 You may be wondering, When is the best time to visit? 
After living in Korea for over two years, I rarely venture outside much during the blistering winter or sweltering summer months. I try to make the most of the weather during Spring and Autumn and go out as much as possible. 
If you're lucky enough to come to Korea during these months, I recommend visiting some of the festivals in Yeouido Hangang Park.
Yeouido is arguably one of the best locations In Seoul to see Cherry blossoms in Spring. This festival usually falls around the first week in April but make sure to go quickly before it rains. In addition, this festival is completely free, and it's no wonder why many people flock here during this time. 
Fireworks Festival
Generally, set around the beginning of October. This is another extremely popular festival that takes place every year in Yeouido Hangang Park. Events start at 1 pm, including food vendors, busking, and performances. However, the firework show begins around 7:30. Getting to the park will be difficult unless you leave early. Subways are packed, and there's an insane amount of traffic on the roads, so my solution is to arrive early or find a tall building nearby and watch from there. There are plenty of restrooms, usually near convenience stores or bigger buildings in the park.
Amenities in Hangang
Inline skating track, golf range, multi-purpose field (football, foot volleyball), outdoor swimming pool, Water Light Square, multi plaza, Yeoui Madang, Beodeul Square, Folk Madang, grass field, children's playground, duck boat, Yacht Marina, waterside stage, waterside fountains, cruise dock, bike rentals, etc.
Banpo Hangang Park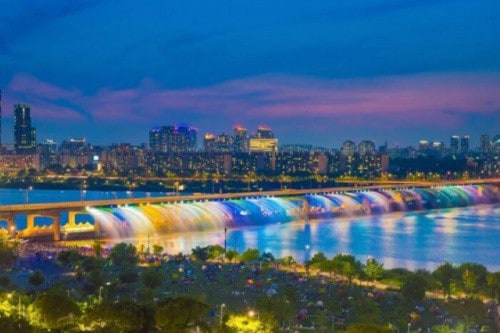 Best seen at night, another popular choice among both tourists and locals is Banpo Hangang Park. Famously known for the world's largest bridge fountain, thousands travel here yearly to witness the infamous Rainbow fountain show. This amazing show of synchronized water, dazzling lights, and music are a must-see in Seoul, and I would highly recommend visiting if you're in Korea in April-October. In addition, this show takes place around 5-8 times per day, depending on the season. If you come between the months of May-October, you'll also be able to participate in the 'Moonlight Square Cultural Weekend' held every Saturday. 
Hours of Operation:
April-June & September-October
12:00, 19:30 (15 mins)
20:00, 20:30, 21:00 (20 mins)
July-August
12:00, 19:30 (15 mins)
20:00, 20:30, 21:00, 21:30 (20 mins)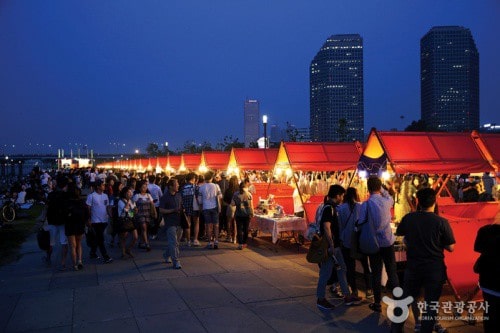 Seoul Bamdokkaebi Night Market (서울 밤도깨비 야시장)
If you're in Banpo Hangang Park on a Friday or Saturday (in April-October), then why not visit the Seoul Bamdokkaebi Night Market (서울 밤도깨비 야시장)? This quirky market is held every Friday and Saturday from 6-11 pm. Here, you will find various handcrafted items, Artists, Performers, Food trucks, and more. Perfect for a late-night stroll with loved ones or friends. 
On the River + Sebitseom
Finally, like Yeouido Hangang Park, Banpo Park has activities on the water. Head North to the three artificially made islands on the Han River called 'Sebitseom.' Here, you can witness three gorgeously lit buildings whilst riding on a boat of your choice. Bring a group of friends and choose between a yacht, Tubester, and other boats sailing along the Han River, providing a flawless view of famous buildings such as Namsan Tower and 63 Building. To book, you can use apps/websites such as Trazy.
https://www.klook.com/activity/36792-han-river-sevit-island-yacht-experience/
Amenities
Bike Rental, Cafe, Basketball Court, Badminton Court, Soccer Field
Ttukseom Hangang Park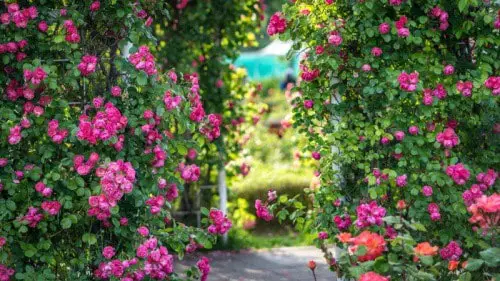 For those who love greenery, architecture, and water activities, the Ttukseom Hangang Park covers you for each season. This park is also home to 1 of the seven parks with an outdoor swimming pool and a wide range of water sporting activities. What's more, during the winter, it's completely transformed into a winter wonderland. At this Hangang Park, you can catch locals all year round enjoying Snow Sledding in the Winter, water skiing in the Summer, and beautiful flower gardens in the Spring and Autumn. 
Before heading to the river, I would stop by the J-bug complex. This 240m long cylindrical building is great for getting a coffee or taking cool pictures. Inside showcases beautiful open-planned spaces featuring unique architectural details. Additionally, this building includes meeting rooms, places to read, a cafe, and an event hall, whilst providing a well-loved view of the Han River.
J-BUG Operation Hours
Floor 1
March/October: 10 a.m. – 12 a.m
November/February: 10 a.m.-11 p.m
Floors 2&3
If you're a flower enthusiast like myself, you won't regret stopping by the Ttukseom Hangang Park rose garden. Best seen during the spring, this is a cute area to stroll through and take some pictures. What's more, if you happen to be in Korea during the early Summer months, you must check out the huge Vine wall located west of Ttukseom resort station. This seemingly average-looking wall is transformed into a dazzling display of orange flowers and green ivy.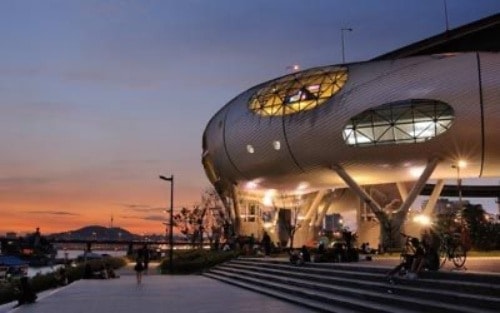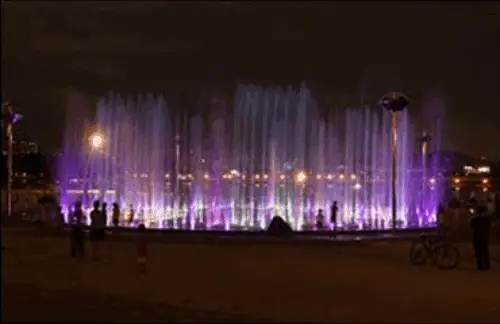 Spending an entire day in Ttukseom Hangang Park is certainly not a challenge. In fact, for those wishing to stay until the evening, feel free to order some food and enjoy a picnic whilst gazing at the glamorous music fountain show.
Music Fountain times
Weekday = 12:00 / 14:00 / 19:00 /20:00
Weekend = 12:00 / 14:00 / 16:00 / 18:00 / 19:00 / 20:00 / 21:00
Amenities
Snack bar, water fountain, children's playground, nature experience site, sun shades, rose garden, Soccer field, basketball court, tennis court, badminton court, football field, physical fitness center, gate ball field, Motorboat, water skiing, Swimming pool, Windsurfing site
Nanji Hangang Park
This is one of the harder Parks to get to without a car. Using public transport, you will most likely need to use both a train and bus, depending on where you are coming from. I would recommend: 
First, take a train to Dangsan Station Line 2, Exit 8. 
Then, from Exit 8, walk straight to Dangsan station bus stop (19175) and take the 9707 Bus.
Lastly, get off at the Nanji Park Bus stop.
Address: Seoul, Mapo-gu, Sangam-dong (한강난지로 162 (서울특별시 마포구 상암동 한강난지로 162)
Nanji Park is one of the quieter options among all four Hangang Parks. I discovered this park over a year ago during the Hiphopplaya festival. With the completion of the Hangang Renaissance project, this once-landfilled site has been revamped into a blossoming getaway from the hustle and bustle of Seoul. That being said, for those who love nature and want to enjoy a quiet area to relax, Nanji Hangang Park is a great option. 
Nature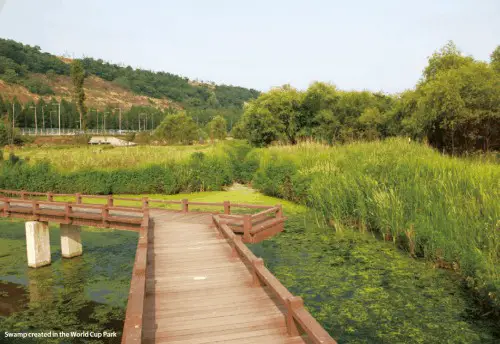 Connected to the World Cup Park and Sky Park (one of my favorite areas in Seoul), you can walk through a forest and flower fields to cycle alongside tall grass and the river. Furthermore, for an all-around Nature immersive experience, you can stay at Nanji Parks Campsite or wander through the Nanji ecological wetland. 
Nanji Park Campsite
Moreover, the Nanji Parks Campsite is the only Campsite available on the Han River. You'll need to make a reservation using their website, and prices will vary depending on the size of your group, Parking, type of equipment you need to rent (if any), etc. You can also bring your tent with a charge of $11.5 USD (15,000 KRW) for a group of 4 (an extra $2.8 USD or 3,750 KRW) for one additional person, and you will still need to book in advance). 
Amenities
Mirror fountain
Swimming pool
Music fountain
2 baseball fields
Yacht Club
Bike lane
Riverside pool/Infinity pool (open from July to August)
Nanji Camping Site
Extreme sporting ground (BMX, Inline skating, etc.)
Riverside stage
Top Things to do in the Han River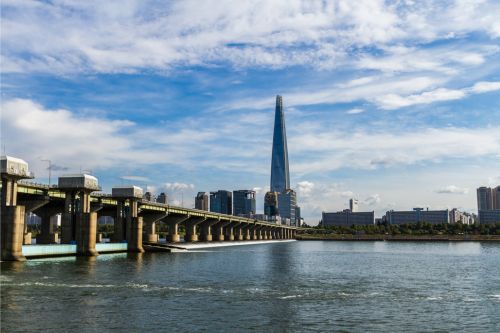 The Hangang River, flowing gracefully through the heart of Seoul, South Korea, offers many activities for locals and visitors alike. From serene river cruises to exhilarating water sports, leisurely bike rides to idyllic picnics, and indulging in the famous Korean dish of ramyeon, the Hangang River presents a tapestry of experiences that captivate the senses. Let us embark on a journey to discover the different things to do on the Hangang River, each promising an adventure and memories to cherish.
Romantic River Cruises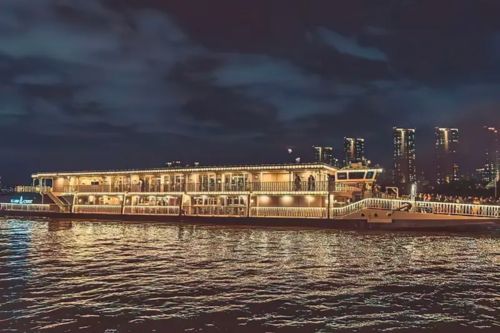 One of the most popular activities on the Hangang River is embarking on a delightful river cruise. Whether you choose a daytime excursion or an enchanting evening cruise, the experience is mesmerizing. As you step aboard one of the elegant vessels, the tranquil waters carry you along, providing breathtaking views of Seoul's majestic skyline, picturesque bridges, and iconic landmarks. The sightseeing cruises offer informative narrations about Seoul's rich history and culture, adding depth to the enchanting scenery. For those seeking a romantic ambiance, dinner cruises combine exquisite Korean cuisine with panoramic views, making for an unforgettable evening. And if you visit during special occasions, such as festivals or holidays, fireworks cruises offer a dazzling spectacle as vibrant colors light up the night sky, painting a picture of pure magic.
Exhilarating Water Sports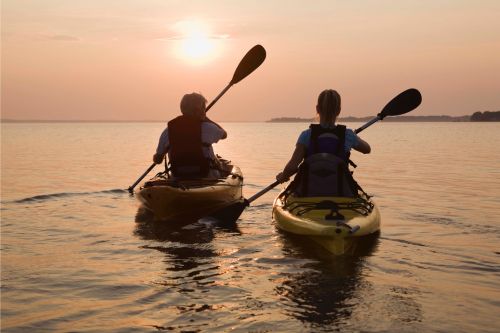 Hangang River caters to thrill-seekers and water enthusiasts with its exhilarating water sports activities. Kayaking along the river's gentle currents is a fantastic way to explore hidden corners and immerse yourself in the beauty of nature. Paddling through the calm waters, you can witness the city from a different perspective, passing by scenic landscapes and experiencing a sense of tranquility. Canoeing is another popular choice, allowing one to navigate through the meandering channels and enjoy close encounters with the diverse flora and fauna that call the river home. For those seeking a unique challenge, paddleboarding allows you to stand on a board and glide across the water's surface, testing your balance and coordination. These activities provide an adrenaline rush and a refreshing respite from bustling city life.
Riverside Cycling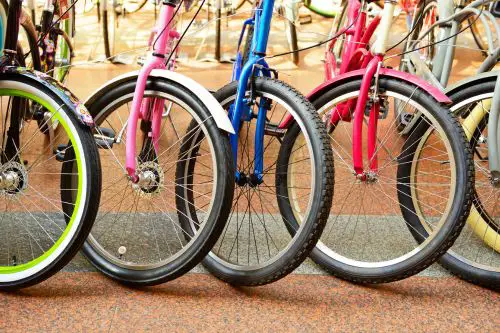 Hangang River boasts a well-developed cycling path across its banks, making it a haven for cycling enthusiasts. Renting a bicycle allows you to embark on a scenic journey, pedaling alongside the river while relishing the panoramic views. The cycling paths wind through charming parks, cross picturesque bridges, and pass by significant cultural landmarks, offering glimpses of Seoul's rich history and vibrant charm at every turn. Whether you prefer a leisurely ride or a challenging cycling route, Hangang River caters to riders of all abilities, making it an ideal destination for locals and tourists seeking an active adventure. The abundance of rental services along the riverbanks ensures easy bike access. With numerous pit stops and resting areas, you can take a break, soak in the scenery, and indulge in a riverside picnic before continuing your journey.
Leisurely Picnics
With abundant green spaces and picturesque riverbanks, Hangang River provides an idyllic setting for a peaceful picnic. The river's parks, such as Yeouido Park, Ttukseom Hangang Park, and Banpo Hangang Park, offer ample space and amenities to enhance your picnic experience. Gather your friends, family, or loved ones, and find a cozy spot under the shade of a tree or on a riverside lawn. Spread a picnic blanket, unpack delicious treats, and immerse yourself in the serene ambiance. As you savor the food, laughter, and conversations, you can revel in the river's gentle breeze and the natural beauty surrounding you. The parks provide playgrounds for children, walking paths for leisurely strolls, and even barbecue facilities for those wishing to indulge in a grilled feast. Whether it's a romantic outing, a family get-together, or a moment of solitude, a riverside picnic on Hangang River promises to create lasting memories.
Eating Delicious Instant Ramyeon
No exploration of Hangang River is complete without indulging in a steaming bowl of instant ramyeon, a quintessential Korean dish. Ramyeon, a type of instant noodle, holds a special place in Korean culinary culture. Along the riverside locations of Hangang River, you'll find small convenience stores or street food stalls that cater to visitors seeking a quick and delicious meal. These stalls offer packets of ramyeon, which you can purchase and prepare at the riverside picnic areas. The combination of the warm broth, chewy noodles, and savory toppings creates a comforting and satisfying meal, perfectly complementing the serene ambiance of the river. As you slurp up the noodles, you can immerse yourself in the local food culture, experiencing a true taste of Korea in a picturesque setting.
Outdoor Swimming Pools
The Hangang Park and Hangang River offer a refreshing oasis in the heart of Seoul, boasting a network of outdoor swimming pools that provide respite from the summer heat. These pools, scattered across different sections of the park and river, beckon visitors of all ages to dive in and cool off in their crystal-clear waters. With well-maintained facilities and lifeguards ensuring safety, these outdoor swimming pools are perfect for families, friends, and individuals seeking relaxation and recreation. Whether you prefer swimming laps, floating lazily on an inflatable tube, or splashing around with friends, these pools cater to various preferences.
The vibrant atmosphere and stunning river and cityscape views create a unique and invigorating experience. So, come and take a dip in the outdoor swimming pools of Hangang Park and Hangang River, and enjoy a refreshing escape from the bustling city while immersing yourself in a world of aquatic bliss.
Other Hangang Parks to Explore
Jamsil Hangang Park (잠실 한강공원)
Jamwon Hangang Park (잠원 한강공원):
Ichon Hangang Park (이촌 한강공원)
Mangwon Hangang Park (망원 한강공원):
This is another hard Hangang park to find. I would recommend:
Taking a train to Hapjeong station, Line 6 or Line 2.
Come out of Exit 8 and walk straight to Holt Children's Services Bus stop (14218).
Take the 16 Bus to Mapo Hangang Ipark Apartment Bus stop.
Address: (Mangwon-dong) 467 Mapo-naru-gil Mapo-gu, Seoul (서울특별시 마포구 마포나루길 467 (망원동) 망원한강공원 내)
Gwangnaru Hangang Park (광나루 한강공원):
Gangseo Hangang Park (강서 한강공원):
Yanghwa Hangang Park (양화 한강공원):
Seonyudo Island (선유도):
Train: Dangsan station Line 2, Exit 4. Walk through Yanghwa Park
Bus: Seunyudo Park bus stop
Address: Yanghwa-dong, Seoul (서울특별시 양화동)
How to get to Hangang Park? + Tips
Fortunately, most of the Hangang Parks are easily accessible using public transportation. However, before beginning your descent. Here are a few suggestions to make getting around Seoul a little easier: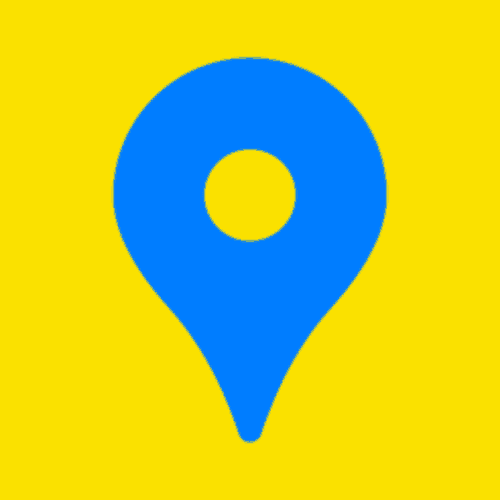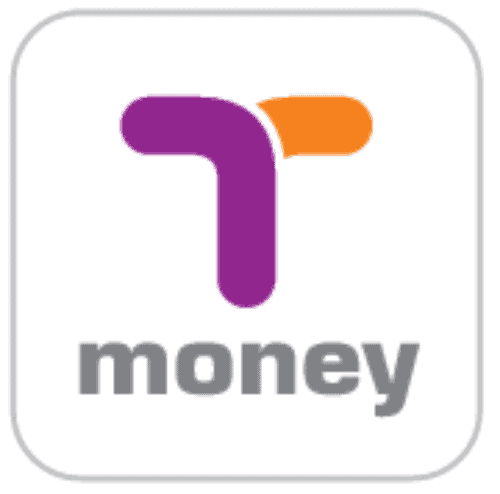 T-Money Card
Firstly, I would highly recommend purchasing a T-money card. These rechargeable transportation cards are found in most convenience stores or airports. Visitors and even locals find the T-money card the most convenient way to get around, and at the end of your trip, you can also use the refund machines (found in the train station) to get your money back. Moreover, these cards can be used for Buses, Trains, and Taxis. To 'Top-up' or 'Re-charge' your T-money card, go to the ticket purchasing machines in the train station or any local convenience store. 
Kakao Map
Although it can be unnecessary, I recommend downloading the Kakao Map app when traveling around Seoul, Korea. This app is convenient/easy to use and accurately shows how to get to your destination. Additionally, I find that sometimes, Google Maps doesn't give you the best routes in Seoul.
How to download the KakaoMap app:
For Android: To download Kakao Map on your Android device, begin by opening the Google Play Store. Once it's open, use the search bar at the top to search for "Kakao Map." From the search results, select the official app. On the app page, you'll find an "Install" button. Tap on it, and you'll be prompted to review the permissions required by the app. Accept the permissions to proceed with the installation. Wait for the app to download and install on your device. Once the installation is complete, you can open the app, create an account, or log in if you already have one.
Google Play Store
For iOS (iPhone, iPad): If you want to download Kakao Map on your iOS device, start by opening the App Store. Inside the App Store, tap the search tab at the bottom of the screen. In the search bar, type "Kakao Map" and search for it. From the search results, select the official app. You'll see a "Get" or "Download" button on the app page. Tap on it, and if prompted, authenticate with your Apple ID or use Face ID/Touch ID. Wait for the app to download and install on your device. Once the installation is complete, you can open the app, create an account, or log in if you already have one.
IOS Apple App Store
And that concludes the things to do in Hangang Park Seoul. As you can see, there is an endless list of activities, foods to try, and things to see. These beautiful parks situated alongside the heart of Seoul certainly shouldn't be skipped over, and I hope this post made it easier to pick which Park to visit.