From time to time, you might want to get out of Seoul and explore other places surrounding the city. Maybe you've been in Korea for a couple of months and all you've seen is Hongdae, Itaewon, Hanam-dong, and Gangnam. You wonder if there's more to see outside the city. Well, you're in luck! From Incheon to Yangyang, there are many beautiful places that make for the best day trips from Seoul. Both educational and recreational, these places are the most common places to visit for Koreans and non-Koreans alike! This list will offer the best day trips from Seoul.
Best Day Trips From Seoul
Korean Demilitarized Zone (DMZ)
First, let's tackle the elephant in the room. Yes, it is possible to go to the Korean Demilitarized Zone, more commonly known as DMZ. Historically, the DMZ was the only place in the whole Korean peninsula that has been peaceful. It served as a place for the two Koreas to have meetings and discussions. Today, during relative peacetime, the DMZ still serves as a place for peace talks between the presidents of North and South Korea.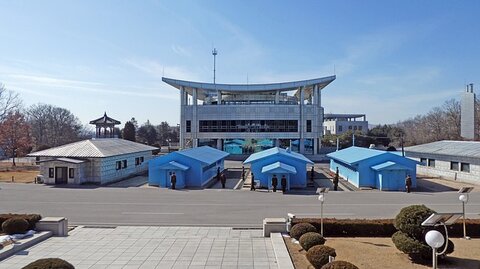 Besides history, the DMZ is also a fascinating place to visit. In fact, the DMZ is one of the most popular and best day trips from Seoul. On the guided tours, people can stop by Imjingak Park, the 3rd Infiltration Tunnel, Freedom Bridge, and the Dora Observatory, where it's possible to look across the border into North Korea. At the DMZ, people can also witness both North Korean and South Korean soldiers securing their respective borders.
One thing to keep in mind that you MUST have a guide, and you MUST book your tour at least a few days before your planned visit. At the DMZ, everyone needs to dress nicely so keep your jeans, flip-flops, halter tops, and tank tops at your hotel, please!
There are many DMZ tour guides that you can book, including full-day DMZ tours and half-day DMZ tours, as well as tours dedicated to the shopping around the area!
Best Seoul Day Trips: Imjingak Park
Imjingak Park (임진각 평화누리공원) is located in Paju-si and is one of the stops on the guided DMZ tours. But I wanted to put a special notice on this location because it is quite a special place, making it one of the best day trips from Seoul.
Imjingak Park was built in 1972 with the hope of unification between the two Koreas at the heart of its blueprint. Complete with a coffee shop, a souvenir shop, several historical monuments, and documents telling the shocking reality of life in North Korea, Imjingak Park embodies its nickname "Peace World Park."
One hauntingly beautiful building is the Dorasan Station, the most northern train station that serves the greater Seoul area. Many Koreans like me hope that one day, this subway station will be used for good when the two Koreas finally reunite and connected.
You can find more information about Imjingak Park and guided tours here.
Around Seoul Day trips: Hahoe Folk Village in Andong
For people who love learning about Korean culture, the Hahoe Folk Village in Andong is an inspirational place. Guided tours show the traditional architectural styles of the houses and buildings that make up the Hohoe Folk Village. From the Buyongdae Cliff, you'll be able to see the village from a bird's eye view, which is much more beautiful than you could imagine. You'll come to see why the cliff was named 'lotus' as you realize that the shape of the village is of a lotus flower.
You can also visit a Confucian school and a Confucian temple, which is the biggest Confucian temple in all of Andong. While there, you'll also learn about traditional art and dance that existed long ago, including the mask dance. The tour includes the Mask Museum.
You can find information about the Hahoe Folk Village here.
Hanok Folk Village in Bucheon
To get a taste of traditional Korean culture head to the Bucheon Hanok village just north of Seoul in Bucheon city. The serene and quiet village will take you back into historical times. The residential and non-residential traditionally styled buildings show you the wisdom and beauty of Korean architecture. The admission is free and there is also the Traditional Sculpture Craft Experience for a price of 10,000- 25,000 won. Moreover, experience Korean traditional food for 10,000 won- 20,000 won there. Korea has a handful of folk villages that serve as great tourist attractions, and the Hanok Village is one of the most famous folk villages located just outside of Seoul. It's the perfect place to mark that you are traveling in Korea.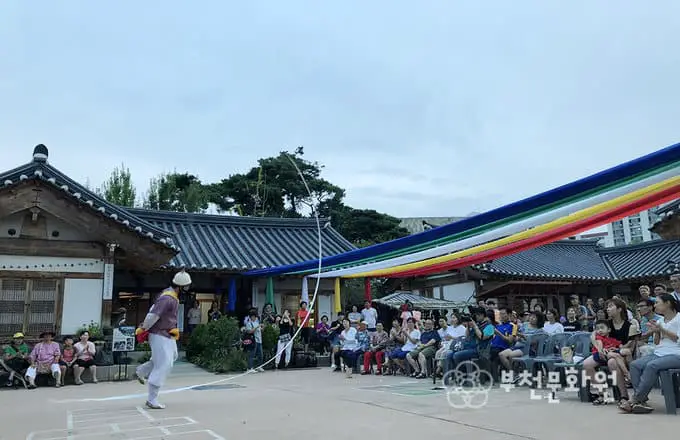 Another great experience at the Bucheon Hanok Village is the traditional wedding ceremony held from April to November on Saturdays, Sundays, and public holidays. Come see how sacred traditional weddings were and the beautiful traditional Korean attires worn called hanboks. All are welcomed to view the ceremonies but note that due to weather conditions the ceremonies might be canceled. The traditional weddings at the Bucheon Hanok Village add to the authenticity of a Korean lifestyle of an earlier time.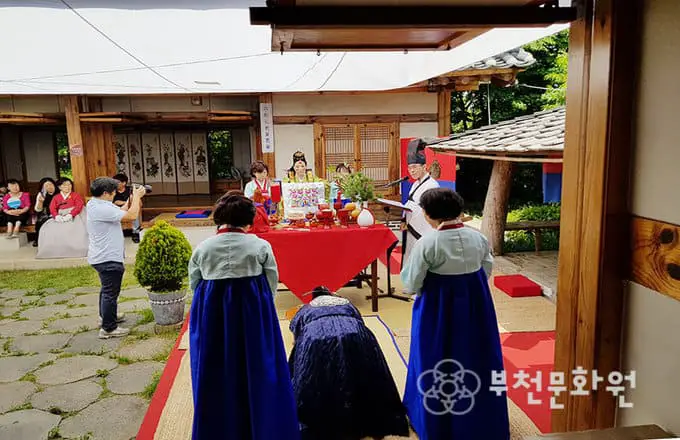 Nami Island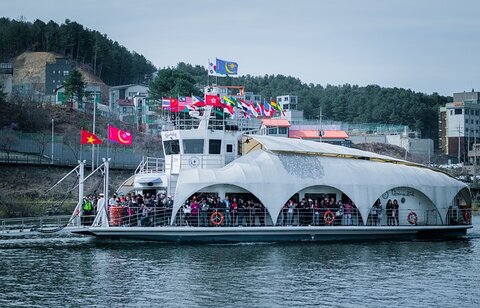 For any tourist stepping on Seoul, your first destination should always be Nami Island. Just 55km from Seoul, it's one of the best day trips from Seoul. You will be amazed by its well-curated gardens and tranquil forests. Reaching Nami Island will also be an interesting journey for any traveler. If you want to enjoy the journey then take the ferry, ticket price is around 8,000 Won (~$7.00) and will take 15-20 minutes. If you want to have some adventure then I would highly recommend you to take the zip-wire. The ticket price is around 38,850 Won (~$35.00) and I can guarantee that you will enjoy the zip-wire! It's worth the price and perhaps the reason why Nami Island is very popular and well-known. The Garden of Morning Calm and tree-lined lanes are 2 famous locations on the Island you should not miss. Don't forget to take your camera or smartphone because the scenery is just mind-blowing here. 
Yongin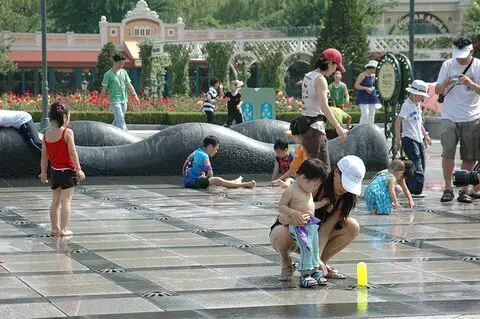 Yongin is another interesting day trip destination of Seoul. It's popular among visitors for it's amusement park named Everland. Also, an one of a kind amusement park in Korea and often compared with Disneyland. It's a massive park divided in different sections. Apart from interesting architecture, sculptures and amusement parks, you will also find different food stalls and restaurants & gift shops. Hoam Art Museum is massive with thousands of precious Korean artifacts and arts. You will also find the largest Korean folk village here with 260 houses in the late Joseon era.
Mount Seorak/Seoraksan National Park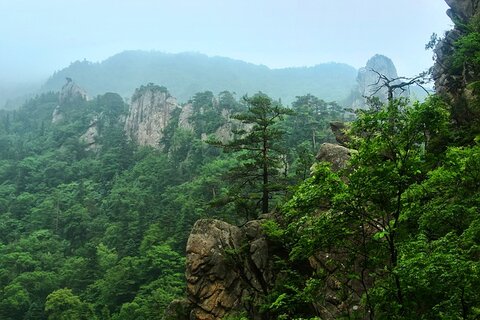 Mount Seorak is the third highest mountain in Korea, located in one of the most gorgeous natural reserves in the country with mind-blowing natural views. It has a lot of hiking courses with individual differences, but the best one is always the Gwongeumseong Fortress Course. Ulsanbawi Rock Course is also great but if you are going alone then pick the later one. I would suggest you avoid this one if you are traveling with family since it has 800 steps of a steep steel staircase.
Suwon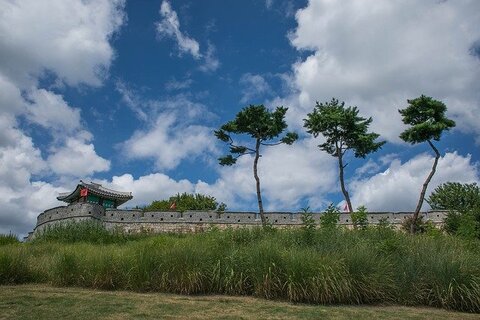 The next best day trip from Seoul is Suwon, a small town just 30km south. It will cost $2.50  to reach Suwon by an express metro line from Seoul Station (Blue Line). The first impression may feel dull and boring but don't be fooled by its appearance. The 1796 fortress Hwaseong constructed by King Jeong-jo is the main attraction of Suwon. On certain occasions, traditional performances are arranged outside Hwaseong Haenggung featuring Korean rope walking, music, and traditional dances. The best part of Suwon is always the Korean fried chicken and this place is famous for that. Cold beer & fried chicken at Suwon's chicken street will surely be a one-of-a-kind experience for your taste buds.
Ansan
If you think Seoul is the center of all mouth-watering delicious cuisines then you are wrong. What makes Ansan one of the best day trips from Seoul is it's the diversified cuisine. Due to the working population from different corners of the world, you will feel amazed walking on the streets of Ansan. You will find chinese, vietnamese, indonesian and other shops and the fusion of different cultures can be clearly visible here. The street food vendors are one of a kind experiences of South Korea and the exotic food menu will surely surprise you.
Muuido Island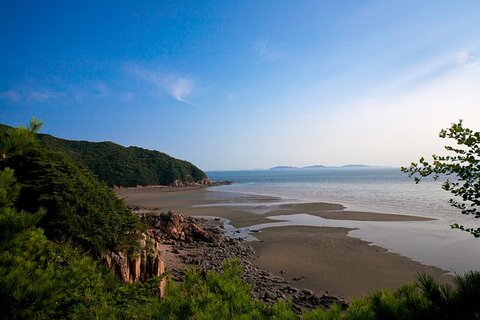 If you are a fan of the popular K-drama "stairway to heaven" then you will surely like Muuido Island. It's where the drama was filmed. This beachside tourist destination has been picked for its relaxing time on the beach, unique miniature beach huts, and tons of activities on the beach. You will find zip-line, ATV, hour riding, BBQ & of course the sunbath. It's a family-friendly tourist spot where you can spend a whole day just relaxing. That's why you put Muuido Island in the middle of the list so that you can get some relaxing time at the beach. If you want to spend the night then I can guarantee you that you won't regret it.
Busan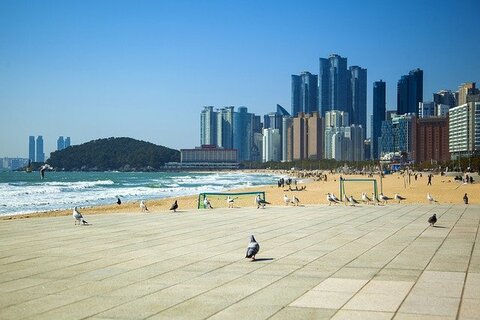 Have you seen the famous zombie movie "Train to Busan"? Our next destination is actually the city that got known by the film. Busan is famous among tourists for its amazing chill atmosphere, natural hot springs, sandy beach, reserves, delicious street foods, and Beomeosa Temple situated on the slopes of Mt. Geumjeongsan & Taejongdae park. Taejongdae park itself is famous for various reasons. It has some historic lighthouses, rocky beaches, sacred temples & a viewing point named Southport. By the way, if you are going to visit the park, don't miss the cruise.
Jeonju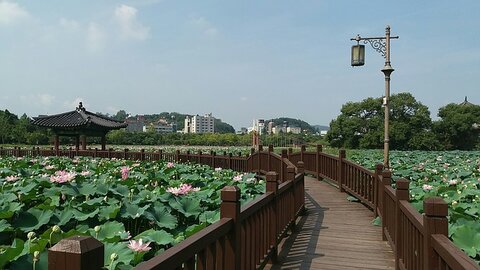 Most of the tour companies or websites will deliberately ignore Jeonju because it's not a known tourist destination in South Korea. It's known as Korea's Foodie capital and UNESCO heritage site known as the city of gastronomy. Just a two-hour drive from Seoul, Jeonju is surely one of the best day trips from Seoul. The first thing to see is Hanok, the house of the upper classes. Most of them have already been turned into restaurants and hotels so you can enjoy the interior of this traditional structure. The second destination is always the food village and gets ready to amaze your taste buds. The food items demand a separate section so I am not going to bother you with the names, just don't miss the place if you love to eat!
Out of Seoul Day trips: Yangyang
Many Koreans and non-Koreans like to get away from the city on their time off work. Yangyang is known to be the place of choice for surfers and people who love the beach. Located two hours east from Seoul, Yangyang is famous for its two beaches.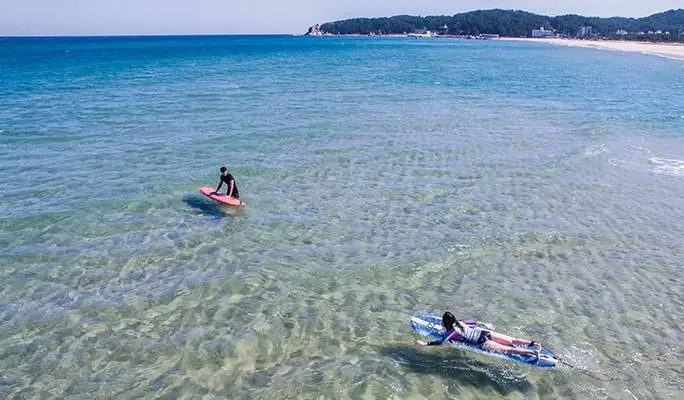 First, let's talk about the beaches. Hajondae Beach and Surfy Beach are both stunning beaches. Although both beaches offer good surfing, more people go to Surfyy Beach due to the waves being optimal for surfing.
Both Hajondae Beach and Surfy Beach are usually not too crowded, despite it being considerably close to Seoul, which makes it a preferable vacation spot.
In addition to the beaches, Yangyang has many different coffee shops, restaurants, and bars, including Do Ma Blue, Matsu, and Cafe Hello Peace, among many others. The food, drinks, restaurants, and accommodations offered all over Yangyang feed into the theme of relaxation, as many of these places boast a good view of the beachfront.
Lavender Fields in Goseong
Every country has its own special thing it loves to flaunt. For Korea, it is the cherry blossoms and the lavender. However, the lavender fields are far less known than the cherry blossoms.
When you arrive, you're greeted by a massive field of purple lavenders, which makes the region as a whole that much more colorful. Since these flowers aren't going to stick around forever, it's rather exciting to snap photos of them before they disappear. Much like the cherry blossoms that Korea's Jamsil region is known for, the lavenders have a mysterious, fleeting presence and appeal to them.
But these lavenders aren't the only things in the area. A few minutes away is Songjiho Beach. After marveling at the beauty of the lavenders, you might also want to drink in the beauty of Songjiho Beach. With a long beachfront where you can walk, the beach is a great spot for you and your family to spend the day.
So as you can see, there are many places in and around Seoul that are really beautiful and make the best day trips from Seoul. Next time you have any free time, why not hit the Korean streets and explore somewhere you've never been before?
You may also like:
IVK's Top Picks – Day Tours, Tickets, and Travel Activities
Seasonal Picks!😍