There are some Korean artists who have an entrepreneurial spirit. In addition to their successful job, they decided one day to start a business. This practice was really popular at the start of 2010 and still runs these days, for the happiness of fans who come from all around the world. Here you will see unique and trendy cafes owned by top Korean idols.
Best Cafes owned by Korean Idols
Coffee shops in Seoul
Kamong – Exo's Kai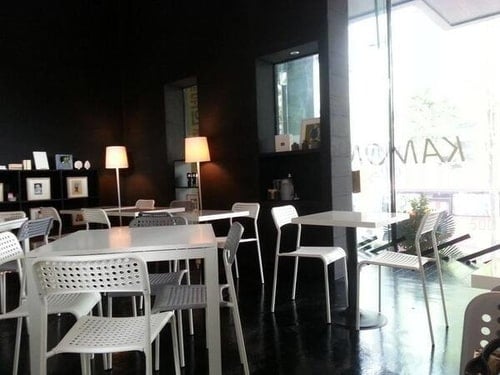 The first cafe we will talk about is owned by a member of one of the most famous idol groups from the SM Entertainment company, Kai. As you know, he joined the idol group Exo. An idol group who has stolen the hearts of many fans around the world, with every song reaching number one on the top charts of Korea. Kai opened the Kamong Cafe in Seocho-gu, Seoul. The name "Kamong" means"Dreaming Kai," and is the contraction of two names: "Kai" and "Monggu" who is also Kai's dog's name.
Although the coffee shop was created by Kai, this one is, operated by his sister.
Located in Seocho area, near the Seoul National University, the Kamong Cafe offers an incredible atmosphere with a modern and industrial style and with 3 big glass walls. These walls were a super idea that changed the cafe to a really bright space and customers can easily look outside and avoid any feeling of being closed.
A lot of beverages are on the menu and also some desserts like muffins, cookies,… The most famous dessert is the ice cream waffle with some fresh fruits added to it!
If you are curious about this place, do not hesitate to check the coffeeshop's Facebook page and Instagram! And if you want to visit there, please find all information you need below:
Address: 356, Seocho-dong, Seocho-Gu, Seoul, Korea 06631
Phone: +82-2-522-5949
Hours of operation: Everyday 09:00 – 22:00
Transportation: Subway Lines 2 or 3. Seoul National University Station, Exit 1, and 3 min walk.
Mouse Rabbit – Super Junior's Yesung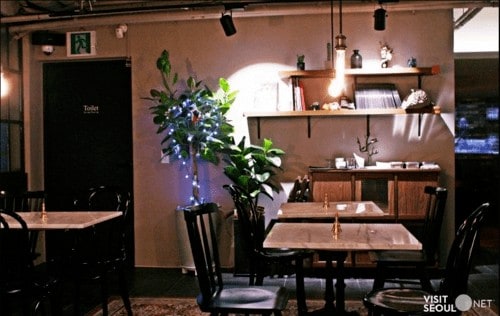 The Korean idol Yesung, the main vocal of the famous boyband Super Junior, opened a cafe at the end of 2012. This cafe is located in Gwangjin area, near Konkuk University. The name of the cafe, Mouse Rabbit, was created by the astrological sign of the singer and his brother who runs the commerce with him.
The western modern with the classical style of the cafe is colored by really classical colors as grey, black or white. This place also offers a basement which is more comfy and cozy than the rest of the cafe. All the decorations were made by the singer who usually comes to his coffee shop to take a break.
Mouse rabbit offers a lot of choice of beverages (coffee, juice, tea, latte, etc.), desserts (waffle, cookie, etc.), and also goodies! Goodies are not in the effigy of the singer but they are in the effigy of his mind and style. Different products are available such as mugs, bottles, or umbrellas. All product's design is clear and simple. They also add limited collections during specific seasons (Christmas,…).
Mouse Rabbit Cafe had a Facebook page and also an Instagram account, but they don't post often these days… For more information about this place, please check below.
Address: Hwayang-dong, Gwangjin-gu, Seoul 05017
Phone: 02-462-4015
Hours of operation: Everyday 10:00 – 23:30
Transportation: Subway line 2 & 7, Konkuk University Station, Exit 2. Walking 9 min.

JYP's Soul Cup Cafe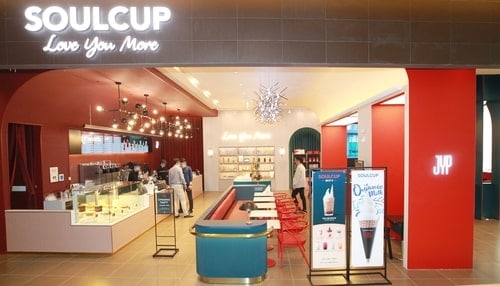 You can find more pictures on Instagram! Everything but the hero cafe doesn't have a Facebook page, but this is an unofficial page about it where you can find some reviews.
This cafe is owned by the music company JYP Entertainment, the music company that is promoting some famous artists such as Stray Kids, GOT7, Itzy, or one of the most popular girls group of the generation, TWICE. The coffee shop is located at Lotte world mall, in the Songpa area in Seoul.
The JYP's Soul Cup Cafe specialties coffee, milk, tea, fruits, and Ice cream. The atmosphere is cool and relaxed. The most precious point of this place is all products are made with organic ingredients!
Though the cafe is not owned by a specific Korean idol but by a music company, it can happen that some artists can go there to have a coffee break.
Address: 29 Sincheon-dong, Songpa-gu, Seoul
Phone: 02-3438-2300
Hours of operation: Everyday 09:00 – 22:00
Transportation: Subway lines 5 and 2, Jamsil Station, Exit 1, 2, 10, or 11.
Coffee shops located outside Seoul
Cafe Aewol Monsant – G-Dragon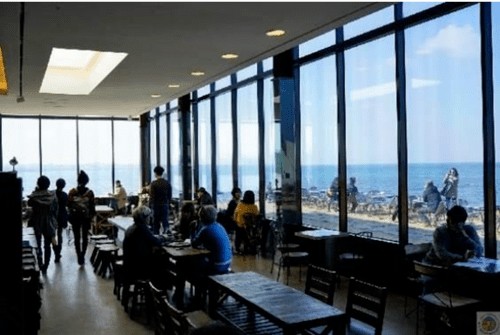 One of the most famous rappers in a Kpop group chooses to open a new coffee shop in the paradisiac place of Jeju island.
The Cafe Aewol Monsant, created by Kim Ji-young, better known as "G-Dragon," is a really aesthetic modern cafe built at just a few steps from the sea.
Inside, you will see a mix of woodwork and stonework furniture and old-style / modern style furniture which creates a really cool and contemporary atmosphere. The space is really huge, the ceiling is high and the glass walls make you feel like you are outside. Thanks to these glass walls, the space looks bright and open.
Outside, there are some tables for peoples who want to be as close as possible to the sea. It's minimalist but truly enough, you don't need any decoration when you can enjoy the sea.
Some coffee, juice, and pieces of cake are available in this place. Prices could be a little above than other cafes due to the location. If you go there by car, please keep in mind there is a parking fee.
Address: 56-1 Aewolbukseo-gil, Aewol-eup, Jeju-si, Jeju-do
Phone: 064- 799- 8900
Hours of operation: Everyday 09:00 – 19:00
Transportation:
– Go to Jeju Intercity Bus Terminal, and take Bus #702 (towards Gosan)
– After about 47 minutes, get off at the bus stop called Han Dam Dong (한담동).
– Walk for about 5 minutes. It is right behind Bomnal Cafe (where Warm & Cozy was filmed).
(Transportation's information from Jeju Tourism organization's travel blog : https://jejutourism.wordpress.com/2015/11/16/cafe-monsant-in-aewol-jeju/)
Caffe Soo – Suzy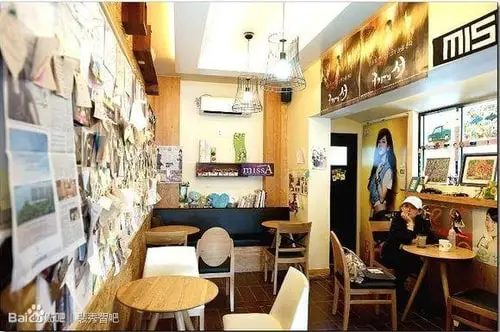 The girl who was named the "Nation's little sister" opened a coffee shop with her parents in the city of Gwangju, which is the hometown of this family. The former member of the girl group "Miss A" became really famous for her acting role in "Dream High" (2011), "Uncontrollably fond"(2016), and recently "Vagabond" (2019).
The cafe located in the southern part of the city became famous for its inexpensive prices compared to other cafes.
Because it was originally a snack-bar, the shop space could be a little small but Suzy's mother made a lot of effort for customizing the decoration, especially with her daughter's pictures. Thanks to that, the atmosphere is really calm and cozy, and some visitors think the atmosphere looks more personal due to the small place. A place that is really different than other famous coffee shops!
As other coffee shop, many beverages are available here but the most surprising one is the Herbals Tea.
Address: 14-25 Usan-dong, Buk-gu, Gwangju
Phone: 062-262-4197
Hours of operation: Everyday 09:00 – 22:00
Transportation: Gwangju city – Take bus to Munhwa Middle School Station and walk 3 min.
BONUS: Everything but the hero cafe – Jo In Sung
The actor who played in the movies "The Classic" (2003) or "It's okay, That's love" (2014), decided to start a new project: Opening a coffee shop. This one is located in the Itaewon area and offered beverages and bakery products in a relaxing atmosphere. The cafe style is stylish inside, with black, grey, and woodwork furniture, but also outside with a pretty brick wall that's catch our intention immediately. Jo In Sung's brother is currently working in this place and, by chance, maybe you will have the opportunity to talk with him while taking your order!
In this place, you can find coffee beverages, tea, or also wine! There are also fresh pastries and desserts with fresh fruits. The coffee's products are popular because of hand-dripped coffee. All of this product's presentation is really chic and made with attention. A real pleasure for the eyes too.
Address: 210-68 Itaewon-dong, Yongsan-gu, Seoul, South Korea
Phone: 02-792-7909
Hours of operating: Everyday 11:00 -23:00
Transportation: Subway Line 6, Itaewon Station, Exit 1. Walking 11 min.

We hope you enjoyed this article about Cafes owned by Korean Idols. Some other idols also have another kind of commerce, such as a restaurant or bar. These cafes owned by celebrities is a great opportunity to discover Korean Idols ' personalities. Check out your favorite one and tell us about it!
You may also like: