Last Updated on March 16, 2023
Known as the Hawaii of South Korea, Jeju Island offers many natural sights. Jeju Island is also famous among locals and tourists for its numerous must-eat restaurants serving a range of delicious meals.
Jeju island has its own specialty food. From black pork belly, cutlassfish, meat noodles, raw seafood, peanut ice cream, horse meat, and more. Here, we've gathered and compiled the most popular and loved restaurants in Jeju.
Before we look around the traditional must-eat restaurants in Jeju Island, check out the essential things for your pleasant Jeju trip.
Best Local Restaurants in Jeju
Ollae Guksu (올래국수)
Gogi guksu (pork noodles) is a traditional local food of Jeju Island and this Ollae Guksu restaurant is the most popular and crowded one in Jeju. The restaurant was loved by locals but it became super famous after being featured on a famous TV show, Wednesday Foodtalk (수요미식회).
They serve only one menu, gogi guksu, and it shows their pride and confidence. Personally, I don't like greasy food, and it looked a bit greasy when I first saw this dish. But it was not heavy and I fell in love with this thick and deep pork broth.
There are two Ollae Guksu restaurants in Jeju, at Yeondong Jejsu-si, and at Seogwi-dong Seogwipo-si. Yeondong is close to the airport, and Seogwipo branch is near Jeongbang waterfalls.
If you drive, use parking lots of nearby Marina hotel or wedding hall, and don't forget to bring a free parking pass from the restaurant.
Open hours: 08:30~15:00

Close on every Sunday, Seollal, and Chuseok

Price: Gogi guksu – 8,500 KRW
Address

24, Gwiarang-gil, Jeju-si, Jeju Island (+82-64-742-7355)
22-5, Taepyeong-ro 353beon-gil, Seogwipo-si, Jeju Island (+82-64-732-7355)
Jamae Guksu (자매국수)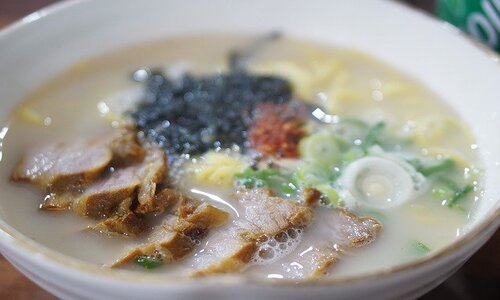 Located in Jeju's famous "Noodle Street," Jamae Guksu serves several different dishes, including Gogi guksu (pork noodles) and Bibim guksu (spicy mixed noodles), which are common dishes that you can find while in Jeju. If you are not a solo traveler, I recommend you to order both and taste them.
With a name that has the word "sister" in, you are sure to find that the staff at Jamae Guksu will treat you well and that they have excellent table service.
Because it's very close to Jeju International Airport, it would be great if you make a plan to visit the restaurant after your landing or before your take-off.
Open hours: 09:00~14:20, 16:00~19:40

Price: Gogi guksu / Bibim guksu – 8,500 KRW
Location: Near Jeju International Airport
Address: Tapdong-ro 11-gil, 6, Jeju-si, Jeju-do
Phone: +82-64-746-2222
Chunshimine (춘심이네)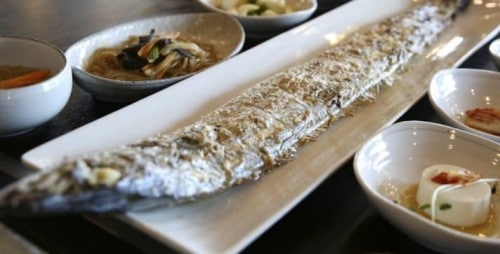 Looking for a special food experience in Jeju? Then Chunshimine will be the best choice for you. This restaurant serves whole grilled cutlass fish. It has been on numerous tv shows like Live Tonight (생방송), Live information box (생생정보통), and VJ special forces (VJ 특공대).
They serve cutlassfish for two people or more. There is also a server who shows you the way to cut the fish to avoid eating the bones. They recommend eating the fish with a spoon.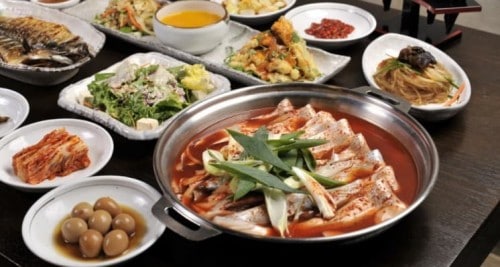 Open hours: 10:30~15:30, 17:00~20:00
Price

Grilled whole cutlassfish for 2 people: 78,000 KRW
Grilled whole cutlassfish for 4 people: 138,000 KRW
Braised boneless cutlassfish: 65,000 KRW

Address: 16 Changcheon Jungang-ro 24beon-gil Andeok-myeon, Seogwipo-si
Phone: +82-64-794-4010
Don Sa Don (돈사돈)
You've probably heard of Korean BBQ. The Jeju Black pig is a traditional Korean breed of Jeju Island. And Jeju Black pork is one of the must-try dishes for visitors because of its unique taste.
Don Sa Don is a great place to taste the Jeju Black pork in Jeju. Thick black pork is grilled using Yeontan (holed coal briquette), and the taste is soft and delicious. Only the challenge for foreigners will be tasting the jeotgal (salted seafood) for dipping the meat. Just try it and if you don't like it, just skip it. 🙂
There are four Don Sa Don restaurants in Jeju, Nohyeong-dong (near the airport), Woljeong, Jungmun, and Seogwipo. So you can visit the nearest restaurant from where you are staying.
Try the meat with the sauces or wrap it around vegetables to eat like a local.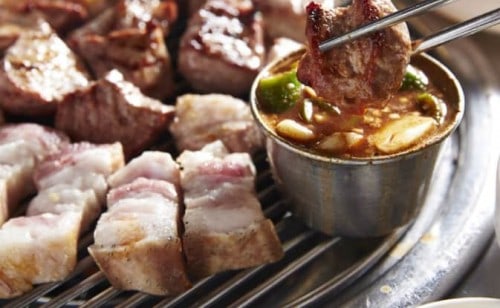 Open hours: 12:00~22:00
Price: 66,000 KRW (600g, for two people)
Address

19 Wupyeong-ro, Nohyung-dong, Jeju-si (+82-64-746-8989)
Woljeong: 1437-1, Handong-ri Gujwa-eup, Jeju-si (+82-64-784-9289)
Jungmun: 264-1, Cheonjeyeon-ro Seogwipo-si (+82-64-739-9592)
Seogwipo: 778-1, Ieodo-ro Swegwipo-si (+82-64-738-0779)
Yeonriji Garden (연리지가든)
If you want to try Jeju black pork Korean BBQ, Yeonriji Garden is one of the best meat restaurants in Jeju! It's in the Neulpurun Nongwon (Evergreen Farm) on the west side of Jeju Island.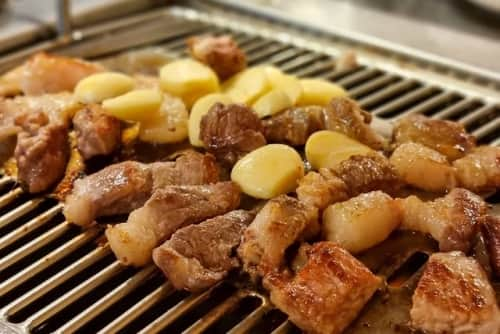 They have only one menu, grilled pork, and it comes with several types of pork cuts, such as samgyeopsal and moksal (pork belly and shoulder butt) as well as doenjang-jjigae
Open hours: 11:00~21:00
Price: 20,000 KRW (180g)
Address: 288, Dumo-ri, Hangyeong-myeon, Jeju-si
Phone: +82-64-796-8700
Woojin Haejangguk (우진해장국)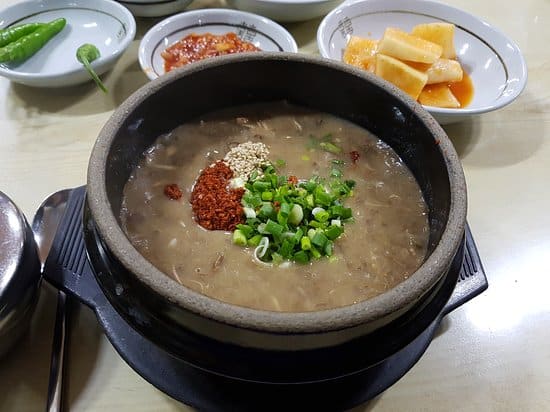 If you have been in Korea for some time, you might have heard of haejangguk, or "hangover soup" which, as the name suggests, is a soup that cures the worst of your hangovers. Relieving you of your hangovers isn't the only reason to have haejangguk, though!
Known as one of Korea's most representative stews, haejangguk is spicy and mind-and-ear-clearing with every spoonful! At Woojin Haejangguk, it's no different!
The most popular dishes are Gosari (bracken) Yokgaejang, and Mom-guk. I recommend you to try the gosari yukgaejang. Add your rice to the soft, savory, and a bit spicy broth, and enjoy it. If you can eat more, nokdu bindae-tteok (mung bean cake) with Makgeolli will also be a great choice.
Open hours: 6:00~22:00
Price

Gosari Yukgaejang 9,000 KRW
Momguk (sargassum: a kind of seaweed) soup: 9,000 KRW
Sagol Haejangguk: 9,000 KRW
Nokdu Bandae-tteok: 15,000 KRW

Address: 11, Seosa-ro, Jeju, Jeju Island
Phone: +82-64-757-3393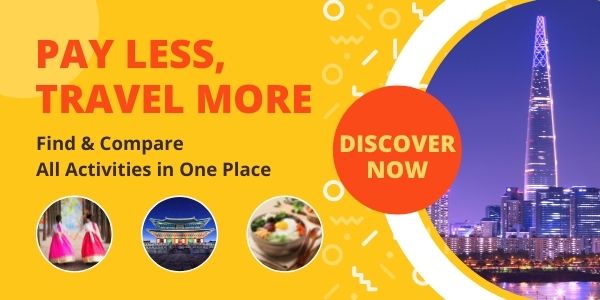 Sunchanggalbi (순창갈비)
Have you ever tried intestines in Korea before? Well, in Korea, it's called gopchang, and while it may sound strange to outsiders, it is an acquired taste that, once you get hooked onto it, will keep you coming back for more!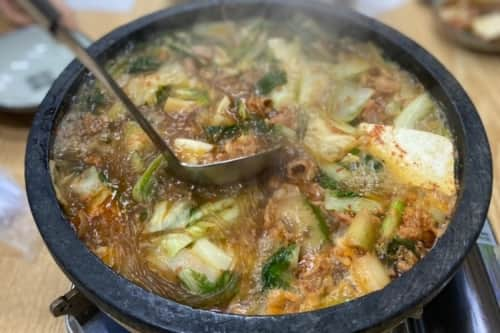 Indeed, at one of the best gopchang restaurants in Jeju Sunchanggalbi, you have the option of 8 different meat grill options as well as 5 other non-grill options that you will love!
I hope you guys try Gopchang-jeongol (Beef or pork innards cooked in a spicy broth with sliced carrots, onion, and other vegetables). Like other restaurants, you can ask them to make bokkeumbap (fried rice with the remaining gopchang-jeongol broth).
Operating Hours 11:30~15:00, 17:00~21:40 (Last order 21:00)
Price: Gopchang jeongol 18,000 KRW per person
Address: 261-56, Yeon-dong, Jeju-si
Phone: + 82-64-742-6440
Twins Sashimi Restaurant (쌍둥이횟집)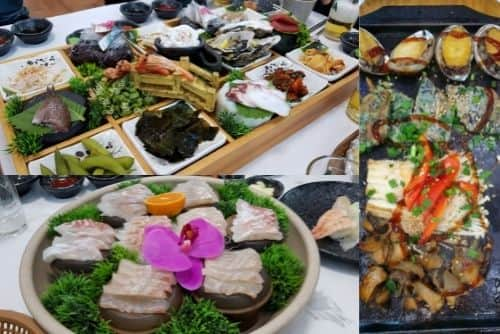 For a full sashimi set meal, why not head on to Twins Sashimi Restaurant? It is located in Jeongbang-dong near Seogwipo port. This restaurant is always crowded because they serve the freshest and most fulfilling sashimi set with a huge amount of side dishes. The sushi dishes are unlimited.
If you want to taste a huge variety of seafood along with sashimi, we recommend Twin Sashimi.
Open hours: 11:00~22:30 (Last order: 21:30)
Price

Special dish for 2 people: 70,000~100,000 KRW
Special dish for 4 people: 120,000~180,000 KRW
Lunch special: Sashimi bibimbap 10,000 KRW

Address:  14 Jungjeong-ro 62beon-gil, Seogwipo-si
Phone: +82-64-762-0478
Miyeongine Sikdang (미영이네 식당)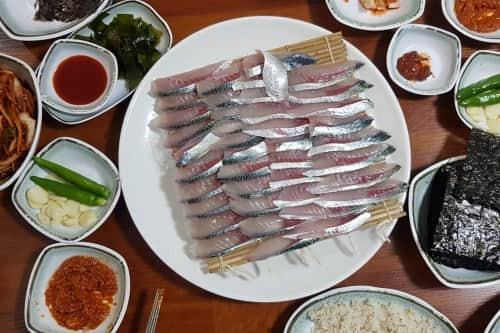 Another restaurant with 'house' in the name, Miyeongine Sikdang provides a homey and comfortable atmosphere. Like Chunsimine's. Miyeongine's specialty is fish—mackerel sashimi, to be specific.
Actually, the mackerel sashimi is a bit new to Koreans as well because it's not easy to taste it in inland, and many people have a preconception that mackerel sashimi will be fishy. However, fresh mackerel sashimi is incredibly tender and flavorful.
Ulike usual sashimi restaurants provide maeuntang (spicy fish soup), they serve clear makerel soup after your sashimi dish.
Moseulpo port is the best place to try the mackerel sahimi. Miyoungine Sikdang and Manseon Sikdang are the most famous mackerel sashimi restaurants. You won't regret going to either place.
Operating Hours 11:30 – 22:00

Close on second and fourth Wednesdays

Price

Mackerel Sashimi Large (3~4 people): 77,000 KRW
Mackerel Sashimi Small (2 people): 55,000 KRW

Address: 42 Hamohanggu-ro Daejeong-eup Seogwipo-si
Phone: +82-64-792-0077
Pier22 (피어22)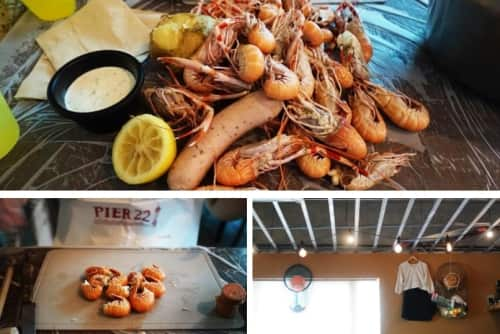 For a fresh and mouth-watering seafood experience, Pier22, located by the northwestern coast of Jeju Island, is a popular and highly rated restaurant perfect to go with friends and family!
Pier22's most famous dish is Taewak, a steamed seafood bowl, with Ttaksaewoo (red banded robsters), sausages, potatoes, and corns. Taewak is the original Jeju word for the net baskets in which the haenyeo (female divers in Jeju) put seafood when they work in the sea.
Taewak can be ordered from a minimum of 2 people. And you can additionally order lobster, octopus, crab, or bread. Pier22 also has drinks that you can order including beer, soju, coke and lemonade. Personally, I loved the fun experience to crack ttaksaewoos by a wooden crab mallet.
Open hours 11:00~13:00, 16:00~21:00 (Last order 20:00)
Price: Taewak – 24,000 KRW for one person
Address: 1494-3, Geumneung-ri, Hallim-eup, Jeju-si
Phone: +82-64-796-7787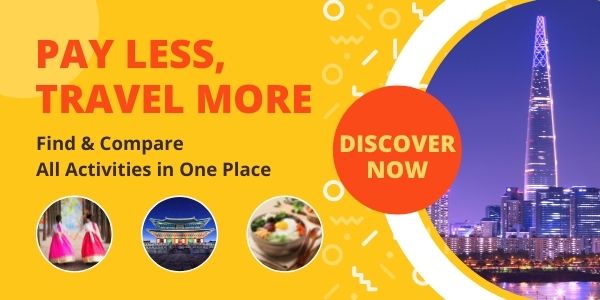 Pyoseon Eochon Sikdang (표선어촌식당)
Like many of Jeju's restaurants, Pyoseon Eochon Sikdang serves several types of fish and seafood dishes including grilled mackerel and cuttlefish.
Ope hours: 09:00~15:30, 17:00~20:30
Price

Galchi-gui (Grilled Cutlassfish): 25,000 KRW
Okdom-gui (Grilled Horsehead Tilefish): 25,000 KRW
Galchi-jorim (Braised Cutlassfish): 45,000~55,000 KRW
Jwichi (filefish) Mulhoe: 13,000 KRW
Hanchi (Calamari) Mulhoe: 13,000 KRW

Address: 578-7 Minsokhaean-ro Pyoseon-myeon Seogwipo-si
Phone: +82-64-787-0175
Shrimp Box (쉬림프박스)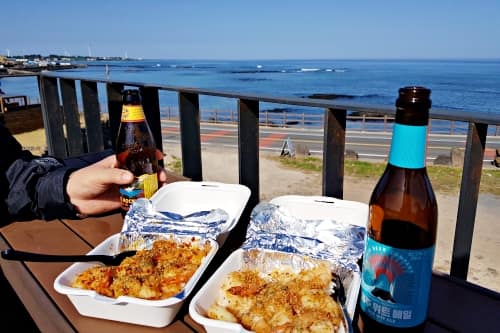 As the name suggests, Shrimp Box is a restaurant where you can get two different kinds of Hawaiian-style seasoned shrimp dishes, lemon garlic butter, and hot spicy butter.
Shrimp Box is located at Pyoseon Beach in the southeastern tip of Jeju Island.
When you get there, order your dishes on the 1st floor, and I recommend you to have it on the roof terrace. Enjoy your shrimp box and beer while looking at the beautiful ocean view of Jeju Island. For more information and to take a look at the restaurant's Instagram page, click here.
Open hours: 11:00~19:00
Price

Lemon garlic butter shrimp: 9,000 KRW
Hot spicy garlic butter shrimp: 9,000 KRW
Homemade Churros: 3,000 KRW

Address: 2033-7 Pyeongdae-ri Gujwa-eup, Jeju-si
Phone: +82 010-9146-4322
Seonheulgot (선흘곶)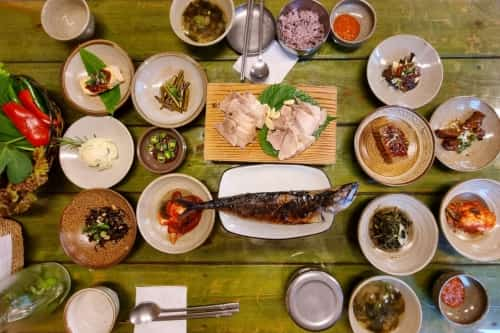 If you like Hansik with small dishes, Seonheulgot is the best restaurant in terms of taste, price, friendliness, and hygiene. I strongly recommend visiting this restaurant.
It's located in Jocheon-eup, and is good to visit when you explore the northeastern side of Jeju Island. You will definitely need the help of a navigation app because it's in the quiet place near Crown and Saint Four Golf courses.
They serve only one menu, Ssambap-jeongsik, which consists of pork, mackerel, and various namul (wild greens) dishes. Ssam (쌈) means 'wrapped' in English, add meat, rice and other fillings on the leafy vegetables and try to have it at once. Mouthfull eating is the original way to have ssambap.
You can order additional dombe-gogi (pork meat) and mackerel at 10,000 KRW and 8,000 KRW. Dombe means a cutting board in Jeju dialect, and they call it dombe-gigi because it's served on the cutting board.
Open hours: 10:30~20:00

Close on every Tuesday & Seollal (Lunar New Year's Day)

Price: Ssambap-jeongsik 15,000 KRW
Address: 102 Dongbaek-ro Jocheon-eup Jeju-si
Phone: +82-64-783-5753
Sangchunjae (상춘재)
Sangchunjae is the best traditional Korean food restaurant that you can taste various kinds of seafood bibimbap in Jeju.
The most famous one is the Mungge Bibimbap with plenty of fresh and chewy octopus, and the fragrant Meongge (sea pineapple) bibimbap and the plump Kkomak Bibimbap (cockle) are also delicious. (Mungge is the Jeju dialect for octopus.)
Unlike other usual bibimbap restaurants, people mix it with ssamjang in Sangchunjae. Savory and nutty ssamjang goes well with rice, and other traditional side dishes are all great.
Open hours: 10:00~15:00

Close on every Monday and first week's Monday to Tuesday of every month

Price

Mungge (Dolmuneo = Octopus) Bibimbap: 14,000 KRW
Meongge (Sea squirt or sea pineapple) Bibimbap: 12,000 KRW
Kkomak (Cockles) Bibimbap: 13,000 KRW

Address: 26 Seonjin-gil Jocheon-eup Jeju-si
Phone: +82-64-725-1557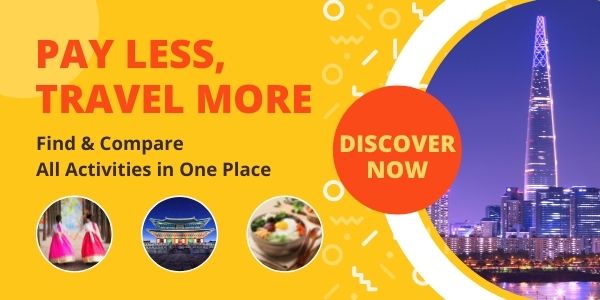 Gommak Sikdang (곰막식당)
Gommak serves Hoe-guksu that most Koreans have never tried. Sashimi is placed on top of the chewy noodles and then the sauce is added on top of it.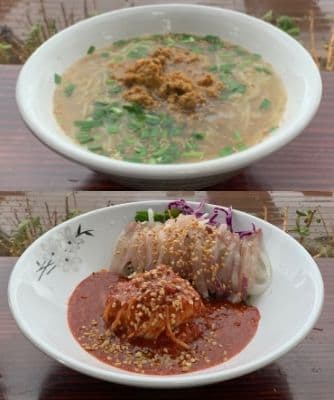 Hoe-guksu looks spicy because of the red gochujang sauce but the taste is much better than it looks. And seongge (sea urchin) guksu is also famous in Jeju.
The beach is right in front of the restaurant and there is also a flower garden, so it is good to have a meal while enjoying the beautiful scenery.
I asked them what Gommak means, and they said its' the old name of the village.
Open hours: 9:30~21:00 (last order 20:00)

Close every 1st and 3rd Tuesday

Price

Hoe-guksu (Sashimi noodle): 11,000 KRW
Seongge-guksu (Sea urchin noodle): 12,000 KRW
Jeonbok (Abalone) Sashimi: 10,000 KRW
Mackerel sashimi: 38,000 KRW

Address: 64 Gujwahaean-ro, Gujwa-eup, Jeju-si
Phone: +82-64-727-5111
Namyang Susan (남양수산)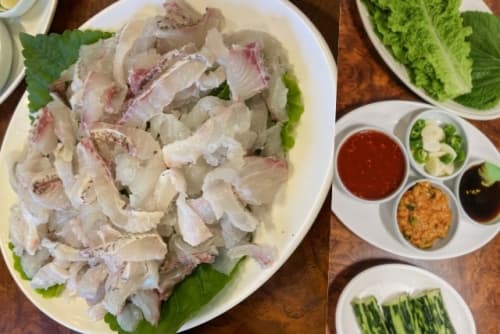 Though the dishes on Namyang Susan's menu are on the pricier side, all of them are worth the price. All of the fish served at Namyang Susan are of the highest and freshest quality.
They provide four kinds of raw fish dishes, chamdom (red snapper), jeoneo (spotted sardine), dodari (flounder), and mackerel. Chamdom is difficult to catch, so it is considered a precious sashimi. However, I recommend this restaurant if you really love fresh sashimi because they serve only a few simple vegetable side dishes other than the fresh raw fish.
Open hours: 14:00~20:00

Make a phone call before you visit the restaurant because they irregularly close the restaurant

Price

Chamdom (Red snapper): Large 80,000 KRW, Small 60,000 KRW
Hwal-godeungeo (Mackerel sashimi): 50,000 KRW
Jeoneo (spotted sardine) dish: 50,000 KRW

Address: 11 Goseongdongseo-ro 56beon-gil Seongsan-eup Seogwipo-si
Phone: +82-64-782-6618
Oneunjeong Gimbap (오는정김밥)
For a very casual and quick meal, Oneunjeong Gimbap has you covered! Here, they serve the most famous and well-known Korean street food gimbap (Korean sushi).
Gimbap is their specialty, having only gimbap on their menu, and several variations of it, so you are sure to have great food experience here!
It's a take-out only restaurant and I usually bring gimbaps from here when I visit attractions. Time is money for travelers, right? 🙂 They sell two or more rows of gimbaps and close every Sunday.
Open hours: 10:00~13:30, 14:30~20:00
Price

Oneunjeong Gimbap: 3,000 KRW
Cheese Gimbap: 3,500 KRW
Tteokgalbi Gimbap: 4,500 KRW
Chmchi (Tuna) Gimbap: 4,500 KRW

Address:

2 Dongmundong-ro Seogwipo-si
Phone: +82 64-762-8927
Jeju Island is mostly known for having fresh seafood and black pork barbecue, and indeed, all of these restaurants are the best representation of the best restaurants in Jeju. Because locals love all of these restaurants, you are sure to not be disappointed by any of the listed restaurants!
You will also like:
IVK's Top Picks – Day Tours, Tickets, and Travel Activities
Seasonal Picks!😍