Jeju is Korea's largest island, flaunting white sand beaches, pristine water, lush nature, and some picturesque views. Whether you are an art fan or a beach lover, Jeju island is a one-stop destination for all tourists. Jeju Island Restaurants with Scenic Views will surely be on your top Jeju Itinerary.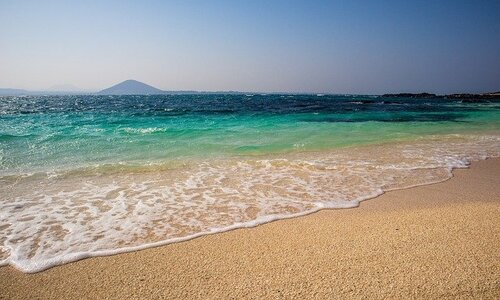 Fascinating views and a pleasant atmosphere are not the only things people appreciate about this place. Jeju Island is also known for the delicious Korean meals that will leave you craving more. The chefs add the local ingredients to the dishes so nicely that every bite will give you a different level of satisfaction. You will mainly find seafood at restaurants located near Jeju island.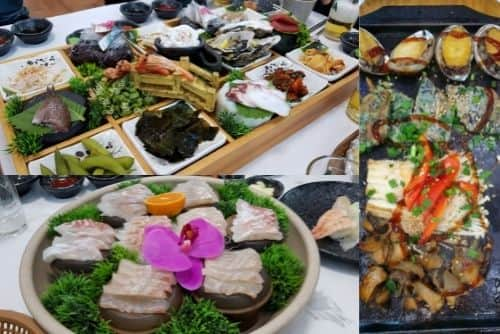 Stop by Jeju's popular cafes for a morning coffee or find the best seafood restaurant that satisfies your hunger cravings. The place has plenty of restaurants that offer fresh meat seasoned with spices and delicious ingredients. The best part about Jeju Island Restaurants with Scenic Views is that they are located close to some of the most iconic places in Korea. So, are you ready for great food with the best views? Let's take a look here.
Jeju City near Jeju Airport
Kim Hee-Seon Momguk (김희선몸국)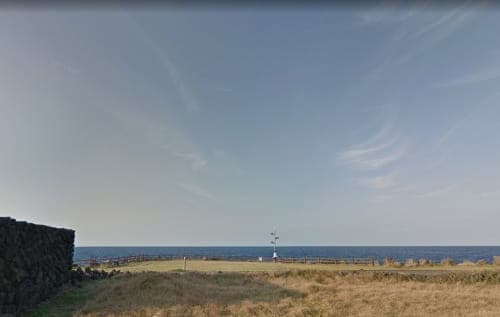 One of the first places you should stop by is the popular Kim Hee-Seon Momguk restaurant after you land on the island. The restaurant is close to the Jeju airport and the warm soup and rice will satisfy your hunger while giving you the taste of traditional Jeju. They sell three popular soups, their specialty Mom-guk, Brisket Yukgaejang soup, Sea urchin seaweed soup, and fried mackerel fish. The price is around 7,000 won to 10,000 won.
I tried both the Mom-guk and the Brisket Yukgaejang. Both were delicious and slightly spicy but if I had to choose one I prefer the Mom-guk. It doesn't look spicy but the slight spiciness makes you want to have more. The broth is from pork and Mom plant with other good ingredients 🙂 I cleared up my bowl of rice. The side dishes are not that special but a good compliment to the broth. I highly recommend it in the morning once you land since it is close to the airport.
Address: 45-6 Eoyeong-gil, Jeju-si
Opening hours: 7:00 a.m.- 4 p.m., Saturday: 7:00 a.m.- 3 p.m., Closed on Sundays
Price range: 7,000 won to 10,000 won
Don-go-pang (돈고팡)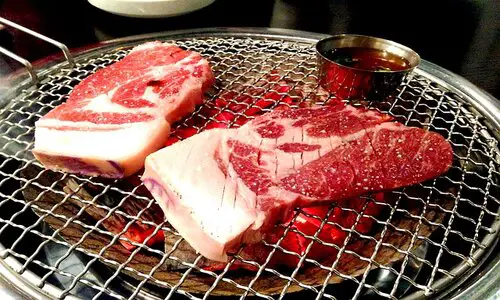 If you want the best meat dishes with captivating views on Jeju Island, the Don-Go-Pang restaurant is for you. The chefs grill the meat themselves, serving you tender and delicious meat. I still remember the taste. Juicy!
The services were excellent, and so was the view. You will love the meat while observing a fascinating view of the sea. The ambiance of the restaurant is also super pleasant. I loved the experience here, and I'd highly recommend Don-Go-Pang to the tourists visiting Jeju Island. Unfortunately, the menu includes only pork dishes, which was a little disappointing for the cold noodle lovers. But, taste-wise, this restaurant is the best.
Opening hours: 12:00 – 23:00
Price range: 2 million to 3 million won
Address: 돈고팡, Jeju-do, Jeju-si, Seohaean-ro, 248
Aewol
Crab Jack (크랩잭)
Crab Jack is another wonderful restaurant in the Aewol region of Jeju Island. We loved it for the seafood variety. The meat was well-cooked. The staff also took care of the seasoning. Fresh seafood meat with a scenic view was all we needed after an exhausting day at the beach.
The king crab is the specialty of this place. It's safe to say that Crab Jack is one of the best ocean-view restaurants in Jeju. The atmosphere was excellent, and the lobsters, crabs, shrimps, corn, and everything was beyond satisfying. The high price is the only issue, but Crab Jack is your go-to restaurant in Jeju if you want the best seafood.
Opening Hours: 12:00 to 22:00
Price range: 2 million to 3 million won
Parking space: Available
Address: 765 Aewolhaean-ro, Aewol-eup, Jeju-si, Jeju-do, South Korea
Jungmun
The Cliff (더클리프)
For couples and families looking for a fine dining place in Jeju Island, you can't find a place with a better view than The Cliff restaurant in Jungmun. The restaurant offers lunch and dinner. You can dine here or have your meals packed.
I liked this restaurant more for the scenic view surrounding the place than the food. Of course, the food is great, especially the meat and fries. It is an open restaurant (it looks more like a cafeteria). But, the staff and the owner have done a tremendous job at setting up this place. The seating arrangement is just wow. Surrounded by the trees and located near the sea, this one gives you a movie vibe.
Opening Hours: Monday to Thursday – 10:00 AM to 1:00 AM
Friday to Sunday – 10:00 AM to 2:00 AM
Address: South Korea, Jeju-do, Seogwipo-si, 특별자치도, Jungmungwangwang-ro, 154-17 KR
Hamdeok
Mooger Burger (무거버거)
If you are not a seafood fan, Jeju Island has Mooger Burger, a restaurant for fries and burger lovers. The restaurant serves spinach, garlic, and carrot burger (these are the specialties). I had a carrot burger with the bun so soft and visually pleasing to the eye. Excellent work by the chef! And, coupled with the view outside the restaurant, I must say this was the best burger experience I've had since my US trip. Mooger Burger is not a small cafe-like diner. It's a luxurious restaurant serving freshly cooked burgers stuffed with fresh veggies and creamy fillings. Grab your drink and get that burger in your mouth while enjoying a lavish view outside the window. The restaurant closes at 8 PM, so plan your visit before that.
Opening Hours: 10 AM to 8 PM (Monday to Sunday)
Address: South Korea, Jeju-do, Jeju-si, 특별자치도, Jochon-eup, Johamhaean-ro, 356 KR
Famous for: Burgers and Fries
Ogane Jeonbok Seolleongtang (오가네전복설렁탕)
The above restaurants were excellent, but the food was priced quite high. If you are looking for a budget-friendly restaurant that offers a decent view with delicious food, we'd recommend the Ogane Jeonbok Seolleongtang in Hamdeok. It's best for diet-conscious tourists, and you can have your favorite meal at less than 10,000 won.
They serve the best soup, stew, and hot pot in Jeju. The colorful dumplings and delicious appetizers will satisfy your taste bud. Cold noodles of Ogane Jeonbok Seolleongtang are great. If you ever visit this area, give this restaurant a try, especially for the cold noodles. We are sure you will not be disappointed. Overall, this restaurant is your best bet for light and budget-friendly food. The view is alright, not as beautiful as the views mentioned above, but considering the price, it's highly recommended!
Opening Hours: 8 AM to 8 PM (Monday to Sunday)
Address: 1284 Topyeong-dong, Seogwipo-si, Jeju-do, South Korea
Parking space: not available
Price range: less than 10,000 won
Gujwa
Gommak (곰막)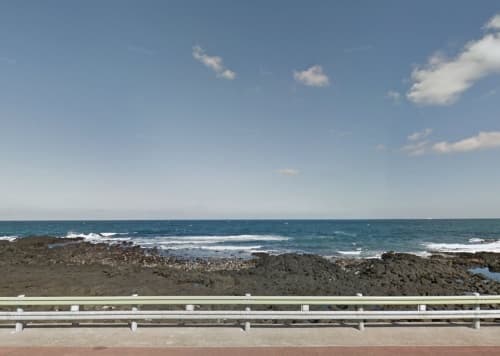 Gommak is another restaurant for Jeju island tourists for noodle and seafood lovers. The restaurant is famous for its seafood dishes. It's also a little crowded (because of the reasonable price and delicious servings). I loved the atmosphere. The food was beyond tasty. The staff was friendly and the view was so great that it gave me the best dining experience in Korea. Try sashimi and sea urchin noodles at Gommak, especially the mackerel sashimi.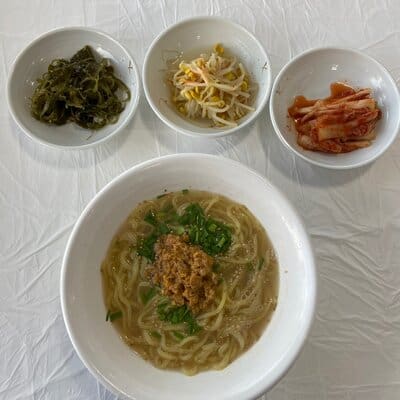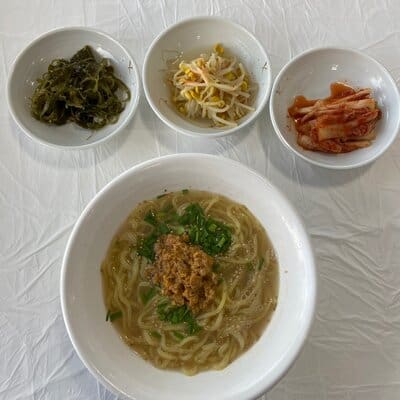 I still can't process the fact that chefs prepared it without making it greasy, which is really remarkable. These are a few things that make Gommak the local's favorite on the Jeju island. You should definitely try this restaurant. It is quite affordable for a restaurant serving Korean specials.
Opening Hours: 9 AM to 7:30 PM (Monday to Sunday)
Price Range: 10,000 won to 2 million won
Address: 64 Gujwahaean-ro, Gujwa-eup, Jeju-si, Jeju-do, South Korea
Myeongjin Jeonbok (명진전복)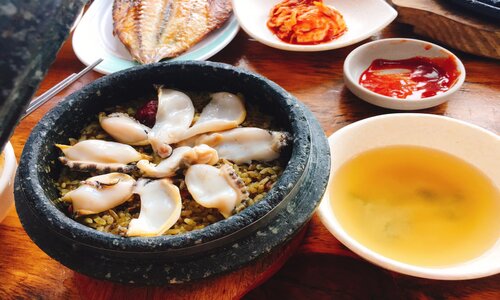 This is another seafood restaurant in the Gujwa region. I have visited it twice since my first experience at this restaurant was amazing. The ambiance in the place is beautiful. It gives you wonderful vibes, and the exterior view is not bad either. I had abalone stone pot rice and grilled mackerel. The abalone was really soft and the rice flavorful. The meat was so tender that it nearly melted as it went in my mouth. Well-cooked and delicious. Afterward, I added water to eat the rice porridge.
The restaurant serves Abalone Porridge, Grilled Abalone, Abalone Stone Pot Rice, and other seafood dishes at very reasonable prices. The restaurant also offers free parking. You will love the rice with grilled mackerel. Plus, who wouldn't like the delicious seafood when you get a scenic view outside the restaurant? It may not be as fancy as the Cliff, but it is a good dinner for those on a tight budget.
Opening Hours: 9:30 AM to 9:30 PM (Monday to Sunday)
Price Range: 10,000 won to 2 million won
Address: 1282 Haemajihaean-ro, Gujwa-eup, Jeju-si, Jeju-do, South Korea
Udo
HahaHoho (하하호호)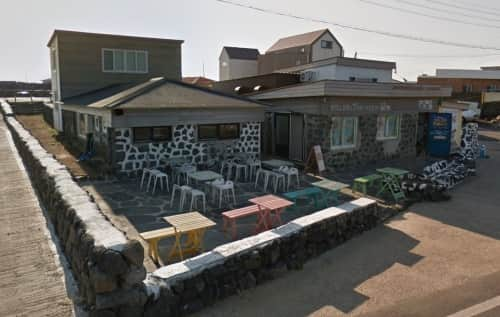 Last but not least, HahaHoho is your go-to place if you are tired of the seafood. They serve burgers and sandwiches with delicious cocktails. Have your brunch here with an ocean view. The burger is so creamy that it will definitely leave you craving more. The restaurant has free parking and is good for budget tourists. I liked the atmosphere and the burger.
Opening Hours: 9 AM to 5:30 PM
Price Range: 10,000 won to 20,000 won
Address: 532 Udohaean-gil, 우도면 Jeju-si, Jeju-do, South Korea
Have a great time dining at your favorite Jeju Island Restaurants with Scenic Views. Good Luck!
You may also like: