The popularity of K-pop and K-drama has put Seoul in the spotlight. People are going crazy over the growing popularity of the K-pop industry. This has led tourists worldwide to plan a trip to South Korea to explore its rich culture. But do you know there's more to South Korea than the popular K-pop bands? If you explore the town, it has some of the most beautiful flower shops that serve all kinds of floral bouquets. The flower delivery services in Korea are the perfect way to show your loved ones you care.
In this post, we will share the top 9 flower shops and flower delivery services in Korea that have gained immense traction. Let's take a look:
Top Flower Shops and Flower Delivery Services in Korea
99Flower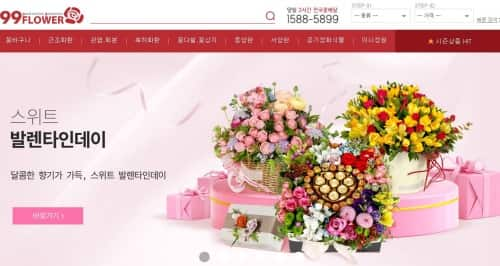 I wanted to introduce Korea's flower delivery services that have English sites. So most other delivery services have an English site and international payments. However, in terms of delivery speed, I have to admit that the services for foreigners can't beat the delivery services for Korean customers. This 99Flower delivers flowers to all regions of the country in 2 hours. This service will be your best choice if you are in a hurry and have a Korean credit card or bank account.
Flower Korea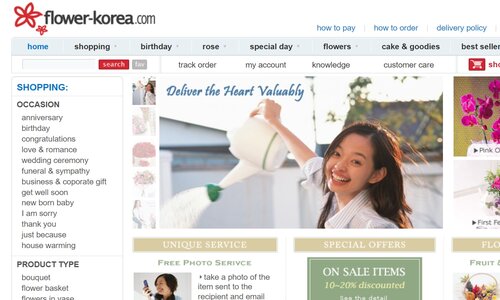 Whether you are looking for a bouquet for your guests or some customized flowers with a fruit basket for a special someone, Flower Korea is your go-to place for flower shopping. They have flowers available for different occasions, including birthdays, anniversaries, funerals, baby showers, etc. You can buy flowers in boxes, vases, orchids, hampers and gift baskets, plants & bonsai, bouquets, 100-stem roses, and so on.
Forever Florist in Korea

It's your one-stop destination for flowers for all occasions. From Valentine's cakes and gift combos to sympathy and sorry flowers, you can find floral arrangements in nearly all patterns and colors at Forever Florist Korea. Get the rose gift boxes this Valentine's day for your special someone, or consider luxury combos—whatever works for you. The company has a wonderful collection of fresh and gorgeous flower bouquets and a range of gifts for special occasions. Check out their website, explore their collection of flowers, and select the most stunning floral bouquet for your loved ones.
Flowerkorea.kr

Get premium 100-stem roses for your valentine this year at reasonable prices from Flower Korea. They supply flowers for special occasions, funerals, and other sympathy-based occasions within four hours of order placement. In addition to flowers, the company has chocolate baskets, snack baskets, and other gift hampers for your special ones. Flower Korea delivers your order in 5-8 hours if you need the delivery in small towns and counties.
Flowers to Korea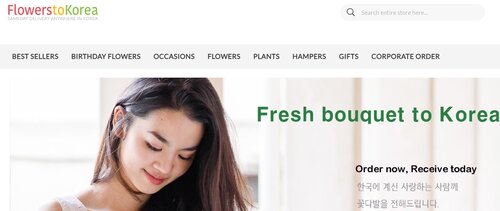 Enjoy same-day flower delivery services anywhere in South Korea. Flowers to Korea has a vast collection of plants, hampers, gifts, birthday flowers, flowers for special occasions, and so on. You can offer your sympathy and condolences to the family of the deceased with Peaceful White Lilies or Pure Mind White Roses. Gift a set of 100 red roses to your partner or buy them an elegant rose basket with a Ferrero rocher rose box.
Flower Seoul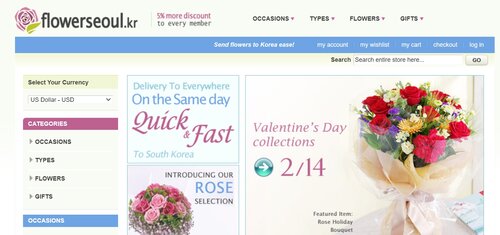 Explore the wonderful collection of orchids, anniversary flowers, birthdays, valentine's day flower arrangements, fruit baskets, gourmet hamper, and other special gifts at reasonable prices only at Flower Seoul. You could also gift chocolates, cakes, bear dolls, wedding flowers, and other special hampers to your girl on Valentine's day. Find flowers for all occasions at Flower Seoul and place your order right away.
Korea Flower Gift

If you are looking for the best flower delivery services in Korea, Korea Flower Gift is your one-stop flower delivery store. They are trusted florists offering same-day flower delivery services to all cities in South Korea.
Flower Gift Korea

Buy a special chocolate bouquet and an exciting range of flowers from Flower Gift Korea. Ship these floral bouquets anywhere in the country at a very reasonable price. The company offers orchids, plants, flower bouquets, teddy bears, toys, and delicious cakes. Buy whatever you like for your loved ones and supply them anywhere in Korea.
Korea Flower Mall

Operating since 1990, Korea Flower Mall is your one-stop destination for all types and arrangements of fresh flowers and fruit baskets. From flowers to plants and chocolates, Korea Flower Mall has got the best collection of floral gifts for you.
Conclusion
The booming flower scene in Seoul has definitely caught the attention of the locals and tourists. From simple stores to Instagram-worthy floral shops, there is a lot to explore while you are in South Korea. There is always a way to communicate your thoughts through flower delivery services in Korea.
You may also like: