Being a teenager can be tough. It's that time of our lives where we feel the need to impress and fit in with our peers. It's also the time where we want to try something new and keep up with the latest fashion trends. South Korea is known to be a fashion haven for many. This is especially true in major cities such as Seoul and Busan – cities brimming with youths dressed in the trendiest fashion imaginable. It is no surprise that many teenagers these days would find appeal in Korean fashion. If you're one of them, here is some great news! We've prepared recommendations of online shopping malls where you can find the latest Korean fashion so you, too, can be the next teenage fashion icon.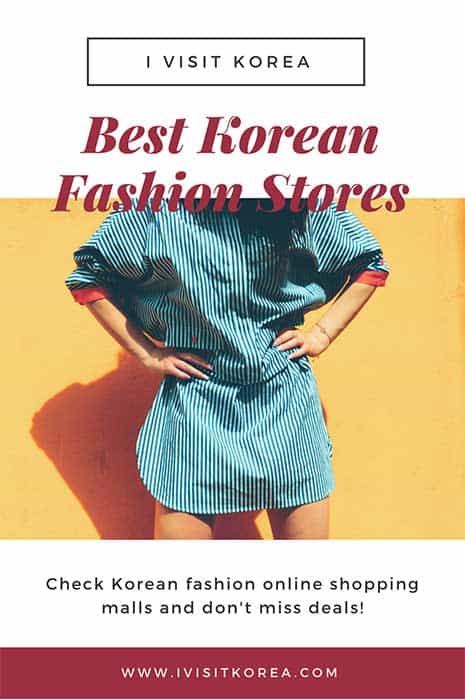 Best Korean Fashion Online Shopping Malls
Kooding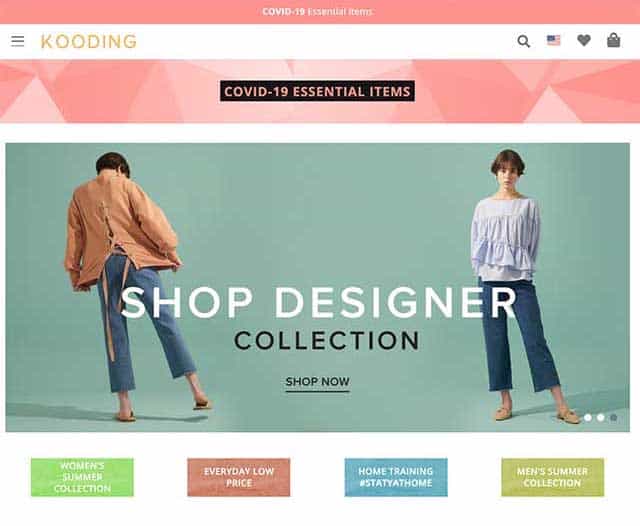 From simple casual looks to activewear, Kooding provides clothing choices for almost every occasion. One notable category on Kooding is the plus-size subcategory under the women's fashion tab. It boasts an extensive range of cute clothing from sizes S to 3XL. This means there is something perfect for everyone on Kooding, regardless of their body size. If you spend a minimum of $69 on Kooding, you may also be eligible for free shipping!
G-market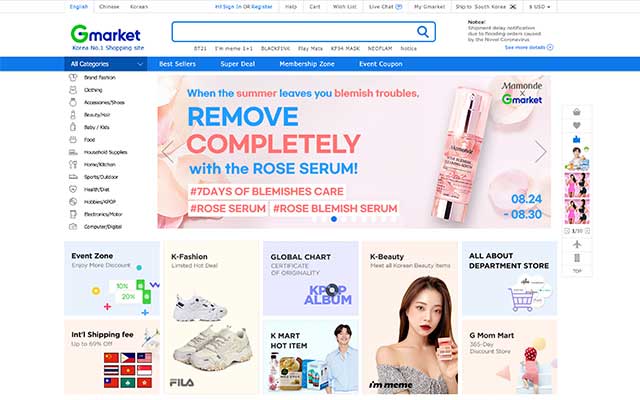 If you're a fan of anything related to Korean consumerism, you might be familiar with Gmarket. A quick Google search will bring you to its global site, where you may find a dizzying array of products you can choose from. Similar to sites like Amazon, you can either type in the products you want in the search bar. Alternatively, you specify your choice through the clothing subtab. For example, clicking on the woman's fashion under the clothing subtab will first take you a page where a variety of choices are displayed. You can also choose to refine your search by selecting on the subcategories at the side of the webpage.
A quick tip!
If you can read hangeul or the Korean alphabet, it's worth checking out the Korean website. It might offer different promotions than the global site. Since your account can be used in both sites, you can ship internationally as long as the seller provides the service.
Mixxmix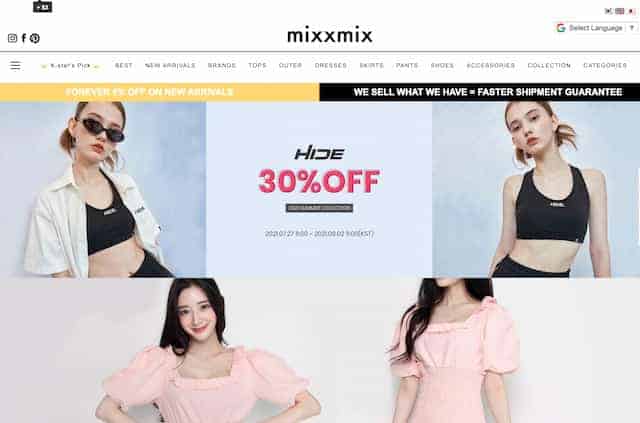 Mixxmix is the No.1 shopping mall that collaborated with Korean celebrities. It is loved by teenagers and people in their 20s by creating a cute trendy look. The online shopping site is in not only Korean, multi-languages such as English, Japanese, Arabic, Russian, and more. Plus, worldwide shipping is possible through EMS. Free shipping is also available for purchases over a certain amount! Please check the table below.
Shipping Rate and Delivery
| | | | |
| --- | --- | --- | --- |
| Shipping Destination | Shipping Service | Shipping Fee (USD) | Free Shipping Over (USD) |
| Worldwide | Fastbox mail | $29.99 | $200 |
| U.S | Fastbox economy | $14.99 | $200 |
| Australia | Fastbox economy | $19.99 | $200 |
| Taiwan | Fastbox standard | $9.99 | $70 |
| Hong Kong | Fastbox standard | $9.99 | $70 |
Here, you can check the detailed user guide.
Okvit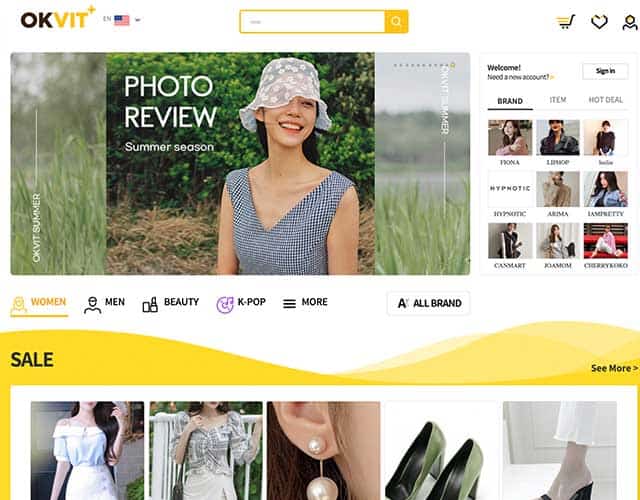 Clean and simplistic, Okvit arranges its product based on brands, deals, and promotions, new arrivals and bestsellers. Similar to Gmarket, Okvit acts as a distributor for other brands so if you have a specific brand in mind that you might have difficulty buying from the brand's site, chances are you can buy it through Okvit instead.
The site typically caters to a more simplistic and casual fashion style suitable for everyday hangout with friends and family, though Okvit also carries certain brands that cater to more formal occasion needs or seasonal outfits. Okvit has a special tab for overnight delivery products! Products under this category will be shipped out the next working day as long as the payment is completed by 2 p.m.
Chuu
Chuu is one of the best Korean fashion online shopping malls at budget-friendly prices. Not only they provide promotions often but also free shipping to all around the world is available over $100 USD purchase.
These next three sites cater to a more feminine audience, but they are still worth checking out!
Mocobling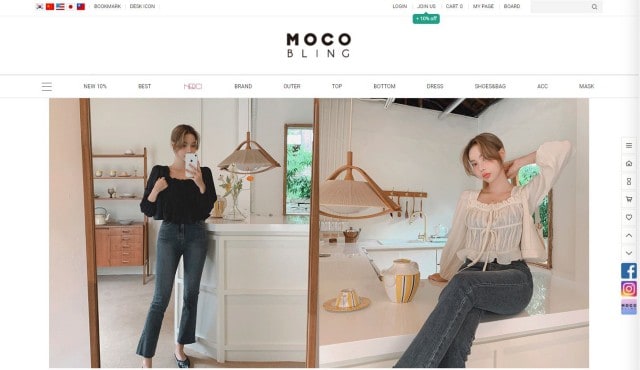 Mocobling's website has a clean and aesthetic feel, with a sweet combination of white and pink colors. This reflects the site's more feminine fashion selection. The rather unique feature about Mocobling's collection is that it is not only mature and feminine, it also tends to be more conservative. The fashion style of the clothes gives you a more sweet, door-next-girl kind of look. Perfect for a first date with someone special and you want to make a good impression on that special person's parents! 
Jokes aside, Mocobling offers you a collection that can suit your needs, whether for a more casual and comfortable look, or a more formal and elegant style. You can also find customer reviews that may help solidify your decisions when browsing the site. 

Rowkey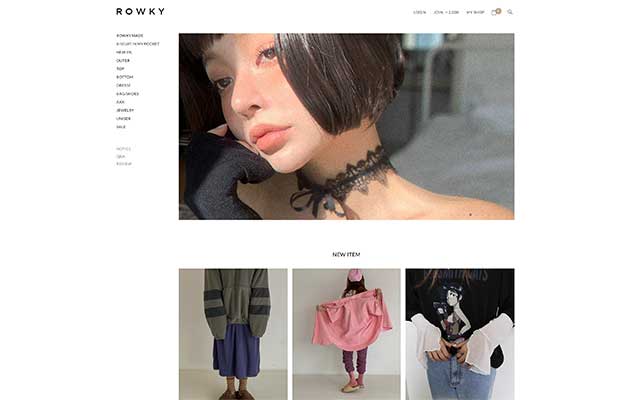 Rowky's main draw is its selection of quirky and colorful fashion that may appeal to those looking for a more cute and eccentric look that sets you apart from the rest…in a good way! From smiley-faced robes and vintage style two pieces to puffy and lace dresses, Rowky is a visual treat to those looking for a more unique style that really brings out your personality. 
You can choose from its new arrivals, weekly best 30 or seasonal offers. This site typically ships domestically, however certain products may be eligible for international shipping. The only downside is that only EMS – the fastest international shipping option – is offered in such cases, which may be expensive depending on where you live. The site is also mostly in Korean, but could be web-google translated without much problems. 
Dabagirl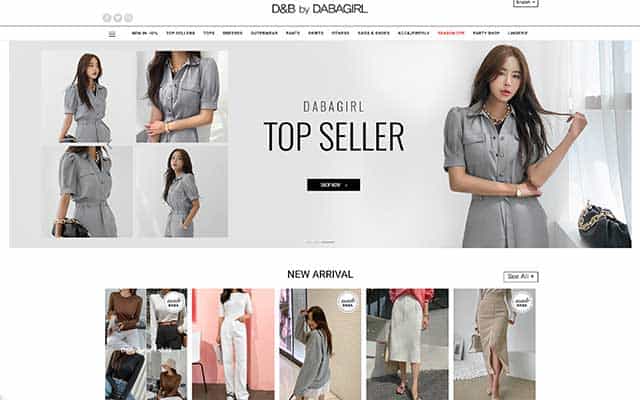 Dabagirl caters to those who opt for a more young professional look. Its main selection consists of sleek skirts and dresses and heels, perfect for a formal get-together or a school dance! Dabagirl's selections definitely aim to give you a more mature look, suitable for situations such as interviews, school speeches, graduations, or even for days where you just want to daydream feel like an all-powerful young boss even as a teenager, you know?
If you happen to be in Seoul, Dabagirl's offline stores can be found in certain parts of the city, such as Dongdaemun and Hongdae, so be sure to swing on by if you have the chance!
So there you have it! Of course, this is the tip of the iceberg that is Korean fashion.  There are countless other sites out there that you can explore, and if you're in Seoul, the city has plenty of offline stores you can visit and feast your eyes on the fashion style the place has to offer, but hopefully, the above list of recommendations can give you a starting point of where to look. With so much to offer, it can be dizzying and overwhelming to decide where to go first, after all!
We're a firm believer that everyone deserves to look their best. A good outfit can not only boost your confidence, it can also make your day much better by simply feeling good in what you wear. The amazing thing about Korean fashion is its ability to accommodate and suit your style, regardless of what it may be. So take a look at the sites above! You may be surprised at what hidden treasure you can find.
Need inspirations for your look? Feel free to check out these Korean models you can follow here and here!
Tap into your inner teenage fashion icon and happy shopping! 
You may also like: