There are plenty of cities in Korea to explore, but one such place that has caught our eyes is Jeonju. If you're planning a trip to Jeonju, pay a visit to Jeonju Hanok Village. The village is known for its food, culture, and exotic buildings. You don't want to miss out! Whether you want to take a break from Seoul or you want to learn more about Korean traditions, the village is your go-to place. 
If you're in the city of Jeonju, Korea for a getaway trip and want to explore tourist spots, Jeonju Hanok Village has many attractive sight-seeing areas, traditional buildings, and a genuine eastern culture that will unleash the adventurer in you.

How to get to Jeonju Korea (From Seoul to Jeonju)
KTX is the fastest way to get to Jeonju. It would take around 1 hour and 50 minutes with a speed of 300 km/h (190 mph). If you have any plans to visit a few cities in South Korea like Busan, Jeonju, and Gyeongju, this special discount pass which is available only for international tourists or foreign residents is the best choice. Because these special passes allow unlimited travel on KORAIL-managed trains for a designated period. 
Of course, you can take a bus to get to Jeonju. It takes around 2 hours and 40 minutes from Central-city Bus terminal in Seocho-gu, Seoul to Jeonju Bus terminal. The lowest price of the bus ticket is 13,800 KRW and a premium bus is 20,100 KRW.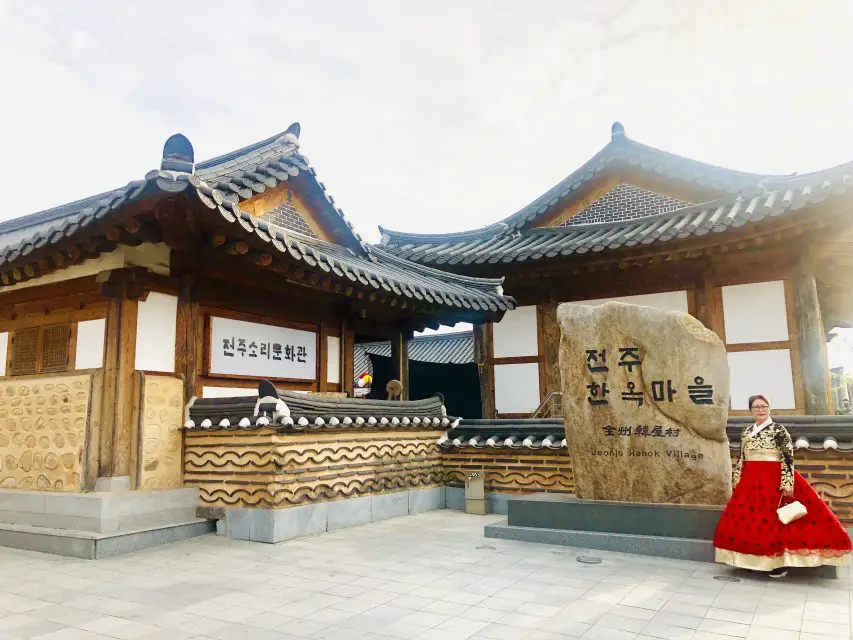 About Jeonju Hanok Village
Situated at the heart of Jeonju, the Jeonju Hanok Village has around 700-800 Hanoks,  Korean traditional houses, each made with wood and unique edgy roofs that make the village stand out. In the olden days, there are two-quarters of the Hanok houses – Sarangchae and Anchae. Sarangchae was the men's sitting room, whereas Anchae was a quarter for women. It was situated separately from Sarangchae to make it more private and peaceful. 
If you want to check out the beauty of Hanoks, why not try staying in one? In this way, you can experience the real Korean lifestyle of locals. You'll come across a special heating system called Ondol inside the Hanok. Since Koreans eat, sit, and sleep on the floor, it needs to be heated especially during winters. In summer, the system can be lowered to cool down the floor. 
Make your trip memorable by visiting these places. They will give insight into the beauty of the Korean culture. 
Things to Do in Jeonju
#1: Jeondong Cathedral (전동 성당)
The first thing you'll see when you get off the bus is the Jeondong Cathedral Church. The cathedral is one of the ancient buildings that have a western-style architecture. 
The Cathedral marks the painful history of the Joseon dynasty in which many religious clergies and missionaries who practiced Catholicism were martyred when trying to stabilize the religion across the region. The church was built to honor the blood of the Catholics who gave up their lives. 
The stone has a red a cross engraved that signifies the place where the martyrs shed their blood. 
#2:  Gyeonggijeon (전주 경기전)
The same priest who built the Jeondong Cathedral also built the Gyonggijeon hall that is located in the middle of the Jeonju Hanok Village. The hall preserves the portrait of the founder of the Joseon dynasty, Yi Seong-Gye. It's open for all and has an entrance fee. The tourists can have a look at the pictures of the Joseon Kings inside the museum, but taking pictures is not allowed. The K-drama, Moonlight Drawn by Clouds starring Kim-Yu-Jung and Park Bo-Gum was filmed here. 
The place is well-maintained and cleaned so if you're fond of the Korean History, you'll love this place.

#3: Omokdae (오목대)
Climb up the hill and you'll find an aesthetic pavilion that gives you the chance to see the view of the entire Jeonju Hanok Village. The atmosphere is peaceful for a stroll, and you could rest on the pavilion floor. Your mind will be at peace here. Remove your shoes while you rest under the pavilion. 
Omokdae was built to commemorate the victory of the war against the Japanese army. It's a pleasant place to enjoy a fresh breeze of air and relax. You can even enjoy the mesmerizing sunset and capture a photo while you're at it. 
#4: Jeonjuhyanggyo School (전주 향교)
The school was built during the Joseon dynasty and is located a few miles away from the Jeonju Hanok Village. It was an educational institute for the rich students, and even today, classes on Confucianism is available for students. When you enter the main gate of the school, you'll find two huge gingko trees that are 400 years old. Incredible isn't it? The trees add depth and beauty to the scenery and shines during autumn and spring when the leaf colors change to yellow/pink. Best yet, it's free entry for all! 
#5: Nambu Traditional Market
Who doesn't love to eat their heart out? For all the foodies out there, while you're on the journey don't forget to feed your hungry bellies by dropping a visit to the famous Nambu market. In 1905, when the last Korean dynasty was about to end, the market came into existence, which is found next to Pungnammun gate. Currently, there are 800 stores, each selling mouth-watering Korean dishes, clothes, decorative items, etc. You'll witness the hustle and bustle of the market at night. It'll be a great place to visit and try Korean traditional foods. The foods will excite your taste buds and the charm of the Jeonju people will keep you coming to the market for more.
Traditional foods of Jeonju Hanok Village
#1: Jeonju Bibimbap
Jeonju bibimbap is unlike any dish you've ever tried. There are various restaurants with different types of bibimbap. The ingredients are balanced in such a way that locals favor it. The dish consists of a bowl of rice topped with vegetables, meat, and a fried egg. It's served with sesame oil and chili pepper sauce for an even better taste. Moreover, there is even a festival named after this cuisine called the Jeonju Bibimbap festival. It happens annually and the best part is you get to taste the authentic bibimbap dish. This year, it will be held from October 9 to October 12. 

#2: Kalguksoo (칼국수)
Another dish that truly deserves appreciation is the Kalguksoo. If you're a noodle lover, you have to try Kalguksoo. The best noodles are ones that are handmade but even better when served in a deep broth, which is then topped with vegetables, meat, or seafood. The perfect blend of noodles and broth makes it perfect for any season and the crisp kimchi accentuates this amazing taste. It's so delicious I can eat it everyday! 

#3: Makgeolli (막걸리)
There are two different types of Makgeolli in Jeonju Hanok Village. One is the traditional Makgeolli, and the other is Moju which isn't that different from the original drink. It has a lower percentage of alcohol and you can taste ginger, cinnamon, and other ingredients as well. This drink is available in every restaurant in Jeonju. It's perfect for any dish or simply by itself. Women love it for the crisp taste and less alcohol dosage 🙂 
#4: Hanjeongsik (한정식)
Hanjeongsik which is a full-course Korean meal with over 20 dishes will show you why Jeonju is the only UNESCO city of Gastronomy in Korea. 

#5: Street food in Jeonju Hanok Village
Not only is a regular meal spectacular, the street food in Jeonju Hanok village takes food to another level. One of the most popular local desserts is the Jeonju Choco pie. It's made by 100% Korean wheat with cream in the middle instead of marshmallow which is normally used in the famous Choco pie. Jeonju choco pie is handmade and found in specialty stores. Moreover, grilled cheesy corn, bibimbap bread, and fried chicken skewers are our top recommendations.
Jeonju weather
Jeonju is located in the southern part of Korea. Normally Jeonju's weather is a bit higher than Seoul. Thus, you can estimate how Jeonju weather looks like during your travel by checking our Seoul weather post. 
If you're on a break and in a mood to travel, pack your bags and brace yourselves for an exciting journey to Jeonju Hanok Village.
You may also like