Last Updated on September 27, 2023
Traveling during the big holidays like Chuseok (Korean Thanksgiving) or Seollal (Lunar New Year) in Korea has ups and downs. There will be many cultural events you can attend, but on the other hand, you might be starving if you do not plan appropriately during the big holidays.
Chuseok and Seollal are the biggest holidays in Korea and the hardest time to travel. Many restaurants and stores close during these holidays because the owners return to their hometowns to thank their ancestors and family. 
The most important thing is that you should be prepared in many ways before you leave the hotel. Study and make a detailed itinerary for the day. There might be unexpected surprises during the holidays so plan with care.
1. Check events you can join during the holidays.
2. Don't travel outside of Seoul. (Stay in Seoul!)
3. Check for restaurants that open during the holidays.
4. Prepare for an emergency.
How to Enjoy Big Holidays in Korea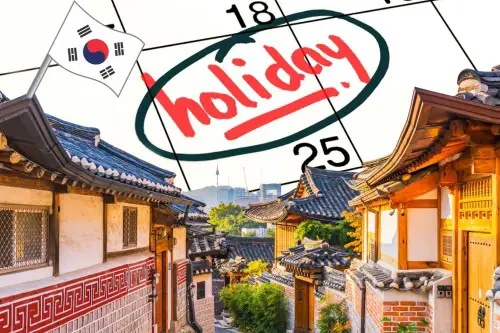 Chuseok, also known as Korean Thanksgiving, and Seollal, known as the Lunar New Year, are Korea's two most significant festivals. These big festivals are the equivalent of Thanksgiving and Christmas in Korea, bringing together families from around the country to honor practices passed down for generations. Chuseok is celebrated in the fall and is a time to express thanks for the harvest collected over the year. Whereas Seollal is celebrated at the beginning of spring and entails making wishes for prosperity in the next year. 
Many establishments, including restaurants and stores, are compelled to close their doors because their proprietors have returned to their hometowns to participate in ancestral traditions. On the other side, this is the most fantastic time of year for tourists (if you are one) to go to Korea so that you can experience the dynamic culture of the country by attending one of the many one-of-a-kind events that take place during this time of year such as folk village festivals, traditional music and dance performances, cultural exhibitions, and lively holiday markets.
You may also love: 100 Best Things To Do in Seoul
Without further ado, let's dive into what you must do to enjoy Korea during the holidays.
Chuseok Delicacies: A Taste of Tradition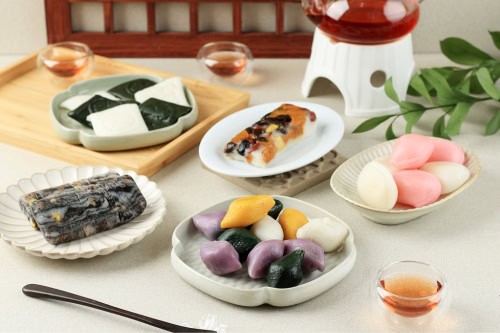 Chuseok is when Koreans gather with their family to give gratitude for the harvest and pay respects to their ancestors. This holiday is commonly referred to as the Korean version of Thanksgiving. And what would a party be without some delicious food, right?
Songpyeon, which are rice cakes in the shape of a half moon, Jeon, which are Korean pancakes, and Japchae, which are stir-fried glass noodles with veggies, are just some of the mouthwatering foods that may be found on the holiday table. The lively Gwangjang Market is the place to go if you want to sample some of these traditional foods for the Chuseok holiday. Authentic Korean foods may be savored here while you take in the joyous ambiance of the establishment.
Seollal Specialties: A Culinary Journey into the New Year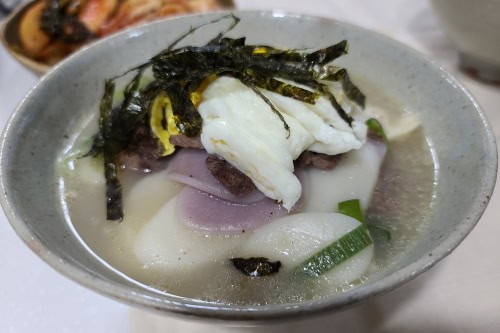 Seollal, commonly referred to as the Korean Lunar New Year, is when Koreans get together with their families to welcome the new year, pay respect to their ancestors, and celebrate the passing of another year. And as with any party or get-together, the food is essential to the celebrations.
Tteokguk, which is a rice cake soup; Yakgwa, which are honey biscuits; and Japchae, which is stir-fried glass noodles and veggies, are some of the items that are included in the Seollal spread, which is a feast for the senses. A trip to the bustling Namdaemun Market is a must to try authentic foods from the Seollal culture. In this location, you may immerse yourself in the holiday spirit while savoring the flavors of traditional Korean New Year treats.
Hence, you can earn fantastic insights into the culture of South Korea during Chuseok and Seollal by trying traditional Korean dishes! Yummy~
Where to go in Seoul during Chuseok in Korea?
We hope you don't make any inter-city travel plans for the holiday. Because the expressways are always seriously clogged during the holiday season. Lots of people leave Seoul to visit their hometown to see their family. A four-hour trip to Busan will take you eight hours by car. This means it is the best time to explore and enjoy Seoul without the large crowds. Stay and enjoy the quiet and calmness of Seoul.  
Embracing the Culture of Seollal and Chuseok in Traditional Sites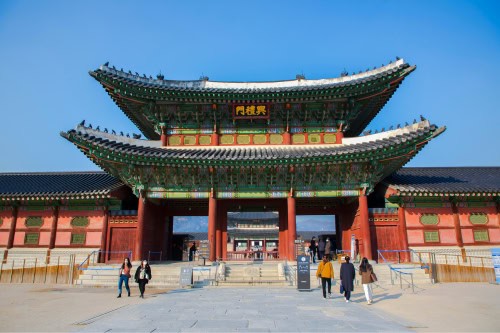 We strongly recommend you visit historical places in Seoul like the Royal Palaces, Gyeongbokgung, Bukchon Hanok Village, Namsangol Hanok Village, Changgyeonggung, Deoksugung, etc., and museums during the holiday so that you can feel the Korean traditional holiday vibe. Besides, it's free during the big holiday seasons like Chuseok or Seollal. If you want to know more about Korea, visiting The National Folk Museum of Korea and Gyeongbokgung will be the best choice.
Specifically, Hanok Villages, with their traditional Korean houses (Hanoks), always provide a unique setting to experience the cultural richness of Korea's major holidays, Chuseok and Seollal. 
Here are some of the best Hanok Village festivals to enjoy these celebrations:
Jeonju Hanok Village – Jeonju, North Jeolla Province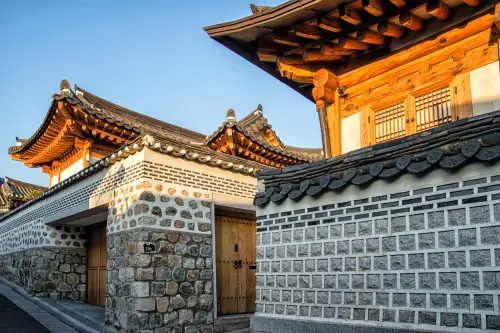 The Jeonju Hanok Village is well-known for its commitment to maintaining traditional Korean culture. It is one of the largest Hanok Villages in Korea. The hamlet comes to life with various cultural activities during Chuseok and Seollal. These activities include traditional games, workshops on various crafts, and performances. You can also sample conventional holiday meals like Bibimbap and Makgeolli, which Jeonju is known for being very good at making.
Bukchon Hanok Village – Seoul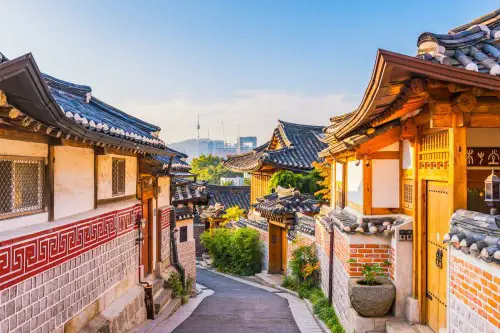 The Bukchon Hanok Village, located in the middle of Seoul, combines modernism and tradition uniquely. The hamlet puts on several events during the Chuseok and Seollal holidays, including opportunities to try on Hanbok, participate in traditional tea ceremonies, and play Yut Nori games. This village is close to Gyeongbokgung Palace and Changdeokgung Palace, contributing to the village's historical allure.
Namsangol Hanok Village – Seoul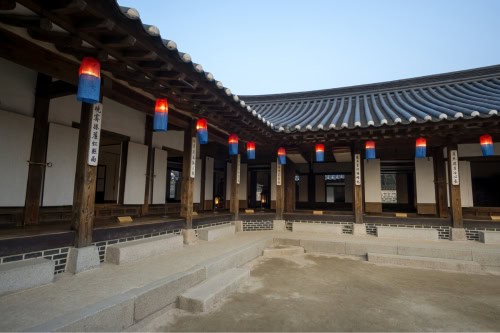 Namsangol Hanok Village, as we have mentioned earlier, is a beautiful preservation of traditional Korean houses and offers a unique blend of cultural experiences during Chuseok. Although the official schedule for this year's celebration has yet to be released, you can expect various traditional activities based on previous years.
Last year's festival was themed 'Pungnyu Pungnyeon.' Visitors could engage in traditional games, watch spectacular performances, and participate in craft experiences such as making Hangwa (traditional Korean sweets) and Hanji (traditional Korean paper). You can find more details about last year's event here.
This year's event is equally exciting, so watch their official website for updates.
You must notice that the traffic jams make it challenging to get to the Korean Folk Village, not to mention the huge crowds there. Namsangol Hanok Village is in the middle of Seoul; it's free to enter the village during Holidays, and they hold many exciting events for foreigners to enjoy traditional foods and cultures.
Andong Hahoe Folk Village – Andong, North Gyeongsang Province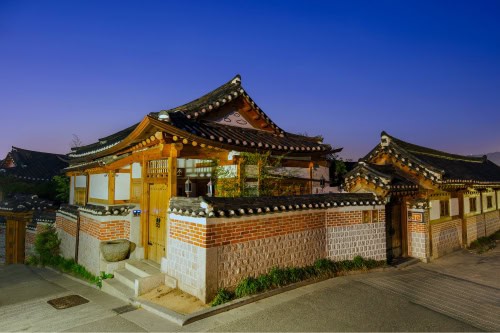 You will get a one-of-a-kind opportunity to immerse yourself in traditional Korean culture during the holidays of Chuseok and Seollal when you travel to the Andong Hahoe Folk Village, which has been classified as a UNESCO World Heritage Site.
The Hahoe Mask Dance is a traditional Korean dance classified as an Important Intangible Cultural Property of Korea. This dance is performed around the town at this time of the year. You can also sample some Andong Soju and Heotjesabap, a unique occasion variety of bibimbap. Both of these options are available to you. You have the option of ordering either of these dishes.
Discovering Korea's Natural Wonders During Seollal and Chuseok
Will you be venturing further than Seoul?
Busan: Beaches, Trails, and Seafood Galore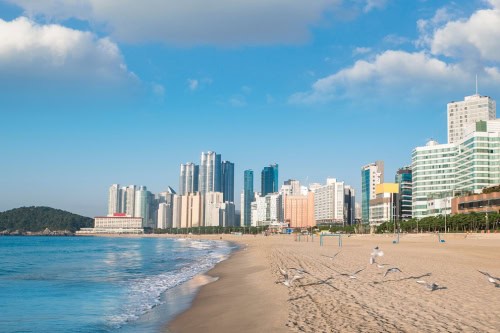 Busan, the bustling seaside city in South Korea, provides a one-of-a-kind mix of city activity and natural beauty in its surroundings. Take a stroll along the breathtaking coastline trails after a packed lunch during the Jewish holidays of Sukkot or Chuseok if you need to stretch your legs. If you use the city's hiking trails, which provide beautiful views of the ocean and the city skyline, your stroll after dinner will be a visual treat.
Relax at Busan's many natural hot springs once you've finished your hike. You can get some rest, relaxation, and rejuvenation by soaking in these calming waters, which will help you prepare for the next festive meal.
Furthermore, a trip to the lively Jagalchi Fish Market is an essential part of any vacation to Busan and should be considered. It is the ideal location to indulge in the teeming activity of Korea's largest seafood market while dining on the tastiest seafood available.
Jeonju: A Cultural and Gastronomic Delight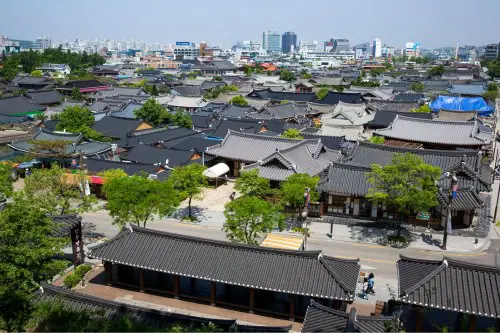 Next, let's go to Jeonju, which exemplifies how tradition and modernity coexist in harmony. It's like navigating a fascinating maze that takes you back in time as you go through the Hanok Village, filled with traditional Korean houses known as hanoks.
You want to know the most fantastic thing about Jeonju, don't you? Naturally, it's all about the food! Be sure to indulge in some of Jeonju's bibimbap, a mixed rice dish that has the potential to leave you wanting more. Also, it would be best if you took advantage of the opportunity to try their famous rice wine. After all, a holiday wouldn't be without a dash of good cheer, would it?
Gyeongju: A Journey Through Time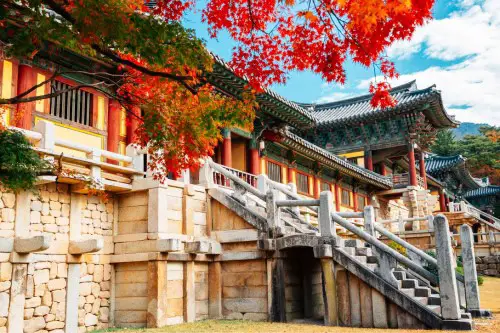 Gyeongju is frequently dubbed a "museum without walls," and you should visit there as your last stop. This ancient city has many tombs and temples dating back hundreds of years. Walking through the streets of Gyeongju is similar to flipping through the pages of a well-written history book.
Let's explore the historic Bulguksa Temple or the royal tombs in Tumuli Park in the interim period between your Seollal and Chuseok dinners. You will be left in wonder after experiencing the city's beautiful architecture and rich history!
Preparing for Day Trips from Seoul
A revitalizing escape from the hustle and bustle of the metropolis may be as close as a day's journey away from Seoul. Outside the city, you may take in the breathtaking scenery of Korea's countryside, learn about its rich history, and have fun at the country's theme parks and other recreational facilities.
Other Places to Visit During Chuseok and Seollal
Theme Parks
Why not visit one of Seoul's many theme parks if you're searching for a rush of adrenaline and excitement? Both Lotte World and Everland have a wide selection of rides, activities, and shows suitable for the entire family's enjoyment. You've come to the right place to book your Everland Tickets or Lotte World Tickets easily and quickly.
It is important to remember the Coex Aquarium, which is one of the largest aquariums in Korea, as well as Seoul Land, which is a theme park that is nestled among quiet parklands. Let's book your Seoul Land Pass or your ticket to the Coex Aquarium as soon as possible.
Taking a Seoul Tour by City Tour Bus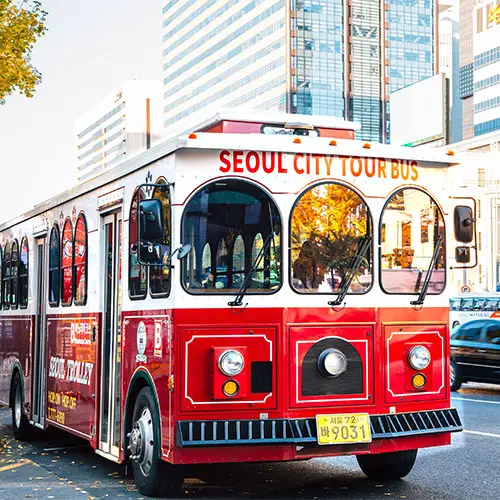 Visitors to South Korea will have a great time on the Seoul City Tour Bus, which operates year-round but is most popular in the summer and winter. You may go at your leisure and see all you want to see with our hop-on, hop-off service. You can explore the Royal Palaces, take in the sights from N Seoul Tower, soak up the culture at Namsangol Hanok Village, or hit the shops in Myeongdong or Gangnam.
It covers top-rated tourist spots, Royal Palaces, N Seoul Tower, Cheongwadae, Namsangol Hanok Village, Insadong, Daehakro, National Museum of Korea, Namdaemun, Dongdaemun, Myeongdong, Gangnam, COEX, Lotte World Tower, etc. You can freely choose the tour time and boarding location. Discover Seoul Pass provides free admission to 35 Seoul attractions and discounts 29 attractions in Seoul, including the Seoul City Tour Bus. The tour claims to give visitors a taste of everything Seoul has to offer, from the city's rich cultural heritage to its renowned retail districts and mouthwatering restaurants.
This service stands out since it allows you to customize your trip by picking the time and place you board the bus. The Discover Seoul Pass is an excellent addition to your trip to Seoul. Including the Seoul City Tour Bus, this package grants you free or discounted access to 35 attractions in Seoul. It's the best method to maximize your time in this exciting metropolis and reduce your financial outlay.
Watching Famous Performances and TV Shows
Watching interesting performances in the afternoon or evening will be a good choice to spend during the Chuseok holiday. There are many great non-verbal performances in Seoul and other main cities. Please check the performances that go well with your appetite.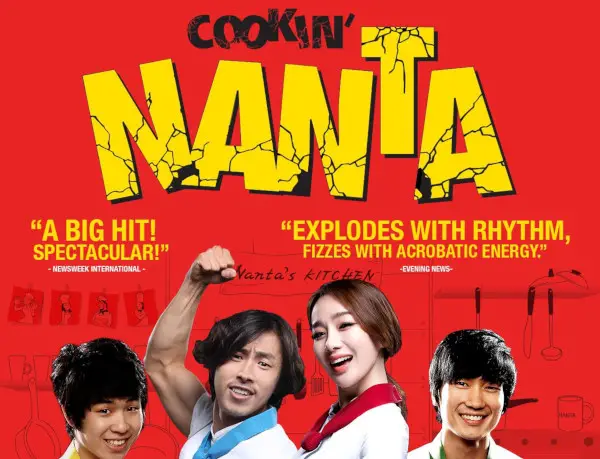 One of the best ways to experience the cultural vitality of Korea during the Chuseok holiday is to catch a performance in the afternoon or evening. Many world-class, non-verbal performances are available nationwide in Seoul and other major cities. Listed here are some unforgettable performances:
Nanta Show Seoul: The rhythms of Korean Samulnori music and the cooking skills come together in this non-verbal performance that has garnered international praise. It's a visual and auditory extravaganza that expertly combines comedy, drama, and dazzling culinary wizardry.
Jump Show: The Jump Show is an exciting mix of martial arts and comedy, full of high-octane acrobatics and jaw-dropping stunts. You'll be on the edge of your seat throughout this thrilling journey!
Chef Show – the next generation of BIBAP!: This play is perfect if you enjoy theater and eating. The Chef Show is a gourmet adventure featuring acrobatics, beatboxing, and b-boying for the whole family.
The Painters Hero Show: The visual arts, mime, dance, and comedy come together in this unique performance. It's a creative extravaganza where painters use their canvases as a stage to tell stories.
Fireman Show: This is a performance that portrays the narrative of the firefighting heroes of Korea using the mediums of acrobatics, parkour, and dance.
TV Channels
Korean television channels broadcast special programming to celebrate these essential holidays during Seollal (Lunar New Year) and Chuseok (Thanksgiving). These shows often include special episodes of variety shows, traditional music and dance performances, and holiday-themed dramas. Here are some channels to tune into during these holidays:
During Seollal and Chuseok, MBC (Munhwa Broadcasting Corporation) airs several holiday-themed variety shows and dramas. You may also see traditional Korean dance and music performances on this channel.
During the winter holidays, viewers can tune in to SBS (Seoul Broadcasting System) to see special episodes of hit reality shows like "Running Man" and "Law of the Jungle." Additionally, it broadcasts seasonal dramas and movies.
In addition, JTBC (Joongang Tongyang Broadcasting Company) airs special episodes of its variety shows like "Knowing Bros" for Seollal and Chuseok. This channel also features holiday-themed dramas and films.
The Educational Broadcasting System (EBS) is a fantastic resource for learning about Seollal and Chuseok customs and practices. It's an excellent channel for learning more about Korean culture and traditions because it airs informative shows about these topics.
Sixth, Arirang TV: For those who do not speak Korean, Arirang TV airs programs in English that introduce Korean culture and customs, including specials for Seollal and Chuseok.
Checking restaurants that open during the holiday
Back in the day, most restaurants closed during the whole holiday period. But these days, more and more restaurants open during the holiday except for the day of Chuseok.
If you can't find an open restaurant, fast-food restaurants, for instance, Burger King, MacDonald, and Shake Shack, can be a good choice. Otherwise, find 24-hour convenience stores to grab a bite. There are a few restaurants that work 24-hour 365 days. They usually provide Haejangguk (해장국, hot soup with meat and vegetables). It will be good to memorize those restaurants before the holiday begins.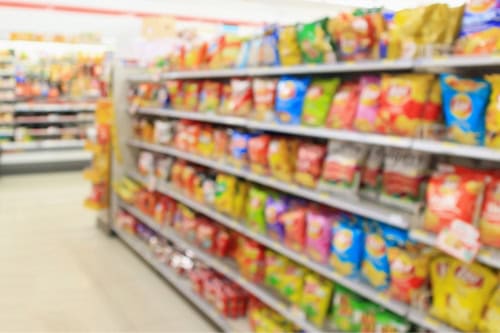 Find the 24-hour eateries and family restaurants still operating if you'd prefer to eat somewhere in the neighborhood. If you search for a Korean restaurant rather than an English one, you will have a far better chance of finding it. And don't be put off by the seedy appearance of the establishment; some of the tastiest Christmas meals can be found in hole-in-the-wall restaurants with no decor other than grandpa dozing behind the register.
Last, if you want something fancier, you should dine at one of the hotel's restaurants. Their holiday spreads are so lavish, and the fact that you enjoy your meal in a setting worthy of a five-star hotel makes up for the higher costs. Be careful with the fruit punch; despite its "non-alcoholic" label, it can pack more energy than the soju! 
Preparing for an emergency
We can only hope that the worst thing that happens to you is a botched effort at singing in the sauna. However, items may and will go wrong, so always be ready! Don't hesitate to contact the relevant department listed below in an emergency.
In the event of an emergency, please get in touch with the relevant department listed below.
Police Department: 112 (for theft, assault, and other crimes)
Fire Department: 119 (for general accidents and ambulance)
Emergency Medical Information Center: 1339 (medical assistance for international visitors)
Tourist Information Center: 1330 (for any other tourism-related assistance)
Seoul Dasan Call Center: 120 (You can get almost all help from them in five languages)
10 Hospitals in South Korea: Facilities, Specialties, & Patient Care
Severance Hospital (Yonsei University Hospital), International Health Care Center (IHCC)
Address: 134, Sinchon-dong, Seodaemun-gu, Seoul
Tel: 02)2228-5800/5810
Emergency: 02) 2228 – 8888, 6566
Samsung Medical Center, International Health Services (IHS)
Address: 80, Irwon-ro, Gangnam-gu, Seoul
Tel: 02)3410-0200; 02)3410-6531 (Russian), 02)3410-1075 (Chinese)
Seoul National University Hospital, International Healthcare Center
Address: 101, Daehak-ro, Jongno-gu, Seoul
Tel: 02)2072-2890/0505
Best Suggestion if You Choose To Stay In Seoul
Stay in Seoul for now rather than attempting to travel to other cities. It is in your best interest. However, if you have no choice but to go between cities, give yourself at least two to three times as much time as is typical, and bring some soothing tea while waiting for your journey.
When traveling over the holidays, patience is necessary. Be prepared for delays and packed stations and buses sold out!
Final thoughts
Finally, we've reached the end of our journey through Korea's holiest days! To celebrate Chuseok and Seollal like a native Korean, you have been equipped with tips like organizing every detail months in advance, bringing backup plans, stockpiling patience, and packing a bottle of soju for the inevitable misadventures. 
For the finest holiday experience in the Korean spirit, keep your sense of humor and look forward to the obstacles they present. We hope you have a wonderful Chuseok and Seollal as well!
You may also like:
IVK's Top Picks – Day Tours, Tickets, and Travel Activities
Seasonal Picks!😍