Last Updated on November 24, 2023
Seoul is a city where you can see South Korea's past and present coexist. While you can easily find the big buildings and modern architecture of Gangnam, you can get a glimpse of Korean tradition through Gyeongbokgung Palace built in the Joseon Dynasty, Seoul City Wall (Hanyangseonggwak-Gil), and Bukchon Hanok Village. Do you want to see a city that has preserved Korean tradition for a little longer than this? If you ask Koreans about a traditional Korean city, many will answer Jeonju, Gyeongju, or Andong. All three places boast great cultural heritage, but today, I would like to introduce Andong, which is a little less well-known to foreign tourists than Jeonju and Gyeongju. I was so glad to discover hidden gems that are popular with young travelers along with traditions. Thankfully, I got an opportunity to join Andong Hahoe Folk Village 2D1N Tour sponsored by K Story Tour & Trazy. Here on this English friendly booking website, you can find many fun day tours and activities. Let me start my Andong travel story!
How to get from Seoul to Andong
There are three ways to get to Andong from Seoul: bus, train, and car. Andong is located in Gyeongsangbuk-do, about 240km away from Seoul. It takes about 3 hours by car, and the bus and regular train (Mugunghwa) take 2 hours and 40 minutes similarly. Thankfully, if you take the KTX-Ieum(이음), which was newly established last year, you can get to Andong Station in 2 hours! (We took the KTX at Cheongnyangni Station.) Through the Korail mobile app, you can check the train schedule in advance, and make a reservation.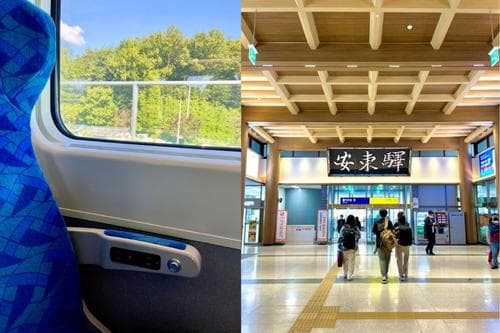 Also, there is an advantage that you do not need to issue a train ticket at the station if you booked on the app. Taking the train in Korea can be a bit strange because no one asks you to show your ticket. This is because station attendants can check pre-booked seats and train stations through digital devices as they pass through the aisles. Furthermore, in case the seat is sold-out, you can still make a reservation by standing seat. If you have more questions about Korean transportation, you can get a quicker answer by asking in the comments below or in our Facebook group.
What is Andong known for?
When I think of Andong, the first thing that comes to mind is Andong Hahoe Village. Famous for Hahoe masks and mask performances, this village is still inhabited by people while preserving long-standing Korean traditions. In addition, Dosan Seowon and Byeongsan Seowon, which are registered with UNESCO, attract many people to visit Andong, and local dishes such as Andong Jjimdak and Andong soju are also the pride of Andong. Now let's take a look at the best places to visit in detail! 🙂
Top 7 Places to visit in Andong
Andong Hahoe Folk Village 안동하회마을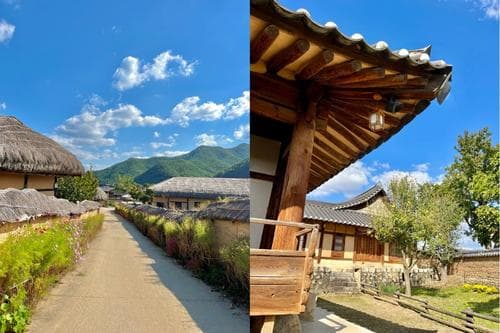 We got off at Andong Station and headed to Andong Hahoe Village as our first destination. This is a village that the Pungsan-Ryu family, a famous Confucian scholar in the Joseon Dynasty, has maintained for 600 years, and it is a natural village where residents still live. Andong Hahoe Village was not only registered as a UNESCO World Heritage Site as a 'Korean Historical Village' in 2010 but also appeared in the international media as a visiting destination for Queen Elizabeth of England and President Bush of the United States. Here I felt the beauty of traditional Korean houses such as old tiled houses and thatched houses.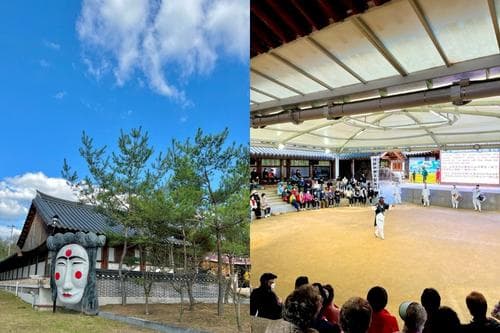 In addition, the Hahoe Mask Dance is an essential part of Hahoe Village. This mask performance is a game played by ordinary people to pray for the well-being and prosperity of the village. The Hahoe Byeolsingut Talnori is recognized as the oldest form of mask dance that has been passed down, and the Hahoe Mask is designated as a National Treasure of Korea (No. 121). If you plan to go to this place, make sure not to miss the performance that starts at 2 pm once a day!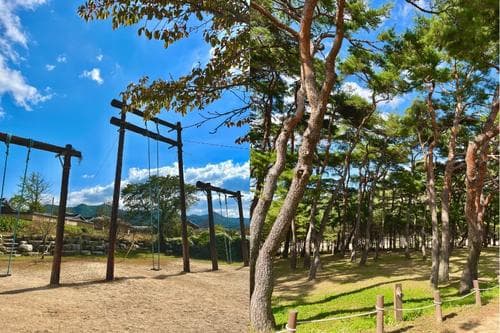 The name of the village Hahoe (河回) comes from the fact that the Nakdong River flows through the village in an 'S' shape. So, if you walk outside the village, the pine forest path along the Nakdong River and the maple trees provide wonderful scenery. On the other hand, the waterway in front of Buyongdae is reopened, allowing the use of ferry boats. Andong Hahoe Village is also a regular filming location for Korean movies and dramas because cultural heritages that show Korea's traditional living culture and ancient architecture are well preserved.
Bongjeongsa Temple 봉정사
Bongjeongsa is a temple dating from the 7th century Silla period, and Geuknakjeon Hall is recognized as the best wooden building in existence. There is also a three-story stone pagoda, one of the representative stone pagodas of the Goryeo period. Here you can spend a quiet and peaceful time as I did.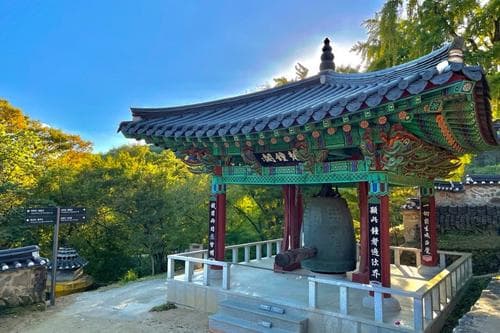 Although the size of the temple is not very large, looking at the top of the mountain from the pavilion where Mokeo(Wood fish) 목어, Unpan 운판, and Beopgo 법고 are placed, my heart is at peace. It is about 30 minutes away by car from Hahoe Village.
Dosan Seowon 도산서원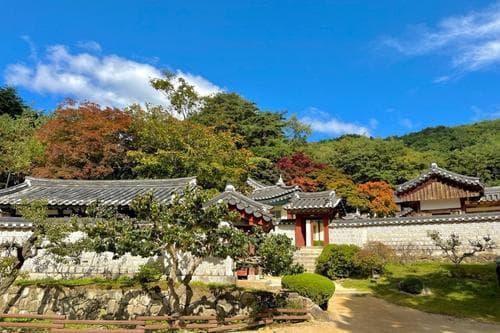 If someone asks me where I liked the best place to visit in Andong, I would choose Dosanseowon. Dosan Seowon was built by Toegye Yi Hwang, a representative Confucian scholar in Korea. It consists of two areas: the front area of the seowon is the Dosan Seodang where Yi Hwang taught and studied. The rear area is the Dosan Seowon, which was built by his disciples after Yi Hwang's death to commemorate his master's academic achievements.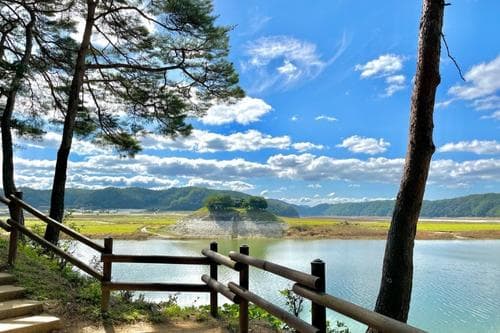 With beautiful ancient buildings, the mountain in the back and Andong Lake flowing in the front are harmonized to form a stunning natural landscape. So I recommend to spend a relaxing time sitting on a bench in front of Andongho Lake, which is said to have been used as a promenade by Toegye Yi Hwang.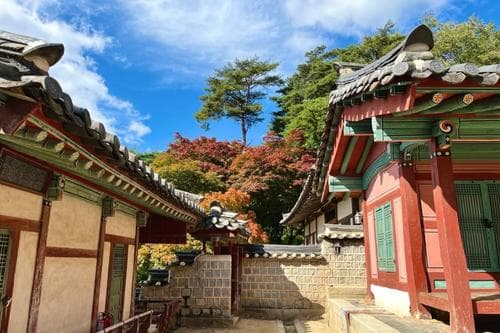 Gunja Village 군자마을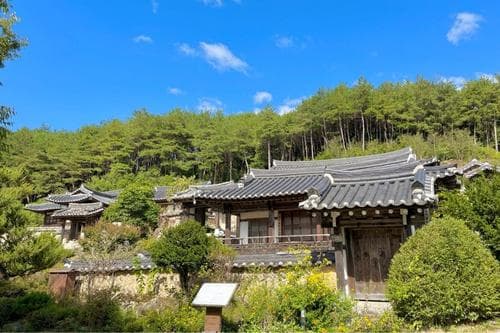 If you are looking for hidden gems in Andong, visit Gunja Village! On the driving way to Dosanseowon, you can see the Gunja Village, about 20 old houses were built on the mountainside, and the valley in front forms a lake. The scenery is so peaceful and lovely.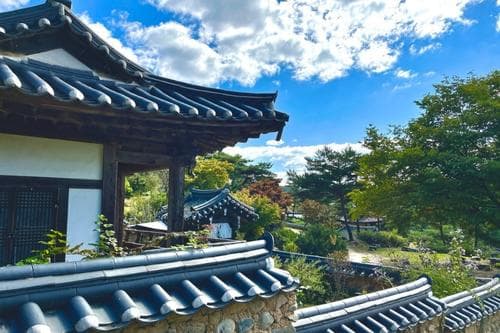 The village was formed about 600 years ago and has been inhabited for 20 generations. When the village was in danger of being submerged due to the construction of the Andong Dam in 1974, all the cultural assets owned by the village, such as houses, pavilions, and relics, were moved to the present location in their original form.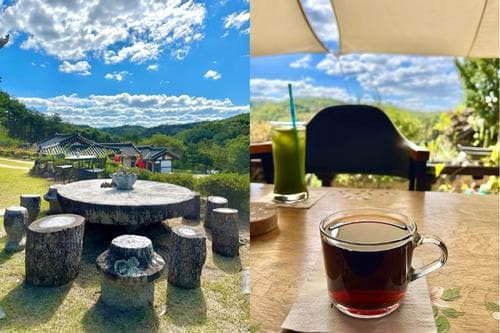 Another hidden spot I want to share with you guys is a small cafe open inside the village! Why don't you enjoy drip coffee or fruit ade made by an elderly couple, while relishing the scenery. It is also a pleasure not to be missed in Andong. It is not well known, but I highly recommend the historical village where the beauty and traditions of Korea are alive.
Wollyeong-Gyo 월영교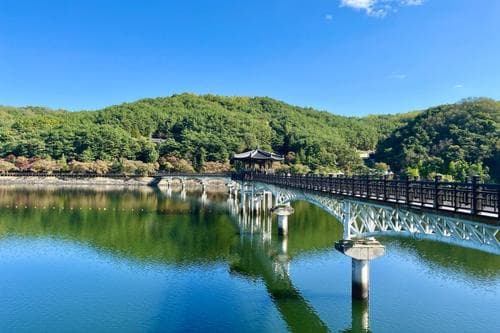 Wolyeonggyo is a wooden bridge in Andong Lake where the beautiful and noble love of a couple is kept. The moon in the night sky reflects on the lake, creating a beautiful natural scenery.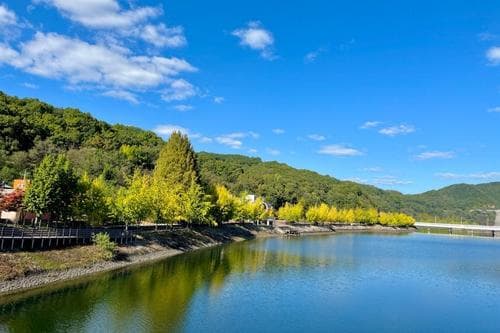 Cross the bridge and take a stroll along the lake. Furthermore, if you want to make special memories, try a Moon boat or Donut boat with your family or friends! It will be an unforgettable trip enjoying Andong Lake. Unfortunately I missed Wolyeonggyo's splendid night view this time but I will definitely come again after sunset next time!
Manhyujeong Pavilion 만휴정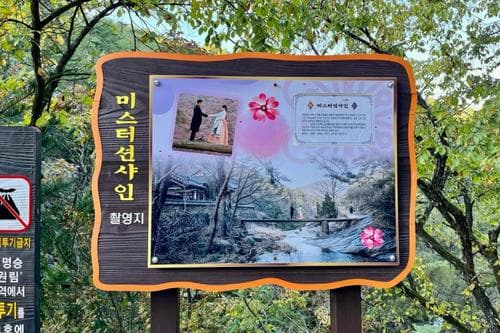 Anyone who has seen Korean drama Mr. Sunshine will recognize this place at a glance! Manhyujeong is a pavilion built during the Joseon Dynasty by Kim Gye-haeng in his later years for reading and contemplation. The name of this place 만휴정 means litterally "fully relaxing". Built in the early 16th century, this pavilion shows the beauty in harmony with nature, and the waterfall that falls below it was particularly spectacular!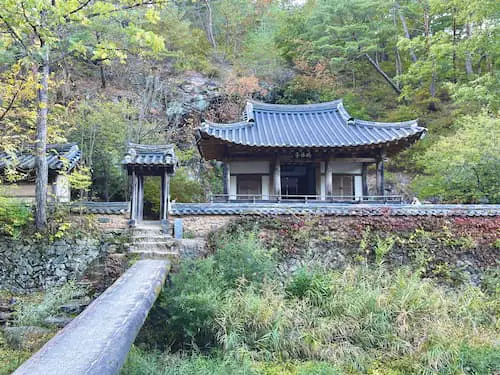 A lot of people have been visiting since filming the drama, especially on weekends, you have to queue to take pictures at this instagrammable spot. So think ahead if you have a plan to visit here!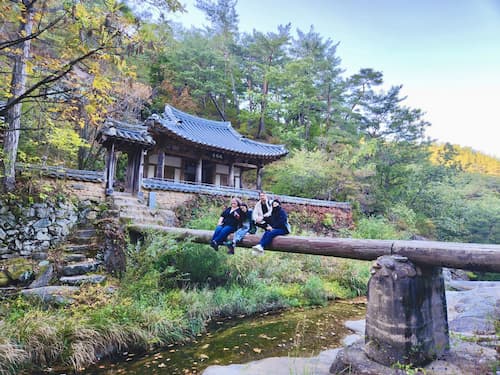 Oh, one thing I want to tell you is that there is not much to see other than this pavilion (the scale is not that big, 3 on the front and 2 rooms on the side.) and Noorokbawi Rock, so it is good to keep this in mind when scheduling the itinerary. Here you can enjoy the natural scenery though!
Andong Old Traditional Market ( & Jjimdak Street) 안동구시장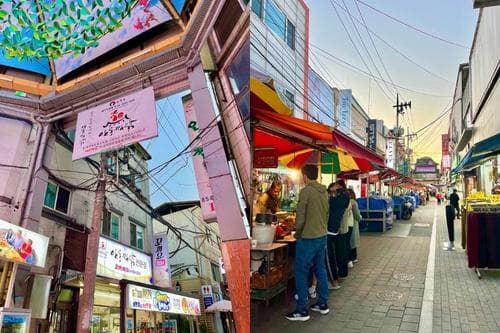 If you are curious about traditional markets in Korea, go to this place. There are many shops that can be found in the market, such as various vegetables, fruits, daily necessities, and souvenir shop. A standout among them is small red strolls in a row in the middle with shops on either side. You can taste various Korean street food such as tteokbokki, sundae, hotteok, and bungeoppang which is why I love the Korean traditional market ;)!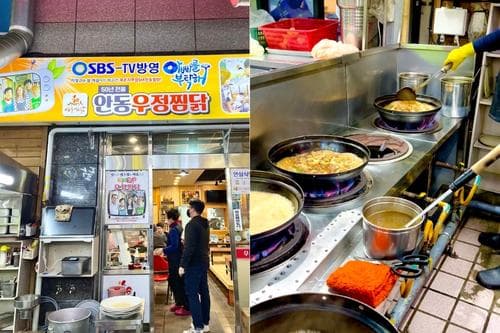 Also, Jjimdak Alley, which sells Jjimdak, a famous food in Andong, is also popular because it is located inside the market. We had Andong Jjimdak for dinner on the first day here, so I will explain Andong Jjimdak in detail below👇🏻
What to Eat in Andong
In Korea, each region has different specialties. For example, pork soup and milmyeon in Busan, and bibimbap in Jeonju. Andong, the first thing that comes to mind when Koreans think of Andong is Andong Jjimdak and Andong Soju. I would like to introduce some foods you can try on your Andong trip!
Andong Jjimdak 안동찜닭
Let's start with the most famous one, Andong Jjimdak. It is cooked in soy sauce seasoning with chicken, glass noodle, and various vegetables to make it slightly moist. It is one of the most popular Korean foods that is loved by many for its sweet and savior taste, low price, and generous amount. Basically, chili is added, and you can adjust the spiciness when ordering, so if you are not familiar with spicy food, you can ask for it to be omitted.
The origin of Jjimdak, which started in Andong, is that as fried chicken (양념치킨) became popular, the chicken alley merchants had to find a solution, and the fusion dish that was created at that time was Andong Jjimdak. About 30 stores are concentrated on Jjimdak Street in Andong traditional market, attracting about 20,000 tourists on weekends.
Andong Soju 안동소주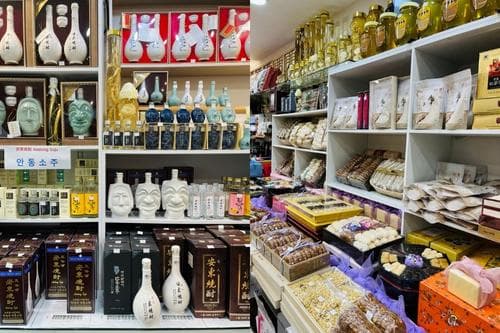 Andong Soju, which is counted as one of Korea's three major famous liquors, is a 700-year-old traditional liquor that has been handed down since the Goryeo Dynasty. It is a 45-degree pure grain distilled liquor made with good water and rice from the Andong region and aged for a long time. For popularization, 35-degree and 22-degree products are also available.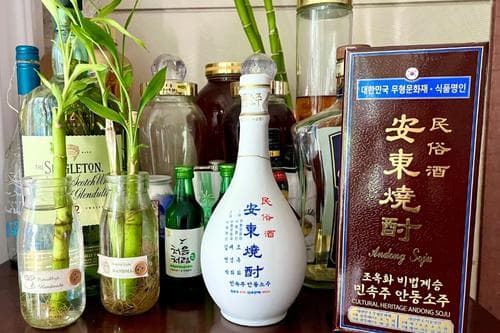 Andong soju was designated as a cultural property of Gyeongsangbuk-do in 1987, and Jo Okhwa was appointed in 2000 as a master of traditional Andong soju manufacturing skills. On the other hand, Park Jae-seo, who was designated as a Korean food master in 1995 compromises between tradition and modernity. So, if you are going to buy Andong Soju as a souvenir, you will often see both names. There are several places where you can enjoy Andong Soju, so it would be good to visit any of them!
Salted Mackerel 간고등어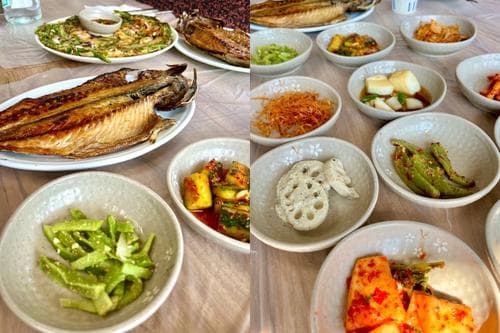 Since Andong is an inland region, mackerel had to be transported but it took two days. Thus, the fish had to be salted to prevent spoilage in the past, when there was no refrigerator. This is the beginning of Andong salted mackerel. The enzyme that comes out just before spoiling and salt go together to enhance the taste of mackerel, making it a representative Andong food loved by locals.
The fun thing I learned on this trip is that there's a master who adds an appropriate amount of salt by measuring the weight, temperature, and moisture level of fish and is called "Ganjap-i" 간잽이. In Andong, he is designated as a master and maintains their own culture. When you order mackerel, it usually comes with about 10 different side dishes and soup. It was very good food for lunch!
Heotjesatbap (Funerary Food) 헛제사밥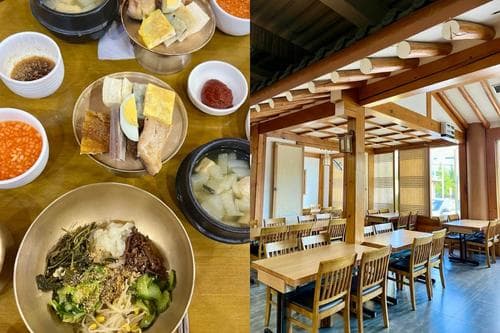 Heotjesabap has an interesting story. In Andong, where Confucianism is strong, ancestral ceremonies are very important because it is considered the greatest responsibility with total sincerity. So, after the ceremony, relatives, family members, and people who participated in the rite sit around and share the food that was on the rite.
Following this culture, Heotjesabap is a dish that reproduces the food that is served on the ancestral table without performing the ritual. Normally we put red pepper paste (고추장) into bibimbap but in this dish (헛제사법), you can taste it by seasoning it with soy sauce and sesame salt. It was so cute to see the food, one by one in a small utensils used in ancestral rites that I used to see at the huge ancestral rites every year. haha
Andongguksi 안동국시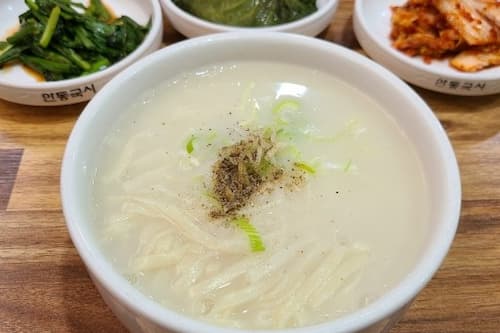 You can easily find many Andongguksi restaurants in Seoul as well. The biggest difference from regular guksu (국수) is noodles. Because the noodles are made by mixing soybean flour with wheat flour, it is more savory and has a mild flavor of soybeans. It is also called Guonjin guksu (건진국수) because Kalguksu was cooked and removed from cold water. If you like noodles, I recommend giving it a try!
Mammoth Bakery Cream Cheese Bread 맘모스 베이커리 크림치즈빵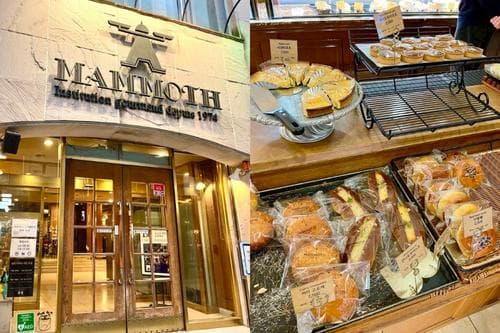 Mammoth Bakery that everyone who visits Andong goes! The signature of this place is cream cheese bread and pound cake. Because it is close to Andong traditional market, I visited to buy dessert after dinner with Jjimdak. 😉 In the evening, there were not many bread left, but fortunately I could buy cream cheese bread!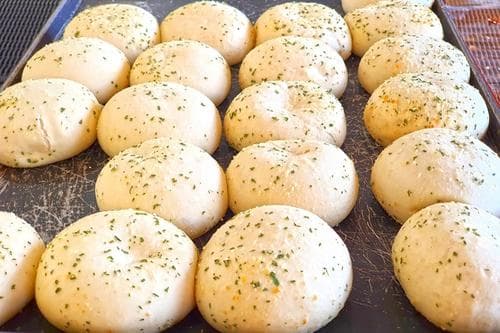 The moist and chewy bread is filled with perfect texture cream cheese. It made me stop by once again before departing for Seoul because I wanted to buy more for my family. If you are a dessert-lover, this is a must-visit place in Andong.
Foremost Cafe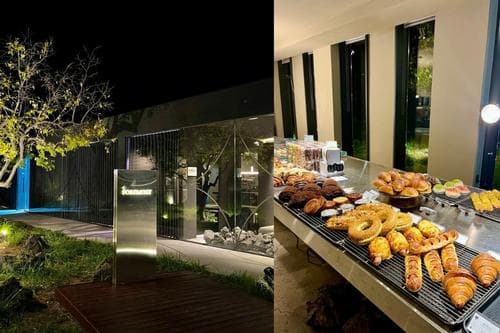 When traveling in Korea, you can't miss going to a nice local cafe in the itinerary. I visited Foremost, a large bakery cafe popular with young people in Andong these days. At first, I was surprised by the large size, and the second was admiring the so stylish, trendy, and modern interior. Of course, the variety of desserts and the taste of coffee were also excellent!
Where to stay in Andong
Just because of Andong, I wanted to enjoy Korean traditional culture. So even though I am Korean, I stayed in a hanok for the first time on this trip. It was nice to be able to sleep very comfortably with a heated floor ondol. Although it is a traditional house, I liked the fact that the necessary parts such as toilets, shower facilities, and air conditioning were remodeled. It was good to spend the night without any inconvenience.
Andong Travel Itinerary
Trazy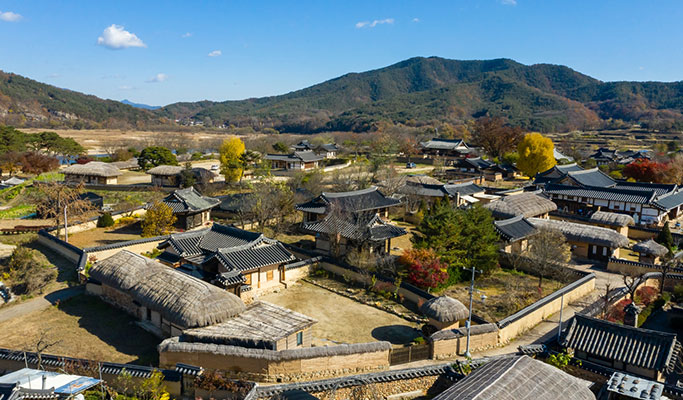 Korean Tradition: Andong Hahoe Folk Village 1 Day/ 2D1N Tour (by KTX+Bus) - from Seoul
as of November 20, 2023 8:19 am
As it's hard to use public transportation in Andong, I suggest you think of a rental car or a group tour. Thanks to the KTX-이음 that opened in 2021, It takes only two hours from Seoul, so you can easily travel to Andong with K Story's 1-day hassle-free tours!
1 Day Andong Itinerary
(Lunch : Salted Meckeral ) – Andong Hahoe Folk Village & Mask Performances (once a day starting from 2pm) – Dosan Seowon – Andong Traditional Market & Jjimdak Street (Dinner) – Mommoth Bakery – Woryeong Bridge
2 Days Andong Itinerary
1st day: (Lunch : Salted Meckeral ) – Andong Hahoe Folk Village & Mask Performances (once a day starting from 2pm) – Bongjeongsa Temple – Andong Traditional Market & Jjimdak Street (Dinner) – Mommoth Bakery – Woryeong Bridge
2nd day: Dosan Seowon – Gunja Village – Heojesabab (Lunch) – Manhyujeong – Amsan Pleasure Ground (Cafe & Restaurants)
IVK's Top Picks – Day Tours, Tickets, and Travel Activities
Seasonal Picks!😍