Last Updated on November 3, 2022
One of my favorite attributes of Koreans is their knack for de-stressing and relaxing after working hard during the week. They have countless activities adapted to each season: picnicking on the edge of the Han River in the spring, waterparks in the summer, skiing in the winter, and camping in the fall. Today, we will focus on the current season, Fall, where camping is quite a popular activity. We will focus on a sub-culture of camping: glamping and the best glamping spots in Korea.
For those who have not heard about this term, glamping is "a form of camping involving accommodation and facilities more luxurious than those associated with traditional camping" (Oxford Languages, 2022). As the definition states, glamping is for those who want to experience the magic of camping while keeping a level of comfort that would be found at home. And to be honest, it is right up my alley: camping equipment can be pricey, and not everyone is an expert at assembling tents and lighting fires. Glamping allows you to only enjoy the best of camping without the hassle.
To be fair, camping and glamping can be done anytime. But the crisp air and cozy atmosphere give these common activities an additional magic touch.
This article will be a recommendation of where to find the best glamping spots in Korea and my personal favorites, where you can barbecue and eat smores to your heart's content with your closest friends or family.
Let's go glamping!
Where to find the best Glamping Spots in Korea
Here are some Online Travel Agencies dedicated to helping travelers find the best vacation spots.
Viator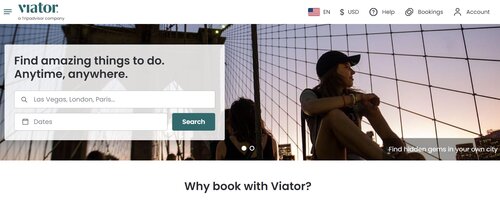 This Tripadvisor company helps travelers find and book memorable activities and experiences. With their mother company's position in the industry, the platform has professional customer service and is well-organized, even for last-minute plans.
Find it here.
Pros: TripAdvisor experience and network, 24/7
Cons: More suitable for tours and visits
Seoul Travel Pass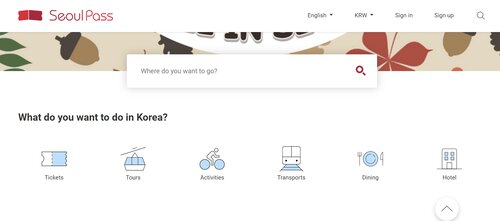 This distributor of single travel products has the mission to make traveling accessible to all. They find various tours and activities and produce travel content around Korea for foreign travelers to discover in their language.
Find it here.
Pros: User-friendly website
Cons: Limited glamping options camping options are offered, along with various other activities.
Klook
So far, this has been my favorite platform, with the most choices for camping and glamping. Klook uses insider/local tips to bring the best recommendations. From SIM cards to train tickets, Klook has an impressive array of activity and accommodation options to choose from.
Find it here.
Pros: Most options available, most varied pool of establishments
Top 5 Favorite Glamping Spots in Korea
I was able to check out and review glamping spots on Klook, where reservation is readily available! Here are my favorites so far:
Sun of Glamping
Location: 14, Geumgang-ro 6263 beon-gil, Pocheon-si, Gyeonggi-do
Check-in: 2 PM ~ 10:00 PM l Check-out: 11:00 AM
Price: US$ 33.80/night
Find it here.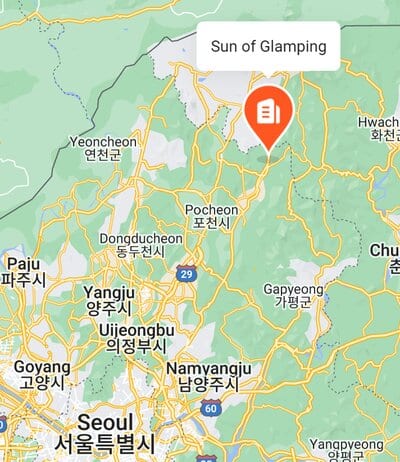 Source: Klook
The "Sun of Glamping" campsite is a complex located within a 15-minute drive of Gungmangbong Recreational Forest and Pyunggang Botanical Garden. It is surrounded by Pocheon Sanjeong Lake and the Jainsa Temple at less than 15 km. With mountains and forests around, its small pond, and its fairy lights installed throughout, the overall atmosphere is almost Disney-esque.
The Sun of Glamping campsite offers a suite of large non-smoking tents and caravans suitable for large groups of up to 10 adults, as the staff will arrange beds depending on the desired number of guests.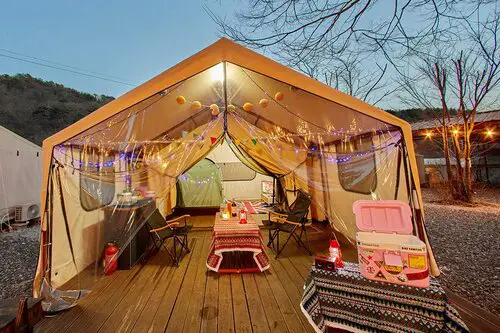 Source: Klook
The campsite also offers a swimming pool, a jacuzzi and barbecue equipment, all available with additional charges.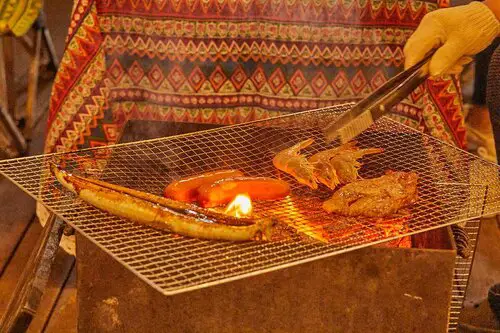 Source: Klook
Pros:
Sun of Camping is only 1 hour and a half away from Dong-Seoul Terminal. The intercity bus takes you directly to the front door of the campsite.
With clean facilities and large rooms, this campsite offers a high level of comfort without being too luxurious. The option of a swimming pool is also a plus in the summer.
Cons:
Heating is not included in the room fee, and guests are required to pay an extra $10/night for heating.
Goseong Bluebeach Pension & Glamping
Location: 113-109, Dupo 5-gil, Samsan-myeon, Goseong-gun
Check-in: 3 PM ~ 10:00 PM l Check-out: 11:00 AM
Price: US$ 58.28/night
Find it here.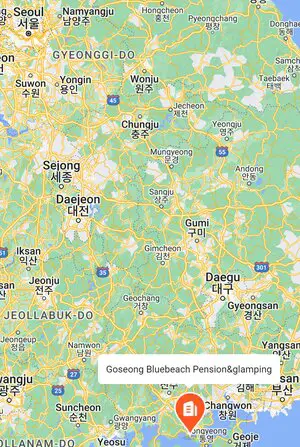 Source: Klook
The Goseong Bluebeach Pension & Glamping is right next to a gorgeous beach, giving the feeling of a true vacation! It is also near Namildae Beach and the Samcheonpo Yonggung Fish Market. Around it are the South Cape Golf Club and Spa, the Goseong Dinosaur Museum, and the Dongpirang Wall Painting Village, where you can have fun, explore, and relax during your downtime.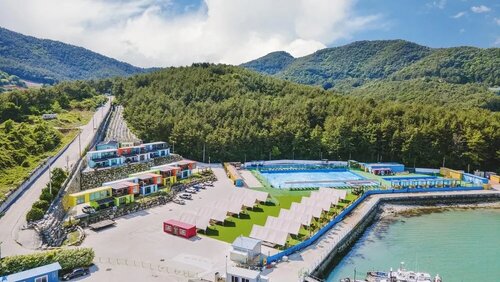 The rooms are spacious, with beds large enough for families to stay in. They are equipped with air conditioning and heating, and each has a barbecue station on the "patio." Guests can comfortably rest, play and eat in the close vicinity of the campsite, which also has a swimming pool at walking distance from the bungalows.
The rooms also have refrigerators and microwave ovens ready to use, which makes the stay even more convenient.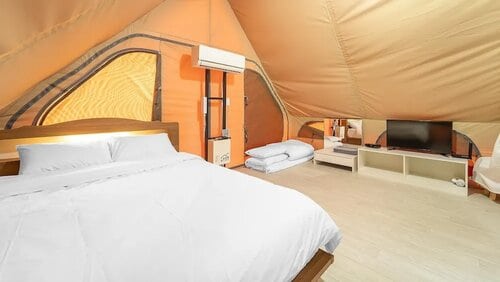 Pros:
A major factor is the advantageous location of this campsite, offering the much desired "ocean view" and beachfront atmosphere usually found in hotels.
 Cons:
Only cash is accepted.
There is no front desk, guests are required to contact the property before arriving.
No after-hours check-in.
Yeosu Meari Glamping
Location: Jeollanam-do 217, Haeneomi-gil, Yeosu-si
Check-in: 2 PM l Check-out: 12:00 PM
Price: US$ 70.42/night
Find it here.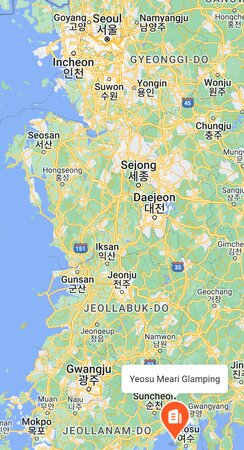 Source: Klook
Glamping sites are charming, but this specific establishment exudes quaintness and cozy vibes. Situated in Yeosu and the middle of the mountains, the Yeosu Meari Glamping plunges its guests into a children's book with its adorable bungalows and green grass.
Yeosu is a place for heavy tourist activity. The Yeosu Meari Glamping provides an opportunity for relaxation after sightseeing and discovering the region at a reasonable price. Instead of spending money on hotels, travelers can enjoy glamping and save some cash!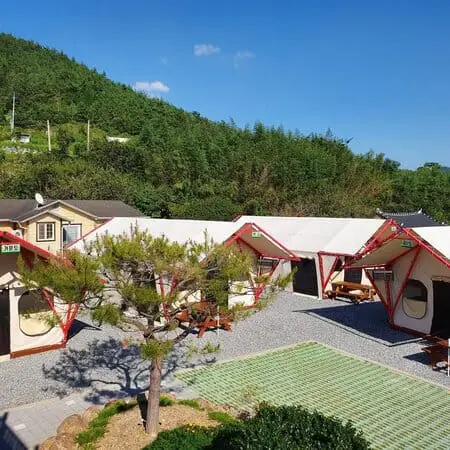 Source: Klook
Complete with full bathrooms, TVs, and air conditioning, the non-smoking bungalows are accompanied by a communal microwave and refrigerator in case guests have items to heat up or store. Utensils such as cups, cutlery, rice cookers, and kettles are also provided. Depending on their choice, guests can use bunk beds, but single beds are also available.
Another charming point of this campsite is that you can see the sea from your bungalow, which adds a lovely touch, especially at sunset.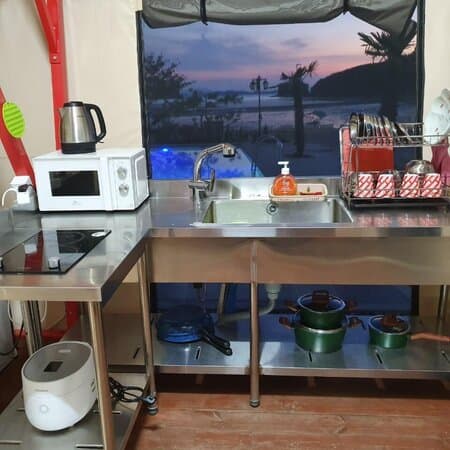 Pros:
The convenient location represents a great plus. The establishment is close to Yeosu Airport and Suncheon Station.
The check-in and check-out times offer 2 extra hours of stay compared to most hotels and camping sites.
Wi-Fi is available
Seocheon Pine Tree Glamping
Location: 295-12, Gaetbeolcheheom-ro, Chungcheongnam-do, Seocheon-gun
Check-in: 2 PM l Check-out: 12:00 PM
Price: US$ 69.26/night
Find it here.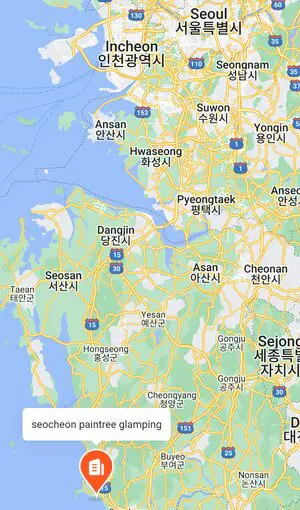 In terms of aesthetics, the Seochon Pine Tree Glamping is perhaps the most impressive. With 36-square-foot bungalows with their patio and picnic tables integrated, the establishment offers a truly immersive experience in the middle of nature. At the same time, the rooms are still fully equipped with air conditioning and kitchen equipment.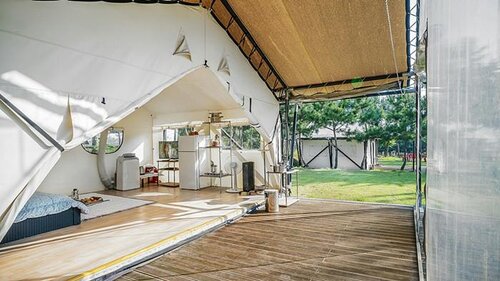 The "community" aspect is the most present in this establishment: showers and bathrooms are communal; so are the barbecue equipment and the kitchen area.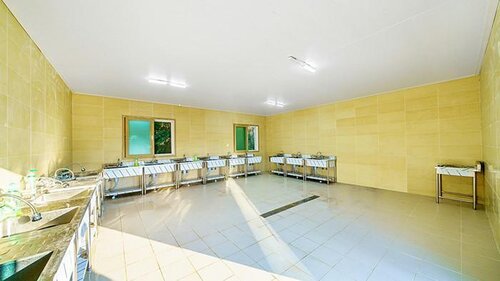 Source: Klook
 Cons:
This establishment is far from Seoul, a 3-hour drive. It is recommended if you are already traveling towards the South of the country.
Extra beds cannot be added to existing rooms.
Gapyeong Ddobagi Spa Glamping
Location: 205-10, Myeokgol-ro, Buk-myeon, Gapyeong-gun
Check-in: 3 PM ~ 10 PM l Check-out: 11:00 PM
Price: US$ 103.30/night
Find it here.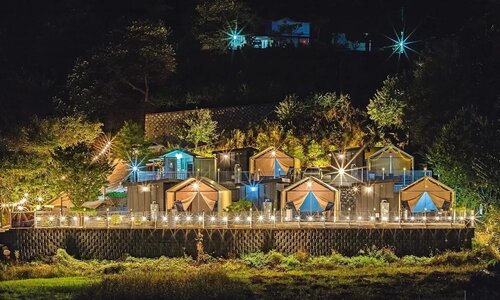 Source: Klook
The Ddobagi Spa Glamping is a great way to end this list with a bang: Nami Island, Jipdarigol Recreation Forest, Namsong Art Museum…There are countless opportunities in Gapyeong besides a beautiful stay. But even if you do not plan to visit around, the site is absolutely enough: with its cozy bungalows and pool, it is perfect for a "luxurious camping" experience.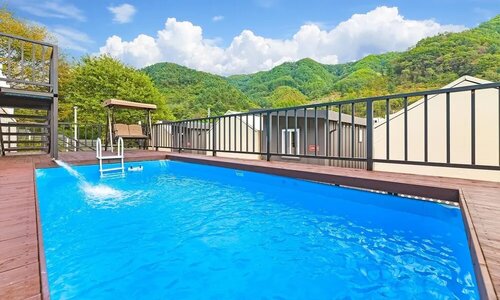 The rooms are very spacious (52 square feet), and each includes a sofa, a double bed, a TV, a rice cooker, a microwave, utensils, and a dining table for 4 with an integrated grill. As the name indicates, the special point of this glamping site is that it offers jacuzzis in each room. This justifies the higher price, especially when many sites have similar prices without that option.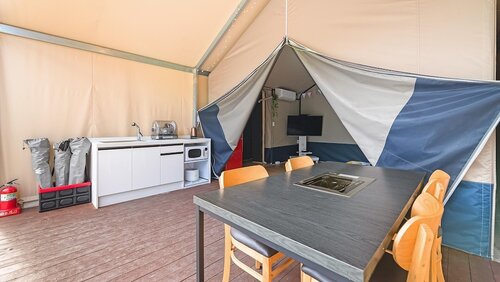 Pros:
Jacuzzis are available in each room
The convenient location of Gapyeong allows for more traveling around the camping site.
 Cons:
Only cash is accepted.
There is no front desk, guests are required to contact the property before arriving.
I hope that this small list will help you get on the right track for your vacation plans and will give you inspiration for a beautiful Fall season! Happy glamping!
You may also like:
IVK's Top Picks – Day Tours, Tickets, and Travel Activities
Seasonal Picks!😍