People worldwide adore their pets, they are part of their PAW-mily. Some even travel with their pet as long as they know they are allowed to their destination. As a fur parent, I know how challenging it is to find a place that allows pets, for instance, pet-friendly hotels. Hotel pet policies can be complicated and open with surprises or, in reality, extra charges! However, planning and understanding the policies let you know what and what not to do before checking in. Here are the top 10 pet-friendly hotels in Seoul that offer PAWntastic stay with your fur baby!
Top 10 Pet-Friendly Hotels in Seoul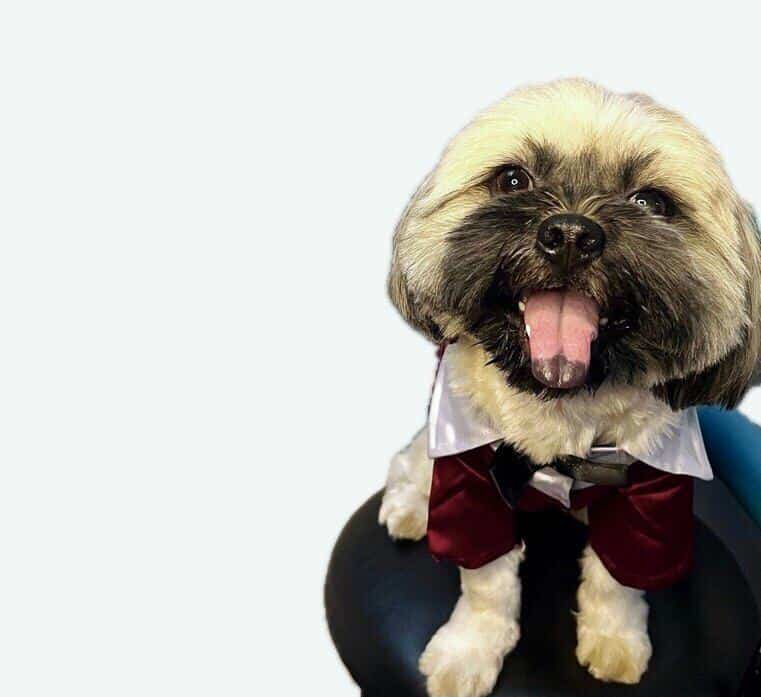 Four Seasons Hotel Seoul
What do you call the hotel for all seasons with superb facilities, amenities, and service for you and your fur baby? It's the Four Seasons Hotel Seoul! It has floor-to-ceiling windows with magnificent views of the historic city center in every room and suite. A flat-screen LCD TV, remote-controlled curtains, and an iPad Mini are provided for a convenient stay.
It offers five on-site dining options: Yu Yuan, Boccalino, Akira Back, The Market Kitchen, and Maru. Customers can eat Korean, Cantonese, Japanese, Italian, or fusion cuisine.
You and your fur baby can savor a delightful city holiday at the Forbes 5-Star Hotel, which offers daily in-room breakfast for two and several exclusive benefits.
A pampering perk for your fur baby is included, like Berg & Ridge house put up in the room, a customized Berg & Ridge harness for travel needs, Copenhagen Recipe's pet organic treats, a pet bowl, cushion, and toilet paper.
Additionally, pet in-room Dining menu and cleaning services are available but with fees.
Note: The room will only accommodate one dog weighing no more than 10 kilos (22 pounds).
Free Wi-Fi
Swimming pool
Breakfast
Gym
Spa
ATM and Exchange Currency
Address: 97, Saemunan-ro, Jongno-gu, Jongno-Gu, 03183 Seoul, South Korea 
Grand Mercure Ambassasdor Hotel and Residences Seoul Yongsan
Grand Mercure Ambassador Seoul Yongsan is part of the Seoul Dragon City complex that has a classy, modern, and clean ambiance. You can do several activities upon staying here: gym, yoga, swimming, golf, dining, and city viewing. A La Maison, In Style, Executive Lounge, and Food Exchange provide dining options.
There are 202 pet-friendly condos you can book if staying with your fur baby. Make sure to call and request that you have a comPAWnion to know the full details and the fee.
Address: 95, Cheongpa-ro 20-gil, Yongsan-gu, Yongsan-Gu, 04372 Seoul, South Korea
RYSE, Autograph Collection Seoul
RYSE, Autograph Collection Hotel is infused with art in all its forms. Be on the lookout for the creative touches incorporated into every part of the experience.
You can dine at Tartine Coffee bar, Charr Korean and Western cuisine, Tokki Bar, and Side Note Club for drinks and food options.
Great news! Since they value inclusivity, they welcome all breeds and sizes of cats and dogs. Although, there are fees to pay and rules to follow, which they will explain upon making a reservation.
Address: 130, Yanghwa-ro, Mapo-gu, Mapo-Gu, 04038 Seoul, South Korea 
L'Escape Hotel
Are you seeking a "Parisian Escape in the Heart of Seoul"? The L'Escape Hotel will welcome you with its elegant interior and rose aroma as you permeate the entire environment of pleasant surprises.
Every morning, the resort serves a continental breakfast. Additionally, you can visit any dining and drinking spots: Palais de Chine, L'Amant Secret, Marque d'Amour, and Starbucks Reserve.
Seven room types are available in the Deluxe, Grand Deluxe, and Suite categories intended for a perfect stay with your fur baby. One pet costs 100,000KRW and 160,000KRW for two (excluding tax.) Thus, it would help if you had reservation confirmation before going with them.
No need to worry if you stay here with your fur baby, as it provides complete amenities for both of you! However, there may be additional fees for some pet items (dog house, tableware, etc.)
Free Wi-Fi and parking
Currency exchange
Breakfast
Gym
Spa
Address: 67, Toegye-ro, Jung-gu, Jung-Gu, 04529 Seoul, South Korea 
Conrad Seoul
Is it not relaxing to stay at a 5-star hotel that overlooks the gorgeous Han River in central Yeouido? Conrad Seoul features a swimming pool, spa treatments, fitness center, golf area, private parties or business functions, and more. It is commendable for its location, amenities, and staff.
You can choose among the dining options for a delicious meal: Atrio (wines and Italian cuisine), Zest (worldwide cuisine), Executive Lounge, Flames Lobby Lounge, and 37 Bar and Grill.
You must select the Petmilycation package when bringing your pet(s) along during your stay at Conrad Seoul. A welcome kit, bed, treats, food bowl, a poop bag, pee pads, and toys are all included in this bundle. Rental of other room services and a pet stroller are also available.
Free Parking
Swimming Pool
Breakfast
Bar
Address: 10, Gukjegeumyung-ro, Yeongdeungpo-gu, Yeongdeungpo-Gu, 07326 Seoul, South Korea
Hotel Cappuccino Seoul
Experience Hotel Cappuccino's excellent rooftop bar, restaurant, signature Dosirak, and cafe Cappucino when you check in!
Moreover, cozy, minimalist, and modern hotel rooms await you. Although, the rooms may be considered small for some guests, especially if you have big luggage.
You can also stay comfortably with your fur baby in Hotel Cappuccino's dog-friendly section at Caffe Cappuccino's Summer Terrace and Bark Rooms. You will find plenty of wholesome facilities and delectable meals.
Each Bark Room has a specially designed dog bed made of birch with a secure stair, pajamas, a toy, and an astounding array of unique treats. 
What's even more amusing? KARA, a local charity that helps stray and abandoned dogs, will receive a portion of the sales from Hotel Cappucino's dog food, beverages, and Bark Rooms services.
Note: Dogs weighing up to 15 kg are permitted. If you wish to bring two, the combined weight should not exceed 15 kg. Additional charges may apply to your fur baby.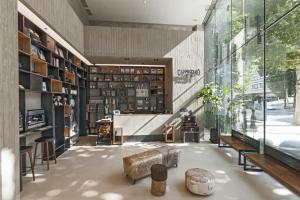 Free Wi-Fi
Breakfast
Gym
Bar and Restaurant
Address: 155, Bongeunsa-ro, Gangnam-gu, Seoul 06122, Korea
Aloft Seoul Gangnam
A simple yet clean and spacious room with a view of the Han River is what you'll get when you choose to stay at Aloft Seoul Gangnam.
Customers say the staff service will give you a unique feeling of staying at a five-star hotel, but with a budget price!
At this contemporary boutique hotel, three restaurants are available on-site: Artichoke, Re:fuel, and Garden by Aloft.
Do you have pets you want to bring? Enjoy a fun fur-cation with your dog or cat at the designated pet room. Upon check-in, a bed, bowl, pee pads, and yummy treats are provided.
Note: There are 9kg weight restrictions per pet, a maximum of 2 are allowed, and you must pay fees. Only the third-floor rooms are available. Pet cleaning services also have an extra charge.
Free Wi-Fi and Parking
Breakfast
Gym
Snack and Mini Bar
Gift shop
Shuttle arrangement
Oakwood Premier Coex Center
A refined stay and high-rating service hotel that welcomes pets? The Oakwood Premier Coex Seoul is a prestigious hotel that has a classy interior and a tasty menu in its Oak Restaurant.
Dogs and cats are permitted, although there may be a cost. A fun kit with necessities such as a bowl, walking accessories, and a toy is provided. Furthermore, there is a cleaning cost of 77,000KRW per pet.
The warmly colored furniture in the rooms includes complete amenities, and the bedroom is spacious and clean.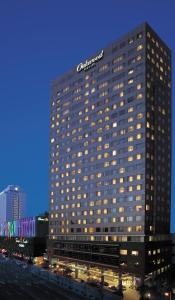 Free Wi-Fi
Swimming pool
Breakfast
Gym
Sauna
Mini Golf
Address: 46, Teheran-ro 87-gil, Gangnam-gu, Gangnam-Gu, 06164 Seoul, South Korea 
Hotel POCO
Try POCO Hotel if you're seeking a reasonably priced, pet-friendly hotel with good amenities! The bedding is comfy, and you can match the lovely city view at night.
Make a Deluxe Double Room reservation if you plan to bring your dog. Thus, fees may apply. You can ask them any further questions upon booking.
Free Wi-Fi
24-hour security
Express check-in and check-out
Address: 96, Seongsui-ro, Seongdong-gu, Seongdong-Gu, 133-120 Seoul, South Korea
Fully Mini Hotel
Hotel on a budget but still welcome pets? Fully Mini Hotel might be the answer! The bed and room are basic, clean, and cozy. There is a kitchen area where you may cook your food with cooking things, a refrigerator, and an expresso machine. 
It is conveniently located near the Jongno-3 metro station for quick access to anywhere and is the ideal starting point for exploring Insadong and Myeongdong. 
Note: If you are with your fur baby, you must pay 10,000KRW each night you stay.
Free Wi-Fi
Breakfast
Board games/puzzles
Airport shuttle
24 hours security
Vacations are more fun with our PAW-mily! They deserve all the pampering and traveling with us for being a suFURstar and giving us pure love and happiness!
Reminders: 
It's best to inform that you are bringing your fur baby and ask for the entire hotel's pet rules. Make sure to follow those rules to avoid unwanted scenarios.
Not all hotels welcome varieties of pets. Most are strictly for dogs and have size and breed restrictions.
Some hotels have designated pet-friendly rooms, while others feature pet-friendly amenities. 
Keep your dog on a leash within the hotel premises or crate when necessary. 
Do not leave your pet unattended for their safety and other guests. 
Inform housekeeping if there are pet messes so you won't damage hotel things.
Always keep your fur baby clean, happy, and healthy!
You may also like:
IVK's Top Picks – Day Tours, Tickets, and Travel Activities
Seasonal Picks!😍