Last Updated on July 5, 2022
Although the Corona Virus has not entirely disappeared from our lives, its number of severe cases has been reduced, and traveling is in full swing, right on time for summer! If you plan on visiting South Korea soon, you should know that Seoul is only the beginning! Korea has a plethora of beautiful domestic destinations to discover. You can travel wisely by knowing the best travel tips for domestic flights in South Korea.
Flying in Korea is Finally Back to Normal
Domestic travel can be a bit different than international travel: it can be less burdensome and more complicated on other occasions. To help you navigate this and enjoy the perfect trip around Korea, we have made this Q&A for Domestic Flights in South Korea complete with tips that we hope will be useful to you when you hop from one region to the next!
Here are seven things to know before taking domestic flights in Korea.
Domestic Flights in South Korea
Where Can I Buy Cheap Flights in Korea?
Korea has many different airlines, and the biggest and most commonly used include Korean Air, Asiana, Jin Air, Air Busan, and T'way (to name a few). As prices vary, checking multiple airlines for the exact flight details is always helpful.
While locals use different apps to find flights, the easiest way to do so if you do not speak Korean is to check Google Flights and enter the basic information, such as "Busan Seoul flight."
All the airlines completing this trip will be listed, and you can compare travel time, luggage requirements, and prices simultaneously.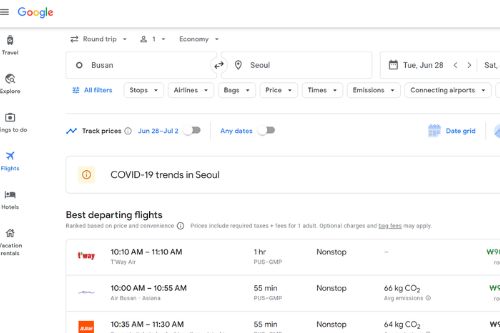 The app "Korea Domestic Flight" will also be helpful in the long run. You can find it on both the Apple Store and Google Play. Like on Google, you can easily pick the cheapest flights for your trip.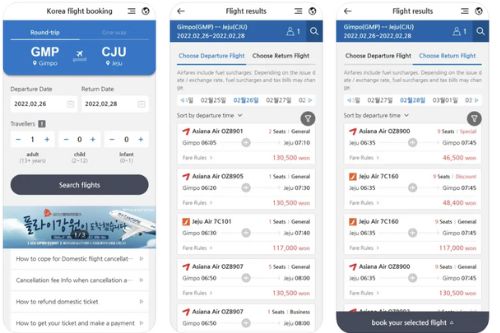 In addition to Google Flights, global air ticket comparison sites such as Skyscanner and Aviasales are also good places to find cheap Korean domestic air tickets.
Comparing airlines can sometimes significantly affect your traveling budget, so we recommend it.
Can I Travel at Any Time of Year?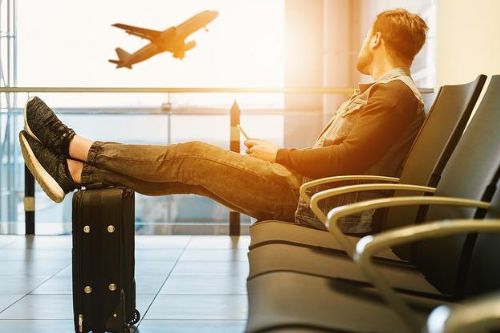 Domestic flights in Korea are usually cheaper, making domestic travel quite attractive, even when it is last minute. But to ensure that you never get a terrible surprise while getting ready to go on vacation: avoid national holidays at all costs! Indeed, all airplane (and train) tickets might be sold out if you try to go somewhere around a holiday. That is because most Koreans usually visit family on Chuseok and Lunar New Year (Seollal) and have to go out of Seoul.
Here's a tip: if a major holiday is on the horizon, book your trip at least a month before to avoid the rising prices and ticket shortages.
Can I Use My English Name On Any Airline?
Certain airlines only allow reservations with names in Korean characters. This usually happens if you use a Korean app to buy tickets. If you're reserving from a global service, you should be able to use your original name. Ensure the name you use for the reservation is the same as the one on your identification document to avoid confusion.
Do I need My Passport?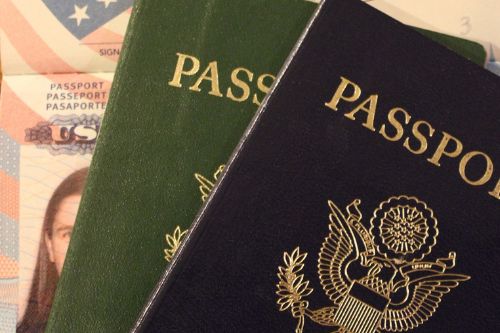 Speaking of identification, it is also good to know that if you are a resident of South Korea, there are different forms of ID other than your passport that you can present to board a domestic flight.
As an adult (over 18), international driver's licenses, international student IDs, and Korean Government-issued ID documents with a photograph are accepted.
As a minor or senior (under 18 or over 65), you will need an identification document (with a photograph) issued by the Korean government, a Resident Registration Card, a Family Relation Certificate, or a Health Insurance Card. Sometimes, airport operators will place the passenger on a "security clearance" list.
In all cases, the original version of the ID that you are carrying is needed to board flights.
How Early Should I Arrive at the Airport?
International flights often require passengers to arrive at the airport at least 2 to 3 hours before departure. Korean domestic flights are slightly more flexible. Check-in counters close roughly 30 minutes before departure, so arriving at the airport an hour before departure is recommended, so you have time to check in and drop off your luggage.
Are Luggage Requirements The Same on Domestic Flights?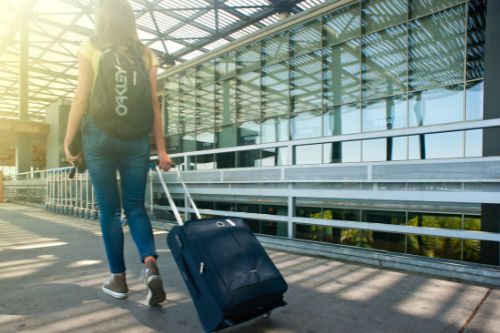 Luckily, domestic flights are more flexible in terms of luggage. The requirements can vary from one airline to the other, but the good news is that you will not need to toss that half-full water bottle at security. Liquids are accepted if you're carrying up to 2 liters.
Of course, batteries and other items deemed dangerous on international flights are still prohibited.
Regarding checked luggage, economy and first class have different allowances so it is best to verify it with your airline. Most airlines for domestic flights in Korea allow one small carry-on baggage and one check-in luggage for each paid passenger.
Check out the luggage delivery service in Jeju for your hands-free journey.
Can I Buy Duty-Free During Domestic Travel?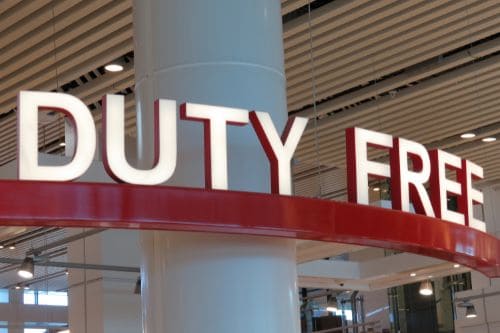 Duty-Free shopping was initially reserved for travelers about to travel internationally or in transit. However, certain stores have made it available to domestic travelers: Jeju's Tourism Organization Duty-Free Store is Korea's first.
The Jungmun Duty-Free Shop allows all passengers on domestic flights (or even traveling by boat) to purchase up to $600 worth of merchandise while traveling from and to Jeju. Items purchased at the Jungmun Duty-Free Shop can be shipped to other regions and be picked up at the baggage claims of Jeju's International Airport or International Passenger Terminal. Of course, Korean duty-free rules change often. It is recommended to double-check requirements on the Korean Customs Service website before planning to shop during your trip.
BONUS: Are There Alternatives to Flights in Korea?
If you wish to travel throughout Korea differently, there are alternatives to air travel that can be just as charming! You can also ride the bus or the train, depending on your schedule, budget and preferences.
For example, express buses will take you from one city to another rapidly (no stops) while intercity buses will allow you to enjoy local roads.
With the train, riding the intercity trains will cost half the price of the high-speed KTX train but will take twice as long to arrive at the destination. Whether you have time to kill or a comfortable budget, these details will help you pick an alternative to airplanes.
Domestic flights in Korea are easy to catch and relatively affordable. We hope these tips will help to plan your trips more easily! Don't forget to check any new requirements, news, and flight information on the chosen airline's website before your flight to ensure that your trip is as smooth as possible.
Happy travels!
You may also like:
IVK's Top Picks – Day Tours, Tickets, and Travel Activities
Seasonal Picks!😍