Last Updated on December 25, 2022
Are you planning your next trip to South Korea? If yes, then do consider Daegu in your destination list. Now you might be wondering what Daegu is famous for? Daegu is rich in ancient culture, spectacular attractions, and natural beauty. Not only this, the amazingly beautiful city is worth watching and has a lot to offer its travelers.
Here in this article, we are presenting you the 30 best things to do in Daegu. So, don't miss out on the top enchantments and bucket-list-worthy adventures in Daegu.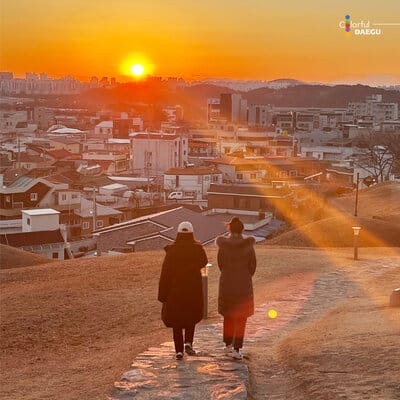 How to Get to Daegu from Seoul
By public transportation
If you are in Seoul and are thinking of going and visiting Daegu, we recommend KTX. It takes 1 hour 50 minutes from Seoul Station to Dongdaegu Station. Here are all the ways to get to Daegu from Seoul by public transportation.
Option
Duration
Price (Adult)
KTX Train
(Seoul – Dongdaegu Station)
1h 50m
₩ 43,500
(Economy Class)
ITX Train
(Seoul – Daegu Station)
3h 40m
₩ 31,100
(Economy Class)
Express Bus
(Seoul Express Bus Terminal
– Dongdaegu Terminal)
3h 30m
₩ 27,200
(Economy Class)
[ Seoul to Daegu Public Transportation Options ]
If you want to get around other cities in 2 to 5 days, consider purchasing a KR Pass (Korea Rail Pass) that you can get unlimited train rides during the days.
By Car
If you plan to travel around the outskirts of Daegu, it is a good idea to bring a car or rent a car. It takes about 4 hours (300km) from Seoul to Daegu by car using the Jungbu Naeryuk Expressway.
Read another article, How to rent a car in Korea, to find the best car rental option for you.
Best Things To Do in Daegu
Daegu National Museum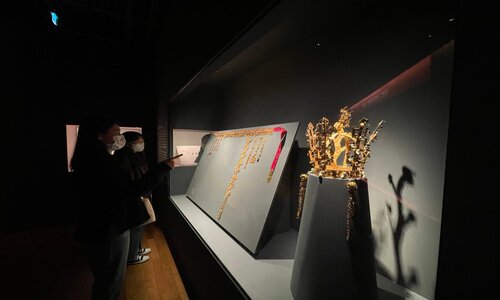 Daegu National Museum is so absorbing that you will find yourself lost in the culture and history. There are three main doors to enter the halls. The museum is displaying the chronology and artifacts of Daegu.
Get a look into the Buddhist culture through multiple statues. You will find countless illustrations of the traditional Korean lifestyle in prehistoric times.
83 Tower Observatory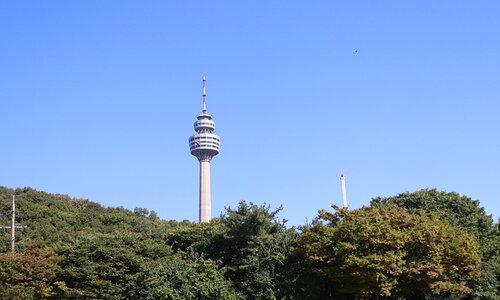 83 Tower is another worth watching site. The top is one of the best viewpoints. It took eight years to construct the tower and it was open to the public in 1992. The tower is over 200 meters in height and one of the best places to go for a date night. Enjoy the ultimate birds-eye view of Daegu from the top where there is an amazing revolving restaurant as well.
Daegu 83 Tower Related Products
Seomun Market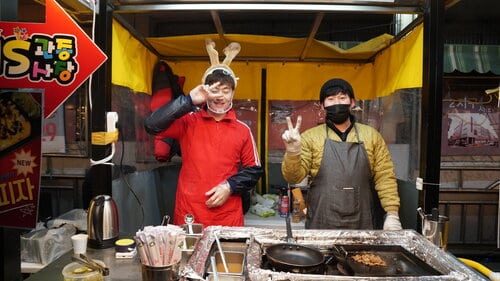 One of the biggest street food hubs in Daegu is Seomun Market. You will get directed there because of the unique mix of aromas. The daring delicacies are waiting for you and you will find them alive at night. You will find delicious Mackchang (grilled beef abomasum), mouth-watering Jeon (tasty pancakes), savory Sundae (Blood sausage), and spicy Tteokbokki  (rice cakes).
In the daytime, it is a traditional market, with merchants selling fabrics and costumes, homeware, and other goods.
Suseongmot Lake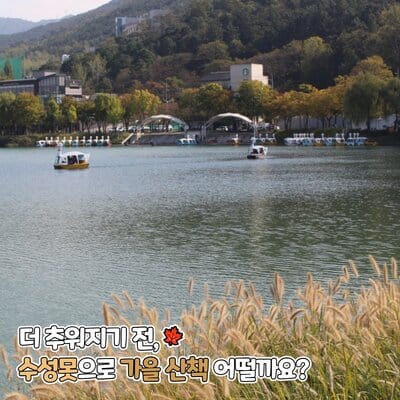 Suseongmot Lake is a man-made body of water and it acts as a water reservoir to store water for agricultural purposes. For both local and international visitors, it has become one of the prominent biking tracks and walking paths. You will find plenty of restaurants and coffee shops around the corner. The lake lights up with music at night. You can go boating there in summer and enjoy cherry blossom views in the spring season.
E-world and Duryu Park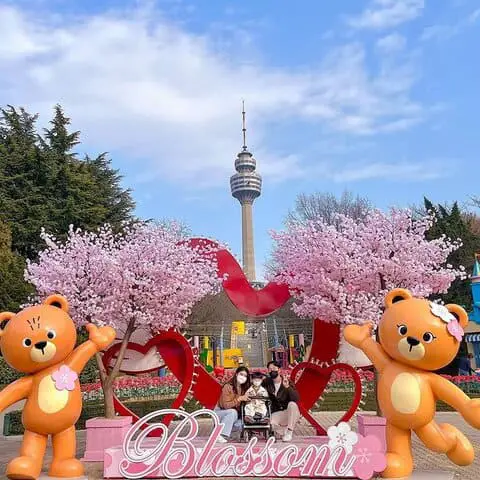 E-world is a theme park in Daegu City, South Korea. It is one of the largest theme parks in Korea and receives an average of 2 million-plus visitors per year. It offers amusement facilities, exhibitions, and art performances. Moreover, the E-world Duryu Park offers various festivals throughout the four seasons like Spring Night Cherry Blossom Festival, Summer Dream Ocean World, Autumn Romantic Dream World, and Winter Fantasy Winter Story. It is one of the best theme parks in South Korea.
Alive Aquarium Daegu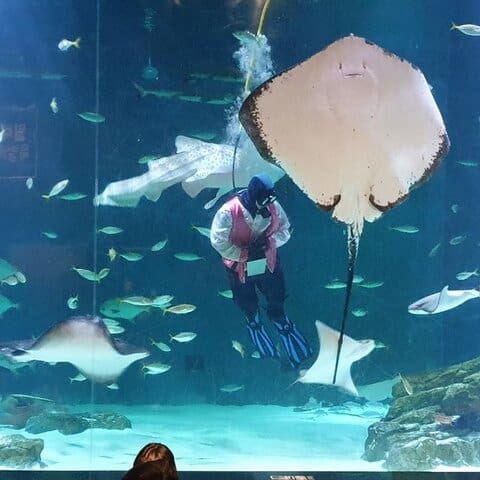 If you are in Daegu don't miss out on the alive aquarium. It is indeed one of the great places to tour, particularly if you have kids. The alive aquarium is not only the aquarium, but it also has play stations for kids, other joyful activities, and water tank shows.
Compare prices of Daegu Alive Aquarium Tickets

Palgongsan Mountain Cable Car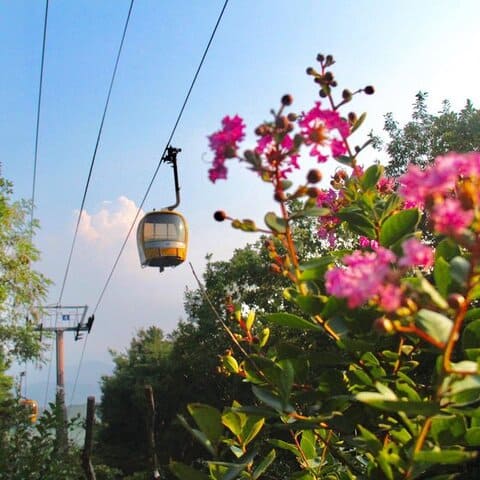 Palgongsan mountain cable car offers spectacular rides to a mountain with a hiking track along with an area for food and drinks. Palgongsan Mountain is one of the most popular mountains in Daegu. Enjoy watching the panorama view of the mountains while climbing up. Daegu city offers incredible restaurants which offer delightful and flavorful foods.
Anjirang Gopchang Alley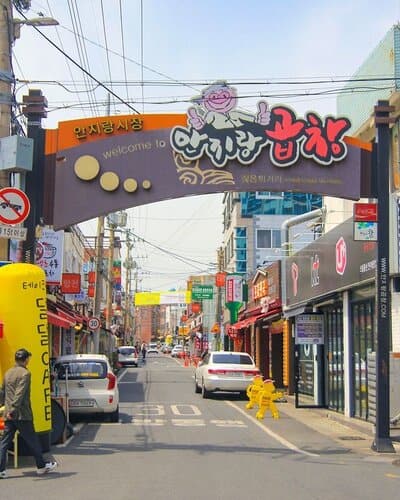 Anjirang Gopchang Alley is well known for its seasoned gopchang (beef and pork tripe) restaurants. These restaurants are playing a vital role in bringing vitality back to Anjirang's vibrant market. The Gopchang alley offers savory dishes at reasonable prices. It was named one of "Korea Top Five Thematic Food Alleys" and this alley is included in the Top 100 Korea Tour destinations.
Daegu Modern Culture Alley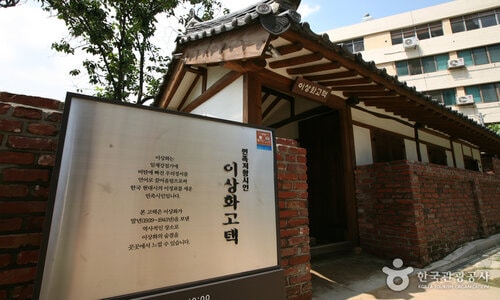 Daegu Modern Culture Alley or History Street offers a knowledge excursion to discern the recent history that lives on in the alleyways of the city of Daegu. During the Korean War, this region suffered less damage as compared to other regions. It witnesses the changes that happened over time. Many cultural and historical remnants are there for you to substantiate the glory of the city.
Dongseongno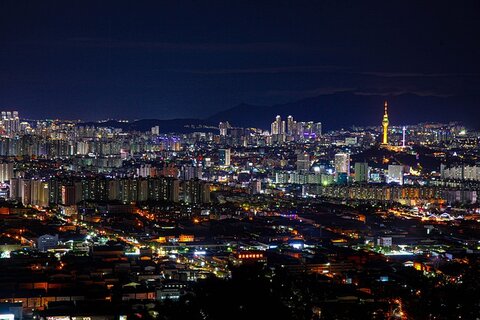 If you talk about the busiest shopping street in Daegu, then Dongseongno is the one. This alley is lively throughout the year. You will find numerous luxurious departmental stores, branded shops for garments and sports goods. A combination of artistic spaces, bookstores, movie cinemas, and concert halls are rounded up along the alley.
Daegu City Tour Bus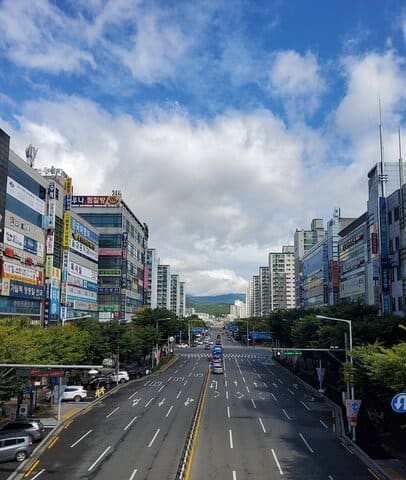 Discover Daegu at your own pace via the Daegu City Tour Bus offered officially by the Daegu Tourism Association. The bus stops at 12 stations and comes around every hour. So you don't have to worry about missing it. If you are looking for a budget-friendly and convenient way of traveling the city, the Daegu City Tour Bus. You can hold onto as many times as you want throughout the day.
Compare Daegu City Tour Bus Prices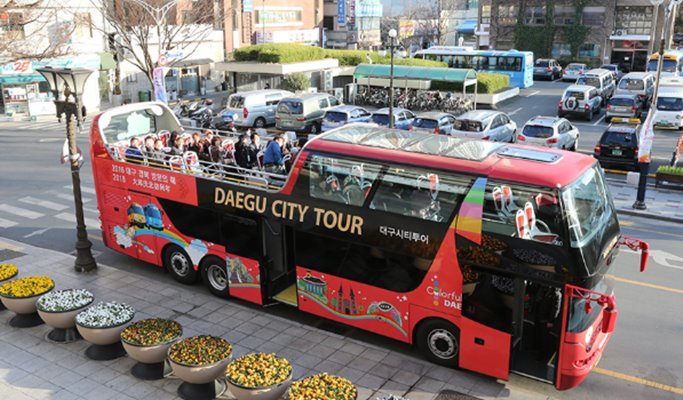 Tandem Paragliding at Daegu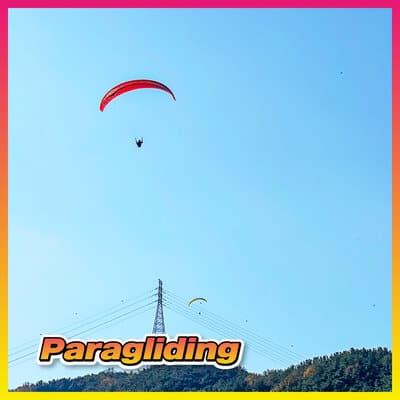 Sit back calmly, just take a flight and see the remarkable views near Daegu. You will be guided throughout the journey. Don't forget to bring your camera and if you did it mistakenly, after flying high altitudes and landing you will be provided the flight video. The best part is you will get the video instantly, you don't have to wait to get it.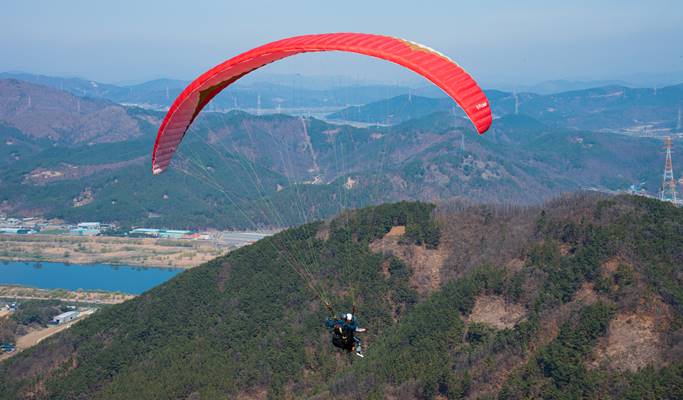 Haeparang Trekking Tour

Follow the Haeparang tracking trail no. 21 and witness the most breathtaking views of the shimmering blue east sea and lush woodlands. Experience the beauty and rustic views of the sea and sky together. You will vouch for one of the glorious landscapes of Korea here in Daegu. Enjoy your coffee and walk in the majestic panoramic view.
Juwangsan National Park Hiking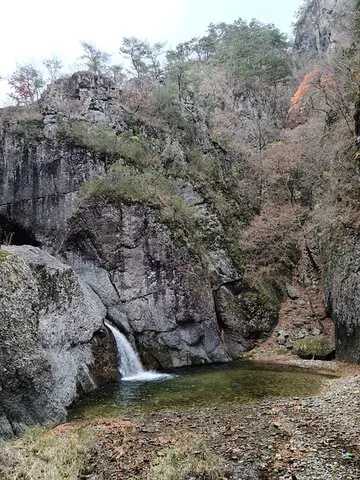 Juwangsan National Park is a smaller-sized park. However, it has some incredible hiking trails and astounding sights. Observe the vibrant colors of trees in the fall season. There are many routes but you can choose the ones you like the most or be chosen by many people there. The trail loop is around 4-5 hours. It is absolutely a startling park with its view.
Aspan Park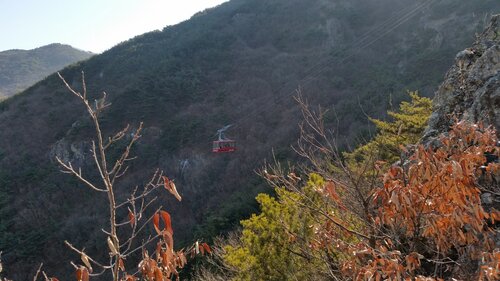 Apsan Park is one of the substantial urban-eco parks in Daegu. The available facilities are cable car, horseback riding, swimming, and archery. The Apsan park offers numerous walking trails of 2km to 4km. You may decide on the path that best fits your fitness and inclinations. Capture the view after getting off the cable car.
Mabijeong Mural Village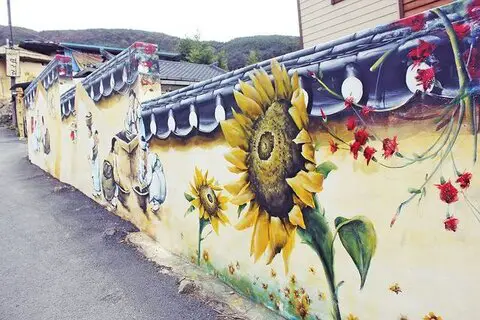 If you are thinking of taking a break from city life then do consider visiting the slow-paced environment in Mabijeong Mural Village. It is a small but beautiful village which attracts visitors from across the world.
The walls of the village are painted which depicts the peculiar symbols and portraits depicting the life of Korea.
Gayasan National Park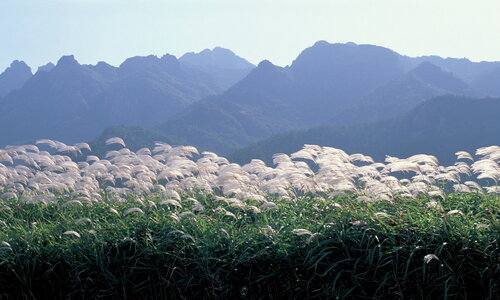 Another startling destination you should consider visiting while your stay in Daegu is Gayasan National Park. It is a wonderful place to hike. You may rent a car to go there which is quite affordable. The park offers trails, streams, sanctuaries, ruins, and incredible terrains.
Daegu Opera House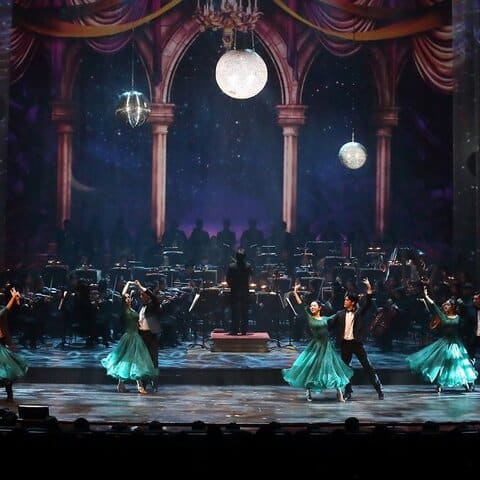 If you are a theater geek then do visit the Opera House.  Its schedule includes some of the biggest names in the world of Opera like Strauss, Mozart, Puccini, etc. You will love ballet, opera, orchestra, and other live performances there for sure. Check out the website for reservations and ticket booking.
Shinsegae Department Store Daegu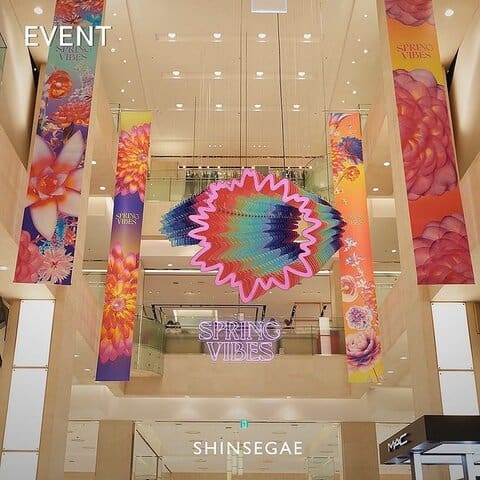 If you are anywhere near Dong Daegu station then do check out the Shinsegae Department Store there. It is a nice mall and offers probably everything you possibly need. There are tons of brand options and food courts, you may choose according to your budget. The stores are classy, luxurious and offer high-end products with a huge ambiance.
Bullodong Ancient Tomb Park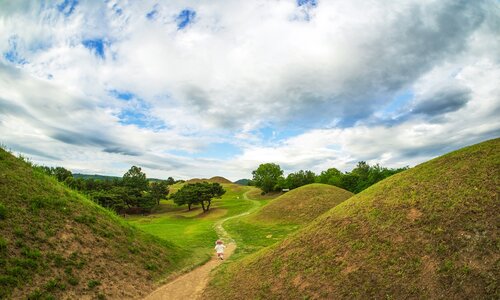 Another worth-watching place is the Ancient Tomb Park. Its scenic view attracts many visitors. Due to its elevation, it is a considerable spot to keep an eye on the sunset. You can also find a few restaurants in the area. Take a walk, have a picnic, and enjoy the mesmerizing panoramic landscape.
Kim Kwang-Seok Street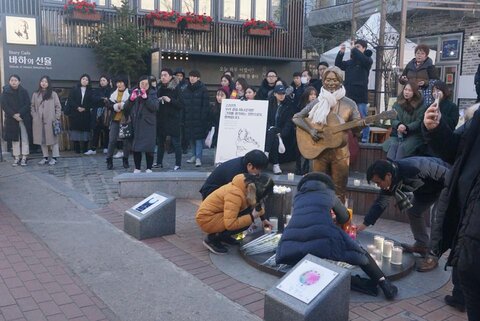 If you are a wanderer and love to roam around the roads then take a walk to Kim Kwang-Seok Road. This street pays homage to Korean Musician Kim Kwang-Seok. This place is the house of cafes, rooftops, murals, and street performers. If the weather is good, what can be better than a long walk?
Daegu Stadium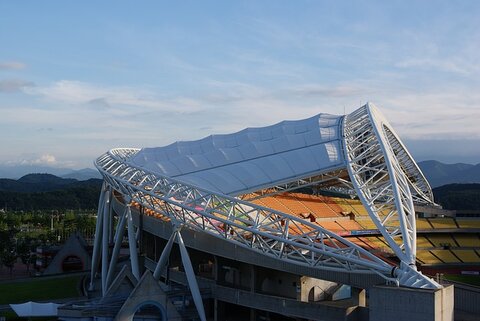 Daegu Stadium is also known by the popular name Blue Arc. It is a  sports stadium in Daegu. Once it was known as the Daegu World Cup Stadium but now it is known as Daegu Stadium. If you are a die-hard fan of sports, this place is surely for you.
Otgol Village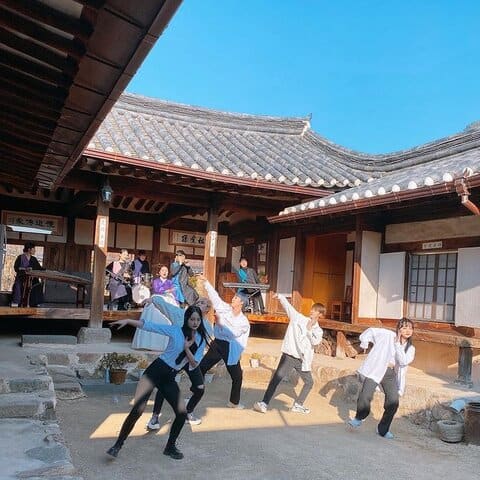 Another traditional village outside Daegu city is Otgol Village. You will witness the time-honored wooden Korean buildings here. For a one-day trip, this is an amazing spot to visit. Have a glimpse of Korean architecture and culture there. It is a 400 years old village. For history enthusiasts, it surely is the place.
Daegu Elybaden
Jjimjilbang is the Korean word for Spa and Elybaden is one of the many famous spas in Daegu. If you are thinking of having a rest day, or me-time, then do consider visiting one. You will not only get relaxed but will also experience what you have not experienced before. There are gender-separated changing rooms and hot bathtubs. So what are you waiting for?
Daegu Arboretum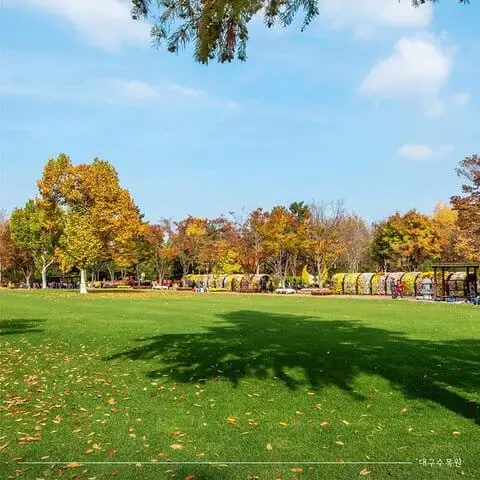 This Arboretum is at the site of an old sanitary landfill and later converted to an arboretum.  The sanitary landfill was home to thousands of species of plants. It is the 5th top-rated destination to visit in Daegu. The best time to visit the arboretum is the annual Daegu Chrysanthemum Festival in the autumn season.
Donghwasa Temple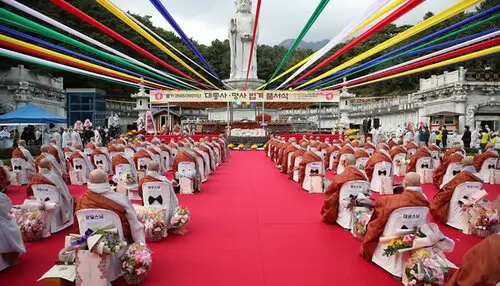 In the south of Daegu Palgong Mountain, there is Donghwasa Temple. It is named so because of Phoenix trees blooming in winter here. It is an old temple that underwent demolition and experienced renewal over time. Moreover, the Donghwasa temple has a huge Buddha statue, a stone tower along with a lion statue. The stones are in a circular pattern and match an elegant scroll portrait.
Yangnyeongsi Museum of Oriental Medicine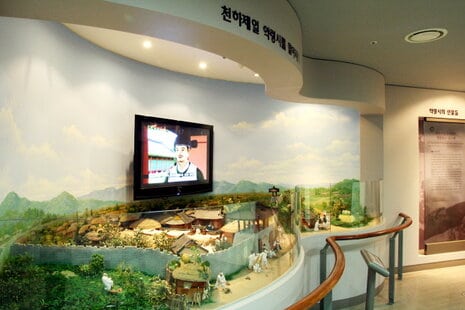 If you are a museum person then this museum is the best treatment for you. You will experience the hundreds of year-old traditions of oriental medicines and medicines markets here. There are multiple exhibitions and hands-on training programs. The museum also offers animation and graphic shows in more than three languages.
Daegu Art Factory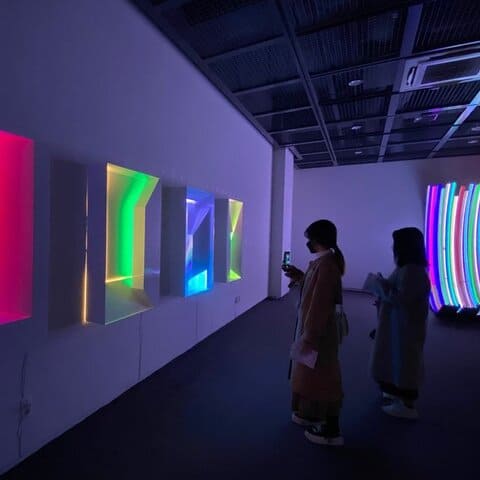 Daegu Art Factory is a true facet of art and culture display. It is the cradle of artistic creations and offers excellent creative masterpieces. You can reinforce your creativeness levels by cooperating with proficient artists. It is one of the most beautiful and unique art galleries in the heart of Daegu.
Biseulsan Mountain Country Park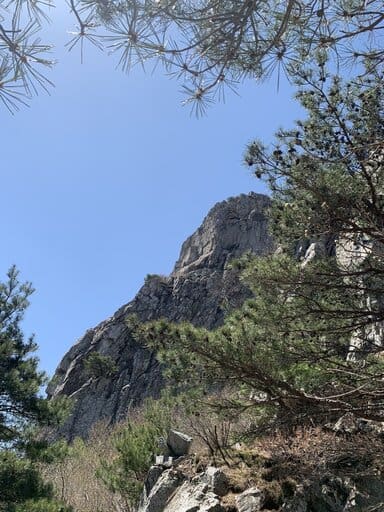 The Biseulsan park boasts rich terrain and natural forest. Its resort is an ideal place for those who are in search of relaxation and respite. You will find this place worth spending time on throughout the year in all the seasons. Its blooming flowers, beautiful dales, and ice-capped mounts are giving away bewitching views.
Gyesan Catholic Cathedral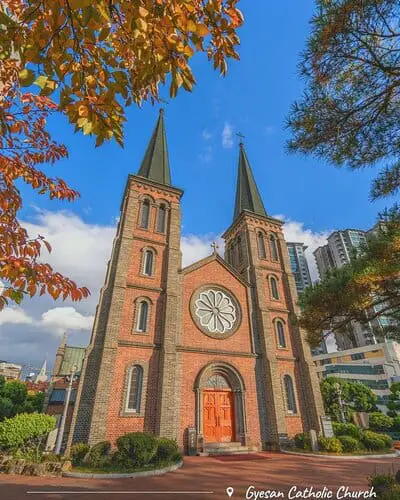 The Gyesan Catholic Cathedral is one of the oldest and most historic churches in Daegu. It is one of the three main catholic cathedral churches in Korea. Give it a visit to see what it has to offer you.
Hope you enjoyed the top things to do in Daegu. Let us know which places you went to below! 🙂
You may also like:
IVK's Top Picks – Day Tours, Tickets, and Travel Activities
Seasonal Picks!😍