Last Updated on April 8, 2023
Yeosu is a picturesque seaside city in South Korea's south-western part, and it is well-known for its breathtaking views of the sea. It is more popular because of the song 'Yeosu Night Sea,' by Korean singer-songwriter Jang Beom-june. Yeosu is unquestionably a popular tourist attraction among Koreans, yet it is a relatively unknown place among international visitors.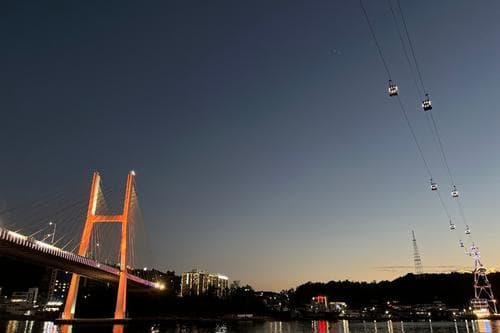 Should you go to Yeosu to take benefit of all of the exciting things to do there? Absolutely, when you want to explore this portion of South Korea's southern coast, don't wait as long as you did to take a vacation. Tourists traveling to Yeosu often include a stop at the breathtakingly picturesque Suncheon Bay Wetland Reserve, making the journey a fantastic weekend getaway in the south. There is a large extent to see and do in Yeosu if you have the luxury of extra time.
Learn more about this amazing city and read about the must-see sites, restaurants, and hotels in Yeosu.  
The Ultimate Yeosu Travel Guide
How do you get to Yeosu from Seoul?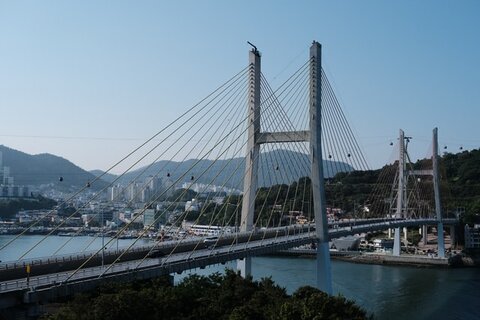 Traveling by train
KTX is the fastest way to get Yeosu from Seoul. The ITX-Saemaeul Train connects Yongsan Station with Yeocheon Terminal in Yeosu in a little under three hours. You should expect to pay between 20,000KRW and 60,000KRW for the train ride, depending on the kind of ticket you select.
By bus
The cost of taking a bus from Seoul's Central City Bus Terminal is between W20,000 and W34,000 depending on the route you choose. The journey takes around 4-5 hours.
By plane
Don't dismiss the possibility of flying! From Gimpo International Airport to Yeosu International Airport, it takes just 55 minutes to get there. Flights with Air Jin and Jeju Air are normally roughly 50,000 KRW per person. Check Skyscanner for the most up-to-date pricing information.
Car rental
Want To Compare Prices? Check It Out!
Car rental process is same as in other countries
Here are the steps:
Visit a rental office at the airport or a retail store for more information.
Verify the information on the customer with your passport.
Select a vehicle model and an insurance policy.
Contracts should be signed.
Payment can be made with a credit card.
For more information on How to rent a car check out this post.
Things to do in Yeosu
Yeosu Maritime Cable Car
The cable car, which is a must-see, operates between Jasan Park as well as Dolsan Park and takes around 20 minutes. Passengers have the option of choosing between the regular cabin and the crystal cabin. Even though the crystal cabins have quite a see-through floor, the ordinary cabin is quite enough. The ride takes 13 minutes one way and 26 minutes round trip, but you'll always get off at the opposite end of the line. Get out of your car and take a stroll around the neighborhood. We had a fantastic time on the trip and would highly suggest it as a big tourist attraction.
Yeosu Cable Car + Aqua Planet Combo Ticket
After purchasing a ticket with a discount online, you can get it from the ticketing machine at the cable car boarding point.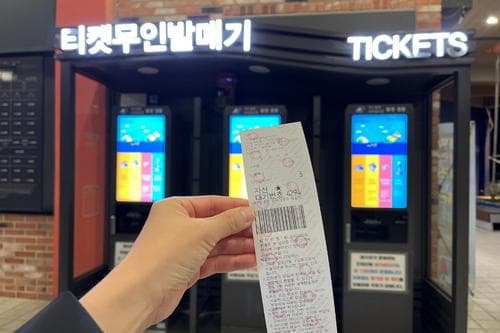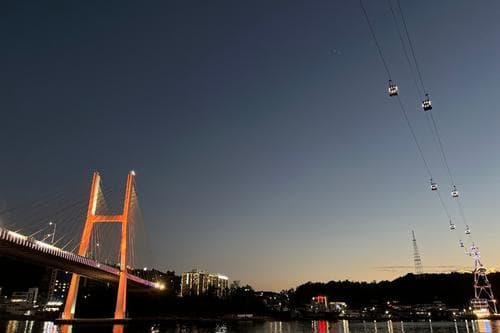 It is recommended to take the Yeosu cable car around sunset. If you board the train at the beginning of the sunset, you will be able to enjoy both the colorful sunset and the beautiful night view! It was awesome!
Ocean Railbike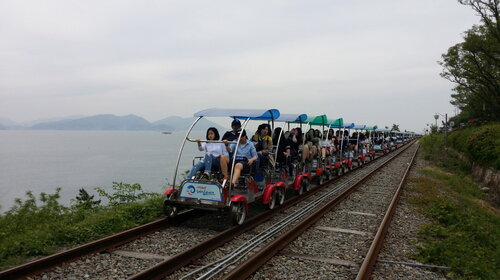 This ocean railbike travels along the shoreline for 3.5 kilometers on a single track. Pass through open spaces and tunnels on the way to your destination. Railbikes are available all around the nation, and they are a great way to get your heart rate up a little while also taking in some breathtaking sights.
Aqua Planet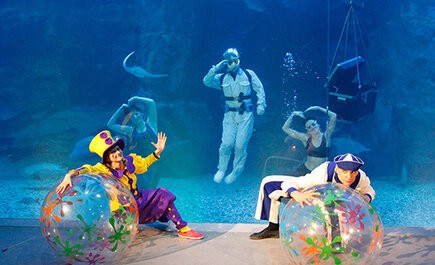 The beautiful Aqua Planet Aquarium is a must-see if you are visiting the Sky Tower and are looking for something further to perform in the area while you are there. Aqua Planet performs an excellent job using their aquariums. There may be a few Aqua Planet aquariums to be found in Korea, but the Aqua Planet Yeosu is the best. It's a fantastic site for marine creature enthusiasts, rainy days, and families with young children.
Aqua Planet Yeosu Admission Ticket

Yeosu Aqua Planet + Museum of Color Ticket
Odongdo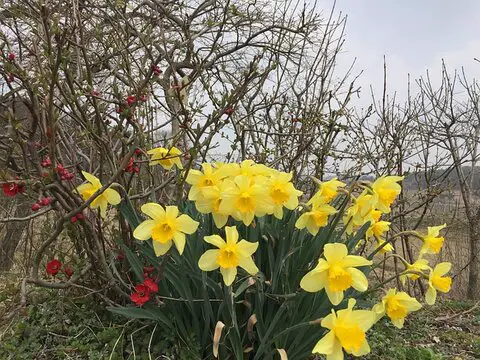 This island of Odongdo, which is well-known for its camellias, is one of the first places visitors should see while arriving in Yeosu. With just a 10-minute travel from the city center, there's simply no reason for skipping out on this opportunity. To the island, stroll along the shoreline or ride the camellia train that runs from the island's main gate. Odongdo has a thick forest of evergreen trees, including camellia trees and bamboo. Camellias begin flowering in October and are fully bloomed by April. It is their beauty that has made Odongdo so well-known and unique for so many generations. You can also reach the lighthouse observation platform by climbing the stairs. You can see a panoramic view of the island.
Dolsan Park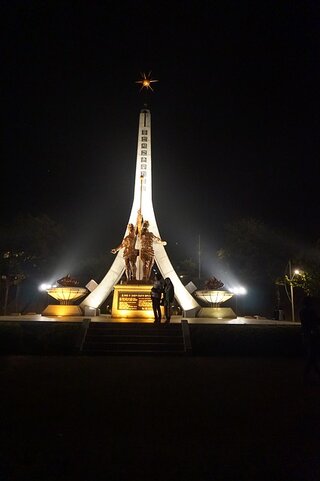 The best choice if you want to get a bird's eye view of Yeosu in all its grandeur at a single glimpse. The park, which is located at the entrance to Dolsan Island, off the coast of Yeosu, is a must-see site for visitors. During the night, when Dolsan Bridge and Yeosu Port are completely illuminated, the nicest views of the city can be seen. There is also a maritime cable car that connects Dolsan Park with Jasan Park, which takes you over the sea. After approximately 15 minutes, you may sit back and take in the panoramic views of the surrounding sea, including Yeosu Island, Janggundo Island, Geobukseon Bridge, as well as Hamel Lighthouse. The crossing takes around 15 minutes.
Hyangiram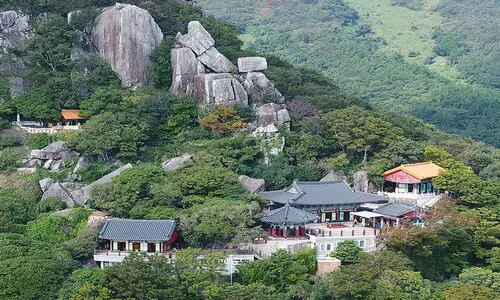 Hyangiram is a temple located on a rocky cliff on Mt. Geumo, near the southern extremity of Dolsan Island. It is dedicated to the goddess Hyang. The temple's name translates as "facing (hyang) the sun (il)," and as the name implies, it is an excellent location for observing the dawn. Initiated by the renowned Silla-era Buddhist Wonhyo, it is amongst the four key locations in Korea for bodhisattva prayers and is amongst the most important.
To get to the temple, you must travel through a series of tight cracks in the granite face. There are a total of seven such spaces. The front of the sanctuary is a popular location for seeing the dawn, and it may become rather busy on New Year's Day morning. Mt. Geumo, which lies behind Hyangiram and offers a breathtaking scene of the southern sea, is worth seeing.
Sky Tower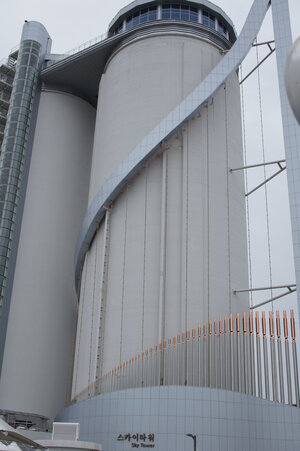 You have heard very much about the Expo in 2012 because you had some huge ideas for the area that was being created just for the occasion. An excursion to the Sky Tower is a must-do while in the neighborhood. Visit areas that have been revitalized from something old and dilapidated, and this is one of such locations for you. Don't be concerned; it is really safe. The observatory at the Yeosu Expo Park, which includes a café at the top, was constructed utilizing a factory that was established in the 1980s. It was opened in 2012 as part of the expo. It's an excellent vantage point from which to see the ocean and the fair area.
Geomundo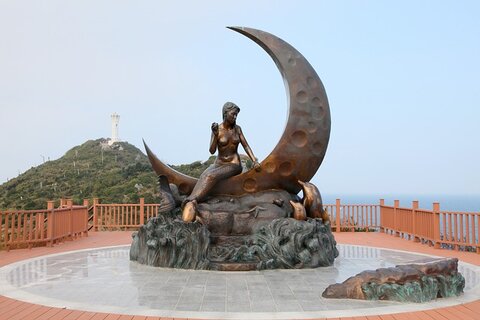 It is a two-hour boat voyage from Yeosu (114 kilometers to the southwest). Geomundo is the southern island in the area and is accessible only by water. It is centrally located between the cities of Yeosu and Jeju-do. Throughout the archipelago, lush camellia woods can be found. From Geomundo, you can take in the magnificent blue water and islands dotting the landscape. In addition to being a landmark of the island, Geomundo Lighthouse has a lengthy history and is well-known for its amazing views. There are remnants from the British Army's occupation of Geomundo during the late Joseon dynasty, which are on display. In addition, you may go to Baek-do, an island that has some of the most spectacular vistas in the southern sea. Swimming, fishing, and hiking are all trendy activities in this area.
Baekyado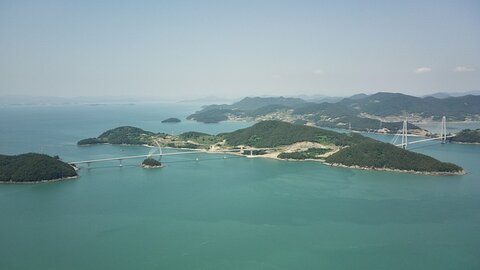 Baekyado is a tiny island located in the Hwajeong-myeon district of Yeosu. Since the building of the Baekya Bridge, which made the island readily accessible, it has been a popular tourist site in the vicinity of Yeosu. Mount Baekho's peak offers a panoramic view of Dadohaehaesang Natural Park, which is well worth the climb. It is also well-known for its dawn and sunset viewing opportunities. For those looking for a peaceful stroll, the island features a number of well-developed natural pathways.
What to Eat in Yeosu
Yeosu is a seafood hotspot, with a plethora of local specialties to choose from. As a complement to the freshly caught items from pristine seas of the South Sea, leaf mint kimchi with Korean lettuce, as well as the distinct flavors of the Namdo area, result in amazing meals that are sure to wow.
Jongpo Park Nangman Pocha
Yeosu's top attractions are the red lights of Nangman Pochas. They glow over Jongpo Park near the sea every night and are a unique feature of the city. Nangman Pocha has seventeen locations, numbered from one to seventeen, that offer fresh seafood and regional cuisine.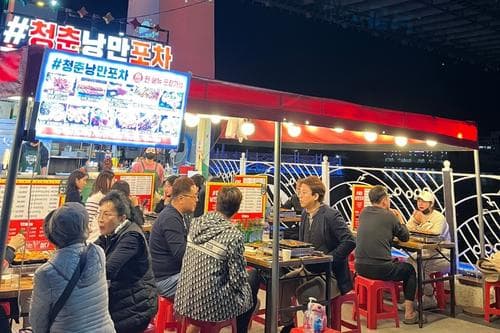 Pocha, 포차 is an abbreviation for Pojangmacha, 포장마차, which used to be common on the streets of Korea, but it is difficult to find now. It is definitely great to enjoy local Korean food while remembering the romance of those days❤️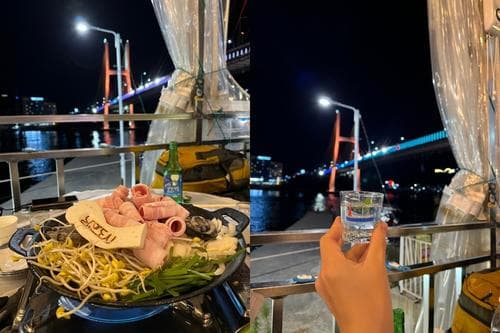 Here in Yeosu Romantic Pocha Street, there are many good places where you can enjoy a meal while enjoying the night view. If you are lucky, you can get a seaside seat!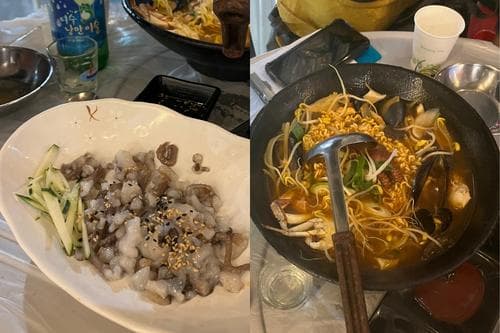 Yeosu Marine Market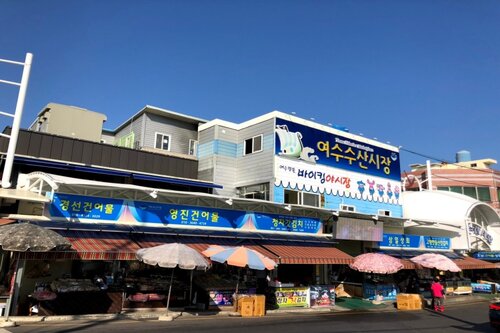 If you're seeking the greatest seafood in Yeosu's fish markets, start with Yeosu Seafood Market, which is located just across the street. The Yeosu Seafood Market offers a wide variety of fresh seafood to choose from. After paying the table charge on the second level, you may eat your raw fish in the restaurant on the first floor, which is located on the first floor.
Dolsan Grilled Oyster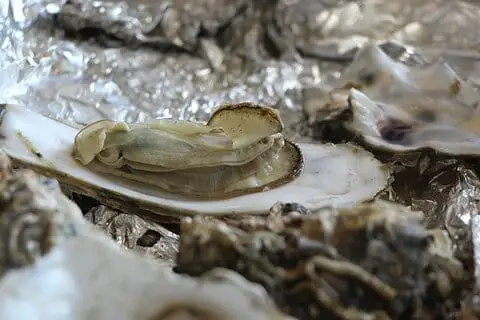 If you're visiting Yeosu during the winter, don't forget to try the oysters while there. Restaurants offering grilled oysters and raw oysters may be found on Dolsando Island from November to April. They are easy to locate. Because this island is home to several oyster farms, it is an excellent location for sampling fresh oyster meals. Oysters from this region are plump, chewy, and rich in flavor as well as taste.
Deokyang-ri Gopchang Alley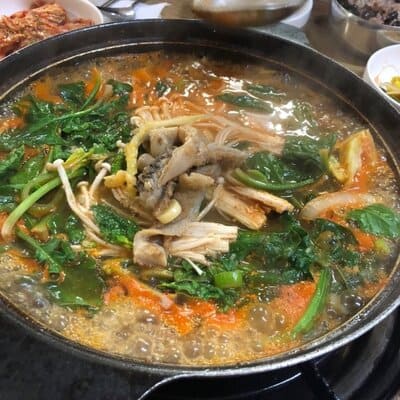 Gopchang Alley in Deokyang-ri, Sora-myeon, Yeosu-si is the best place to taste authentic soul food. The soup has water parsley, leeks, mushrooms, and starch noodles. Tastes refreshing and spicy, and there is no odor of meat. Don't even ignore the opportunity to sample each restaurant's distinctive dipping sauce as well as the rice cooked in the broth.
Jwasuyeong Food Street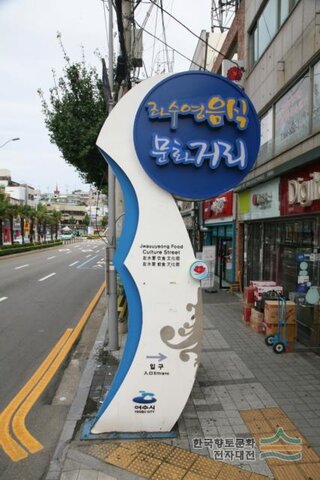 In this area, you can discover a range of local Yeosu specialty restaurants that have been in operation for more than 20 years. As a former royal dish fed to the monarchs, the raw tongue fish is a must-try for every seafood enthusiast. A marinade of raw rice wine vinegar is used to season the fish, which is then combined with red pepper paste and other vegetables. Gourmets like its soft and tart flavor, which is a combination of sweetness and acidity.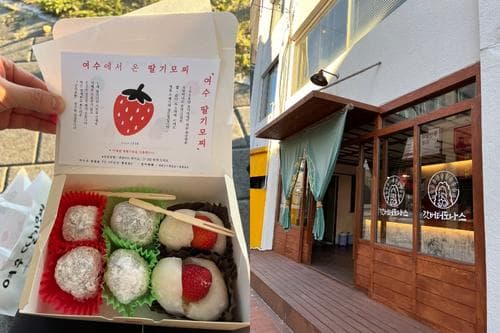 In addition to restaurants specializing in seafood, there are many desserts that can only be tasted in Yeosu. Yeosu Strawberry Mochi, Gat Butter Donnas, Twisted breadcrumbs, Choco Pie, etc. So, many people from big cities like Seoul or Busan visit there to these specialties in Yeosu. It would be nice to try them while you get there!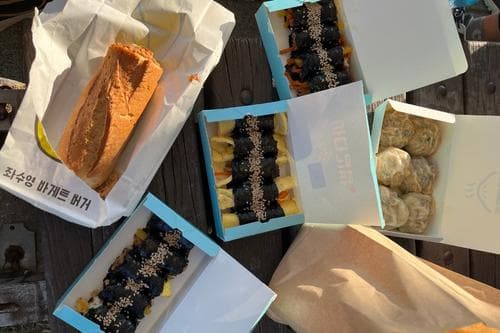 Yeosu is well-known for its freshly made pickled mustard leaves, So we tried multiple fusion foods with mustard greens such as banh mi, dumplings, and kimbap, and all of them were successful!
Where to Stay in Yeosu
There are many options when staying in Yeosu. If you are on a tight budget you can stay at a guesthouse, and if you are traveling with many friends staying at a pension will be the best option. Here are some of the most popular options you can consider.
Matthieu Yeosu
On your way down to Yeosu, you can sleep at this hotel for the night. Matthieu Yeosu has a restaurant, a bar, a cafe, and a business center. The accommodations are lovely, and the location is great. It is close to the Jinnamgwan Hall, Yeosu romantic carriage street, and Yeosu Cable Car. Excellent stay, and great service
24 Guesthouse Yeosu
This guesthouse is the best place to go with friends as it has great accommodations and services. They provide free breakfast and is close to main attractions like Aqua Planet, Yi Sun Shin Square, and Jongpo Marine Park.
Yeosu Ggotnal Pension
The best part of this pension is the ocean room views. You can open the window and smell the ocean air. Stay a night or two and be close to the top attractions like the Yeosu Art Land Sculpture Park, Maritime & Fisheries Science Museum, Dolsan Park, Yeosu Cable Car, and Dolsan Bridge.
Hotel JCS Yeosu
The Hotel JCS is a five-star hotel with either a stunning swimming pool that will open in 2020 and will be the first of its kind in the city. There is a pool for adults and a pool for children, and the rooms are gorgeous and big, making them ideal for families. Even though this facility had just recently opened while we were there, I would consider checking it out on our future trip down.
We hope you liked the ultimate guide to Yeosu here. Let us know the places that you visite!
You may also like:
IVK's Top Picks – Day Tours, Tickets, and Travel Activities
Seasonal Picks!😍