Last Updated on September 21, 2022
Are you planning a trip to Busan? Whether it be a trip for two days or five, you irrevocably need to know where to stay in Busan. In this list, we guide you through Busan's neighborhoods and accommodations that span all over these neighborhoods. If you care to know more about Busan before visiting, check out things to do in Busan at night.
Best Accommodations in Busan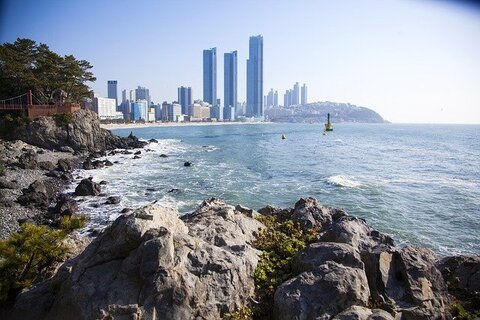 Average Budget In Busan
You might be wondering how much it cost for a trip to Busan. In this section, we will tell you.
Typically, someone traveling in Busan would spend around ₩60,437 ($60) per day plus a daily fee for accommodations, which could range from cheap to very expensive. You should expect to spend around ₩20,000 on meals and around ₩6,000 on public transportation every day.
Which Neighborhood Should I Stay In Busan?
Like any other city, Busan has a handful of neighborhoods, each with its perks and quirks. According to what you want out of your trip, one or two will certainly stand out to you more than the rest. So pick carefully! for the best possible Busan experience!
Haeundae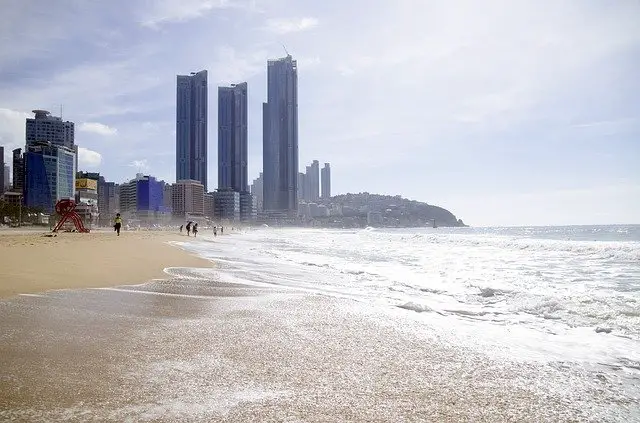 The most famous of the Busan neighborhoods, Haeundae is perfect for visits who are looking for lively after-dark fun. Home to the best clubs, bars, and pubs, Haeundae is known for its rocking nightlife. Haeundae is also home to a myriad of tourist attractions all clustered around Haeundae beach.
Gwanggali
Gwanggali is a beautiful seaside neighborhood that isn't too far from the city center. In fact, it doesn't take long on the subway to reach the city. In Gwanggali, you will encounter a relaxed atmosphere while being overwhelmed with the number of places to visit and things to do. It's maybe the best neighborhood to stay at on a budget, as a lot of the accommodations are affordable. For one night, Gwanggali definitely fits the bill!
Nampo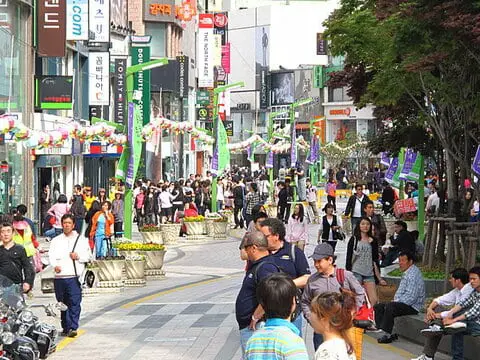 Home to most of the tourist attractions in Busan.
Nampo is our number one pick for the best neighborhood in Busan to stay in if you're visiting for the first time. This busy and bustling neighborhood is located in central Busan.
Seomyeon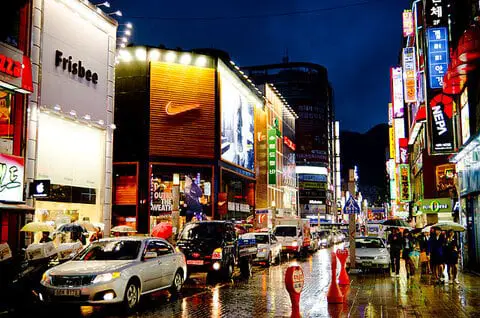 Seomyeon is the neighborhood to stay in if you want the most local-like experiences. Here, you'll have the chance to eat Busan's delicious street food and hang out at the hottest spots that locals visit regularly.
Sasang
If you're traveling with your family, Sasang is a good option! Located on the western side of Busan, Sasang is often overlooked for being quieter than the other neighborhoods. Regardless, Sasang is the best place to stay if you love being one with nature, as it's here that you will be among many of Busan's outdoor activities and natural attractions.
Sasang is one of the most overlooked neighborhoods in Busan with most visitors opting for accommodation closer to the city center. But, for families, that can be a huge mistake!
Top Hotels in Busan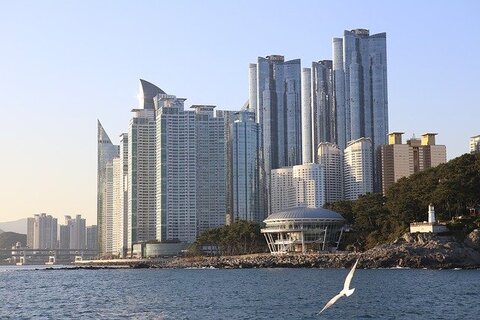 One of the best hotels is the Paradise Hotel, one of the many entities that the company Paradise Group is responsible for. Situated right by the famous Haeundae Beach, Paradise Hotel is the perfect accommodation for you and your family. Not only do you have easy access to the beach, but you are also in the center of Haeundae's social hub. Not to mention its vibrant nightlife.
The mission of Paradise Hotel and Paradise Group, as it states on their website, is to provide a luxurious and encouraging place where one can rest with the utmost comfort while learning and enjoying all that Korean culture has to offer.
Address: 296 Haeundaehaebyeon-ro, Jung-dong, Haeundae-gu, Busan
Phone: 051-742-2121
If you have been to Korea, you would know that one of the biggest, if not the biggest, companies is Lotte. Everywhere you go, you'll see shopping malls, department stores, grocery stores, and a movie theatre with the brand on the front. They even have an amusement park in Seoul, Lotte World, and not to mention the numerous hotels all over Korea. In particular, the Lotte Hotel in Busan is in an ideal place, as it is not too far from Haeundae Beach. Only a 5-minute walk from Seomyeon Station, Lotte Hotel has it all: pools, conference rooms, a bar, a golf course, and a wedding hall. At Lotte Hotel, they blend comfort and luxury.
Address: 772 Gaya-daero, Bujeon-dong, Busanjin-gu, Busan
Phone: 051-810-1000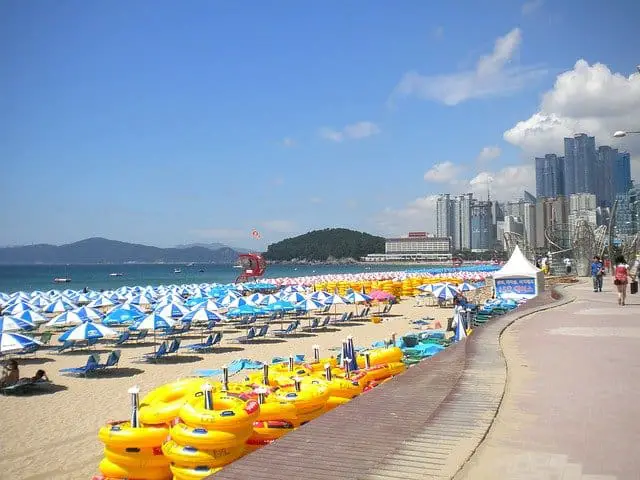 When we say Westin Joseon is on Haeundae Beach, we mean it! Past the long trail of sand and wooded boardwalk stands the Westin Joseon hotel. With the very close distance between the beach and the hotel, the Westin Joseon hotel is perfect for families and those who wish to have as many beach days as possible. Complete with carpeted floors, wifi, and room service, Westin Joseon perfectly brings a distinguished air right to your room.
Address: 67 Dongbaek-ro, Haeundae-gu, Busan
Phone: 051-749-7000
Another grand hotel in Haeundae, Park Hyatt Busan offers several packages and options, depending on what you want out of your stay, ranging from a romantic bed and breakfast at the park or a whole honeymoon packaged deal. At this hotel, you will truly learn what Korean hospitality is all about.
Address: 51 Marine city 1-ro, U-dong, Haeundae-gu, Busan
Phone: 051-990-1234
Top Airbnb Listings In Busan
KOKO HOUSE (Natural Premium Studio near Gwangali Beach)
These living quarters are located in Gwangali, close to Gwangali Beach and the Gwangan Diamond Bridge. In fact, you can enjoy a nighttime view of both beach and bridge from the apartment's mini-bar, which lines up against the living room window. From this apartment, you have easy access to all of Gwangali's best restaurants and pubs.
When you're in this quaint apartment, you'll feel as though you're living in a fantasy story, as the decorations and furniture all work together in a rustic, almost bohemian feel. Located near Taejondae Lighthouse and Taejondae Resort, the apartment is at the center of a major tourist spot. Because of this, you'll be in an easy-to-walk distance from major eateries and tourist attractions, as well as places to shop and party through the night.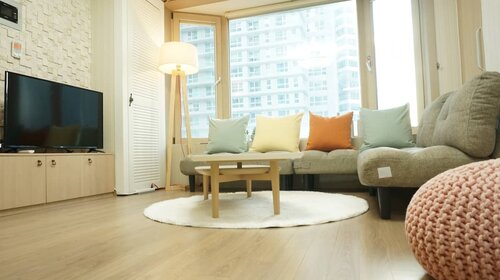 If you are traveling with your family, this cozy apartment might be the perfect fit for you! This two-bedroom, one-common-room apartment has all the amenities provided at an affordable price and is just one minute away from Haeundae Beach. While staying here, you also have easy access to the myriad of fancy and hip restaurants and bars that are all over Haeundae. The host is friendly and she loves meeting new people and she's eager to help you out in any way during your stay.
This loft apartment near Haeundae Beach is complete with one bedroom, 3 beds, kitchen, a TV, free wifi, and perhaps the most important during the summer, air conditioning. Within minutes, you can reach the beachfront as well as the surrounding social locations.
This ocean-view apartment in Haeundae is smaller than the other listenings. Its proximity to Haeundae Beach and special access to the Ocean View Spa makes this AirBnB accommodation the perfect dwelling for a couple, small family, or a small group of friends. Not only is it close to Haeundae's major tourist attractions, eateries, and nightlife, but it also has all the amenities you would find at a hostel or hotel.
When you are visiting Busan, there are many avenues available for you in terms of accommodations. With several neighborhoods, each unique and with different activities and options, and each suited towards a slightly different kind of traveler. This list, of course, is not a comprehensible list of all of the accommodations possible because there are just too many! However, we have gathered what we consider the cream of the crop.
You may also like:
IVK's Top Picks – Day Tours, Tickets, and Travel Activities
Seasonal Picks!😍