Busan, South Korea's second-biggest city, is a must-visit destination! Like every other city in the land of morning calm, Busan blends nature and man-made structures to uphold and nurture an ongoing love and appreciation for Korean history, culture, and leisure. Just as there are many things to do during the day, there are many other things to do at night, and in this article, we outline the best things to do at night in Busan. If you would like to learn about what things to do during the day in Busan, we have an article on the very topic!
Top Things to do in Busan at Night
Busan Tower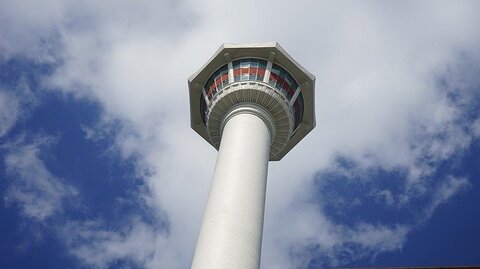 Of course, the best thing to do at night in Busan is no other than the most representative of Busan, Busan Tower. Built in 1973, it stands at the center of Yongdusan Park. At an impressive 69 meters above sea level, this tower has an observatory deck that overlooks the surrounding area of Jung-gu province. You can also see a bird's eye view of nearby provinces Nam, Suyeong, and Haeundae, as well as important sites including a statue of the Great Admiral Yi Sun-sin, the Bell of the Citizens, a flower clock, and a bust of the Korean Independence activist, Baeksan An Hee-je.
There is a special offer of 10% off for a group consisting of 20 people or more. However, due to the current situation, caution is highly recommended.
Open Hours
Sat–Sun 11:00–20:00
Last Ticket Sales: 19:30
Fees
Adults (13+): 8,000 won
Children (3–12): 6,000 won
Address: 37-30 Yongdusan-gil, Gwangbokdong 2(i)-ga, Jung-gu, Busan
Phone: +82 051-661-9393 / +82 051-661-9394
Nurimaru Marine City & Nurimaru APEC House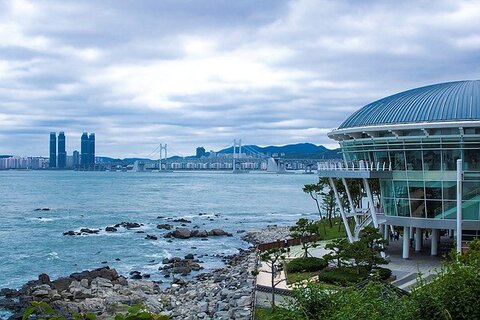 At the edge of Haeundae, there is an important structure called Nurimaru APEC House, which the Korean government built to house the 2005 APEC meeting. Leaders of 21 APEC member nations congregated here and held not only the APEC meeting but also enjoyed lunch and the surrounding scenery. And when you come here, you can enjoy the beauty of the area as well. The building itself is an architectural masterpiece, as it blends and enhances both a high-tech conference system and the beauty of traditional Korean architecture. Right from the exterior of the house, you will be able to observe the structure of a traditional Korean pavilion style.
Open Hours
9:00–18:00
Last admission: 17:00
Nurimaru APEC House closes its doors to the public on the first Monday of the month
Address: 116 Dongbaek-ro, Haeundae-gu, Busan, South Korea
Phone: +82 051-743-1974~5
Gwangbok Observatory
In South Korea, there are over 35 Lotte Department Stores all over the country. Busan is no exception. In the Jung-gu location, there is a Lotte Department Store as well as a Lotte Mart and a Lotte Cinema. In the middle of it, is the Gwangbok Observatory, which connects the main building to the building that houses Lotte Mart.
While inside the observatory, you have the chance to traverse through mazes, admire different sculptures, and take mesmerizing photos at the photo booth! In case you are visiting the observatory with a romantic partner, there's also a "wall of love," where you can hang a padlock, making a lifelong promise and symbolizing your love for one another.
Address: 2 Jungang-daero, Jung-gu, Busan, South Korea
Phone: +82 051-678-2500
Amisan Mountain Observatory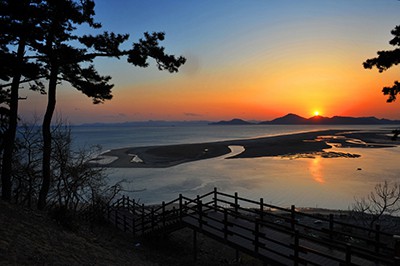 Near the Nakdong River estuary stands Amisan Mountain Observatory. Not only is the observatory at the end of a mountain hiking trail, but it is also at an optimal location to observe migrant birds, and learn about the river's activity. If you visit Amisan Mountain Observatory at night, you can stand in awe before the sunset. It will certainly take your breath away.
Address: 77 Dadaenakjo 2-gil, Saha-gu, Busan, South Korea
Open Hours:
9:00–18:00
Closed on Mondays and holidays.
Songdo Cable Car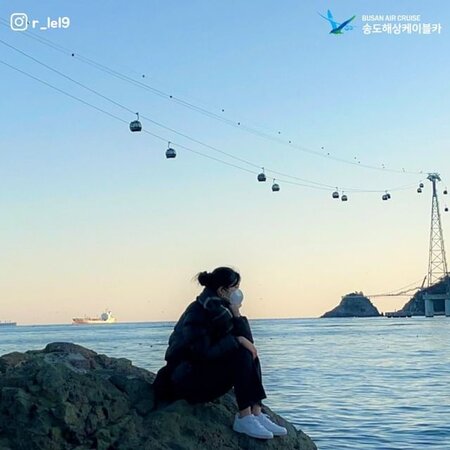 If you're afraid of heights, maybe this tourist spot isn't for you. With Songdo Cable Car, you have the chance to "fly" overhead Songdo Beach, Songlim Park, and Amnam Park—in fact, you are starting from Songlim Park to the beach's east and ending up at Amnam Park to the beach's west. Along the way, you can see Songdo Coastal Dulle Road and Namhang Bridge.
Open Hours:
Weekdays 9:00–20:00
Weekends 9:00–21:00
Last Ticket Sales 20:30
Fees
Round-trip
Adult: ₩15,000
Child: ₩11,000
One-Way
Adult: ₩12,000
Child: ₩9.000
Address: 171 Songdohaebyeon-ro, Amnam-dong, Seo-gu, Busan
Phone: +82 051-247-9900
Illumia Park
One of the best things to do at night in Busan is to observe the wondrous nightscape! As part of Busan's Let's Run Park, a horse-themed recreational haven, Ilumia Park offers locals and tourists a spectacular view in the evenings.
The name Illumia comes from the English words 'illumination' and 'illusion.' No wonder the park is dazzling to explore. Shrubs and different pieces of art light up, marking the darkness with their glow. Visiting Illumia Park takes a while, so make sure to set aside your whole evening to fully enjoy the space.
Open Hours:
Daily from sunset to 24:00
Fees:
Mon–Thurs ₩11,000
Fri–Sun ₩12,000
Yongdusan Park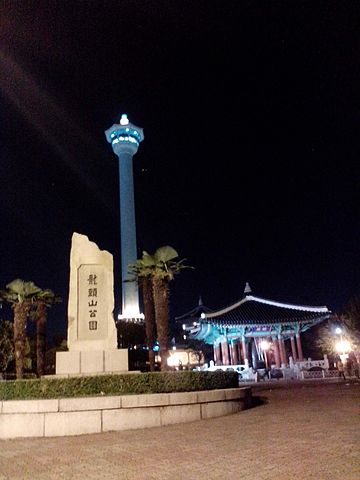 As Yongdusan Park houses several monuments, it is considered one of the central parks in Jung-gu, Busan. Strolling through Yongdusan Park is, for this reason, one of the best things to do at night in Busan. Yongdusan Park, when looked at from afar or from above, resembles the shape of a dragon's head. Hence, the name of the park. In Korean, Yongdu means 'dragon's head' and san means 'mountain.' Indeed, there's a mountain nearby that you can hike or drive up.
Within the park itself—an area of 69,000m²—there are about 70 different species of trees growing. There are also a couple of sites that are worth visiting: the Museum of World Folk Instruments and the Exhibition Hall of World Model Boats. Here, you have the opportunity to learn about the Korean music and seafaring cultures of the past.  
Hwangnyeongsan (Hwangnyeong Mountain)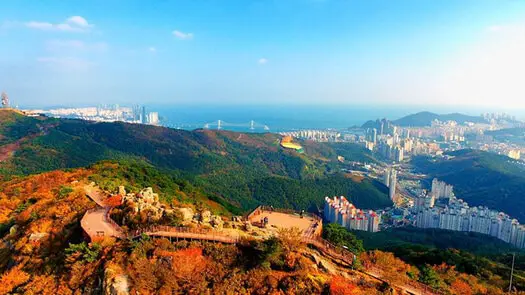 From the peak of any of the three observatories that stand on Hwangnyeongsan, you can look out over the city of Busan and stare in awe as the sun lowers beyond the horizon. There are also a few hiking trails and a path on which you can drive your car if you choose to reach the summit that way.
Hwangnyeongsan Smoke Signal Tower (Bongsudae)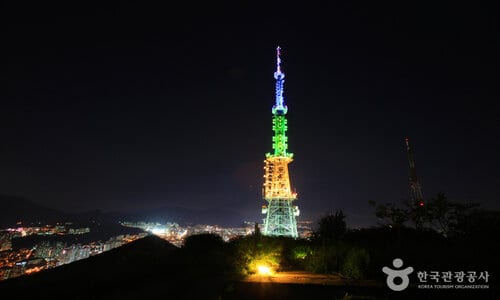 As stated before, Hwangnyeongsan Mountain has a total of three observatory towers. One of these is the Bongsudae (or the Fire Station Tower). This particular observatory played a crucial role in 1422, as the Korean military used the Bongsudae to communicate with the Bongsudae on Haeundae's Ganbiosan Mountain, Gubongsan Mountain, Gyemyeongsan Mountain, and the Beomeosa Temple.
San 50-1, Jeonpo-dong, Busanjin-gu, Busan, South Korea
Gwangali Beach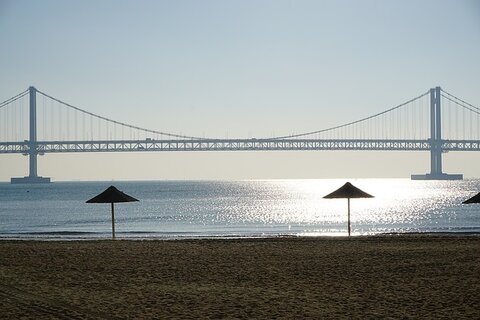 West of the famous Haeundae Beach, Gwangalli Beach enjoys its share of visitors each and every day, as it spans a length of 1.4km and a width of 25–110 meters and covers an area of 82,000 m². Two interesting facts about Gwanggali Beach are that it sits in a cove outlined by the Gwangan Diamond Bridge, and the superhero Marvel film Black Panther filmed a scene in the area. If nothing else urges your loved ones to go with you, maybe that tidbit will! It's the best thing to do at night in Busan to look over the ocean while enjoying a bit of sand and the sea.
One special event that happens at Gwanggali Beach is the Gwangali Eobang Festival, which occurs in the springtime of every year. As Korea's only traditional fishing festival, the Eobang Festival celebrates the lifestyle of the fisherman who lived during the Joseon era. Musicals and dances are among the methods of celebration during the festival.
Gwangan Diamond Bridge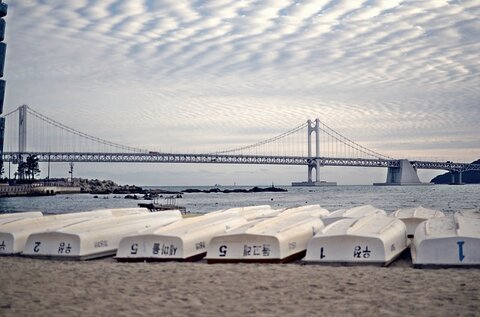 From Gwanggali Beach, look towards the horizon and you will see the Gwangan Diamond Bridge, a suspension bridge that spans 7,420m. (It has 6,500 m of road surface.)
Can you guess how much it costs to build the bridge? When construction finished in December 2002, the bill came out to be ₩789,900,000,000! The bridge opened briefly in September and October 2002 for the 2002 Asian Games, but officially, the bridge opened in January 2003.
Bay 101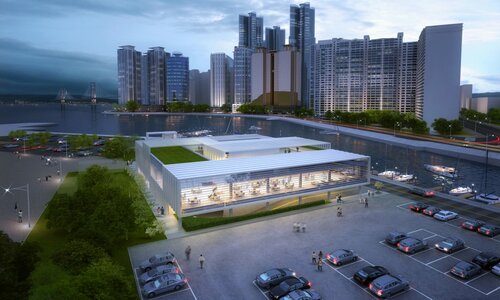 Just several minutes from Haeundae Beach is the Yacht Club and Resort, Bay 101. Although it does indeed have a yacht club, Bay 101 is so much more than that. At Bay 101, you will find a lot of cultural activities and beautiful sceneries, as well as plenty of shops and restaurants, truly one of the best things to do at night in Busan.
What was the purpose of building such a place? This quote from their website will answer: "There should be more space for culture and art, to feel the pleasure of the ocean, a place for fun for everybody." Further, they say that they're "proud of Haeundae," and who wouldn't?
Haeundae Beach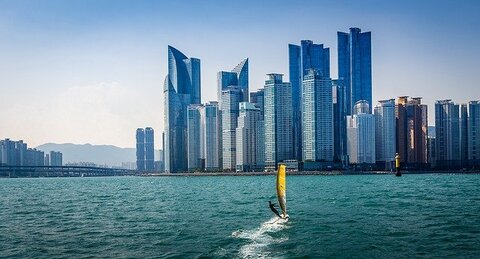 When people think of Busan, they dubiously think of Haeundae and Haeundae Beach. Spanning a length of 1.5 km and a width of 30–50m, Haeundae Beach is the focal point of many of the cultural and tourist attractions that thrust the area to global fame.
As many people come and visit every summer, the Busan authorities decided to build a yachting dock, the Busan Aquarium, the Busan Exhibition and Convention Center (BEXCO), and a few driving courses. You can also go from Haeundae to Dongbaekseom Island, which used to be its own island but has since joined the mainland by way of reclaimed land.
Busan Cinema Center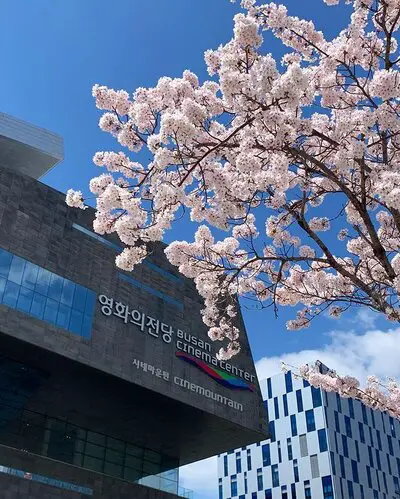 The home of the Busan International Film Festival, Busan Cinema Center sits in the middle of Centum Center, Busan, and is the central location of all things films and the filming industry in Busan. The Center is about nine years old, as it opened in 2011.
Address: Busan Cinema Centre, 120 Suyeonggangbyeon-daero, U-dong, Haeundae-gu, Busan
Night Markets in Busan
Bupyeong Kkangtong Market
If you find yourself in the Jung-gu area and hankering for an affordable meal, why not hit the Bupyeong Kkangtong Market? Here, you'll find all sorts of shops and street vendor stalls selling local and fresh produce and fruit, as well as clothes and trinkets you can buy as souvenirs. Bupyeong Kkangtong Market is open from morning until night, so there's plenty of time to shop until you drop! 
Open Hours
Address: 39 Bupyeong 1-gil, Bupyeong-dong, Jung-gu, Busan
Phone: +82 051-243-1128
Click here for the Korean website.
Jagalchi Seafood Market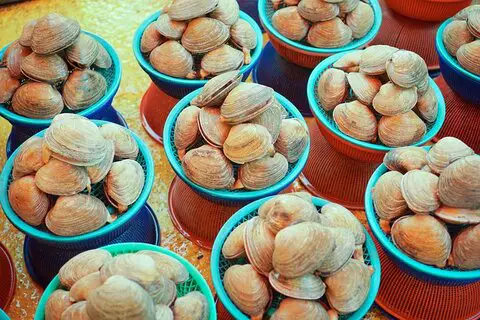 Another outdoor market in the Jung-gu area is the Jagalchi Market. It's also called the Jagalchi Market because, as the name would suggest, this particular market has numerous shops and stalls selling nothing but fresh fish and seafood. After purchasing the fish or seafood, you have the option to take it back to enjoy at your accommodation. If you'd rather not do that, you can also eat it right there; there are several tables and chairs strewn next to the shops and stalls! Don't worry, a lot of people do it!
Address:  52, Jagalchihaean-ro, Jung-gu, Busan
For more information, you can visit the Korean website here, although they don't have an English version.
Nightlife in Busan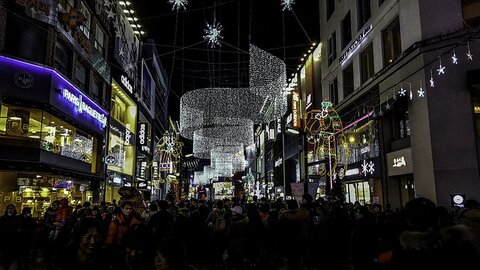 No doubt you're wondering what the nightlife in Busan is like. Well, you're in luck! As Busan is the second-biggest city in Korea after Seoul, you're bound to find something you can easily get into! Busan is home to a number of colorful and dazzling dancing and social clubs, restaurants, bars, and pubs, making for the best thing to do at night in Busan.
Jazz Club Monk
For jazz music fans, Club Monk is the perfect place to go, and indeed, it is popular and well-visited among the young adult and student population, especially students attending nearby Kyungsung University. Come listen to some relaxing jazz while enjoying a variety of liquor, cocktails, and snacks!
Open Hours
Mon–Sat 18:30–2:00
Live Music 21:00–23:00
Website: http://www.jazzclubmonk.com/
Address: 25 Yongso-ro 19beon-gil, Daeyeon 3(sam)-dong, Nam-gu, Busan (부산 광역시 남구 대연 3동 58 – 34 태양빌딩 지하 1F)
Fuzzy Navel
Another well-known club is the Fuzzy Navel, which is located right on the famous Haeundae Beach. Like Club Monk, Fuzzy Navel is popular among the younger adults and the students living in and around the region of Haeundae.
Open Hours
Mon–Thurs 16:00–5:00
Fri–Sun 14:00–5:00
Website: https://fuzzynavel.modoo.at/
Address: 43-1 Gunam-ro, Jung-dong, Haeundae-gu, Busan
Gorilla Brewing Company (Gwangan Station)
As the name suggests, Gorilla Brewing Company is a beer brewing company and taproom; their vision and mission are, as stated on their website, to bring the best of craft beer culture to their customers in Korea, as well as create new and exciting trends and fostering the craft beer culture in Busan and in Korea as a whole.
Gorilla Brewing Company, while offering in-house food and drink, also offers takeout for their customers.
Open Hours
Mon–Thurs 18:00–23:00
Fri–Sun 11:30–15:00, 17:00–24:00
Website: https://gorillabrewingcompany.com
Thursday Party (Gwangalli Beach)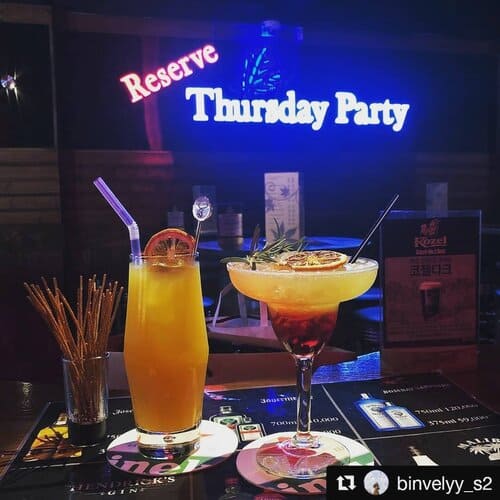 If you haven't heard of Thursday Party, where have you been? There's a Thursday Party in Seoul's Hongdae and Gangnam; you'll be pleased to hear that Thursday Party makes its mark in Busan as well! A compact place to party it up all through the night with friends, Thursday Party sells all your favorite cocktail drinks and has a fully-stocked liquor selection! Thursday Party also has darts and everyone's favorite drinking party game, Beer Pong!
Open Hours
Mon–Thurs 19:00–4:30
Fri–Sat 19:00–5:30
Sun 19:00–4:20
Address: 31 Dongcheon-ro 85beon-gil, Bujeon 2(i)-dong, Busanjin-gu, Busan
If you're feeling the beats, pop into this classy club:
Billie Jean
Much like the other upscale clubs in Busan, Billy Jean is a nightclub that is both classy and well-established, having been in the Haeundae area for years. For pictures, Billie Jean's Instagram page is a great scroll!
Open Hours
Address: 22, Dalmaji-gil, Haeundae-gu, Busan 1F Busan, South Korea
Phone: +82 010-2560-9993
Busan, after Seoul, is the second most famous and visited city in South Korea, and after perusing all the things you can do and see here, it's no wonder why! Whether you're spending a day or four dates, you're sure to find something here to spice up your trip!
You may also like:
IVK's Top Picks – Day Tours, Tickets, and Travel Activities
Seasonal Picks!😍