If you are tired of traditional types of tourism, such as beach, skiing, extreme, and sightseeing, then recently there has been a trend towards the development of gastronomic tourism. Exploring culinary courses and tours turns out to be just as interesting as visiting museum tours. You can try by yourself the charm of unfamiliar tastes and become a sincere fan of the new cuisine. Let's take a look at the best food tours and cooking classes in Seoul and Busan. They will certainly bring a lot of news even for the most favorable gourmets.
In culinary tourism, the main focus is on food. Ways of cooking, traditions, recipes, selection of ingredients – all those raisins that give a kitchen its uniqueness and uniqueness. The opportunity to bring home not just some magnets and souvenirs, but new culinary knowledge, attracts more and more tourists.
Food Tours and Cooking Classes in Seoul
Seoul City Bustaurant and Hop-On Hop-Off Tours
Seoul City Bustaurant, providing hop-on, hop-off tours between lots of interesting city attractions, now offers onboard meals for customers who enjoy seeing new areas. Burger steak or fried pork cutlet will be served as the main course for the kids. For travelers on a tight schedule, Seoul City Tour Bustaurant, provides easy access to traditional markets, historic areas, and cultural attractions. Tours of the Bustaurant are available twice a day. You will be able to book any day trip from 10 a.m. to 4 p.m.
Also, they include hour-long guided tours of the National Museum of Korea, N Seoul Tower, one historic palace (Gyeongbok Palace or Changdeok Palace), and one old neighborhood (Insa-dong or Bukchon Hanok Village) near Gwanghwamun. The Bustaurant usually runs from 7:20 p.m. to 9:30 p.m., and passengers are only allowed to disembark at N Seoul Tower and Cheonggye Stream, the final destination.
The night track primarily follows the Han River, with a series of light-clad bridges and high-rises visible from the window. The 63 Building, the National Assembly, and the Seongsu Bridge are all worth seeing.
Read more about Best Things To Do At Night In Seoul.
Additional Information:
Korean Full-Course Meal Cooking Class at Local Home with Local Market Experience in Seoul
If you want to highlight your trip with something new and unusual, try this cooking class in Seoul. This will be light and friendly tour, which will also make you gain new skills. This is a tour of the Mangwon Market, where you will be able to learn a lot of new as well as try delicious food that will make your daily food.
First of all, before you will start making and cooking food, you will get to know everything about the ingredients and menu and also you will be able to have a little Korean lesson, where you will learn related to your lesson words. Teachers will be explaining each step of the making and will be helping you throughout the process. You also may get an additional gift in form of the recipes that will be sent to you so you will practice at home as well. Be sure, that the food you will make will be remembered by you.
Read more about the 10 Best Traditional Markets in Seoul.
Additional Information:
Max 8 people
Available to book one day before
Korean Daily Special Dish Cooking Class with Traditional Market Tour in Insa-dong
If you are unsure of your culinary abilities, or if your culinary abilities are limited, or if you are new to Korean food preparation, this cooking class in Seoul is designed for people who wish to learn how to make traditional Korean cuisine effectively.
On a traditional market trip next to the culinary studio, you will be immersed in the entire culinary experience of purchasing materials. A professional chef will first demonstrate how to prepare the dishes. Then you will be able to prepare them on your own, following the chef's guidance and directions throughout the process. After the class, you will be able to eat what you have cooked.
Read more about Things To Do in Insadong Seoul.
Additional information:
Free cancellation before 72 hours
Max. class of 5 peoples
Private Traditional Korean Cooking Class and Dongdaemun Market Food Tour by Janet's Cooking Studio
This cooking class in Seoul will just make you dive into the gastronomic world of South Korea. You'll be able to taste its tender, expertly cooked meats, as well as an intense flavor that blasts you with every bite. You'll also have the option of taking a personalized cooking class or a grocery store tour – or both!
Enroll in a cooking class in Seoul to learn how to prepare traditional Korean food. Watch while an expert chef prepares your dinner, then make your own decision by following the chef's instructions from beginning to end.
Enjoy spicy and sweet dishes as well as Korean liquors like makgeolli and soju along the way. Aside from its particular flavor, you'll realize that this cuisine will be a real treasure, try it and fall in love with its seafood, vegetables, and originality. Book today and now!
Read more about Top 11 Must-eat Traditional Korean Food – Updated 2021.
Additional information:
Max. of 6 people
English and Korean speaking guides are available
Korean Traditional Dessert Rice Cake Making Class
In this cooking class in Seoul, you will be able to make gorgeous rice cakes or sweet rice puffs with sweet bean filling. Rice cakes and rice puffs are classic Korean snacks, and you'll get to add your own artistic touch by molding and coloring your snack throughout this experience! Sisters, who made this cooking class in Seoul!
You'll prepare some delicious treats while learning a new skill in these sweet cooking workshops in Seoul. Learn how to make Korean bean paste rice cakes, sweet rice flour, and red bean paste delicacy offered on special occasions, with the guidance of your friendly tutor. Wrap your desserts in traditional Korean linen to offer as a one-of-a-kind gift to friends and relatives.
Read more about Unique Things to Buy in Korea.
Additional Information:
Private class
No cancellation
Food Tours and Cooking Classes in Busan
Busan Jagalchi Market Tour and Korean Daily Special Dish Cooking Class
If you will attend this culinary lesson in Busan with the market trip, it all will add a particular touch to your day in Busan. You'll go shopping at the famous Jagalchi and Kkangtong markets for your own fresh ingredients. Following your market visit, you'll proceed to the cooking studio to learn how to prepare four different Korean delicacies.
Make the most of your time in Busan by going on a spontaneous tour of the city's oldest markets, such as Jagalchi and Bupyeong! Learn more about laid-back Busan, South Korea's counterpart of Los Angeles, California, with engaging Korean cuisine instruction after your tour to the seaside city's markets.
Follow a step-by-step recipe to learn the principles of traditional Korean cooking. Select an English, Chinese, or Korean guide to assist you on this fantastic voyage to overcome linguistic obstacles. As you buy for the freshest ingredients you'll be cooking up in class, take a walk through the aisles of Jagalchi and Bupyeong markets, both famed for wonderful seafood.
Korean cuisine will make you want more with its service, seafood, and uniqueness. You will get the opportunity to sample your dishes before leaving the workshop for a tour of Gamcheondong Culture Village. Try now or regret it later!
Read more about The Best 3 Day Busan Itinerary.
Additional Information:
Private class
Free cancellation before 72 hours
Nampo & Bupyeong Market Night Tour with Korean Food Tasting Experience
An in-depth tour of Busan's biggest marketplaces, Nampo and Bupyeong, will allow you to see the city through the eyes of a local. Make an extra spicy Korean street food crawl in the laid-back seaside city to satisfy your kimchi cravings. Observe Busan as it becomes more crowded at night, attracting thousands of tourists and local people looking for a decent supper after a long day's labor in the cheap vendor stalls on every corner.
Take a leisurely stroll through BIFF (Busan International Film Festival) Square, a complex area commemorating South Korea's success in the film industry that includes movie theaters, shops, and other cultural leisure activities for people of all ages.
Visit the JunoTrip Busan Cooking Class Studio to sample Busan's take on popular Korean dishes, including seafood, beef, and pig entrées, as well as the brilliant and warm hues of the veggies for good health and eye appeal. As you securely return to the meeting spot, end the night with a full stomach.
You'll try spicy rice cakes, crunchy fried squid, and fried chicken, among other street foods. Gukje Tongdak, a Busan-style fried chicken, is one of the specialties. Such dish will be very juicy, despite being crunchy on the outside. Your guide will take you to a Korean grilled pork belly restaurant for dinner.
You will be served Korean dessert after dinner. Cheolpan ice cream is the name for it. On a hot metal plate, a creamy, milk-heavy foundation is poured. After adding the toppings, the mixture is minced and spread into a paste with two spatulas. Stir-fried ice cream, often known as folded ice cream, is what this is. Koreans enjoy frozen desserts that are sweetened, such as Korean shaved ice.
Read more about The Best Things To Do At Night In Busan.
Additional information:
Max 6 people
No cancellation
Small-Group Korean Cooking Class in Seoul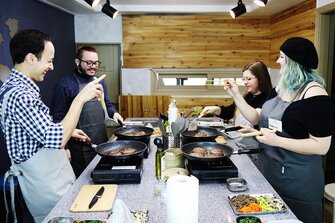 Korean food is famed all over the world for its fresh flavors, delectable aromas, and delicate spices, yet many of its secrets remain unknown. You can overcome the language barrier with this cooking class in Seoul because it will be conducted in English and you will be immersed in the world of traditional Korean food. A culinary instruction will be held at the agreed time for a group of up to 8 individuals. The required appliances, utensils, and supplies will be provided to participants. A professional chef will instruct the class. He will evaluate the prepared dishes and make recommendations at the end of the master class. Guests can sample the delights or take them home at the end of the course.
Read about Seoul Itinerary and Attractions.
Additional Information:
 The duration of the lesson will be 3 hours.
Class will be held in English
Max. class of 8 people
Link: Small-Group Korean Cooking Class in Seoul
Korean Night Dining Tour
The Korean Night Dining Tour focuses on Korean bar food and drinking culture. It's the ideal tour for individuals who are jet-lagged when they arrive in Seoul. The tour begins at 6 p.m. at Kwangjang Market, where participants will learn about the various types of street food available at market vendors. The tour concludes with a sampling of rice wine (makgeolli) and pajeon. This tour depicts the true face of Korea. With an experienced guide who will show you popular eating areas, you may learn about traditional Korean culinary institutions such as Korean BBQ and the national beverage soju.
At four venues in Seoul, sample a different dish paired with a different local beverage while mingling with other foodies. Drink beer or rice wine while eating Korean BBQ and rice cakes. Finish with a leisurely stroll through a picturesque historic village lined with local stores and hip cafes. Taste handcrafted Korean gelato prepared with rare ingredients only found in Korea. It'll be a night of learning about Korea through its cuisine, as well as cultural insights, humorous Korean words, and drinking games. Bring a hungry stomach and a taste for local culture with you.
Read about Best Places to Enjoy Seoul Night Views.
Additional Information:
Yeot-gangjeong Making Cooking Class in Gangnam
A once-in-a-lifetime opportunity to meet the Korean food expert designated by the government! You can join a new cooking class in Seoul where you will learn how to prepare traditional Korean dishes from real professional chefs.
There is a really special area in Gangnam, Seoul's heart. You'll be astonished to find a tranquil and cozy traditional cafe in the center of Gangnam when you exit Gangnam Station (Seoul Metro line 2) and pass through the crowds on the main street. You'll be even more amazed when you go in and witness the beautiful mix of modern and traditional Korean elements in the interior design. If you wish, traditional Korean tea, such as jujube or plum tea, can be enjoyed before the cooking class will begin. After a cup of tea, you will be able to travel upstairs to meet the Korean chefs and get their best cooking tips!
Read about the Best Things To Do in Gangnam.
Additional Information:
Group tour
Free cancellation 72 hours before
You may also like: