Last Updated on April 3, 2022
So many people are obsessed with Seoul, South Korea. This city is modern and vibrant and has astonishing palaces, mountains, temples, and parks. Great for every traveler. If you are also planning to make your trip memorable check out the best unique hotels in Seoul.
We have a list of unique hotels in Seoul and hanoks that will help you find the best accommodation according to your plan. We will also let you know about the hotel's details.
Top Six Unique Hotels in Seoul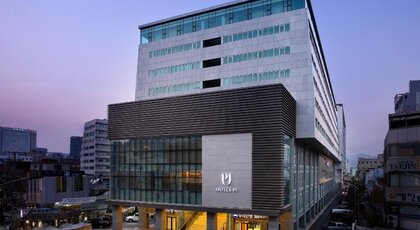 Hotel PJ Myeongdong is located in the center of Seoul, ideal for rest at night after enjoying the whole day of the vibrant culture of Seoul. The staff of Hotel PJ always tries their best to provide high-quality service and convenience to guests. There are 271 rooms in the hotel that are comfortable and spacious compared to any other hotel in the same class.
Also, they offer all the amenities that anyone would expect from a 4-star hotel. The hotel offers shuttle bus services to guests with a full range of facilities and friendly, caring staff. Moreover, the bus will take them to Seoul's main attractions. After completing the tour, the guests will safely be returning to the hotel.
Hotel PJ Myeongdong is 700 m far away from the shopping streets of Myeongdong and a 5-minute walk away from Euljiro 4-ga Subway Station and Chungmuro Subway Station. The hotel is also a 75-minute bus ride away from Incheon International Airport.
Every room is equipped with an air conditioner, LCD TV, a hairdryer, electric bidet, bathtub, and bathrobes. Not to mention a desk, free wifi access, complimentary water, a balcony(in some guestrooms), and other facilities. They also offer a water purifier/ice machine on every floor. The hotel is also provided with a pet care hotel where guests can drop off their pets during their stay. In addition, pets can play in their place with special pet care.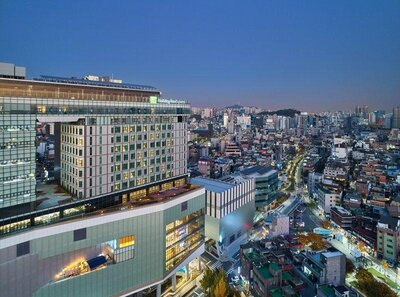 Holiday Inn Express Seoul Hongdae is an excellent hotel for tourists. The hotel is located in the Entertainment and Arts District that offers easy access to the city's must-see destinations. In addition, it's nearby to various live music venues, shops, and tourist attractions.
Public conveyance is only a few steps away, which makes it easy to get around the city. Hongdae Walking Street, Hongdae Flea Market, and Hongdae Mural Street are not so far from the hotel, as well.
This hotel also offers various amenities, including a fitness center. In addition, all rooms have a flat-screen TV with satellite channels and a private bathroom. A money changer, shopping mall, and banks are also located in the same building on the floors below the hotel.
Moreover, if you reserve two rooms, one with Superior Queen and Superior Twin, the hotel will arrange a connecting room for you. But you have to inform them after making reservations so that they arrange it before your check-in.
Nine Tree Hotel Dongdaemun is a fantastic hotel. If you are looking for a comfortable, convenient, and unique hotel in Seoul, this hotel is the best option. The hotel offers facilities for disabled guests, free wifi all over the hotel, 24-hour front desk, luggage storage, and an air conditioner in every room.
Moreover, you can enjoy rooftop gardens with panoramic views of Seoul. In addition, the hotel also offers family rooms. Nine Tree Hotel is 1 km away from Bangsan Market and a 13-minute walk away from Dongdaemun Market.
The most exciting things are attractive points of interest near the hotel. The nearest airport is Gimpo International Airport that is not so far away; it's just 18 km from Nine Tree Hotel Dongdaemun. You will find a lounge on the 11th floor where you will get free coffee and drinks.
However, they do not offer room service but are available to order delivery. This hotel is the Parnas Hotel Co., Ltd's fourth business hotel brand. Rooms are cozy, modern, and comfortable, with a restaurant. Additionally, They produce a self-check-in/out machine 'Kiosk,' Lounge, and Self-locker room for intelligent travelers because travelers' satisfaction is their top priority.
If you want to try something unique, check out the Four Points by Sheraton Seoul Statio. It's a fantastic place that offers a fitness center and restaurant. The hotel is a few minutes away from the Yongsan army base, shops of Myeongdong, and the National Museum of Korea.
Also, each room is well-furnished with a slew of amenities. There are daily maid service, coffeemaker, satellite television, telephone, mini-bar, rooms for non-smokers, wifi, and voicemail. The hotel and Seoul Station are connected through an underground way.
Moreover, the hotel offers free wifi and free site parking to guests. You will find the hotel is on the upper floors that offer astonishing views of local markets and business and finance buildings. There is also a snack bar/deli, coffee shop/café, and a business center.
If you choose Four Points by Sheraton Seoul Station hotel, you will effortlessly find a way to the Myeongdong area and key districts through subways and KTX. The hotel's staff is friendly, and the breakfast is good. Not to mention, the front desk, tour desk, health club, luggage storage, and a 24-hour bar available. Seniors will get a 10% discount if they are 62 years or above; they will get a discount on the room rate at Marriott hotels.
Gongsimga Hanok Guesthouse is found in the center of Seoul. It's a picturesque guesthouse that features a cozy lounge area and is equipped with traditional Korean furnishings. The Gongsimga Guesthouse is just 2.2 km away from Myeongdong shopping area, 600 m from Gyeongbokgung Palace, and 800 m from Insadong. You can easily access many of Seoul's attractions.
Moreover, each room is cozy and has air conditioning and heating facilities, free wifi, traditional Korean mats, and a private bathroom. Cash is not accepted in this guesthouse. You can only use a credit card and debit card. The guest house does not allow pets and free parking.
However, you can access a shared kitchen where complimentary continental breakfast is available daily. Gongsimga guesthouse is an old traditional house style. Here, you feel at home. Every room is separated from each other. In addition, laundry facilities, meeting/banquet facilities, tour/ticket assistance, and conference space are onsite.
The amazing thing about Analog hanok in Bukchon is its location. It is in a traditional village, known as a Hanok. Moreover, it was a traditional Korean house that was rebuilt with modern art. Its street is quaint and lovely and slightly elevated on a hill where guests watch the sunset every evening. You will enjoy and rest in this quiet and relaxing place.
Also, the Hanok is a 5 min walk away from Changdeokgung, Samcheongdong, and Anguk station. Gyeongbokgung, Myeongdong, and many large established neighborhoods. You will enjoy a clear sky and open view in this hanok because there are no towering buildings on the outside.
The rooms of Bukchon Hanok Village have winning features; they offer family rooms with an outdoor spa and steam sauna. The host stays in the house to accommodate the best service to guests 24 hours a day.
You may also like:
IVK's Top Picks – Day Tours, Tickets, and Travel Activities
Seasonal Picks!😍