Foreigners notice right off the bat when they come to Korea the limited number of restaurants that cater to vegetarians or vegans. A lot of my own friends are vegetarians or have certain food limitations. I wanted to gather together a number of vegetarian restaurants they can visit. They are out there, but it's often not easy to find them. Well, don't worry! This list gathers together 15 vegetarian restaurants in Seoul.
First, maybe an explanation as to why there's a lack of vegetarian and vegan eateries would be helpful. Korean cuisine is heavily meat-focused. For centuries, Korean people have been eating meat as well as rice, soup, and kimchi as the center of a traditional meal. As such, numerous restaurants all over Korea have at least one meat-centered dish on their menu. Socially speaking, being a vegetarian or a vegan is believed to be a driving wedge between two or more people, so to speak. It's also seen as an unhealthy lifestyle choice. To Koreans, not eating meat at all is strange. Because of this unfortunate thinking, there aren't many vegetarian restaurants in Seoul.
However, more and more Koreans–especially the younger generation of people–are choosing to become vegetarians or vegan for various reasons. There's an association whose mission is to spread knowledge about the vegetarian lifestyle and to increase the number and accessibility of vegetarian eateries in Korea.
Other dietary-friendly restaurants are also becoming more accessible. For example, those who are Muslims and therefore follow a halal diet can also find a range of restaurants that are friendly towards their needs.
Top Vegetarian Restaurants in Seoul
Popular Vegetarian Restaurants in Seoul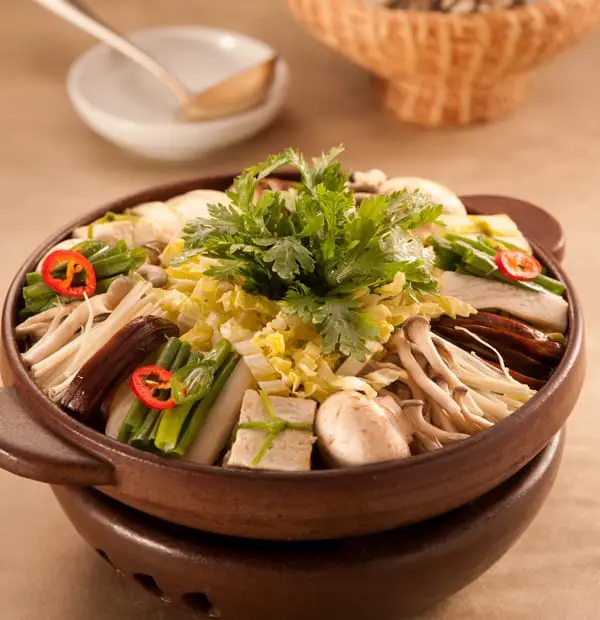 If you want a taste of a royal meal, head on over to Jihwaja in the Jongno area of Seoul! At Jihwaja, they serve "royal court cuisine," according to their website. Indeed, when you come to Jihwaja, you will be able to enjoy the same type of food that kings and queens of Korea's Joseon Era would have eaten. As such, the ingredients at Jihwaja are fresh and of the best pickings, and they use only the best cooking techniques to provide a hearty meal for their customers. The best part is, they cater and adjust their dishes to vegetarians and people who are diets, religious and otherwise!
Restaurant Hours:
Lunch 11:30 ~ 15:00 (last order at 13:30)
Dinner 17:30 ~ 22:00 (last order at 20:00)
Closed on Tuesday.
Address 125 Jahamun-ro, Jongno-gu, Seoul, Korea (서울시 종로구 자하문로 125 (청운동 48번지))
For broadly Korean and Asian vegan-friendly cuisine, one might visit Osegye Hyang, a restaurant in Seoul's Insadong neighborhood. As stated on their website, Osegye Hyang offers an environment and eating experience that brings together the vegan diet and spiritualism. Indeed, at Osegye Hyang, you will be hard-pressed not to find perfectly coordinated dishes that adhere to a meat-free lifestyle. In addition to the ornately plated food, the restaurant as a whole will surely give you an eye full of natural wonder and beauty.
Restaurant Hours:
Monday 11:30AM–9PM
Tuesday 11:30AM–9PM
Wednesday 11:30AM–9PM
Thursday 11:30AM–9PM
Friday 11:30AM–9PM
Saturday 11:30AM–4PM, 5–9PM
Sunday 11:30AM–4PM, 5–9PM
Address: 14-5 Insadong 12-gil, Gwanhun-dong, Jongno-gu, Seoul (서울시 종로구 인사동 12길 14-5)
Another traditional Korean restaurant, Nature Table promotes dishes that are steeped in Korean history and culture. Bringing together food that is high in health in their dishes, Nature Table is a restaurant that offers a wide and complete collection of dishes for people who look forward to vegetable-centric plates.
Restaurant Hours:
Sunday 11:30 AM–3:00, 05:30 PM–09:30 PM
Monday 11:30 AM–3:00, 05:30 PM–09:30 PM
Tuesday 11:30 AM–3:00, 05:30 PM–09:30 PM
Wednesday 11:30 AM–3:00, 05:30 PM–09:30 PM
Thursday 11:30 AM–3:00, 05:30 PM–09:30 PM
Friday 11:30 AM–3:00 PM
Saturday 11:30 AM–9:30 PM
Lunch Break: 3:00–5:30
Located near Yeouido Station, the restaurant Shindongyan is one that serves an array of dishes from Chinese cuisine. Showcasing a variety of delicacies and tastes from Beijing, Sichuan, and Taiwan, Singdongyan is run by three generations of a single Chinese family. Although the restaurant isn't specifically vegetarian, Shindongyan does adjust dishes to your tastes and needs. They also have a vegetarian menu that offers set menus for a group bigger than two.
Restaurant Hours:
Monday 11AM–2:30PM, 5–10PM
Tuesday 11AM–2:30PM, 5–10PM
Wednesday 11AM–2:30PM, 5–10PM
Thursday 11AM–2:30PM, 5–10PM
Friday 11AM–2:30PM, 5–10PM
Saturday 11:30AM–9:30PM
Sunday 11:30AM–9:30PM
Address: 42 Yeouinaru-ro, Yeoui-dong, Yeongdeungpo-gu, Seoul (서울특별시 영등포구 여의동 여의나루로 42)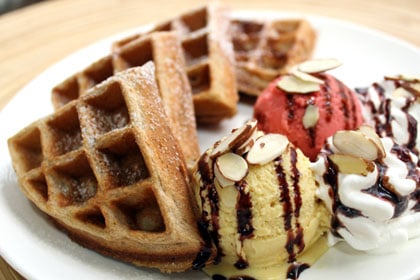 Lovinghut Cafe is a vegetarian and vegan-friendly restaurant in the middle of the Gangnam district. With a large collection of dishes that make up their lunch and dessert menus, foreigners and locals alike enjoy a full meal at a low cost.
Restaurant Hours:
Monday 11AM–9PM
Tuesday 11AM–9PM
Wednesday 11AM–9PM
Thursday 11AM–9PM
Friday 11AM–9PM
Saturday 11AM–9PM
Sunday 11AM–9PM
Phone Number: +8225762158
Address: 35 Gaepo-ro 22-gil, Gaepo-dong, Gangnam-gu, Seoul (서울특별시 강남구 개포동 개포로22길 35)
This fun coffee, brunch, and dessert cafe is a cute eatery nestled in the Seocho/Gangnam neighborhood. As with the others on this list, Pocket Park is a highly vegetarian and vegan-friendly dining venue. With delicious-looking plates and an aesthetically-pleasing interior gives customers an all-around pleasurable experience. While enjoying their meals, locals and tourists alike can take several photos against the Instagram-worthy backdrop of the restaurant. 
Pocket Party also offers their customers various social function packages and will cater for each. With reservations ahead of time, they will cater for your small wedding, proposal party, and even a doljanchi (which is a baby's first birthday.) They will also provide party favors for the guests of your functions. From the conception to the end of your gathering, Pocket Party will support you the whole way!
Check their Instagram page.
Restaurant Hours:
Monday 10:00 AM–7:00 PM
Tuesday 10:00 AM–7:00 PM
Wednesday 10:00 AM–7:00 PM
Thursday 10:00 AM–7:00 PM
Friday 10:00 AM–7:00 PM
Diner Jackie
In a true Western-style diner, visitors to Diner Jackie, located in Seoul's Mapo-gu neighborhood, are treated to a wide variety of vegetarian and vegan-friendly dishes. Although the food at Diner Jackie caters to all kinds of food diets, Diner Jackie is an especially pescatarian diner, Diner Jackie has a dedicated page in their menus for those who are looking for only vegan choices. At Diner Jackie, you are guaranteed an eating experience that is high in health.
Restaurant Hours:
Tuesday 11:00am – 9:00pm
Wednesday 11:00am – 9:00pm
Thursday 11:00am – 9:00pm
Friday 11:00am – 9:00pm
Saturday 10:30am – 9:30pm
Sunday 10:30am – 9:30pm
Address: 1F 82, Poeunno, Mapo-gu, Seoul, South Korea, 04014
Hooked Poke
A recent food trend that has soared in popularity over the past several years is the Hawaiian-inspired Poké. A Poké bowl is a bowl that consists of white Japanese rice and an assortment of sashimi slices, seaweed, and whatever else that you might like. The trend started in the United States of America and quickly became a global favorite. It entered Korea's food scene just a few years later. For obvious reasons, a Poké bowl has a high value for healthy eating and it is an awesome option for a pescatarian lifestyle. Each bowl is completely customizable so it allows for a lot of vegetarian and vegan res options as well. At Hooked Poké, one of Seoul's famous Poké restaurants, customers can enjoy a large array of food.      
Restaurant Hours:
Monday 11AM–2:30PM, 4:30–9PM
Tuesday 11AM–2:30PM, 4:30–9PM
Wednesday 11AM–2:30PM, 4:30–9PM
Thursday 11AM–2:30PM, 4:30–9PM
Friday 11AM–2:30PM, 4:30–9PM
Saturday 11:30AM–8:30PM
Sunday Closed
Phone: 070-7757-0976
Address: 18 Samil-daero 12-gil, Myeong-dong, Jung-gu, Seoul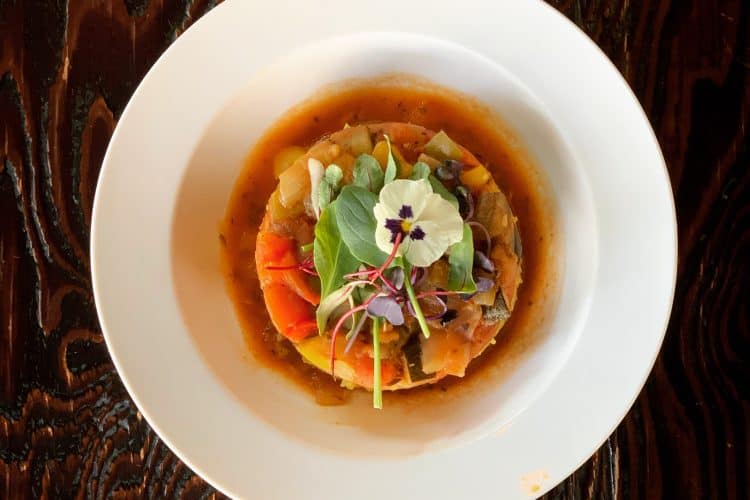 One of the most famous vegetarian and vegan-friendly restaurants in Seoul, Vegetus truly has a large collection of dishes. Most of the dishes that Vegetus serve are high in quality and very healthy. They are also all free of any meat. Visitors can be assured and will be delighted that Vegetus not only caters to vegetarians and vegans but also caters to those who do not eat gluten, as they have several dishes that are especially gluten-free.
Restaurant Hours:
Monday 12–3PM, 5–9:30PM
Tuesday 12–3PM, 5–9:30PM
Wednesday 12–3PM, 5–9:30PM
Thursday 12–3PM, 5–9:30PM
Friday 12–3PM, 5–9:30PM
Saturday 12–9:30PM
Sunday 12–9:30PM
Phone: +82 70-8824-5959
Address: 22-12 Yongsan 2(i)ga-dong, Yongsan-gu, Seoul
Subway
Subway is one of those food franchises that everyone knows. Everyone everywhere has seen Subway before; Subway is one of the most famous chain restaurants in the world. It is one of the best sandwich chains restaurant there is and one of the best qualities of Subway is that it caters to all of its customers, locals, and tourists. When you come to Subway, you have complete control over the kind of bread, cheese, and toppings that goes into your sandwich. That means that for vegetarian and vegan customers, Subway is a very customizable restaurant.
Recently, Subway added a new alter-meat sub to their menu. The new alter-meat Subway sandwich option that's safe for any vegan or vegetarian. At Subway, you have the option to have vegan slices of bread and guacamole dip as well as their egg salad sub.
Food Does Matter
Located in the Gangnam neighborhood, Food Does Matter is a large restaurant that serves a large collection of vegan-friendly food and drink. At Food Does Matter, customers will find that their menus include smoothies, kombucha, pasta, and burgers, among many things. As the name of the restaurant suggests, at Food Does Matter, the staff truly cares about their customers. For the good of their customers, Food Does Matter takes care to ensure the quality of each of their dishes. As such, all of the food and drink that are offered here have healthy eating as a high priority.
Check their Instagram Page.
Restaurant Hours:
Monday 10AM–10PM
Tuesday 10AM–10PM
Wednesday 10AM–10PM
Thursday 10AM–10PM
Friday 10AM–10PM
Saturday 10AM–10PM
Sunday 10AM–9PM
Phone: 02-593-3322
Address: 10 Seorae-ro 1-gil, Banpo-dong, Seocho-gu, Seoul
Located in Seoul's Itaewon neighborhood, Plant is a cafe that, according to their website, is "a 100% plant-based restaurant and bakery." For this reason, their customers can rest assured that all of Plant's dishes are completely meat-free. The website also states Plant's vision and mission statement: "As one of the fore-running vegan establishments in Seoul, we are passionate about making the plant-based lifestyle more easily adopted in Korea by providing high-quality, accessible vegan meals and baked goods." This all-in-one cafe stands out as a leader of vegetarian and vegan restaurants in a country that is overwhelmingly meat-centric and will hopefully help pave the way for more inclusive eateries in the future.
Check their Instagram page.
Restaurant Hours:
Opens everyday from 11AM – 10 PM.
Phone: 02-749-1981
Address: 
Itaewon-dong 130-43 2F, Yongsan-gu, Seoul, South Korea (서울시 용산구 이태원동 130-43 2층)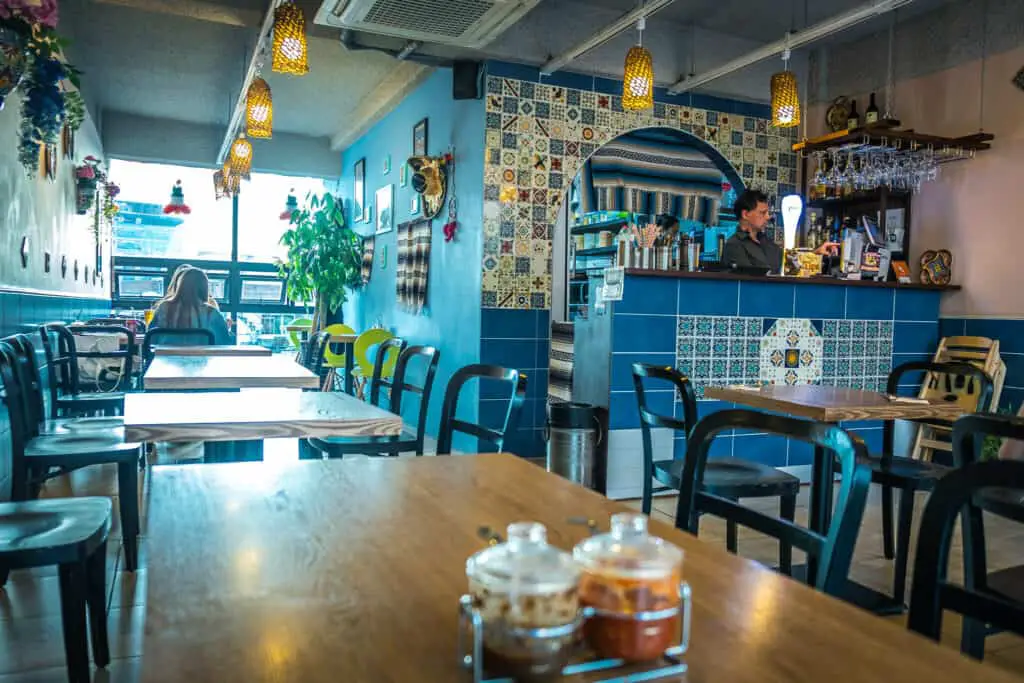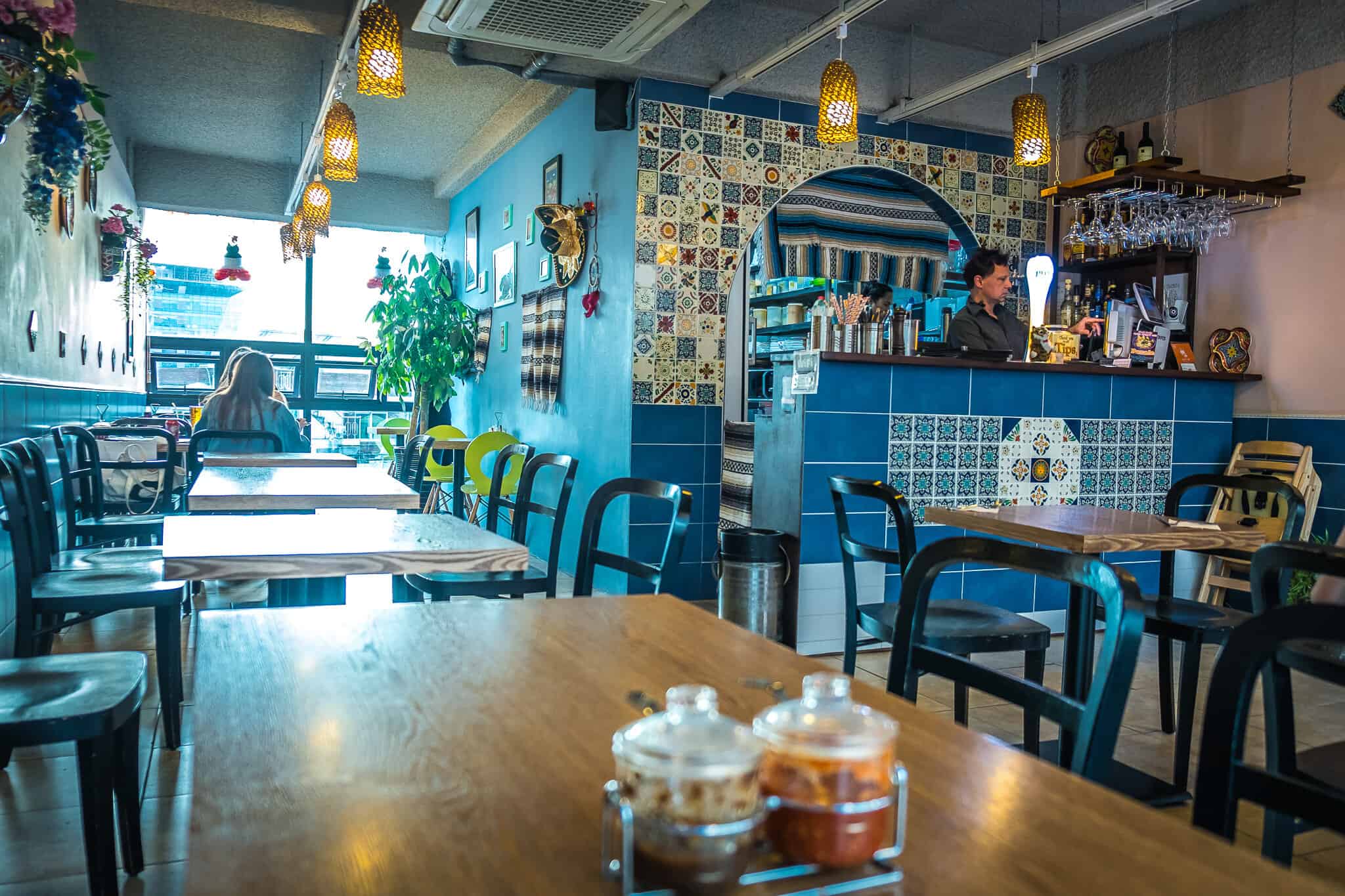 Thanks to the ever-globalizing culture of Korea's capital city, there are many Mexican restaurants locals and tourists can enjoy, but Taco Amigo is absolutely one of the most delicious and customizable. The menus at Taco Amigo offer a range of typical dishes of the Mexican and Tex-Mex cuisines including tacos, burritos, quesadillas, and enchiladas, among many others.
Restaurant Hours:
Monday 3:30–9PM
Tuesday 11:30AM–9PM
Wednesday 11:30AM–9PM
Thursday 11:30AM–9PM
Friday 11:30AM–9PM
Saturday 11AM–11PM
Sunday 11AM–9PM
Phone: 02-749-5253
Address: 123 Bogwang-ro, Itaewon 1(il)-dong, Yongsan-gu, Seoul
Vegetarian Restaurants in Bundang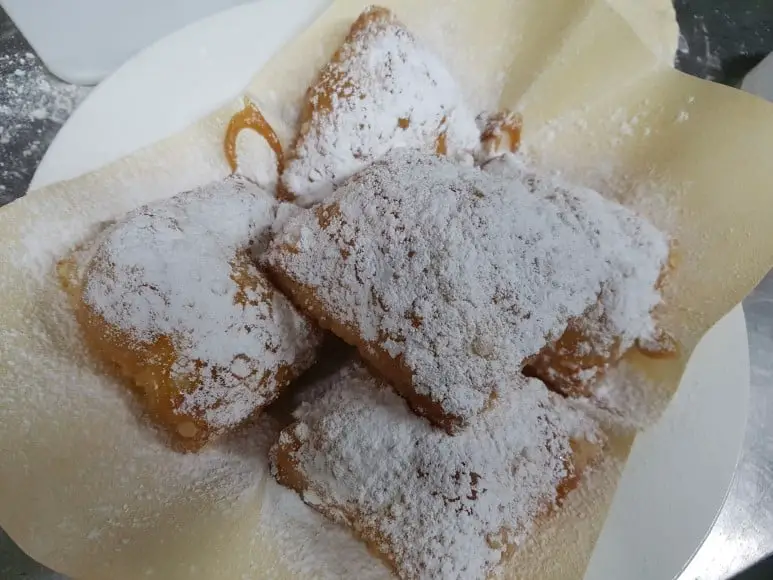 Located in the quaint neighborhood of Jeongja, Lagniappe is a restaurant that boasts its authentic New Orleans Cajun cuisine as well as dishes from the Mexican and Vietnamese cuisines. According to Lagniappe's Facebook page, customers can "experience the three cultures that coexist in New Orleans." Lagniappe also offers plenty of vegetarian and vegan dishes; the staff is more than happy to accommodate each customer.
Restaurant Hours:
Monday: CLOSED
Tuesday: CLOSED
Wednesday: 11:00 AM – 9:00 PM
Thursday: 11:00 AM – 9:00 PM
Friday: 11:00 AM – 9:00 PM
Saturday: 11:30 AM – 3:30 PM, 5:00 PM – 9:00 PM
Sunday: 11:30 AM – 3:30 PM, 5:00 PM – 9:00 PM
Phone: 070-4214-5791
Address: Gyeonggi-do, Seongnam-si, Jeongjail-ro, 121 상가1층 (102동 입구 우측상가) B-15/B-16
Sala Thai
Lastly, although Sala Thai is a lesser-known restaurant in the wider Bundang area, it is definitely one of my favorites. As the name suggests, Sala Thai is a Thai restaurant. As such, they have many authentic Thai dishes ranging from the famous Pad Thai to Thai Green Chicken Curry. Moreover, they also have dishes that are friendlier to people who are vegetarians and vegans. You can also ask them to customize the dish however you want! Indeed, Sala Thai promotes food that is delicious, healthy, and filling.
Lastly, Sala Thai is a restaurant franchise that has locations in California, NYC, and Washington DC. Not to mention, several locations throughout Southeast Asia, and of course, Seoul. While they don't have an official Sala Thai website dedicated to its Korean restaurant's several netizens have reviewed their experience eating at Sala Thai. One such review can be read here.
Restaurant Hours: Opens everyday from 11:30 AM- 10PM
Phone: 031-717-0104
Address: 100 Jeongjail-ro, Jeongja-dong, Bundang-gu, Seongnam-si, Gyeonggi-do
All of these 15 vegetarian restaurants are easily accessible from any point in Seoul. The subway system in the city can take you from point to point in mere minutes. I know that people who are vegetarians and vegans have a hard time trying to find appropriate restaurants and eateries, and so I hope that this list is a valuable one you'll read.
You may also like,
IVK's Top Picks – Day Tours, Tickets, and Travel Activities
Seasonal Picks!😍