Last Updated on September 7, 2023
In recent years, there has been a resurgence of cake shops and bakeries in Seoul, as more people enjoy their morning bread or dessert pastries over tea and coffee. There are several privately-run bakeries and some bigger chain bakeries, and this article lists all of the best bakeries and cake shops in Seoul.
To read about the perfect coffee drink complementing these baked goods, why not read about Dalgona Coffee, Korea's latest trend?
Cafe Onion | Seongsu-dong, Gyedong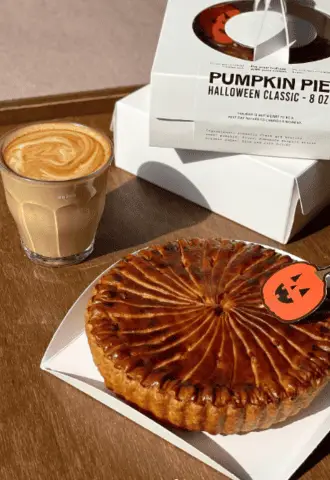 Located near Anguk station, this quaint cafe-bakery is one of the most famous bakeries in Seoul, and it's in the Hanok style–that is, the style of traditional Korean homes. Indeed, at Cafe Onion, you'll feel part of Korean history! As soon as you enter the cafe, the atmosphere and interior will take you to a simpler time, away from today's business.
As Cafe Onion is a cafe and a bakery all rolled into one, not only will you get different coffee options, but you'll also get to order from a range of different baked goods. Near the front is a selection of several types of bread, croissants, and tarts that are all unique and made fresh every day.
The cafe is Instagram-worthy, with a laidback and rustic ambiance and spacious seating. In addition to having plenty of spaces inside, Cafe Onion has available seating outside if you want more sun and nature. If you would like to look at pictures of Cafe Onion, they have an official Instagram account.
Cafe Onion at Seongsu-dong is the first branch, one of the hottest places in the Seongsu-dong area. If you'd love a unique area with many small cafes and restaurants in Seoul, visit Seongsu-dong, the Brooklyn of Seoul. For more details, check this post.
They are open every day of the week. While they open earlier on Saturdays and Sundays (at 8 AM), they open from Mondays to Fridays from 10 AM to 10 PM.
Pain De Echo | Seongsu-dong
Pain De Echo is one of the many bakeries in Seoul known for using sourdough bread. Their baked goods selection, including baguettes, croissants, brioche, rye bread, and whole wheat bread, are also made with natural wheat and fermenting agents. This makes their bread both delicious and healthy.
Pain De Echo has an Instagram account, and their feed showcases their food products for customers to view.
Although they close on Mondays and Tuesdays, Pain De Echo is open all other days from 11 AM.
Artisan Bakers | Hannam-dong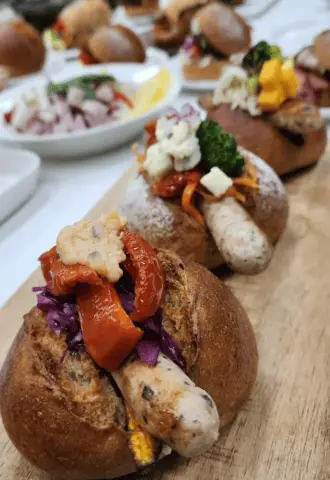 Another famous bakery known for using sourdough, Artisan Bakers, sells different kinds of baked goods, including baguettes, bread loaves, and croissants. The interior of the Hannam-dong gives off a rustic and nostalgic feeling.
If you'd like to be up to date with what the founders of Artisan Bakers are up to, look no further than their blog or Instagram. They have the Yeoksam branch in Gangnam, the Seorae branch in Seocho, and the Paju branch, with beautiful natural sceneries and a Hanok-style cafe, attracting people from a wide area.
Artisan Bakers in Hannam branch is closed on Mondays and open from 8:30 AM to 8 AM from Tuesdays to Sundays.
Paul & Paulina Bakery | Yeonhui-dong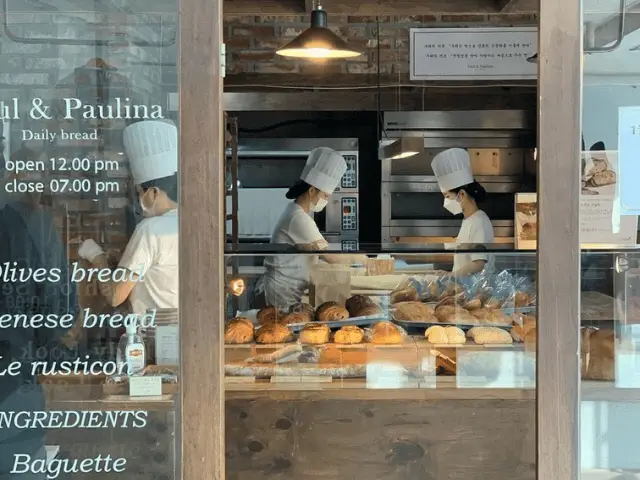 At Paul & Paulina bakery, the bakers implement a unique technique of letting their yeast ferment rather than adding bread improvers or additives. This way, they ensure that the bread is healthy and flavorful, with a deep taste and scent. The lack of bread improvers also gives the bread at Paul & Paulina bakery a great texturized feel.
All the bread sold here is made on the same day, so the bread is always fresh. However, this means they quickly sell out of their baked goods, so be sure to head there early enough in the day!
Paul & Paulina Bakery opens Mondays to Saturdays from 11AM to 6PM.
Kyo Bakery | Sangsu-dong, Yeonnamdong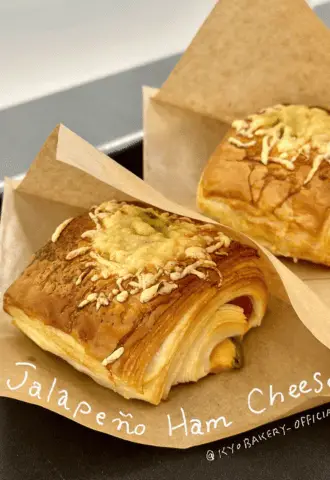 Another of the best bakeries in Seoul, Kyo Bakery, sells different renditions of the famous French baguette and different kinds of croissants and bread. At Kyo Bakery, they are undoubtedly experimental with their baked goods! The signature menu of Kyo Bakery is the condensed milk baguette (연유바게트) in black color with squid ink (but no seafood flavor at all!). If you want to see for yourself before heading over, check out their official Instagram account!
Kyo Bakery opens daily from 11 AM to 8 PM, including Saturdays and Sundays.
Yeonnam Branch
Tartine Bakery Dosan |  Apgujeong-dong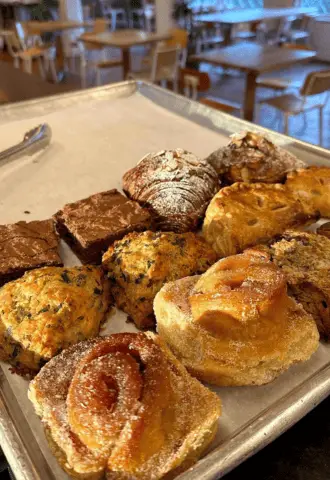 In the prestigious Apgujeong-dong neighborhood in Seoul, Tartine Bakery is a bakery and cake shop with a chic, spacious interior, relaxed ambiance, and plenty of seating. Opened in 2019, this is Tartine's fourth store in Seoul, and the proximity to both Dosan Park and Apgujeong Rodeo Street makes Tartine Bakery an "It" place with many visitors daily.
Tartine Bakery in Dosan, Apgujeong-dong, opens daily from 10 AM to 10 PM.
Check out Tartine Bakery's website and official Instagram account!
OUR Bakery | Garosu-gil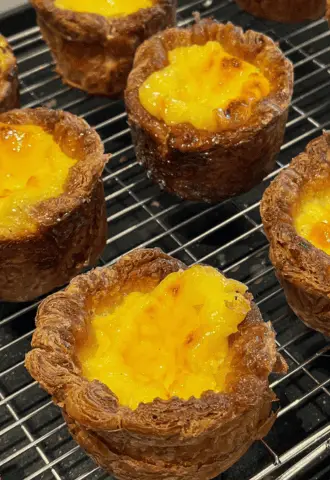 Our Bakery is located at Garosu-gil and sells different kinds of bread and pastries, including fan-favorite cinnamon rolls and French Choux pastries. With a spacious interior, it's not uncommon to see many people filing in and out of OUR Bakery at all times. Indeed, OUR Bread is one of Seoul's most famous cake shops.
OUR Bakery opens every day from 10 AM to 8:30 PM.
Holiday Bakery | Ikseon-dong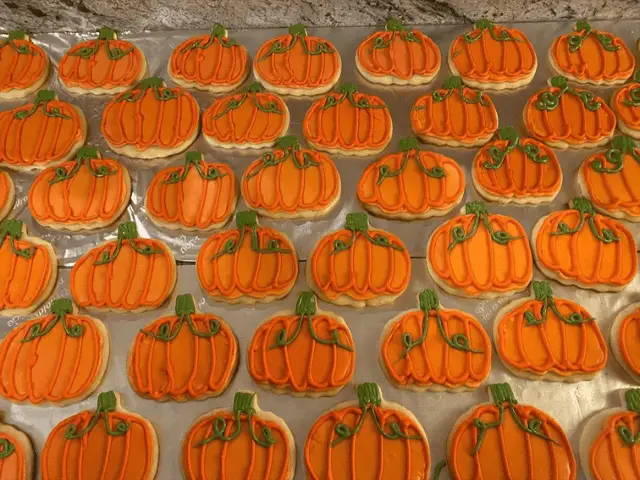 With a cozy and bohemian-chic interior, Cafe Holiday Bakery stands among the many stores, restaurants, and coffee shops in Ikseon-dong, one of Seoul's oldest and hippest neighborhoods. Due to the resurgence of themed cafes in the traditional houses that were there for hundreds of years, the Ikseon-dong neighborhood is a testament to how traditional and modern cultures come together to create something magnificent.
Indeed, the interior and exterior of Cafe Holiday Bakery reflect the grandeur of the whole neighborhood, spacious and welcoming to many guests simultaneously. They sell coffee drinks and different kinds of bread and baked goods.
Maybell Bakery | Itaewon, Time Square in Yeongdeungpo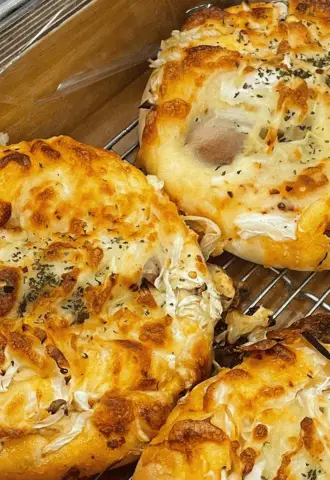 At Maybell Bakery bakery and cake shop, customers can find a range of delicious baked goods, all at a low price of ₩10,000 (7.58 USD) or less! Because of its affordable prices and excellent taste, Maybell Bakery is one of the most famous bakeries in Seoul. When you go to the Itaewon branch, which is the original place, even much more minor, without tables and seating area, you will see the long line in front of the store from the opening time.
They open every day from 10:30 AM to 10 PM. On Mondays, Maybell Bakery is not open for business.
Itaewon Branch
Yeongdeungpo Time Square Branch
Richmond Bakery | Seongsan 1-dong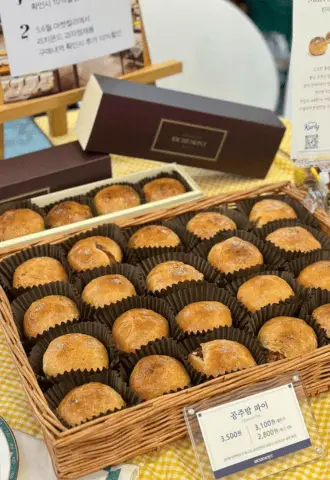 Richmond Bakery, located in Seoul's Seongsan-dong neighborhood, is a recent establishment founded in 1979. Through the baked goods they sell, the bakers at Richmond Bakery are determined to bring together their customers' cultures and tastes to deliver a new experience. The Richmond Bakery bakers also are constantly learning how to better their business for all.
Richmond Bakery sells bread, cakes, rolls, and other baked goods. For more information, check out their website here!
Richmond Bakery opens every Wednesday to Monday from 8 AM to 10 PM. Close on Tuesday.
Peterpan 1978 | Yeonhui-dong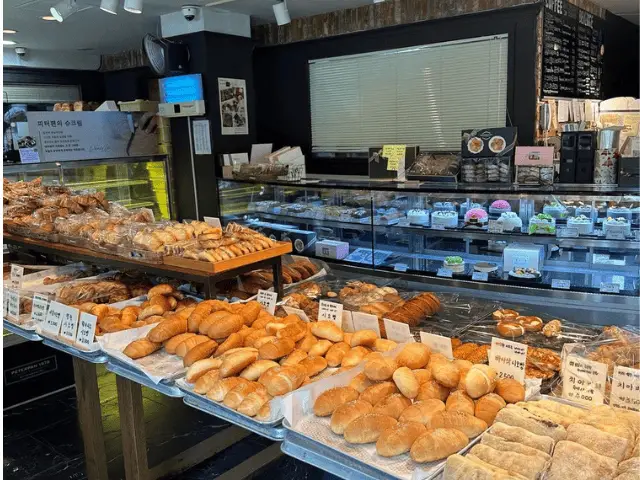 Located in the Yeonhui-dong area, Peterpan is one of the most famous chain bakeries in Seoul, offering a wide selection of different types of organic bread; all of their bread is made with health in mind, and the bread options are rye bread, whole wheat bread. Peterpan also sells ddeok (떡; Korean traditional rice cake).
Not only is it a bakery that people can physically visit, but Peterpan also offers their customers a way to order their various baked goods through their online store. During times like now, nothing stops you from enjoying Peterpan's baked goods!
Peterpan opens daily from 8 AM to 9 PM, including Saturdays and Sundays.
Publique | Gwangheungchang, Gusu-dong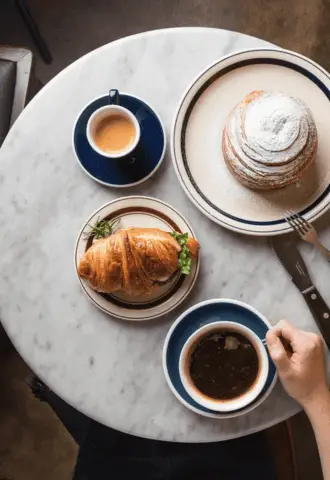 Publique is another bakery that sells bread and pastries made with bread fermented French style. Healthy and organic. Publique also offers vegan options, including bread made with wheat, whole wheat, and rye.
Publique opens every day of the week from 9 AM to 9:30 PM.
B- Plate Brown Bread | Dogok-dong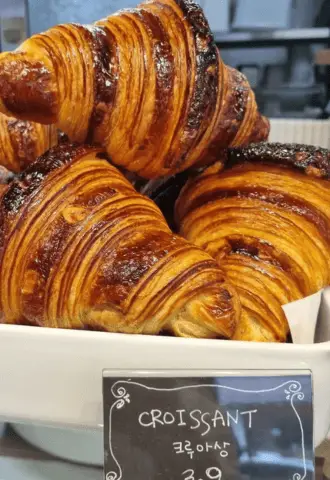 In the Dogok-dong neighborhood in Gangnam, Brown Bread is another bakery and a cake shop in Seoul that sells various bread and other baked goods. Brown Bread has a clean, professional exterior and interior, like the surrounding area.
Brown Bread opens every Monday to Saturday from 8:30 AM to 6 PM.
On Sundays, Brown Bread is closed.
Cafe Onion Anguk (어니언 안국점)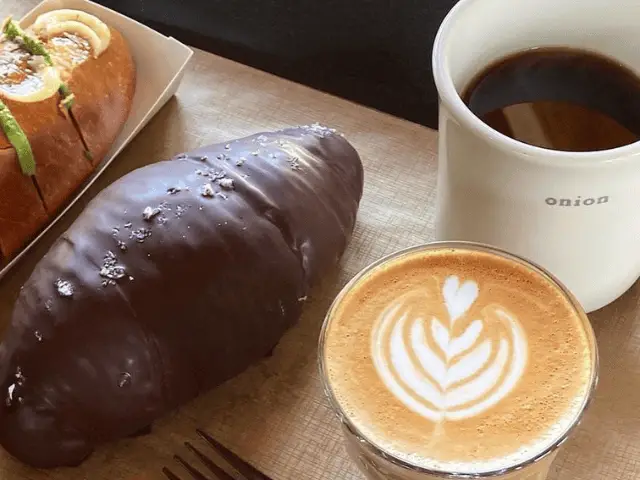 If you're exploring Seoul's Bukchon Hanok Village, make sure to swing by Cafe Onion Anguk (어니언 안국점) for a delightful bakery experience. This branch is housed in a traditional hanok structure, adding a unique touch to your visit. While the main branch is in Seongsu, this location has its charm.
As you step inside, you'll be greeted with a view of an open sand yard surrounded by hanok buildings. It's divided into two sections, one for ordering and the other for seating. Finding a spot to relax won't be a problem here – plenty of seating options inside the hanok area and in the garden near the entrance.
Now, let's talk about the delicious treats they offer. Cafe Onion is not just about great coffee; they have a fantastic selection of baked goods and pastries. You have to try their Pandoro, a sweet Italian bread with a fluffy texture and a dusting of powdered sugar. Also, the Garlic Cream Cheese and Black Cheese Bomb pastries are worth a try.
Ssijang (씨장)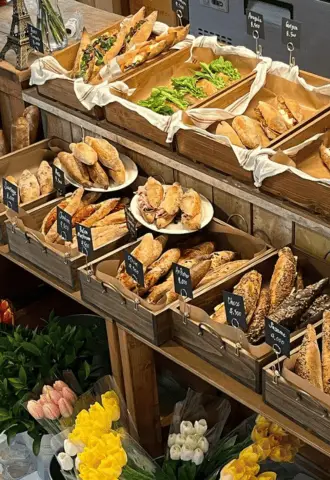 If you're seeking a bakery that offers a wide range of delicious offerings in a European-inspired atmosphere, look no further than Ssijang. When you open the door, it's like being transported to a bustling French street market. Wood, brick, and iron give the place a friendly and down-to-earth vibe, making you feel at home. The natural light flooding through the windows creates a bright and vibrant space that feels like a scene from a painting by those fancy Impressionist artists. 
Their diverse menu featuring soups, pasta, baguettes, brunch, and various beverages will satisfy your cravings and give you a memorable dining experience. The bakery focuses on its crispy and dry baguettes, which celebrate the true essence of flour. With a minimalist approach, unnecessary elements are stripped away, leaving a clean backdrop that allows the diverse range of toppings to take center stage. The Tomato Basil Baguette is highly recommended for those who appreciate umami flavors.
Layered Yeonnam (카페 레이어드 연남)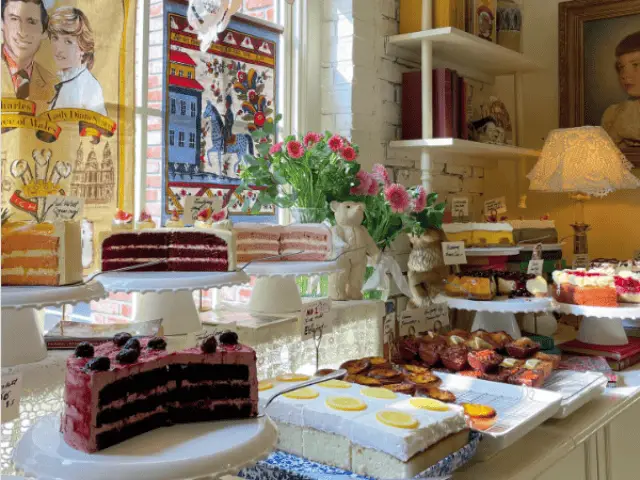 This is not just your ordinary bakery—a trendy two-story cafe that has taken the internet by storm. With its cool concept and British influences, this cafe offers a unique experience that will leave you wanting more.
As you enter Layered Yeonnam, you'll immediately notice the aesthetically pleasing layout that has captured the attention of many. From the stylish decor to the inviting atmosphere, every corner of the cafe is designed to create a visually stunning and comfortable space.
Regarding the menu, Layered Yeonnam has many options to satisfy your cravings. From expertly crafted coffees and refreshing juices to an array of delicious bakes and mouth-watering scones, there's something for everyone. Among that, their grape juice and tiramisu are must-try. Also, it's important to note that Layered Yeonnam is a popular spot, so be prepared for crowds, especially on weekends. 
Teddy Beurre House 테디뵈르하우스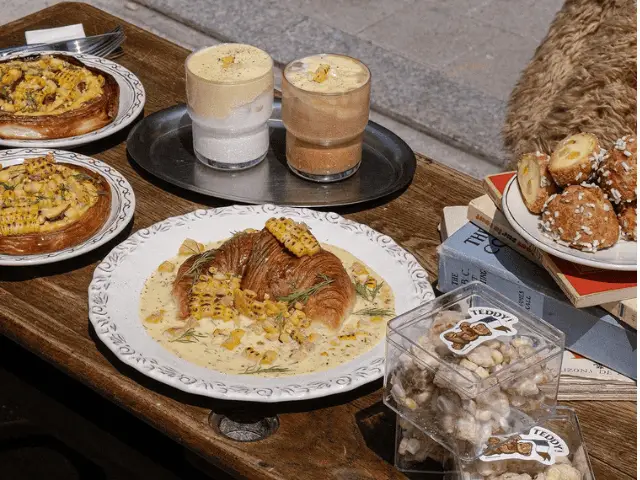 Renowned for its charming ambiance and delectable croissants, this cafe is a must-visit for anyone looking to indulge in a delightful experience. As you approach the cafe, you'll be greeted by the cool and warm hues adorn its facade, setting the tone for a cozy and inviting atmosphere. But what steals the show are the two large teddy bears stationed outside—utterly adorable and perfect for snapping countless pictures.
Whether you're in the mood for a scrumptious cake, a flaky croissant, or a delightful cookie, Teddy Beurre House has something to satisfy every sweet craving. Their signature is Beurre Croissants, a heavenly creation that combines the rich flavors of butter and sweetness in every bite. The Ricotta Sandwich is also a favorite among customers.
Bakery Mui (베이커리 무이(無二))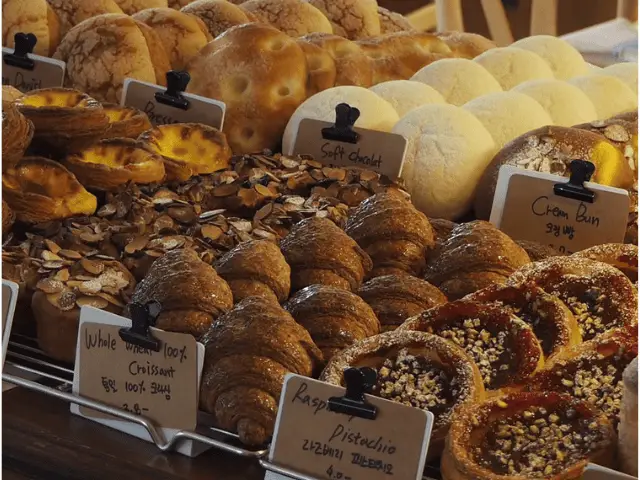 Bakery Mui (베이커리 무이(無二)) is a place where unique and delightful creations come to life. This charming bakery has become a sensation on Instagram, and for a good reason—it's all about their famous salted bread.
If you want to experience the magic of their renowned salted bread, arrive early, as it sells out in the blink of an eye. The buzz and excitement around this treat are well-deserved, as it delivers a flavor experience like no other.
You are spoiled of choice here. Whether you crave a classic croissant, a heavenly pastry, or a loaf of artisanal bread, they've got it all. In addition to their famous salted bread, don't miss the chance to explore their other delectable offerings. Indulge in the divine combination of melon bread with gelato or the delightful goodness of their cream muffins. Each item is crafted with love and skill, ensuring a burst of flavors with every bite.
Ugly Bakery (어글리 베이커리)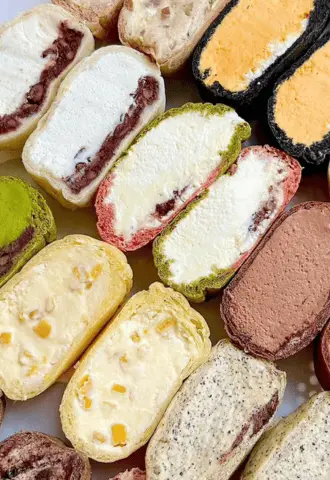 Ugly Bakery may have an unconventional name, but their baked goods are anything but ugly. This hidden gem in Seoul prides itself on its rustic and artisanal bread. Ugly Bakery follows traditional baking methods and uses high-quality ingredients to create a variety of sourdough loaves, baguettes, and specialty bread. 
Their cream bun, matcha mammoth, and Earl Grey bread are legit and worth savoring. You need to give them a try, trust me. One of the best things about Ugly Bakery is that their treats are less sweet, making them perfect for those who prefer a more balanced taste. The cream-filled goodies are wonderfully satisfying without overwhelming your taste buds.
Parole & Langue (파롤앤랑그)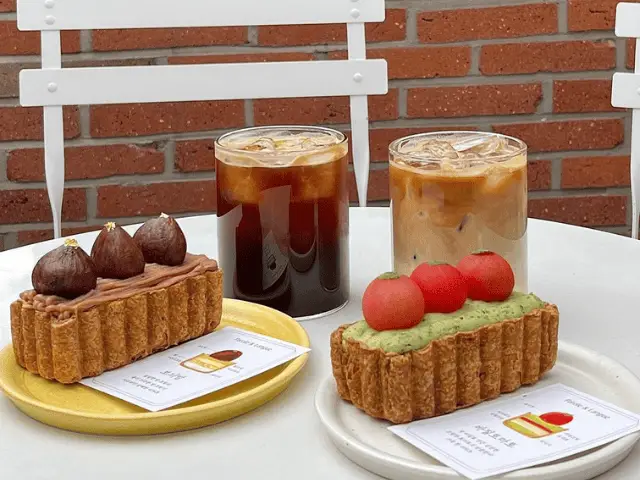 Parole & Langue is a French-inspired bakery that promises a taste of Paris in Seoul. The name itself, meaning "Word & Language" in French, sets the stage for a poetic and creative experience that awaits you.
Their signature basil tomato and bonui bomd, along with the enticing persimmon flavor, is a must-try for anyone seeking a flavorful adventure. Each creation is a masterpiece, showcasing the bakery's dedication to taste and visual appeal.
But Parole & Langue's delights don't end with their baked goods. The bakery also offers an array of beverages, from richly brewed coffee to refreshing juices. With something to suit every palate, it's the perfect spot to indulge in sweet and savory pleasures.
Lowide Coffee Bakery (로와이드 커피 베이커리)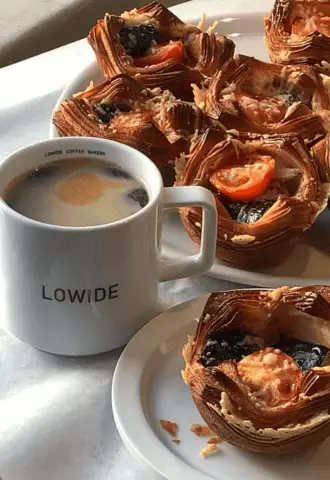 If you're looking for a bakery that combines excellent coffee with delicious baked goods, look no further than Lowide Coffee Bakery. This bakery offers a delightful escape from the hustle and bustle of Seongsu-dong. With its large open windows welcoming in the gentle breeze, you can enjoy the soothing ambiance anytime. It's a great place to hang out with your friends.
Lowide Coffee Bakery's commitment to quality stands out, as they use domestic organic wheat for their delectable treats. It's heartening to see a bakery catching health and environmental consciousness trends. Their signatures are the irresistible salted bread, the flavorful basil tomato, and the velvety low latte and toffee nut latte. Each treat is crafted carefully and promises to delight your taste buds with every sip and bite.
London Bagel Museum Anguk (런던베이글뮤지엄 안국점)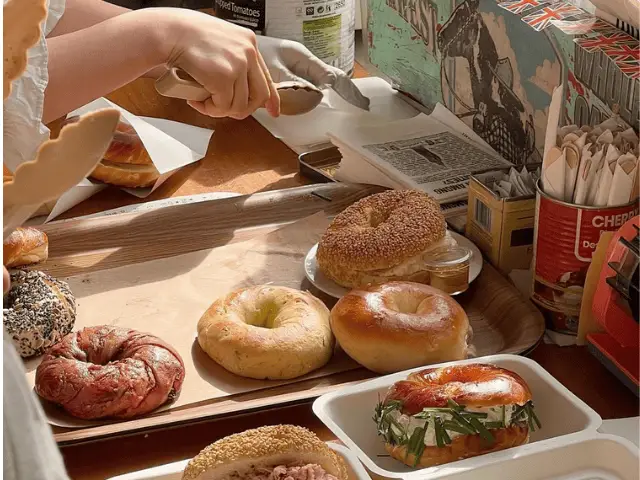 London Bagel Museum is a haven for bagel lovers in Seoul. Throughout the restaurant, British royal portraits adorn the walls, adding to the immersive experience that will make you feel as if you've been transported to the streets of London itself. And if you want to take a piece of this unique atmosphere home with you, there's a selection of merchandise available at the counter.
Regarding bagel choices, the London Bagel Museum spoils you with a delightful array of flavors. You can opt for the classics like plain, sesame, and blueberry bagels or be adventurous and try intriguing flavors like spinach, fig, or dark olive. Each bagel promises a delectable taste that will leave you craving more. Since this place is so famous, come early if you don't want to queue in a long line.
Breadypost Yongsan (브레디포스트 용산점)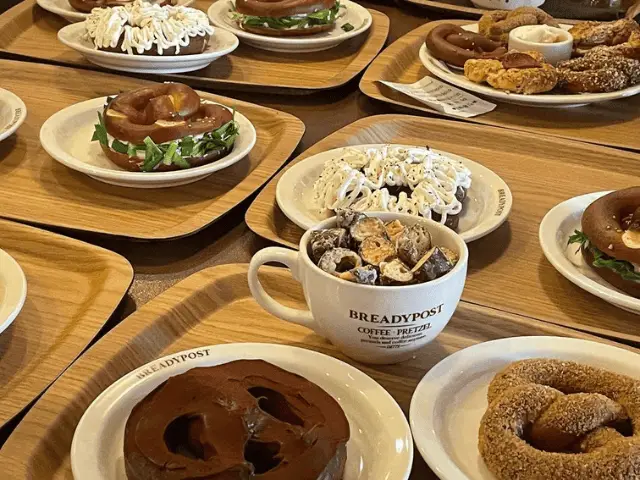 If you're searching for a European-inspired bakery with unique pretzel flavors and delightful beverages, Breadypost Yongsan is the perfect destination. The ambiance exudes a charming European vibe, making it a delightful place to enjoy a delectable assortment of pretzels. What sets this bakery apart is its focus on unique and flavorful pretzel options you won't find elsewhere. From the intriguing Yuja and sun-dried tomato to the comforting cinnamon, each pretzel is a delightful surprise for your taste buds.
We highly recommend trying the butter pepper and pepperoni flavors among their remarkable selections, as they are customer favorites. To complement your pretzel experience, Breadypost Yongsan serves various beverages, including americano, latte, lemonade, and milk tea. A scrumptious pretzel paired with a warm latte is an absolute slice of heaven.
Cafe Pepper 카페 페퍼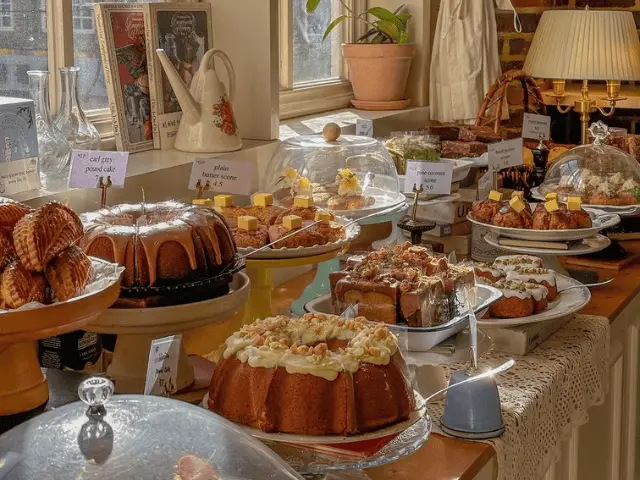 Cafe Pepper is a must-visit spot for those searching for delectable gluten-free desserts in the heart of Seoul. This charming cafe has won the hearts of locals and even caught the attention of Korean celebrities like ITZY's Chaeryeong, SNSD's Yuri, THE BOYZ's Hyunjae, and more. The long queues are a testament to the cafe's popularity, and once you step inside, you'll understand why.
The ambiance at Cafe Pepper is reminiscent of a cozy cottage tucked away in the English countryside. The inviting atmosphere welcomes you with warmth and comfort, making it the perfect place to enjoy a delightful treat.
Their menu boasts an impressive array of treats, from classic cakes to innovative creations inspired by traditional Korean flavors. Tantalizing cakes and tarts adorned with seasonal fresh fruit add freshness to their offerings. Don't miss out on their famous classics like apple pie, Green Onion Scone, Caramel Brownie, and Earl Grey Orange Cake, each promising a delightful symphony of flavors. When it comes to beverages, Cafe Pepper offers a variety of options, but pepper coffee and Pistachio Latte are undeniably popular choices.
Cheonsang Gaok 천상가옥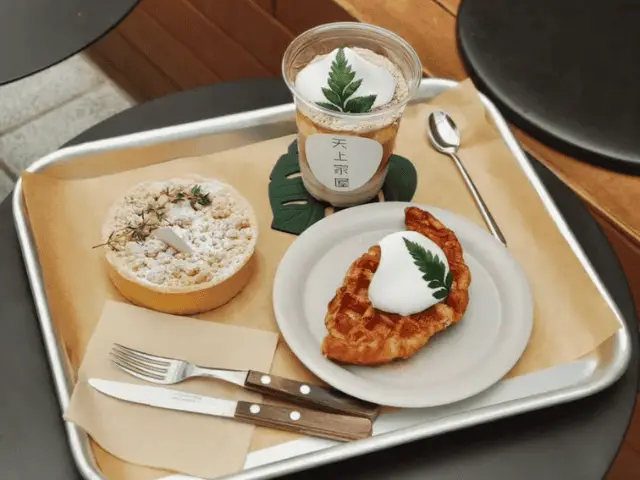 If you're looking for an Instagram-worthy experience in Seoul, Cheonsang Gaok is the place to be. The ambiance is simply captivating, with a glass ceiling allowing natural light to flood the space. Overhead, wave-like white textiles and yellow light fixtures add a touch of elegance, while tropical plants create a cozy and inviting atmosphere, inviting you to relax and unwind.
If you have a sweet tooth, Cheonsang Gaok's menu will surely delight you. The bakery offers delightful treats, including the luscious Black Sesame Cake, the irresistible Croffle, and the mouthwatering Egg Tart. Don't miss the chance to try their signature bakes like the Earl Grey Lemon Scone, Cream Scone, and Lemon Pound Cake.
About their beverages, the Pepper Honey is a must-try for coffee enthusiasts. This café latte, sprinkled with pepper, offers a unique and delightful spicy-sweet flavor. If you prefer non-coffee options, Cheonsang Gaok has you covered with refreshing choices like Real Strawberry Milk, Real Watermelon Juice, Banana Brain, and Plum Ade, each offering a burst of delightful flavors.
Ginger Bear (진저베어)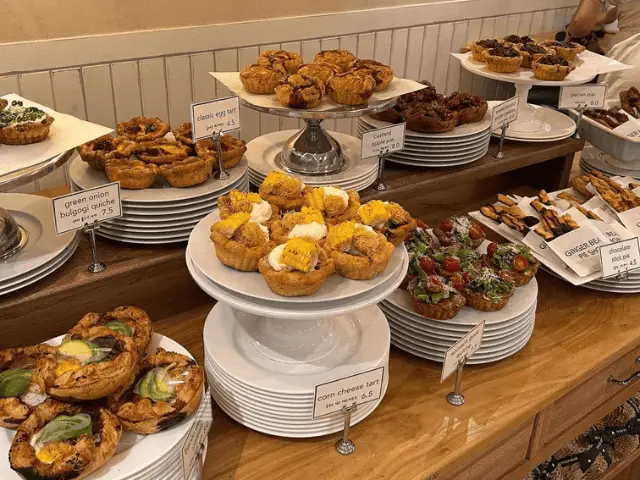 If you're on the hunt for a rare and exceptional meat pie cafe in Seoul, look no further than Ginger Bear (진저베어). But wait, that's not all! This extraordinary cafe goes beyond just meat pies and offers an array of delightful soups, pies, and cakes.
Ginger Bear is a haven for meat pie enthusiasts, with its savory and flavorful creations stealing the spotlight. This cafe will satisfy any meat lover's cravings with options like pork and chicken meat pies. Besides, their menu also boasts an impressive selection of drinks and cakes, including mouthwatering tarts, cookies, apple pies, soups, and mashed potatoes. There's something for every palate to enjoy.
One standout item that you absolutely must try is their Apple Mango Kale Juice. This refreshing and nutritious beverage perfectly complements the delectable dishes, adding flavor and goodness to your dining experience.
If it is too hard to choose which bakery in Seoul to go to, why not try them all? There is something for everyone of all ages. Treat yourself to rest and good food, and tell us which place you liked best. 🙂
You may also like:
IVK's Top Picks – Day Tours, Tickets, and Travel Activities
Seasonal Picks!😍