Last Updated on September 16, 2020
Summers in Korea are hot and humid with the occasional rain. On a hot summer day (or even a hot day in general!), nothing beats the feeling of an iced drink. But perhaps you found yourself with an unexpected dilemma. With so many types of drinks to choose from, which one should you choose?  Well, have you ever tried this amazing and sweet Korean trend called…Dalgona Coffee? No? Then, maybe it is time you should give this popular beverage a chance! 
Pronounced as dahl – goh – nah, it is  easy to conjure up an image when a person mentions "Dalgona Coffee." The frothy, caramelized coffee has become quite a trend during these days, with people catching on the hype to whip their own cup of this sugary goodness. Although the hype began in February 2020, the drink remains popular until today. Stores in Korea have now begun to offer the drink in their menu, so you don't have to make one yourself.  Convenience stores have even begun selling instant Dalgona coffee, which you can buy from as cheap as around KRW 2,000 per packet.
But how and why did this drink become so famous in the first place? And how can you make your own cup of dalgona coffee?
Dalgona Korean Coffee
Trend origin
In January, Korean youtubers uploaded a video of actor Jung Il Woo trying a whipped drink during his trip in Macau. Someone commented that the coffee's taste reminded them of the taste of sweet sugar candy – more specifically a honeycomb candy. Dalgona coffee got its name soon after.
The dalgona coffee became a trend during a time where due to a pandemic, people were stuck in quarantine. With suddenly so much time in their hands, and the coffee's simple and easily-obtained ingredients, many people found themselves attempting to make this drink. Dalgona coffee became so widely made that it became the second next frequently-done activity during a quarantine. Next only to baking.
The Dalgona coffee trend made it big in Korea followed by the rest of the world, but did this drink exist even before this? There are discussions and comments that make it seem that it is the case. The frappe has the same ingredients as dalgona coffee, and Indians and Pakistanis may be familiar with the drink called phenti hui. Although dalgona coffee slightly differs from these drinks in terms of texture and taste, the similarities still exist. 
Nevertheless, it is always fun to try something new. In this post, we will explain how to make your own glass of dalgona coffee and ways to get creative with it! 
How to make Dalgona Coffee
Aside from its incredible taste, the trend became so widely-spread also due to the fact that the drink is just that easy to make. You do not need to be a trained barista to make it. But with your newfound skills after this post, making Dalgona Coffee can be your next specialty. A party trick, even! 
Dalgona coffee has four main ingredients: instant coffee, hot water, sugar, and milk. To make the sugary sweet foam, you need a tablespoon each of instant coffee, hot water, and sugar. Mix these ingredients together in a bowl until their texture turns into foam. This is perhaps the "hardest" part, as it can take anywhere from 10 to 15 minutes to fully whip the foam with a whisk or a spoon. To pass time, we recommend watching a Youtube video or listening to some songs while you're at it.
If you have an electric hand mixer, however, feel free to use it! In fact, we highly recommend you to use it. You can whip the foam from as short as less than five minutes!
After the foam is done, the next step is to merely pour milk into a glass, preferably with ice. Add in the foam you made and voila, you're done! You now have a delicious glass of Dalgona coffee ready to be enjoyed. When stirred together with the foam, the milk should now have a caramel-y honeycomb taste, like the drink's namesake. 
Maybe you prefer a more visual learning experience instead. If that is the case, you can find various vlogs (video blogs) on Youtube these days to show you every step on how to make this drink.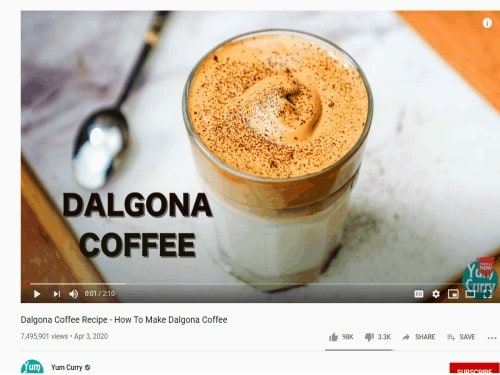 Sweet (or Different) Variations
But what if you're not a coffee fan? Or you would rather have something else instead of coffee on some days? Maybe you might want to even get creative with the trend. After all, trends are trends because they are eye-catching and what better way to catch someone's eye than showing off your creativity.
Well, we got you covered. Dalgona coffee does not have to be just Dalgona coffee. It can be Dalgona matcha, too! Instead of using coffee and hot water, Dalgona matcha foam is made using matcha and egg white. If you do not like egg whites, heavy whipping cream works, as well. Sugar is essential to maintain the meringue's structure. If you are using heavy whipping cream, however, any type of sweetener would suffice.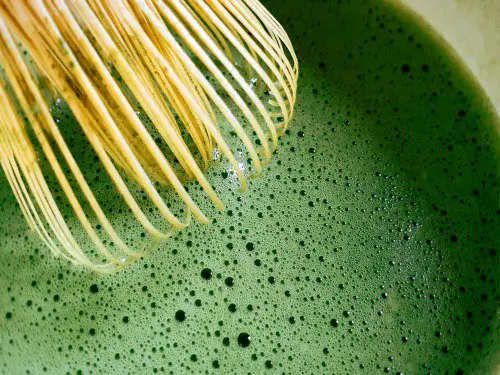 One important thing to note is that Dalgona matcha requires the use of an electric mixer. Using an ordinary spoon would still be possible, but not recommended as the process is tedious. You can use a hand mixer or a stand mixer. You can also use a whisk if you have no mixer. Be warned, though, that it might get tiring as you need the power to whip egg whites and heavy cream. 
Does it matter if you choose egg white or heavy cream, though? Is there even any difference? Well, if you want a smoother feeling on the tongue, egg white works best! If you want a richer taste, then use heavy whipping cream. It is all up to you. Choose whichever suits your palette the best. 
What if you do not like both coffee and matcha? But you really want to try the trend, so what are your options? You will be pleased to know that you actually have plenty! A fan of malt or chocolate? Try Dalgona Milo for a rich nutritious chocolate-y taste. Craving that bubble tea taste? With milk and black tea, you can make Dalgona Milk tea. Want something a little healthier? Throw in some strawberries into milk, and make Dalgona Strawberry Milk. Mix in a bit of Oreo crumbs to add some more fun to the already exciting drink! 
Do you want something to eat instead of drink? Do you want to combine your newfound baking skills and your Masterchef-level whipping abilities? Try and look for the recipe for the delicious Earl Grey Dalgona Cake! Or scones! Or even cheesecake! 
There are all sorts of delicious desserts and yummy treats you can experiment on. The possibilities are endless, and you will be pleased to see that the sky's the limit when it comes to culinary creativity. Impress not only your friends and family, but also the Internet denizens. Who knows? Your creation might just become the next big thing.
Visit this link to find see the recipes mentioned above. 
Want to take a break from the trend and try a more soothing, traditional beverage instead? Check this post to try some traditional Korean tea!
You may also like:
IVK's Top Picks – Day Tours, Tickets, and Travel Activities
Seasonal Picks!😍