Do you know what Korean subscription boxes are? Today, everyone knows about monthly boxes and maybe some of you already tried it. But what is it and how does it work? At the start, the box concept started in the United States in 2010. It was just a marketing strategy created to build up the customer's loyalty. The main goal of this strategy: sell good quality products to customers for fair prices. The best thing is that it can be used by any company for any product. This concept became really famous and you can actually find a box for so many products such as food, beverage, clothes, books, jewelry, high-tech, goodies, … There definitely will be a box that will fit you.
How does it work: All the process is done on the internet and the box is sent anywhere you want.  You can find between 4 and 8 good quality products in every single box. Finally, the total product value is superior to the price you paid. Usually, the box content is a secret to create a surprise effect on the customer when they receive it.
In this trend, we can find a lot of Korean subscription boxes on the internet with various Korean products.
If you want to know more about famous Korean snacks and ramyeon (ramen), read our articles, Best Korean Snacks You Should Try and Best Korean Ramen You Must Try; Recipe & Calories.
Top 10 Korean subscription boxes you will love!
DAEBAK BOX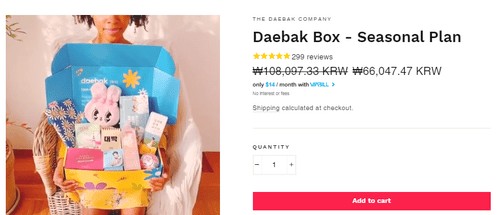 The Korean lifestyle box contains at least 8 full-sized premium products that range from K-beauty and K-pop to fashion and accessories, stationery, tech, snacks, and everything in between. Each box is valued at over $90 USD.
The subscription system is the same as the Daebak Jewelry box: a seasonal subscription (once a season), and a yearly subscription for 4 seasonal boxes.  Annual members will get their boxes earlier than seasonal members! For an annual subscription, you should prepay before receiving the 4 seasonal boxes.
You can also earn reward points in various ways and use them for your order!
Price: $54.99 USD for seasonal membership, $199.96 for annual memberships.
Products: 8 products.
Website: Daebak.co
GET 5% DISCOUNT by OUR PROMO CODE: "IVISITKOREA"
SeoulBox
Their service tagline is "From the street of Seoul straight to your door". Suji (Korean) and Raj (UK) founded the SeoulBox so that foreigners can easily enjoy and taste Korean culture and food. SeoulBox provide SeoulBox Signature, SeoulBox V (Vegetarian), and SeoulBox Life. And goodies in the boxes vary from month to month. 1 K-Pop merch, 1 K-Beauty product, 1 noodle, 1 drink, and other Korean items with snacks.
SeoulBox Signature or V Monthly $35
SeoulBox Signature Annual $384
Shipping fee: $12.50 per box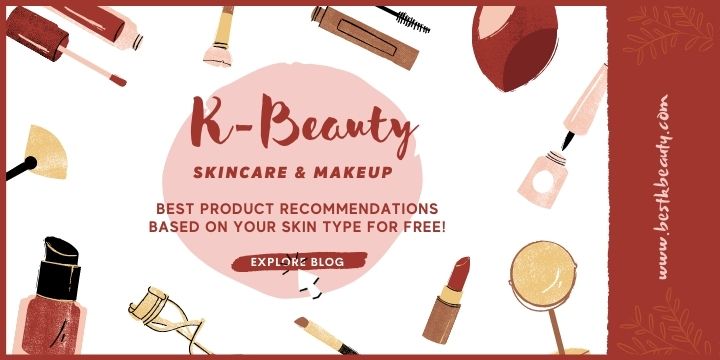 Bomi Box
Bomibox is a Korean skincare & beauty product subscription service. They carefully select and send the best K-beauty products over $80 value for $39.99.
They have three options, monthly subscription, 3-month gift subscription, and quarterly option (receive a box every three months). Most of the products in the box are made by the best Korean cosmetic brands, such as Laneige, Etude House, Innisfree, TonyMoly, COSRX, etc. You can check their past boxes HERE.
Unlike other Korean subscription box companies, Bomibox is a US company, and they offer a free shipping to the US. It was founded in July 2016.
Price: $39.99 USD for monthly box ($117 for 3-month gift subscription)
Website: https://bomibox.cratejoy.com/
KOREA BOX
Korea Box is one of the most famous Korean subscription boxes on the internet. The selections on the Korea Box are really huge! Korean cosmetics, Korean snacks, and K-pop collectibles are sold in different sizes (mini-box, regular box, or Premium box). For K-pop collectible & K-pop album boxes, they can be customized with your favorite idols if you complete the membership form during your subscription.  Free shipping, no matter where you live.
Costs: From 17.99$ to 49.99$.
Products: 2 to 3 products for the mini-box, 5 to 8 products for the regular box, and 12 to 15 products for the Premium box.
Cut-off date: Last day of every month (Korea time).
Website: korea-box.com
Discount: You can get a 10% discount if you subscribe to the mailing.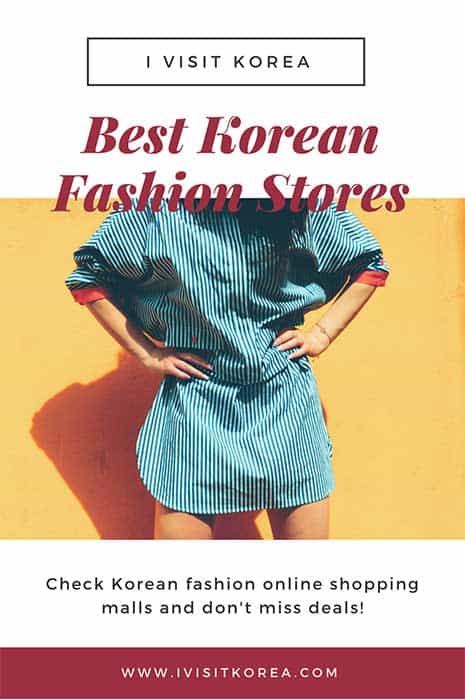 JOAH BOX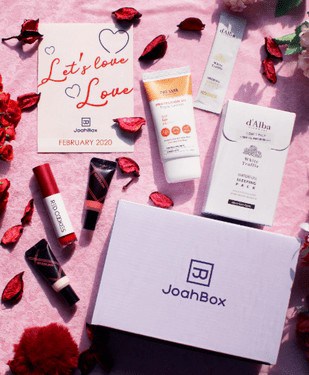 A K-beauty box from Korea that sends you products from the best Korean beauty brands. All boxes' values are up to $60 to $100 for a really cheap selling price.
3 subscriptions purpose :
One-Time Box: Getting a One-Time Box is a good idea if you want to try it for the first time.
3 months: Subscription to receive your box for 3 months. You need to prepay the total price of the subscription ($105.95, save $2).
Monthly: Receive your K-beauty box every month for $35.95. Shipping fees are included and you can cancel anytime.
Costs: From $35.31.
Products: Each month, you will receive between 5 and 7 full-sized Korean cosmetics products.
Website: joahbox.com
Discount: You can get a 5% discount If you subscribe to the newsletter.
MASK BOX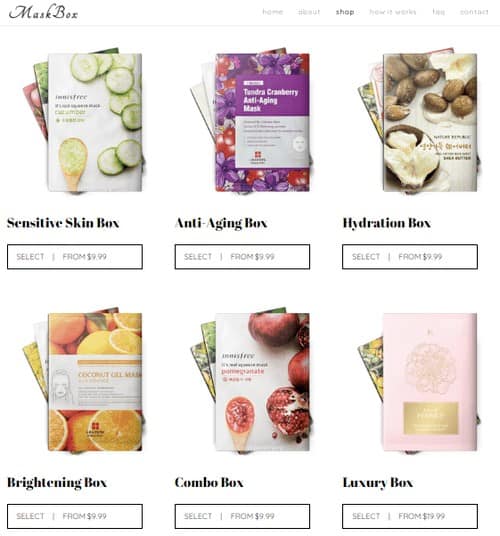 Different boxes are selling on the website depending on your skin type or the mask's propriety.  You can choose between 6 mask boxes in total. All boxes are sent between the 5th and 8th of each month. So, depending on your subscription date, there is a possibility that you will receive the following month's box. For each box, you can choose between the regular box (3 masks per box) or the double box (6 masks per box).
The subscription price starts at $9.99 with the "month to month" to $99.99 for the "12 month prepay" subscription (This price information is for the regular box).
By the way, if you are interested in only one kind of mask, you can buy it on the mask shop, without a monthly box subscription.
The website also provides some advice about how to use the mask correctly for the best effects of the product.
Costs: From $9.99 to $99.99 for the Regular box, from $19.99 to $199.99 for the Double box.
Products : 3 or 6 masks per box.
Website: maskboxbeauty.com (Only in the USA).
Discount:  Enjoy free shipping on all US with this code: FREESHIP (order over $50).
LENGBOX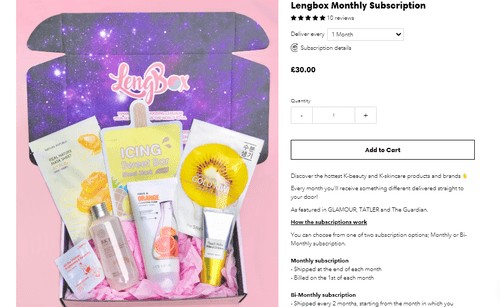 A UK box about Korean beauty that is specialized in Korean skincare products.  There are 2 subscription offers: monthly and bi-monthly boxes.
Lengbox also sells some masks packs for £8.00. If you are interested in this box, note that you can collect points to use later on.
For this box, shopping fees are not free, except for the UK on orders up to £45.
Costs: £30.
Products: Around 7 products per box.
Website: www.lengbox.com
Discount: Get 10% off your first order if you sign up for the newsletter.
DAEBAK JEWELRY
Daebak Jewelry has subscription boxes of Korean fashionable jewelry, delivered once a season. Jewelry choice is based on trending fashions in K-pop, television, K-Drama,…
Inside, you will find 4 to 5 quality jewelry pieces made in Korea. The best yet those with sensitive ears have nothing to worry as the quality of the materials is safe.
In the Daebak Jewelry box, there is a seasonal subscription, billed 4 times a year (every season), or an annual subscription in which you will receive 4 seasonal boxes. The Seasonal subscription is $29.99 and the annual subscription is $107.96.
Free shipping is only available for USA (excl Puerto Rico and Guam), Canada, Germany, Russia, and United Kingdom customers.
Costs: From $29.99 to $107.96.
Products: 4 to 5 pieces per box.
Website: daebak.co
Discount: Get 10% off your first box with the coupon code : HELLOSUB .
INSPIRE ME KOREA BOX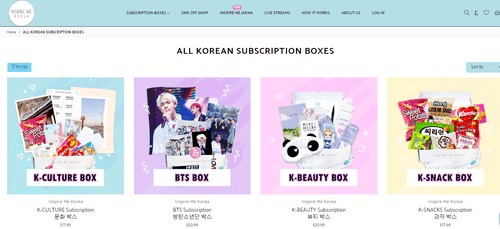 Created by two sisters, Inspire Me Korea's products are various. You have the choice between 4 boxes: K-Snack Box, K-Beauty Box, K-pop box, and K-culture box. Inspire Me Korea wants to make you feel like you are in Korea without taking the plane.
The subscription starts at 1 month to 12 months. With every subscription box, you gain access to the Inspire Me Korea community. You will be able to follow the live stream about the Korean language courses, Korean culture, and K-pop parties.
Interesting information: Among the Korean subscription boxes, Inspire Me Korea wants to share social responsibility. Thereby, the box packaging is made from a sustainable source and is 100% recyclable. They also want to support independent artists, designers, up-and-coming musicians, and small businesses by using products and content from this community in your box each month.
A vegan box is also available.
Costs: From $17.99 to $205.99, depending on your subscription choice.  
Products: between 4 and 14 products per box, depending on the box's choice.
Website: www.inspiremekorea.com
Seoulade – "Currently Unavailable"

Are you a K-pop fan searching for Korean subscription boxes?
BIMBIMBOX is the perfect box for all K-pop fans all around the world. It is a multi-fandom Box, called "The Gold Box". This box features different K-pop groups monthly with different merchandising products. You can find between 4 and 6 merchandising per box.
Bibimbox also had a limited edition box for the world-famous K-pop group: BTS. This limited box edition contains between 5 and 7 unique merchandising about the BTS group and its members.
All shipping fees are free and the estimated delivery time is 14-30 days!
Costs: $69.99 Gold Box – $89.99 for the BTS box.
Products: between 4 and 7 products, depending on the box's choice.
Website: Currently unavailable
UMSHIK BOX – "Currently Unavailable"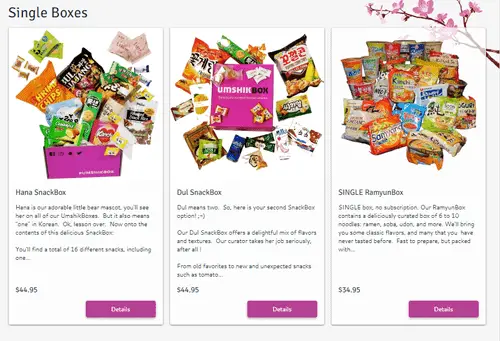 With the Umshik box, you have the choice between 2 snacks boxes and 1 instant noodles box. No prepaid subscription for this box, only the monthly subscription is available for now.
Each snacks box, the "Hana Snackbox", and the "Dul Snackbox", contains a total of 16 different snacks, including one pack of noodles. A handy brochure describing each of the contents is included in all boxes.
The "Single RamyunBox" contains between 6 and 10 noodles products with classic and new flavors. The content is regularly changed and they also occasionally sell limited edition UmshikBoxes.
They currently ship to the United States and APO or FPO addresses only but possibly shipping everywhere in the world soon!
Costs: From $34.95 to $44.95.
Products: From 6 to 16 different products per box, depending on your box's selection. 
Website: Currently Unavailable
Discount: Get 10% off your first box with the coupon code: HELLOFIRSTBOX. Join the newsletter and you could receive some coupons by email!
(BONUS) FROM KOREA WITH LOVE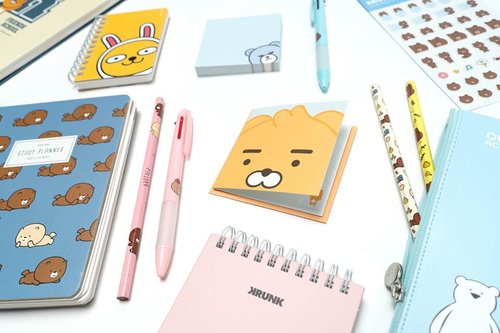 The cutest box From Korea with Love acquires the most adorable Korean stationery for delivery to your home every month. The website will open soon, stay tuned!
We hope you found YOUR favorite Korean subscription box here. Every month will feel like Christmas for a small price 🙂
You may also like: