Last Updated on November 24, 2023
Seoul is a very big city with many different types of restaurants that cater to a lot of different needs and preferences; as more and more people become aware of different dietary restrictions, the more and more the culinary scene in Seoul changes accordingly. Chefs and restaurant owners attempt to diversify their menus and cater to each of these needs and preferences. In a way, Seoul is the perfect place to find an inclusive place to eat. Along with an increase in the number of vegetarian and vegan restaurants, there is a rise in the number of gluten-free restaurants. This list aims to gather some of the best gluten-free restaurants in Seoul.
During these hard times, delivery might be a better option for you to get food from the restaurant to your home! Luckily, Korea has a fantastic online website where you can place your order from vegan, vegetarian, and gluten-free restaurants in Seoul.
Check out our ultimate guide on How To Order Food Delivery in Korea!
Seoul's Top Gluten-Free Restaurants
What Does Gluten-Free Mean?
First of all, let me give a definition of gluten-free. But before we understand what gluten-free means, we should look at what gluten is, for those who don't know. Gluten is a protein that's found in different types of grains such as wheat, rye, and barley. Gluten is also responsible for the flexible, elastic texture of dough and bread. Imagine, if you will, that you pour water into a bowl of four. When you mix the two, you'll eventually get a pile of study flour-and-water substance. The glutenous protein is responsible for the sticky consistency.
Eating foods that have gluten is not good for some people, since glutenous food will complicate and upset their digestion. This is the reason why most people are on a gluten-free diet. However, while being gluten-free is mostly beneficial for those who have celiac disease or other medical conditions associated with gluten, people who are not exposed to any autoimmune disease also choose a gluten-free lifestyle. The reasons are that being on a gluten-free lifestyle is believed to be healthier and that it helps with weight loss and increase in energy.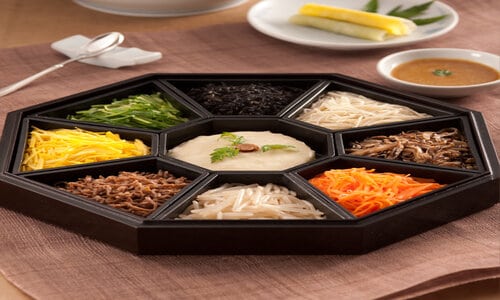 At Jihwaja, one of the most popular gluten-free restaurants in Seoul, you are treated to a full meal akin to the kind of meals that kings and queens of Korea's Joseon Dynasty-era enjoyed. All of the dishes and ingredients at Jihwaja are fresh and mostly vegetarian-friendly—not only that, though. Jihwaja also proves a variety of dishes made from ingredients that are gluten-free. Jihwaja is indeed dedicated to giving an all-inclusive dietary experience for all its customers' needs and preferences
Restaurant Hours:
Lunch 11:30 ~ 15:00 (last order at 13:30)
Dinner 17:30 ~ 22:00 (last order at 20:00)
Closed on Tuesday.
Address: 125 Jahamun-ro, Jongno-gu, Seoul, Korea (서울시 종로구 자하문로 125 (청운동 48번지))
As the name suggests, Plant is a "100% plant-based restaurant and bakery" and therefore is one of the few restaurants in Seoul that are at the forefront of the vegetarian, vegan, and gluten-free scene. Customers can guarantee that all the dishes at Plant are absolutely meat-free. On their website, it states that the brains behind Plant are "passionate about making the plant-based lifestyle more easily adopted in Korea by providing high-quality, accessible vegan meals and baked goods." Plant hopes to see a future where plant-based lifestyle and dietary restrictions are more commonplace.
For more information on their menu and on their company vision, check out their Instagram page.
Restaurant Hours:
Plant opens every day from 11:00 – 22:00.
Phone: 02-749-1981
Address: Itaewon-dong 130-43 2F, Yongsan-gu, Seoul, South Korea (서울시 용산구 이태원동 130-43 2층)
Jihwaja and Plant made the list on our article, 15 Vegetarian Restaurants in Seoul.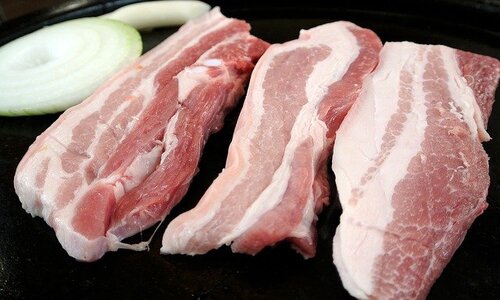 When you think of Korean food, you are most likely to think of samgyeopsal or grilled pork belly. In fact, it's surprising if you're either Korean or have been in Korea and you don't like enjoying samgyeopsal with a group of your friends. Samgyeopsal is a favorite Korean meal enjoyed by Koreans and foreigners alike. Choigozip (meaning 'best restaurant' in Korean) is one of the multitudes of samgyeopsal restaurants, but it belongs to one of the best franchise chains in Seoul. At Choigozip—any samgyeopsal restaurant, for that matter—you can be ensured that there isn't any dish that includes gluten.
Depending on the restaurant you go to, prices of samgyeopsal and side dishes will range from ₩7,955 – ₩26,136
Restaurant Hours:
Choigozip Hongdae opens every day from 12:00 to 24:00
Address: 25, World Cup buk-ro 2-gil, Mapo-gu, Seoul
Rated #1 out of 105 Indian and Nepali restaurants in Seoul, Jyoti is one the most popular gluten-free restaurants in Seoul. As the cuisines come from India and Nepal, whose residents are mostly vegan or vegetarian, it's not surprising that Jyoti offers a vast menu of fresh and authentic dishes. According to their website, their dishes are the finest vegetarian and non-vegetarian dishes that India and Nepal have to offer. In addition to their vegetarian and non-vegetarian dishes, they offer several kosher and halal options for their Jewish and Muslim patrons.
Jyoti boasts their staff, which includes personnel that once served at 4 and 5-starred hotels. They also have the A.A. Taste Award under their belt!
You can check out their Facebook page here and their Instagram here.
Address: 6, Sinchon-ro 20-gil, Mapo-gu 3 Floor, Seoul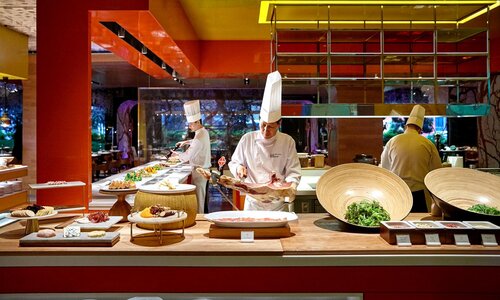 Located inside the Lotte Hotel in Seoul, La Seine is an upscale buffet-style restaurant that serves over 200 dishes originating from many countries and suitable to different dietary restrictions. At La Seine, you will find vegan, vegetarian, and gluten-free options. The restaurant has eight distinct stations, divided by type of cuisine: Asian cuisine, Japanese cuisine, Western cuisine, a noodle bar, cold meals, Korean grill, desserts, and drinks. The 200+ dishes are all cooked by professional and very talented chefs in the restaurant's open-plan kitchens.
La Seine offers many different discount options for customers and guests who make reservations through the Lotte Hotel Seoul app or website. However, these are not valid if you make same-day reservations.
Restaurant Hours:
Weekday (Mon to Fri)
Breakfast 06:00~10:00
Lunch 11:30~14:30
Dinner 18:00~21:30 (Fri 18:00~22:00)
Weekends/Holidays
Breakfast 06:00~10:00
Lunch 11:30~16:00
Dinner 17:30~22:00
Address: 30, Eulji-ro, Jung-gu 1F, Lotte Hotel Seoul, Seoul
The Parkview
Another restaurant that is inside a hotel–the Shilla Hotel, in this case—The Park View is a pan-Asian and international restaurant, offering guests a variety of dishes. Along with many meat-focused delicacies, The Parkview also offers a range of vegetarian, vegan, and gluten-free options, so guests who follow a certain diet can also find food that they can eat and enjoy.
Restaurant Hours:
Weekdays (Mon–Fri)
05:30 AM – 10:00 AM
12:00 PM – 2:30 PM
6:00 PM – 9:30 PM
Weekends (Saturday & Sunday)
05:30 AM – 10:30 AM
11:30 AM – 4:00 PM
5:00 PM – 9:30 PM
Address: 202 Jangchung-dong, Jung-gu, Seoul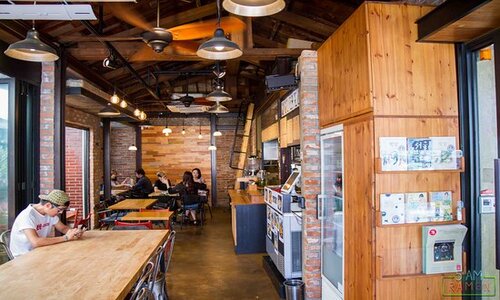 Ah, Mexican food. Who doesn't love Mexican food? Good news, Gusto Taco is one of the many Mexican restaurants in Seoul that provide gluten-free options, which both corn and flower options for their tacos, burritos, and other tortilla dishes. As well as their gluten-free options, Gusto Taco also has a variety of dishes that can be prepared for their vegan and vegetarian customers, so there's definitely something for everyone!
Restaurant Hours:
Weekdays & Weekends: (Tuesday – Sunday)
11:00 AM – 10:00 PM
Gusto Taco is not open on Mondays.
Address: 146-6 Sangsu-dong, Mapo-gu
Speaking of Mexican food, there are plenty of delicious Mexican and gluten-free restaurants all over Seoul. Gusto Taco is one of them, and El Pino 323 is another. Located near the social hub of Itaewon, El Pino 323 was established by a Korean born and raised in East Los Angeles with a Mexican family—this is exactly why customers can be sure that they're enjoying authentic Mexican cuisine when they visit El Pino 323. Much like Gusto Taco, El Pino 323 offers their tortilla dishes with either corn or flour tortilla, and the corn tortilla is sure to be gluten-free! El Pino 323 also offers their customers vegetarian dishes if you notify the waitstaff beforehand!
Restaurant Hours:
Weekends (Sat & Sun)
11:30AM–3PM, 5:30PM–9PM
Weekdays (Tues – Fri)
11:30AM–9PM
El Pino 323 does not open on Mondays.
For pictures and more information, check out their Instagram page.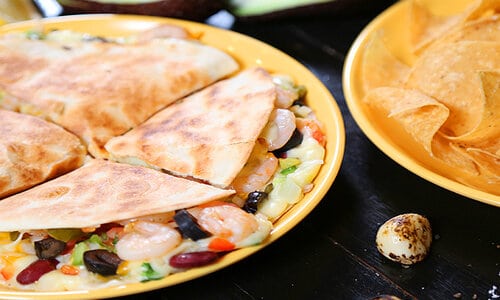 Dos Tacos is another Mexican restaurant frequented by Koreans and foreigners alike. Located near Sinnonhyeon Station, right above the Gangnam area, Dos Tacos offers authentic Mexican favorites such as the taco, burrito, fajita, enchilada, chimichanga, quesadilla, and so much more! As with the other Mexican restaurants on this list, their tortilla options are corn or flour;; many of their customers following the gluten-free diet are encouraged to order all their dishes with the corn tortilla option. Dos Tacos also has vegan, vegetarian, and pescatarian options!
Dos Tacos has locations all over Seoul and Bundang. For more information, check out their Facebook page here.
Restaurant Hours:
Weekdays (Mon–Fri)
11:30AM–10:00PM
Weekends (Sun)
11:30AM–9:00PM
Dos Tacos does not open on Sundays.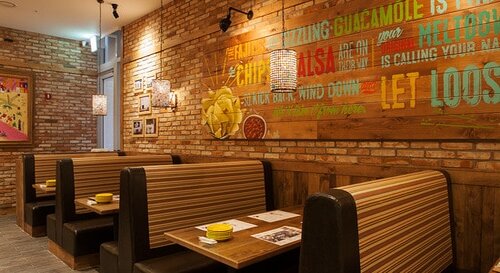 For an even more prolific and ever-present Mexican chain restaurant, look no further than On The Border! Although On The Border has many locations, probably the most beautiful and ideally situated one is at the Starfield Mall, next to the Starfield Cinema! At On The Border, customers will be thrilled at the sheer amount of Mexican dishes, food, and drinks! Alongside vegan and vegetarian options, the extensive menu includes several gluten-free options including but not limited to, the choice of corn tortilla.
On The Border opens its doors every day from 10:00AM–10:00PM.
Address: 750 Misa-daero, Sinjang 2(i)-dong, Hanam-si, Gyeonggi-do
In Seoul, you can find one than one restaurant of the same cuisine often in the same neighborhood. Case in point, Vatos! Located in the same Itaewon area as El Pino 323, Vatos offers a menu full of delicious and authentic dishes from Mexican cuisine as well as the blending of Korean and Mexican fusion cuisine, inspired by the owners' upbringing as Korean-American raised in authentic Mexican food. Complete with gluten-free options, Vatos provides customers with the best customer service while serving them their various dishes.
Fun fact: The restaurant name comes from a nickname people in Mexico often call their friends. "Hey, Vato!" Careful though! This is a colloquialism. Don't say it to your superiors!
For more information, you can check out their Facebook and Instagram.
Restaurant Hours:
Weekdays (Mon–Fri)
11:30–11PM
Weekends (Sat)
11:30–12:00AM
Grand Kitchen 
Another buffet-like restaurant inside of a hotel, Grand Kitchen is one of the restaurants on the B1 level of the Grand interContinental Parnas Hotel near Samseong Station and the CoEx Mall in Seoul. As it is a buffet, customers and guests can expect to see a large array of international cuisines, with dishes stemming from different parts of the world. The chefs and staff of the Grand Kitchen are also aware and meticulous when it comes to dietary restrictions and lifestyles. For this reason, guests can be ensured that the food that they're eating is to their tastes and needs.
A nice perk is that the restaurant is not only attached to the Grand InterContinental Parnas Hotel, but it is also attached to the CoEx Mall, a wondrous department store with many things to see and many things to do.
Restaurant Hours:
Weekdays & Weekends (Mon – Fri)
6:30AM–10:00PM
Address: 521, Teheranno, Gangnam-gu (B1 Grand InterContinental Seoul Parnas)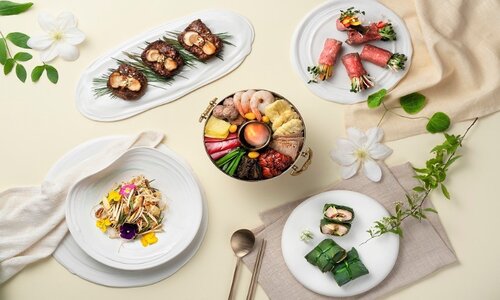 Inside the Marriott Bonvoy hotel in Seoul, Tavolo 24 provides yet another buffet-style dining experience, where customers and guests are greeted with an array of international dishes hailing from the far reaches of Asia and Europe. Like the other restaurants on this list, Tavolo 24 offers guests and customers vegetarian, vegan, and gluten-free options.
Restaurant Hours:
Weekdays (Mon–Fri)
Breakfast: 6:30am – 10.30am
Lunch: 11:30am – 2:30pm
Dinner: 6:00pm – 10:00pm
Weekdays (Sat & Sun)
Breakfast 6:30am – 10.30am
Lunch: 11:30am – 3:00pm
Dinner: 5:30pm – 10pm
Public Holidays
Breakfast 6:30am – 10.30am
Lunch: 11:30am – 3:00pm
Dinner: 5:30pm – 10pm
Aloft is in probably the most desirable location for a hotel in Korea, as it is right in the middle of Korea's Myeongdong Shopping and Fashion Street. On the second floor of Aloft Hotel is W Xyz Bar, an ideal place to grab drinks, meet friends, and hang out. While indulging in drinks, guests are more than welcome to peruse their menu, which offers a range of bite-sized dishes to go along with your drink. At W Xyz, the staff takes precautions to provide guests with many options, including gluten-free options.
Restaurant Hours:
Weekdays (Mon – Fri
11:00AM–12:00AM
Weekends (Sat)
11:00AM–10:00PM
Address: 56, Namdaemun-ro, Jung-gu 2F, Aloft Seoul Myeongdong, Seoul
Do you like seafood? Specifically, do you like lobsters? Do you love it? If so, you're in luck! Located inside the Lotte Department Store, Viking's Wharf is a buffet-type restaurant that specializes in—you guessed it—lobsters! At Viking's Wharf, you are free to have as many lobsters as you want at a fixed one-time price. Viking Wharf provides an elegant gluten-free eating experience that's mostly lobsters!
If you want to eat at Viking's Wharf, you should make a reservation before you visit and eat at Viking's Wharf's lobster buffet.
Restaurant Hours:
Weekdays
Monday 11:30 AM – 3:30 PM, 6:00 PM – 10:00 PM
Tuesday–Friday 11:30 AM – 3:30 PM 5:30 PM – 7:30 PM 8:00 PM – 10:00 PM
Weekends
Saturday 11:30 AM – 1:30 PM, 2:00 PM – 4:00 PM, 5:30 PM – 10:00 PM
Sunday 11:30 AM – 1:30 PM, 2:00 PM – 4:00 PM 5:30 PM – 10:00 PM
Address: 4F, Lotte World Mall, 300, Olympic-ro, Songpa-gu
There are many people who are on different dietry restrictions. Specifically, people who are on gluten-free diets can find a gluten-free restaurant anywhere and all over the city of Seoul.
You may also like: