With the number of Muslim tourists and expats growing in Korea, there is growing effort in major cities to accommodate them, from an increase of halal restaurants to providing prayer rooms in certain places. If you are a Muslim living in Korea and have been planning to cook more for yourself, you might have one main concern: halal groceries. Or more specifically, halal online markets that can deliver the ingredients to you.
Where can you get halal ingredients, especially meat? Where can you get spices and food that may remind you of home? And if you don't live in major cities, can you get these groceries delivered to your doorstep?
In this article, we will introduce you to Shejang, one halal food market where you can get halal groceries with a click of your mouse. We will also mention a few notable recommendations of the best halal groceries in Korea to check out as well.
Disclaimer: All available information are obtained from the websites listed below. 
The Best Halal Food (Groceries) Online Markets in Korea
Introducing Shejang and its offline store
Shejang, as you might have guessed, is a play on the word "shijang" or 시장 which means market in Korean. Established by graduates of KAIST, Korea and Yonsei University, the brand aims to introduce and deliver authentic and high-quality international ingredients. 
It has an offline store called Foreign Food Mart located in Itaewon. 
Address: 137-8 Itaewon-dong, Yongsan-gu, Seoul
Operating Hours: 10 AM to 12 AM
Contact number: 02-793-0082
Shejang also has an app which you can download from the playstore. 
The Shejang website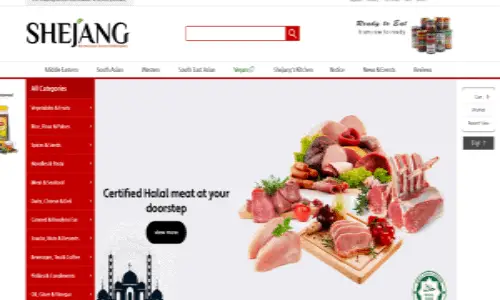 You can access Shejang's website through the web address shejang.com. The website is also the first result through a Google search of the keyword "shejang". When you first enter the website, you'll be greeted with its tagline "certified halal meat at your doorstep" before you notice there will be an array of categories you can browse from.
You can browse food according to region – perfect if you're maybe craving for south asian or middle eastern food that particular day. Alternatively, you can choose food from a specific food type – from fresh ingredients like vegetables or meat to canned food and snacks. Additionally, for fresh ingredients, you can choose whether to buy fresh ones or frozen ones if you want to store them longer.
Going vegan? Shejang has a category for that too! Shejang also has specialized food or snacks you can buy from the "Shejang's kitchen" category. Other important links include the notice board for important updates and the reviews link where you can read other people's testimonials. 
Making an order
Making an order at Shejang is simple and seamless. From adding your items to the cart and checking them out, the process is easy and painless. When inputting your address, it would be helpful for you to know how to write it in Korean, however, as the address search function can only find addresses in Korean. 
A quick tip if you have trouble with that: go to epost's postcode finder here where you can look up your address in English and it will return with a Korean version of it. Then, it's as easy as copy-pasting it into Shejang's address search function.
Shejang accepts Korean debit/credit cards and bank transfers for payment methods. 
Delivery time and method
While Shejang accepts orders 24 hours, orders made before 4 PM will be processed for delivery on the same day. Orders made after that will be processed on the next business day. This might be helpful if you want to receive your groceries the next day. 
Shejang uses third party services to deliver its groceries. However, Shejang personally delivers if your order is above KRW70,000 and you live in the Yongsan area. It offers free delivery for orders above KRW40,000. Fresh meat and other perishables are carefully packed in ice boxes so be rest assured, it will arrive safely for consumption. 
Otherwise, Shejang's customer service is always a phone call away if you receive damaged food items or have any orders missing. You can opt for a refund or a re-delivery free of charge. 
Other halal online markets
We also have notable recommendations for other halal online markets you can use to buy your groceries!
Al Bazaar
Website: https://albazaarkorea.com/
Contact number: 010-5601-2434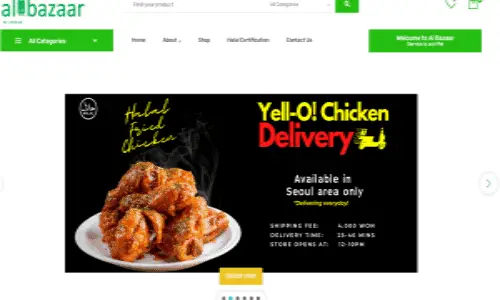 Like Shejang, Al Bazaar offers a variety of halal ingredients ranging from meat to canned food. One unique feature of this website is that you can also order from certain halal restaurants as well for ready-made food. 
If you are craving for some of that delicious Korean fried chicken, then look no further! Al Bazaar has a partnership with Yell-O! Chicken, a halal fried chicken restaurant in Itaewon. Even if you do not live in Itaewon, you can have their delicious fried chicken delivered straight to your doorstep. When you make your order, select AB express as your delivery method so it is delivered on the same day. Although the website is in English, the delivery rider is typically Korean, so if you need to meet your rider elsewhere, knowing simple Korean might help! (Or having a Korean friend nearby would also be a good alternative.)
Payment is done through Korean debit/credit card and bank transfer. The website also mentions that you can contact them through their number if you need the order urgently but are unable to immediately make payment. 
Expat Mart
Website: https://expat-mart.com/
Offline store
Address: Seoul, Yongsan-Gu, Dokseodang-ro (Hannamdong), 2F, #84
Operating Hours: 10 AM to 10 PM
Contact number: 070-7841-9798/ 070-7841-9799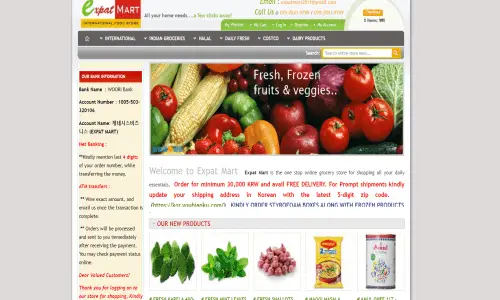 A special feature about Expat Mart is that it has a special section on its homepage where it ranks its most popular item along with its price. Hence, you can have an overall good idea of what the store is known for, and whether it fits your own grocery needs. It also carries some notable and popular international brands like Kraft Mac and Cheese and Indomie. If you prefer to buy food at wholesale prices, Expat Mart also carries products from Costco!
There is one important thing to note, however. When buying perishables, you need to manually purchase the icebox and styrofoam cooler into your cart to avoid spoiled food.
Like Shejang, Expat Mart offers same-day delivery if you need your groceries urgently. You may contact them through skype or email: [email protected] before placing your order. Payment can be made through net banking or ATM transfer. Orders above KRW30,000 are eligible for free shipping. 
Yes!Halal
Website: https://www.yeshalal.co.kr/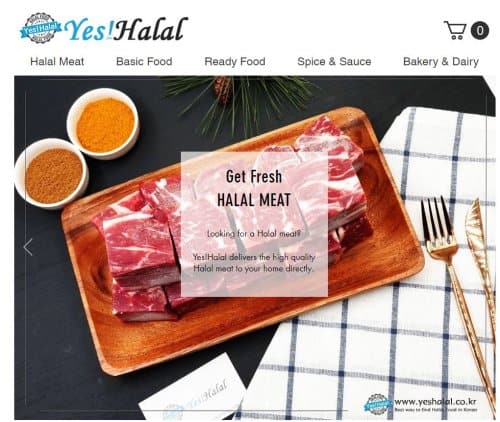 Most Korean websites require a domestic payment method. If you just arrived in Korea and have not had the time to make your Korean bank account or debit/credit card yet, you might be at a loss of what to do. Worry not; YesHalal Mart provides an answer!
This website allows you to pay for your groceries through Paypal in addition to its domestic payment methods. You do not have to have a Paypal account to do this as you can connect your Visa or Mastercard through the payment getaway and it will do the job for you!
For domestic delivery, you are eligible for free shipping at orders above KRW45,000. Perishables and frozen food must be purchased together with ice packs and styrofoam boxes. 
Being a Muslim in a country where religion is part of the minority can be tough. Hopefully, with this comprehensive guide of halal online markets, your grocery shopping experience will be much easier! 
Alternatively, if you want to know more about Korean supermarkets instead, you can check this post here! 
Happy shopping~
You may also like:
IVK's Top Picks – Day Tours, Tickets, and Travel Activities
Seasonal Picks!😍