Are you a Muslim in Seoul or an ex-pat looking for more halal food options? Or are you a Malaysian craving for a taste of home? Or, are you neither, just a person craving for something new to excite your food palate? Well, you've come to the right place. There has been an increase of Muslim visitors and Muslims in Seoul who want to feel the comforts of home. Here are the top Malaysian restaurants you have to try when you're in Seoul.
A Seoul-ful taste of Malaysia
Agak-agak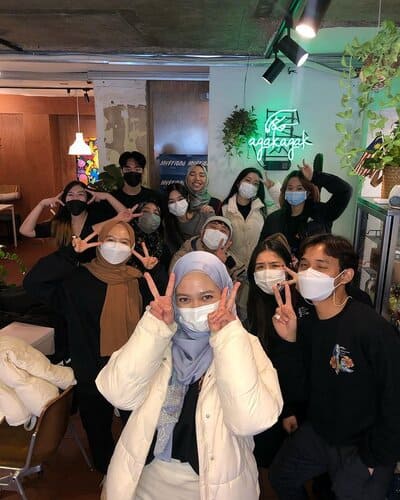 Agak-agak, a hidden gem in Hongdae, another district known for its hustling activity, means "just about there" in English. In contrast to the busyness of the main street, this restaurant is carefully located in a much quieter area alongside other cafes and small businesses. A neon-lit sign hangs above an adorable collection of plants sitting on a ledge. The perfect photo op for an aesthetic Instagram post. However, the restaurant's aesthetic does not end there.
Stepping inside the small but quaint establishment with gorgeous paintings hanging on the walls. They depict the everyday lives of Malaysians in a village – or kampung in Malay – setting. Trinkets decorate the shelves and carefully potted plants give the place a homely, cottage-like feel. Even the utensils used are decorated with pictures of village roosters, a common sight in old Malay villages. It may feel like a blast into the past for curious newcomers, or a welcome-home gift to Malaysians yearning for familiarity.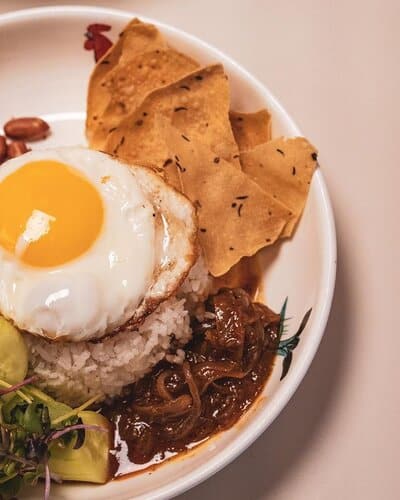 Agak-agak offers an array of Malaysian dishes. Its menu includes popular dishes such as Nasi Lemak, Nyonya Laksa – a noodle dish served in coconut broth -, Roti Canai – flat bread often paired together with curry – , and Char Kueh Tiaw – fried flat rice noodles usually cooked with egg, seafood, and vegetable -,  but also offers more modern dishes such as crab fried rice. It also serves satay – chicken or beef skewer -, pulut panggang – grilled glutinous rice wrapped in pandan leaf -, rojak buah – a crisp salad served with a peanut-y slightly spicy sauce, – and prawn crackers – dishes that would get people's mouths watering by the menu illustration alone.
This restaurant also serves drinks such as pandan asam boi – an iced beverage with a sweet sour taste -, teh tarik (literally translates to pulled tea) – sweet milk tea – and milo dinosaur – a malt drink with milo powder poured on top.
A fun fact about this restaurant. Famous Korean star Alexander, former member of U-KISS, frequently recommends this restaurant on his Instagram page!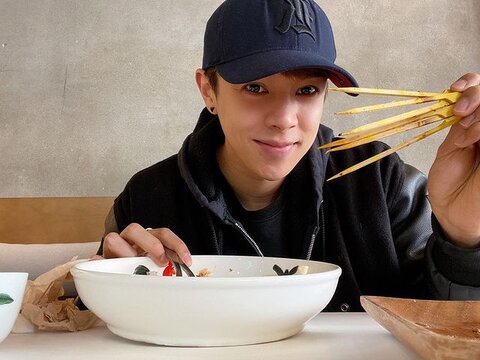 Location and Opening Times for Agak-agak
Agak-agak is open from Tuesday to Sunday from 11.30 a.m. to 9 p.m., and accepts reservations through phone calls. Please note Monday's are closed.
Address: Seoul, Mapo-gu, Yeonnam-dong, Donggyo-ro 25-gil, 57 1층
Instagram: agakagakseoul
Bonus!
Muslim tourists who crave fast foods during their stay in Korea will be thrilled that a lot of burger chains in Korea offer non-meat alternatives like shrimp burgers!
McDonald's offers the supreme shrimp burger from as cheap as KRW5000. Lotteria's shrimp burger offered at KRW4700. Mom's touch, however, takes the cake with its shrimp burger from only as low as KRW2900! (Please note prices can vary).
Agak-Agak
Agak-Agak is one of the many halal restaurants now sprouting in the city of Seoul. With Seoul becoming an increasingly popular destination among Muslim travelers and ex-pats from not only Malaysia but also all around the world. It becomes a huge comfort to have a place where one could relax from the hustling and bustling of work and travel to eat some delicious food. And sometimes, a small taste of home in a city far away can be the most comforting thing of them all. Bon appetit, or as the Koreans say it, 맛있게 드세요!
(Note: All opinions in this article are the writer's own and do not necessarily represent any related organizations/parties as a whole.)
You may also like: