Last Updated on December 1, 2023
KDCA Lifts Pre-entry Negative COVID-19 Test Requirement, Starting 3rd September. However, travelers are still required to take a PCR test on the first day of their arrival at the border.

– KDCA (Korea Disease Control and Prevention Agency)
COVID-19 protocols for international travelers
| | | | |
| --- | --- | --- | --- |
| Entrants | Pre-entry test | PCR test on the day after arrival | Quarantine |
| Koreans / Long-term stay foreigners | None | Public Health Center | Exempt |
| Short-term stay foreigners | None | Airport Testing Center (Recommended) or Hospitals | Exempt |
[ KDCA (Korea Disease Control and Prevention Agency) ]
The answer is yes! South Korea is open to tourists. Whether you're here for a holiday, study, work, or family visit, most international travelers are free to enter South Korea at this moment. Almost all countries have relaxed their border restrictions as the Covid-19 pandemic improved significantly this year. South Korea is no exception. Starting from mid-2022, international travelers can apply for all types of visas (including the tourist visa C-3-9) and enter the country with proper health and safety regulations. And we recently received more good news!
South Korea will begin to lift its pre-departure Covid-19 PCR test rule for international travelers starting from September 3, 2022. This means you no longer have to present a negative PCR test upon arriving at the airport or other means of transportation. You will still be subjected to an on-arrival PCR test within one day of arrival, and you have to upload the test result on the Q-code website. 
Make sure to check the latest information and prepare every document beforehand for a smooth entry and immigration process. Read more in this article on everything you need to know before you go to South Korea.
Preparation
Although vaccination is no longer required and the quarantine policy is lifted, I'll still advise you to have your vaccines before departure for extra safety measures. Bring your masks and other protection. The pandemic might be better already, but it hasn't ended yet!
Apply for K-ETA or Visa (skip if you're a Korean national, APEC card holder, or ARC holder)
K-ETA is an electronic travel authorization that visa-free foreign visitors need to obtain before entering the Republic of Korea. Apply for K-ETA if your nationality is eligible and if you're visiting Korea for tourism, business purposes, short-term study with a stay below 90 days, family visit, etc. Go to the K-ETA website for more information. Apply for K-ETA at least 1 week prior to departure.
If you're not eligible for K-ETA, apply for the appropriate visa at your local embassy. Starting from June 1, 2022, multiple entry visas (C-3 types) issued prior to April 5, 2020, that have not expired may be used without re-application. 
Register yourself on the Q-code portal website here. If you haven't, fill out the Health Questionnaire and Travel Record Declaration (Special Quarantine Report) on board the plane.
Arrival
The immigration process will be longer and more complex because of the pandemic regulations, so board the plane quickly to avoid long queues! Upon arrival at the airport, you will be directed to the quarantine checkpoint to check your temperature and show your pre-issued QR code. If you haven't registered on the Q-code portal website, you will be showing your passport and the Health Questionnaire & Travel Record Declaration.
As the mandatory quarantine is lifted, all travelers who pass the health checkup can immediately exit the immigration check and leave the airport. Don't forget to take a PCR test within 24 hours after your arrival. This test is mandatory for all travelers above the age of 6 or with special exemptions, such as flight crew or individuals with special exemption certificates. You can take the test at the Covid-19 Testing Center inside the Incheon International Airport or at other medical clinics. At this point, you will be advised not to leave your hotel or accommodations before the test result is out. If the test result is negative, then you're free to go. If it's positive, you'll be transferred to a hospital or a residential clinic center for further medical care. You will also have to isolate yourself for 7 days.
However, even if you're negative, you'll still need to take a follow-up Rapid Antigen Test (RAT) on Day 6 or 7 after arrival. You can use a self-test kit or visit a nearby medical clinic with the proper procedure.
Incheon International Airport Covid-19 Testing Center: https://www.airport.kr/ap_cnt/en/svc/covid19/medical/medical.do
List of PCR testing centers: https://kdca.go.kr/upload_comm/syview/doc.html?fn=165787375867200.pdf&rs=/upload_comm/docu/0017/
After you receive your PCR test result, don't forget to upload them on Q-code.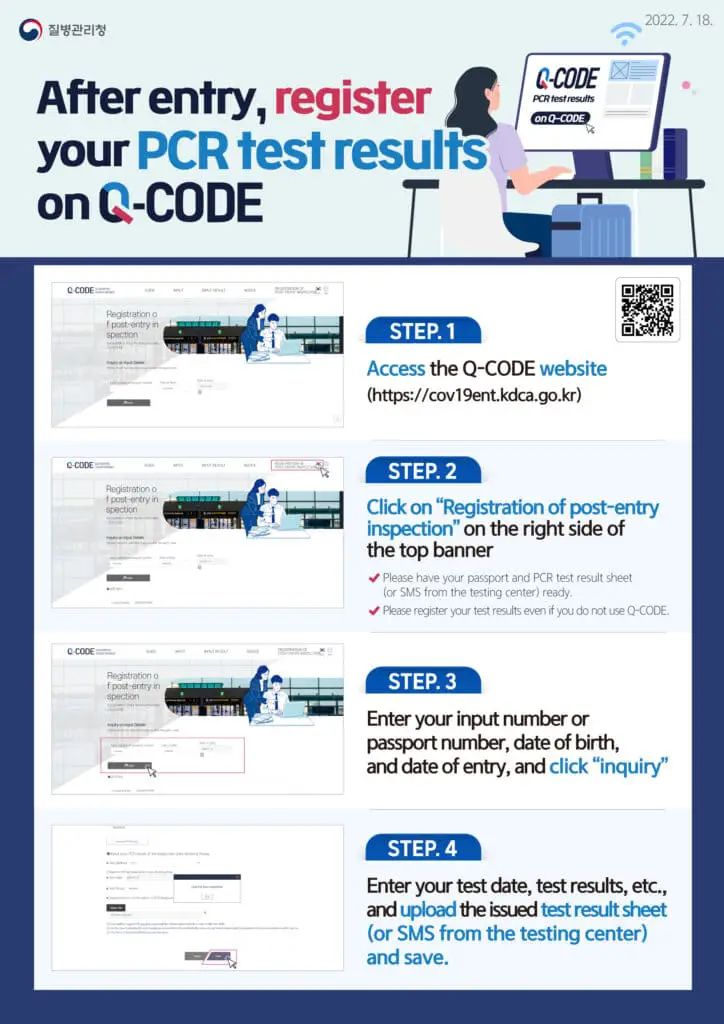 Looking for an airport transfer and luggage service?
Country-Specific Requirments
Almost all countries follow the general rule of visa application and health declaration regulation. However, as the pandemic is unpredictable, some changes may arise in the future. Make sure to regularly check your embassy or foreign affairs office for any updates. Check below for countries eligible for K-ETA.
Types of Korean Visas
Still, confused about what visa type applies to you and your visit purpose? Check this list of all the available visas South Korea accepts.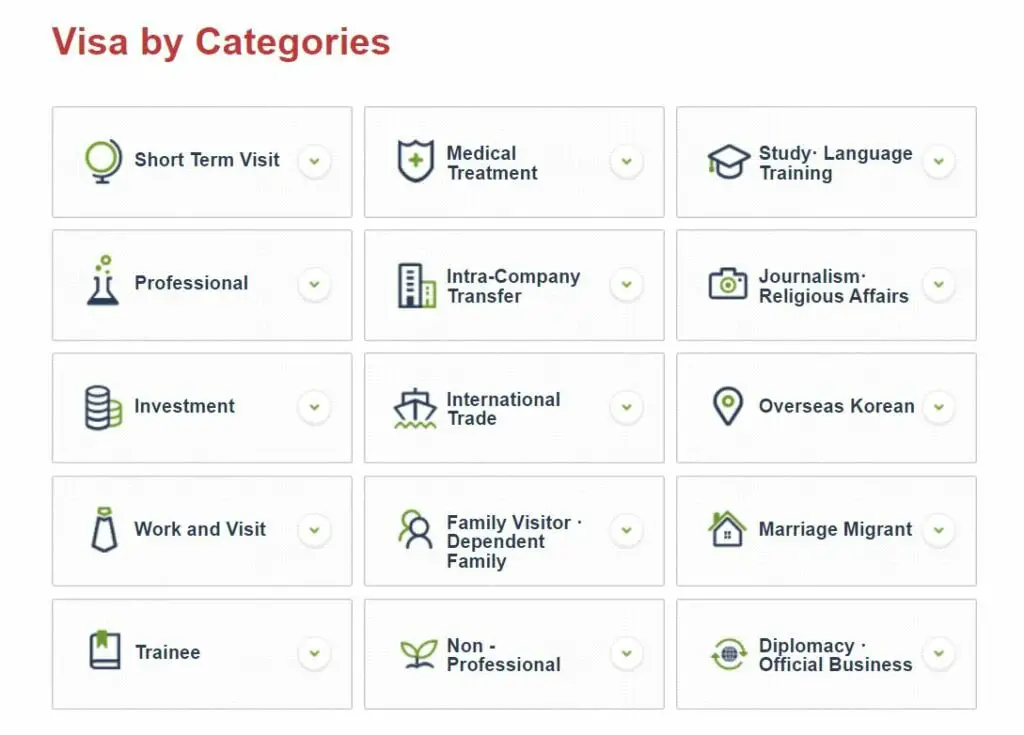 Korean Visa Portal: https://www.visa.go.kr/openPage.do?MENU_ID=10102&LANG_TYPE=EN
Counties eligible for K-ETA
South Korea has made it easier for international travelers to visit the country without a visa. K-ETA is an electronic travel authorization or a visa waiver. It allows eligible nationalities to visit South Korea for a short stay for tourism, family visit, business activities, etc. K-ETA is a multiple-entry online visa waiver valid for 2 years and allows the holder to stay between 30-180 days per entry (varied per nationality).
K-ETA Countries as of September 2022:
Albania
Andorra
Antigua and Barbuda
Argentina
Bahamas
Bahrain
Barbados
Belgium
Bosnia and Herzegovina
Botswana
Brazil
Brunei Darussalam
Bulgaria
Canada
Chile
Colombia
Costa Rica
Croatia
Czech Republic
Denmark
Dominica
Dominican Republic
Ecuador
El Salvador
Estonia
Fiji
Finland
France
Germany
Greece
Grenada
Guatemala
Guyana
Haiti
Honduras
Hong Kong
Hungary
Iceland
Ireland
Israel
Italy
Jamaica
Japan
Kazakhstan
Kuwait
Latvia
Lesotho
Liechtenstein
Lithuania
Luxembourg
Macau
Malaysia
Malta
Marshall Islands
Mauritius
Mexico
Monaco
Montenegro
Morocco
Nauru
Netherlands
New Caledonia
New Zealand
Nicaragua
Norway
Oman
Palau
Panama
Paraguay
Peru
Poland
Portugal
Qatar
Republic of Cyprus
Romania
Saint Kitts and Nevis
Saint Lucia
Saint Vincent and the Grenadines
San Marino
Saudi Arabia
Serbia
Seychelles
Singapore
Slovakia
Slovenia
South Africa
Spain
Suriname
Swaziland
Sweden
Switzerland
Taiwan
Thailand
Trinidad and Tobago
Tunisia
Turkey
Tuvalu
United Arab Emirates
Uruguay
Vatican City
Venezuela
Countries not on this list either apply for a visa or other documents.
You can check the next step and eligibility here: https://www.k-eta.co/
South Korea is open to tourists and waiting for your presence. See you soon! 🙂
You may also like:
IVK's Top Picks – Day Tours, Tickets, and Travel Activities
Seasonal Picks!😍