Amidst Busan's breathtaking ocean views and urban environment is the city's vibrant theme park: Lotte World Busan. Its exceptionality relies on being the first European-style theme park in Asia, which has been captivating tourists and locals alike since it first opened in March 2022.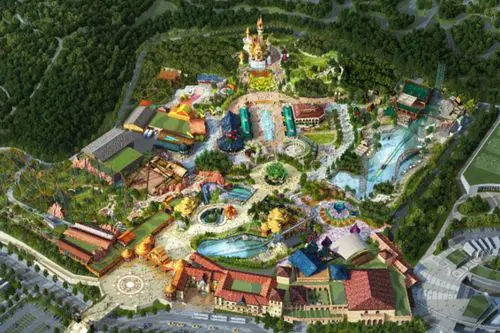 Located inside the Osiria Tourist Complex in Gijang County, Lotte World Busan spans four times larger than the Seoul Lotte World theme park. It has six zones and 17 attractions and rides, some of which are extreme rides you can't find in other South Korean theme parks.
The theme park is designed to stand out with its indoor and outdoor destinations. Prepare to be surrounded by garden-like zones surrounded by beautiful surroundings.
Inside the theme park, you can do several exciting things: entertainment, rides, eating, picture-taking, and more. Although it can get crowded and lines can get long at times, every attraction at Lotte World Busan is worth seeing!
Do you want to experience the dreamy thrill Lotte World Busan's timeless adventure offers? Let's go!
In a hurry? Check out the Best Busan Lotte World Day Pass Price!
Opening hours, Directions, and Hanbok rental in Lotte World Busan
Opening Hours & Location
The theme park is located at 42, Dongbusangwangwang-ro, Gijang-gun, Busan. Its usual hours are from 10:00 AM to 9:00 PM.
Ticket Prices
Tickets start around ₩15,000-₩62,000. Price will depend on your age group: baby, child, youth, and adult.
There is a discount for some people like infants, the disabled, and those who can't use the rides. Make sure to bring one valid ID for proof.
Adult
(19 years and up)
Teenager
(13-18 years)
Children
(36 months- 12 years)
Baby
(36 months and younger)
ALL DAY
PASS
47,000 KRW
39,000 KRW
33,000 KRW
12,000 KRW
EVENING
PASS
AFTER 4 PM
33,000 KRW
31,000 KRW
29,000 KRW
12,000 KRW
Tip: Nighttime admission allows you to get tickets directly at the park at a discounted price (₩33,000), so you may want to visit the park after 4:00 PM. 
If you don't like huge crowds and long lines, it's best to avoid visiting during weekends and holidays.
Check Out Hotels in Busan!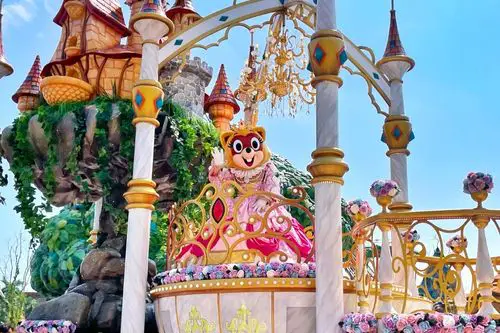 How to go to Lotte World Busan
If you have a car, you'll only need 20 minutes to get to the park from Haeundae Beach or 30 minutes from Busan station. 
You can also take the subway station. Get off of Osiria station exit 1.
There are several buses that go to the park.
Regular Bus- 100,139, 181, 185 Get off Osiria Station Gijang Daero Bus stop
Express Bus- 1001
Local Bus- Haeundaegu 9
If you choose to bring a car, bring an extra budget for parking fees.
If you park within the parking facilities, the first 60 minutes will be ₩1,400. You'll add ₩700 for every extra 30 minutes. Approximately ₩3,000 per day.
Are you going to Busan from Seoul or Pyeongtaek? Then read the Best Way To Get To Busan From Seoul or Pyeongtaek.
School Uniform Rental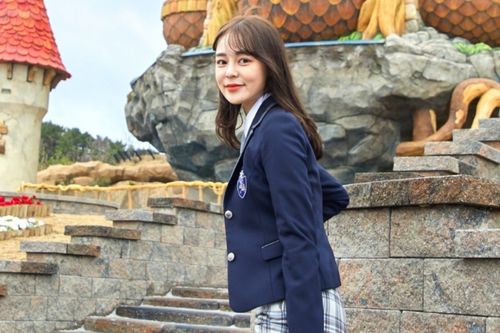 You might wish to spend a day as a Korean student before beginning your adventure. You can rent a school uniform in the park at Lorry Castle on the 1st floor.
They require a valid I.D. and a deposit for the rental.
Afterward, head to the 2nd floor to take head-end photos at the self studio. You will leave memories for a lifetime here.
Must try Rides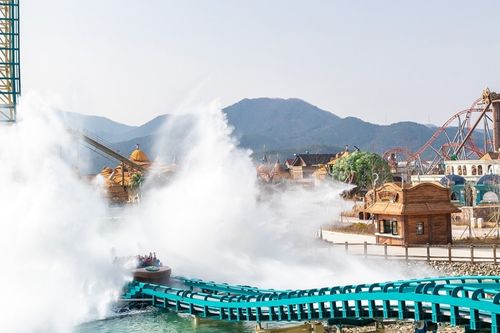 While visiting the theme park, you might as well not miss the chance to try these rides. It may seem scary, but you'll surely enjoy it. Though, make sure you don't have underlying health issues.
The lines can get long, but every ride and attraction in Lotte World Busan is worth waiting for!
Make sure to check the height and guidelines before standing in line as well.
Giant Swing and Giant Digger in Underland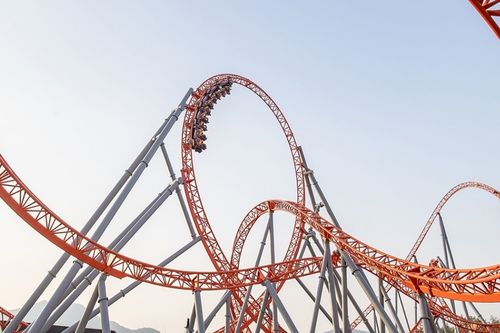 The place to be for an adrenaline rush is the Underland. Designed as a mining village and inspired by the story of the "Ogre's Magic Club," the Underland has two attractions unique to Lotte Word Busan: the Giant Swing and Giant Digger!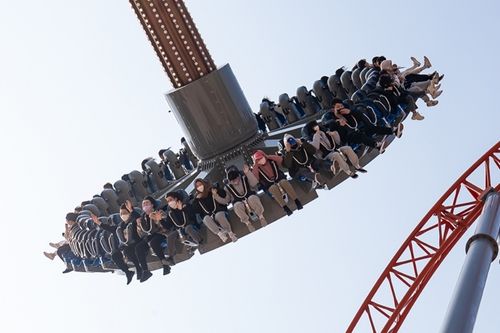 The Giant Swing is an extreme version of the Gyro Swing at the Lotte World Seoul, which raises you 44.8 meters (147 feet) above the ground. It has a quick view of Haeundae beach before letting go and swinging back and forth like a swing.
Giant Swing operates alongside the Giant Digger, the 1-kilometer-long track that reaches speeds of 105 kilometers (65 miles) per hour while rotating 360 degrees.
The two are exhilarating and a must-ride.
Giant Splash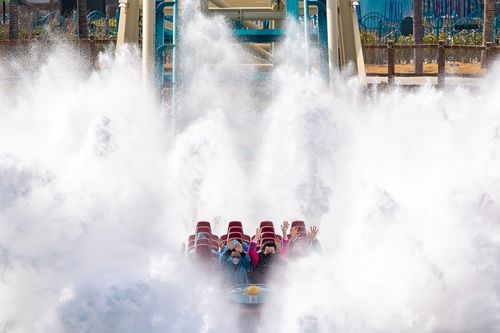 Inside Wonder Woods is South Korea's first water rollercoaster! The Giant Splash enhances the rollercoaster experience by immersing in water.
It operates 44.6 meters before plummeting 100 kilometers per hour into a pool of water, creating a splash.
If you like to ride yet are afraid of getting wet, you can get your trusty rain gear at their vending machine.
Entertainment Activities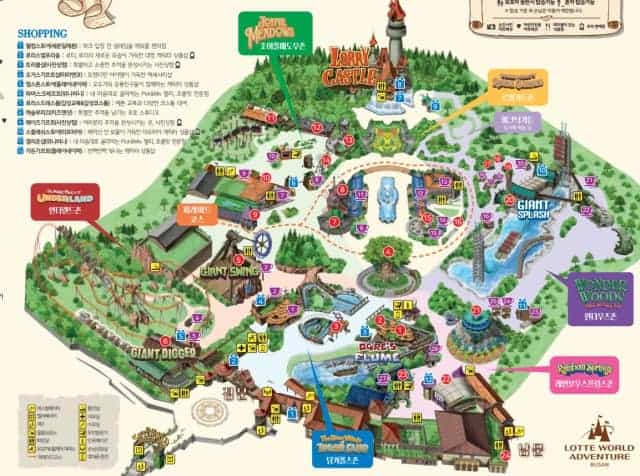 River Village of Tinker Falls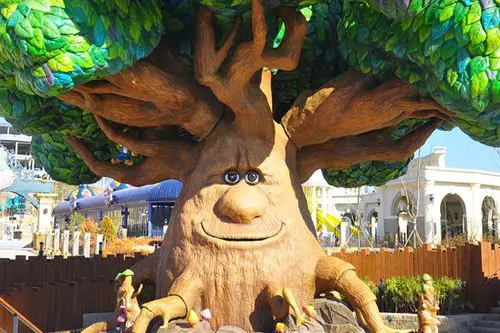 Situated at the center of the theme park, the River Village of Tinker Falls is where your Lotte World Busan adventure starts! It's a landmark by the tall silhouette of the Ogre's Flume. A few steps from here, you'll also find the entertaining Talking Tree, which will greet you and enthusiastically reveal the stories of the park's attraction areas.
Royal Garden of Queen Lorry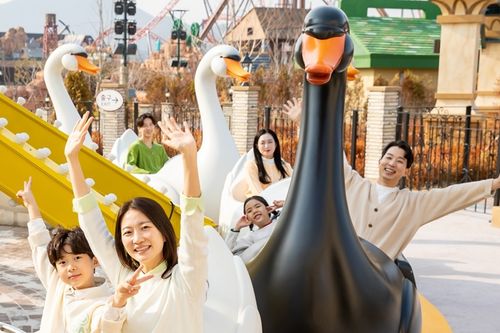 You'll find Queen Lorry's Royal Garden in the northern part of the theme park. It's easy to spot since it's the only lovely floating castle inside Lotte World Busan. You can enjoy a ride inspired by Tchaikovsky's "Swan Lake" or enjoy observing the entire park and the ocean.
Rainbow Springs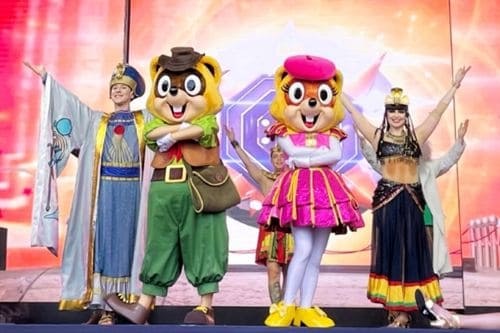 If you love flowers, you will love to stay at Rainbow Springs. The flora blossoms here all year, keeping the picturesque landscape alive throughout the four seasons. The Garden Stage, where the live performances are, is also located here. 
Joyful Meadows
People of any age can enjoy the theme park, but Joyful Meadows is for children's enjoyment. It houses six kid-friendly attractions and rides, such as the Baby Pig Bumper Cars, Little Farm Land, and Cookie Train. It's a paradise for the young ones!
Watch the Parade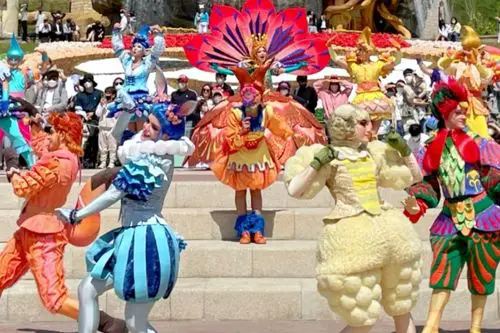 Lotty's Magic Forest Parade is held at Lotte World Busan twice daily. The parade comprises seven cars and a bunch of performers wearing flamboyant costumes. Their performance lasts 30 minutes, accompanied by Lotte World's theme song. It usually happens in front of Queen Lorry's Royal Garden and behind the Talking Tree.
Tip: Secure your viewing spots at least 20 minutes before the parade starts to have an unobstructed view of the performances!
Ride the Candy Train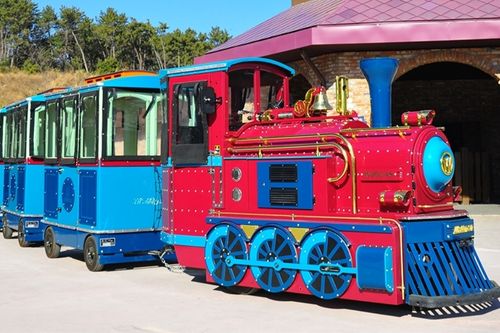 Since the park is big, your legs will surely tire after some walking and running. Lotte World Busan has the Candy Train, which can take you around the park. 
Dine at the Roller Coaster Restaurant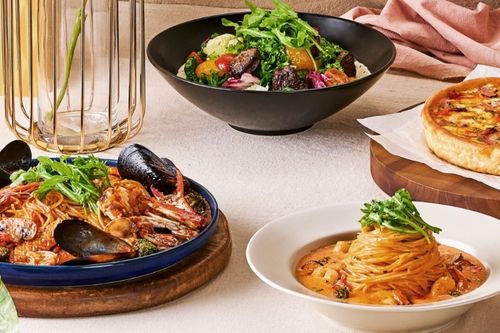 Lotte World Busan has South Korea's first rollercoaster restaurant! It has 170 seats and delivers your food via a rollercoaster rail. Sometimes, there are concerts inside to keep you entertained while dining.
Food Stalls and Restaurants
There are multiple snack carts and restaurants around the theme park. You can eat and sit on the benches to recharge since exploring and trying rides can get tiring. There are also fountains you can marvel at while resting for a bit.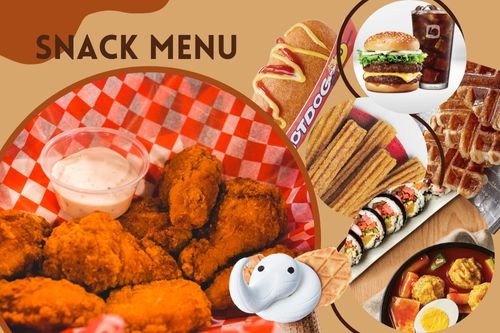 Here's a list so you can easily choose what to eat:
GIANT DIGGER
BHC Chicken– food court with several menus
Egg Drop premium egg sandwiches
GIANT SWING
LOTTERIA-hamburger, chicken
near Giant Swing, there is also the cafe Gong Cha-milk teas, tea drinks
Xinchao-Chinese restaurant
WONDER WOODS
STEAK & BEER
TOAST CAFE-TOAST & COFFEE
ELEPHANT ICE CREAM AND TROPICAL FRUIT ICE
GIANT SPLASH
DRAGON SNACK- STEFF HOT DOGS
DRAGON NEST PUB –KOREAN SNACK BAR (KOREAN SPICY RICE CAKES, KIMBAP, FRIED VEGETABLE
OGRE'S FLUME
PREMIUM COTTON CANDY
ROJI MONSTER ICE CREAM
Other Available Facilities
You can find these inside the theme park: baby carriage and wheelchair rental, information desk, lockers, nurse's office, smoking area, phone charging station, and more.
Prohibited Items
Pets (Excluding guide dogs)
Bicycle, inline, scooter, kickboard, electric wheel, children's car
Alcohol, Illegal Drugs, folding chair, mat
Professional filming equipment (Large tripods, ladders, etc.)
Drones, toys that can be controlled by remote control, etc.
Tips when visiting Lotte World Busan
Avail tickets online because sometimes it is cheaper and you don't have to stand in line before entering.
Download the Lotte World Adventure mobile application via IOS or Android to have a guide: tickets, reservations, performance hours, locations, coupons, and attractions.
Remember to take photos and videos for memory purposes. Make sure your camera or phone has a big storage capacity because you'll want to take pictures of every part of the park! You will never run out of Instagrammable spots to capture inside Lotte World Busan.
Wear comfortable clothes and shoes for a hassle-free feeling.
Day or night, the park looks fantastic. However, if you have the time to stay until the sun goes down, stay to see the night view. It gives you a different approach you will not see during the daytime.
Packed with mind-blowing rides and fascinating attractions, Lotte World Busan will give you a one-of-a-kind experience!
You may also like: