Last Updated on December 1, 2023
After touring Seoul and experiencing the bustling city excitement, you should definitely continue your travel to Busan. The second largest city in South Korea boasts an impressive ocean-side and mountain view. Busan's port is the center of maritime trade, which means you can find the freshest and most exotic seafood here and eat them straight from the beautiful beaches. You can also buy local souvenirs to bring home, like clothes, ornaments, and packaged snacks. Now I know that going to different stores can be exhausting after a long day of sightseeing. But there are actually places where you can find all the things you want in one go. Where? Look no other than the Top 7 Traditional Markets in Busan.
Best Traditional Markets in Busan
Gukje Market (국제시장) – Center of Commerce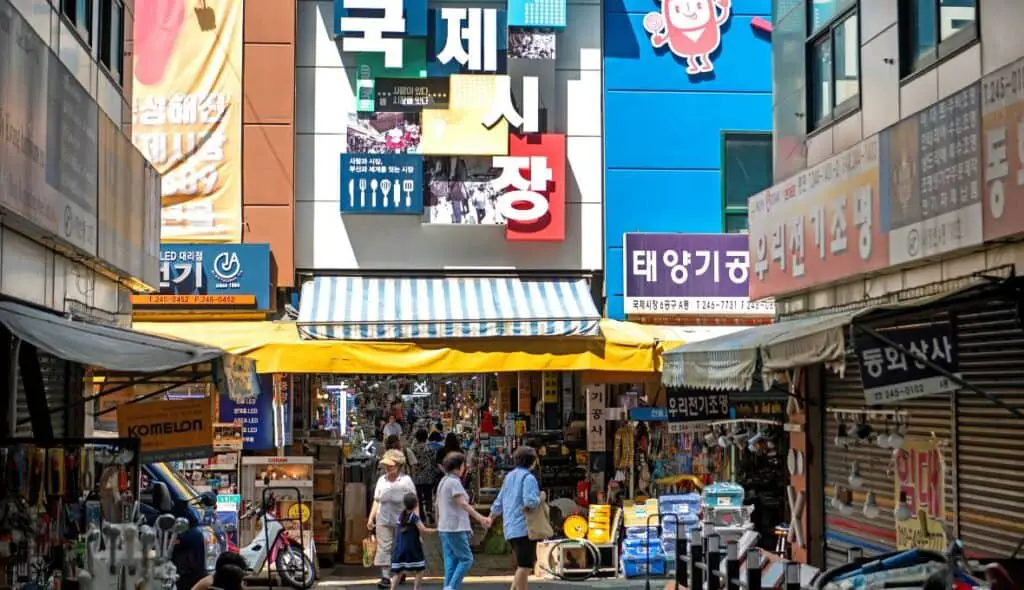 Perhaps the most famous market on this list, Gukje Market is the biggest traditional market in Busan. They sell various local and imported goods, like cooking utensils, electronics, and furniture. So it's no surprise you'll find a lot of locals buying their groceries here. This market also has historical importance in the Busan community. It was built back in the Korean War in 1950 as a place for refugees to make a living.
The Gukje traditional market in Busan retains the old vintage style and sells affordable products you won't find in retail stores. Each alleyway is named for what products are being sold there: Shoe Alley, Accessories Alley, Art Alley, etc.
The foods you must try here are hoe (raw seafood), dwaeji gukbap (pork stew), milmyeon (cold noodle), and ssiat hotteok (fried sweet pancake with nuts inside).
This market is located near popular tourist spots: Bupyeong Market, Jagalchi Market, and Nampo-dong. 
Address: 25 Gukjesijang 2-gil, Jung-gu, Busan, South Korea
Location: Jagalchi Station Line 1 Exit 7
Opening Hours: 9:30 am to 7:30 pm KST
Jagalchi Market (자갈치시장) – Seafood Sensation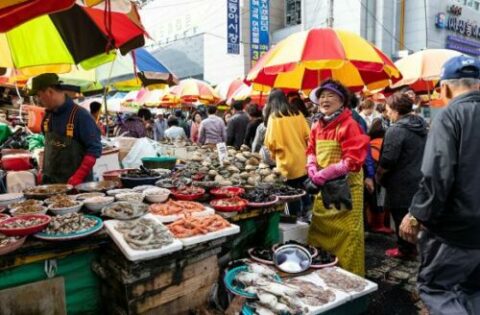 If you want to look for more exotic seafood, walk farther to Jagalchi Market. You can buy almost anything here! Even seafood you didn't know existed before. Plus, you can eat them directly in the restaurants upstairs while enjoying the beach view from the terrace. Jagalchi Market is one of the oldest traditional markets in Busan and in Korea, since 1924.
The name Jalgachi comes from 'jagal,' which means beach gravels. With rows of aquariums filled with crabs, squid, octopus, eels, and various types of fish you won't find elsewhere, this market offers a truly unique experience for tourists. The Jalagachi Ajumma (the women who clean and cut the fish) are very friendly and will help you taste this seafood heaven at an affordable price!
Address: 52 Jagalchihaean-ro, Jung-gu, Busan, South Korea
Location:  Jagalchi Station Line 1 Exit 10 or Nampo Station Line 1 Exit 2
Opening Hours: 8:00 am to 8:00 pm KST
Bupyeong Kkangtong Market (부평 깡통시장) – Night Food Market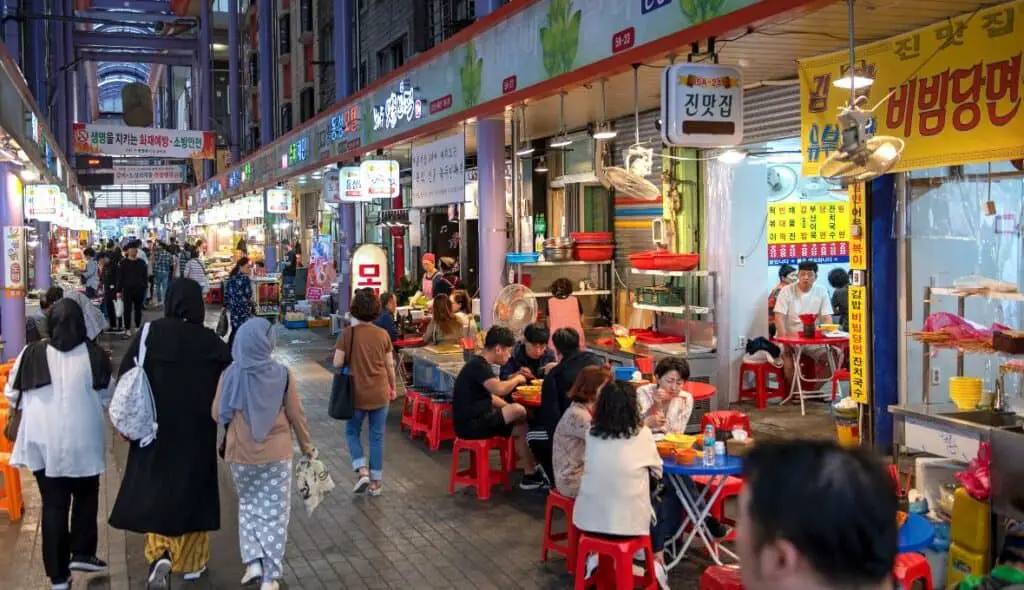 For a full-day experience, there's no other place like Bupyeong Market! During the day, you can find daily necessities and fresh products. And once the sun sets, Bupyeong Market turns into a food street filled with various authentic, delicious food stalls. This night market is also known as Kkangtong or Tin Market. Named because Bupyeong once sold American canned goods during the Korean War between 1950 and 1953.
Although now Bupyeong Market is not as big as it once was, its popularity still attracts hundreds of tourists every day. In addition to selling imported products, such as alcoholic beverages, fashion products, and electronic goods, this market also sells international cuisine. So if you miss a taste of home, look for your local food here! If you are lucky, catch one of the magic shows and music performances near the entrance and at the crossroads. 
Address: 39 Bupyeong 1-gil, Jung-gu, Busan, South Korea
Location: 10-15 minutes walk from Jagalchi station exit 7
Opening Hours: 8:00 am to 8:00 pm KST (depends on each shop), the night market is from 7:30 pm to 11:30 pm KST
Haeundae Market (해운대시장) – Snacks Paradise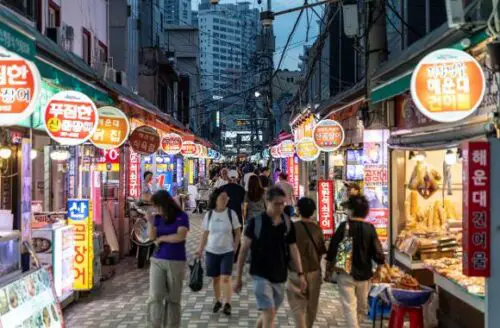 Another market specializing in their diverse cuisine is the Haeundae market, one of the most popular traditional markets in Busan. You might already be familiar with the name as this market is located around 5 minutes on foot from the famous Haeundae beach. Or maybe from K-dramas or variety shows! They offer a wide range of authentic Korean and international cuisine. The most popular food you must try is the grilled seafood jangeo (eel)! Other popular snacks that have people queuing are grilled hagfish, sliced raw fish, pork soup, kalguksu (homemade noodle soup), fried seafood, bread sticks, and tteokbokki (Korean rice cakes in spicy and sweet sauce). You can also get free samples from the vendors. Some restaurants can be a little pricey like many other tourist spots, but most of the snack stalls are affordable. 
Address: 22-1 Gunam-ro 41beon-gil, Haeundae-gu, Busan, South Korea
Location:  5 minutes walk from Haeundae Station (Metro Line 2) Exit 3 (near the beach)
Opening Hours: 9:00 am to 10:00 pm KST
Bujeon Market (부전시장) – Local Recommended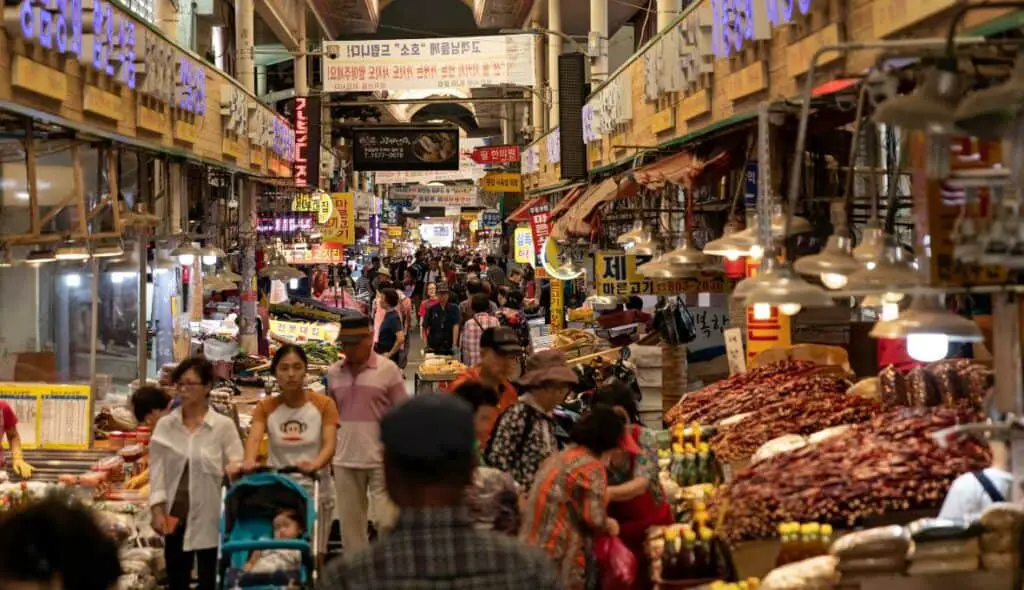 A little different than Gukjae or Jalgachi markets which can be a bit touristy, Bujeon Market is all about the locals. No fancy signs or whatever. This is where local Busan people go to buy their groceries and sell their specialties. Located near Bujeon Station, this market can be pretty crowded in the morning through the afternoon.
The food and restaurant prices are also more affordable than the other markets as their customers are mostly locals. You can find various homemade side dishes here as well as other seafood and vegetables. One popular stall is "Famous K Noodle (소문난 칼국수 마약 왕 김밥)" which sells jumbo gimbap and kalguksu that the locals love. You can also see them cook right in front of you!
Address: 23 Jungang-daero 783beon-gil, Busanjin-gu, Busan, South Korea
Location: Right in front of Bujeon Station
Opening Hours: 5:00 am to 07:00 pm KST
Gupo Market (구포시장) – Historical Market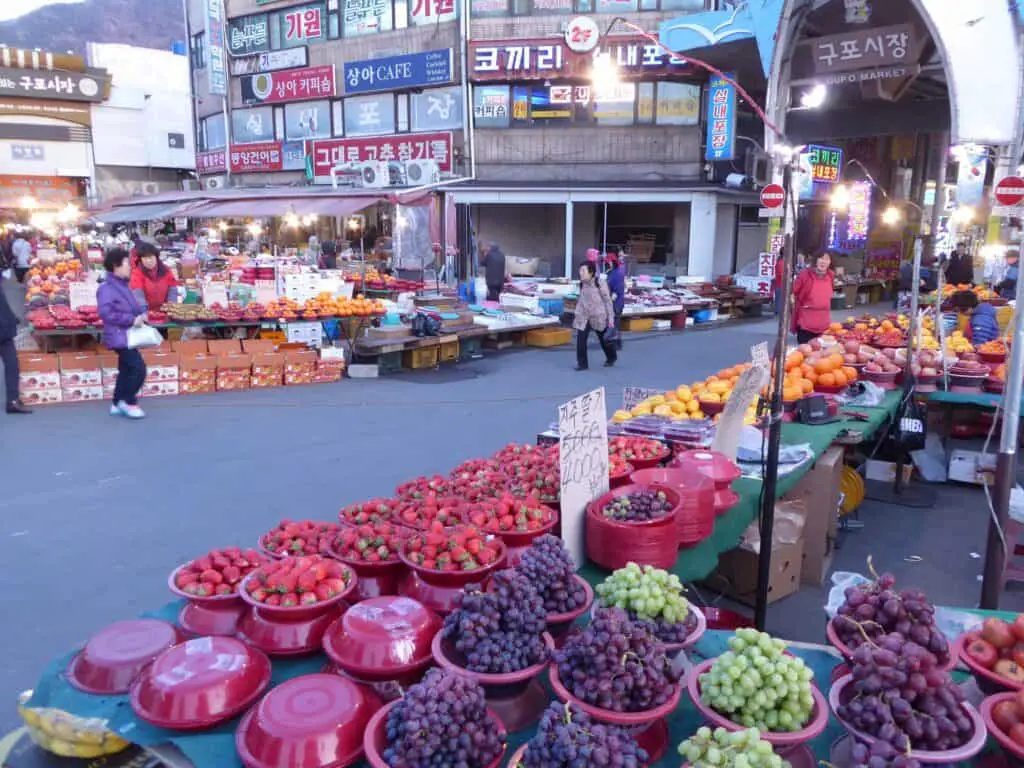 Another legendary market is Gupo Market near the Nakdong River. It was initially a trading hub during the 17th-century Joseon period and operated as a 5-day market until it became permanent in 1972. At the main entrance, you can see different alleys displaying a wide range of seafood, vegetables, and other ingredients.
If you come in October, you can enjoy the annual "Friendly Gopu Market Festival" where up to a thousand stalls will crowd the market and welcome both local and international visitors. One alley you must go to is the Mukja Alley (Food alley) where the signature Gupo noodles are located. The dish is hearty comfort food with pork feet, porridge, and crunchy fried dishes on the side. 
Address: 17, Guposijang 1-gil, Buk-gu, Busan, South Korea
Location:  Walk 5 minutes from Line 2 Deokcheon Station (Exit 3)
Opening Hours: 6:00 am to 11:00 pm KST (varies on each store)
Busanjin Market (부산진시장) – A to Z Textile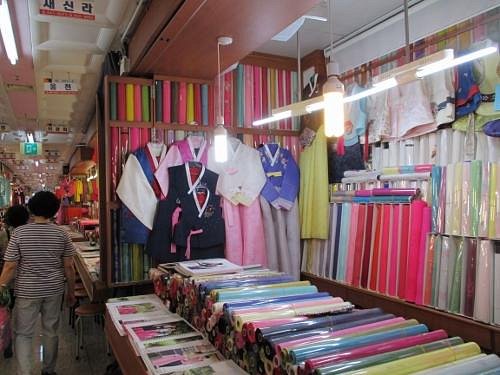 Legend has it that whenever a Busan woman married, she would go to this market to buy everything she needed for her new household. Because this market just got everything! Busanjin Market is known for their fabric, embroidery, and silk items. From hanbok (Korean traditional garment) to bedsheets, table cloth, silk, and other handmade trinkets—you can find the best deal to bring as souvenirs home. Go to the basement for more souvenirs like keychains, wallets, etc. The higher floors have clothing and shoes. The middle floors are for textile and kitchen items. The fashion itself is very local-style and made by local artisans.
Address: 24 Jinsijang-ro, Dong-gu, Busan, South Korea
Location:  Beomil Station Line 1 Exit 1
Opening Hours: 9:00 am to 7:00 pm KST
So those are the Top 7 Must Visit Traditional Markets in Busan. Make sure to visit them when you visit the beautiful Busan and enjoy some local delicacies and goods!
Top Picks for Your Busan Travel!
You may also like:
IVK's Top Picks – Day Tours, Tickets, and Travel Activities
Seasonal Picks!😍