Last Updated on November 2, 2022
I'm curious what it's like to be in Busan and then ride a train, and suddenly, someone is turning into "ahhhckahhhck" or, should I say, zombie! Just kidding, I never want to experience that. HAHA! 
Kidding aside, Busan is one of the top places to go once you enter Korea. With its markets full of big seafood, brightly colored village streets, and fantastic cultural sites. A city like Busan is worth visiting for everyone of all ages.
If you visit Busan for the first time, whether a local or a tourist, this day trip list is for you. Get ready to witness historical places and experience exciting adventures. 
Most packages include picking you up at your accommodation or a nearby location. Thus, you can always come up with an agreement since tour guides are known to be kind.
Note: These are handpicked with the idea of having fun-filled activities while learning about Busan culture, fun facts, and bonding with co-travelers. It's a mix of sightseeing, picture taking, exercise, a drink/food trip, and more!
Top 10 Fun Day Trips and Activities in Busan
Busan East Coast Cultural Day Tour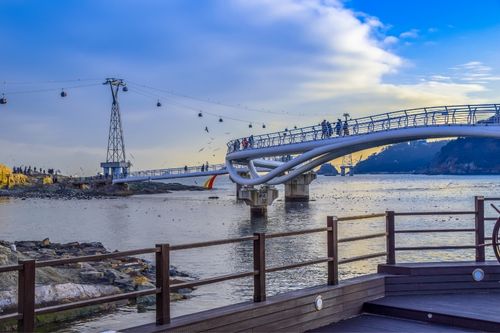 Out of the many activities in Busan, the first on our list has to do with the top cultural Busan tourist spots. Visit the Buddhist shrine Haedong Yonggungsa Temple to see Buddha, temples, and lions that symbolize different emotions. For an ocean view, Taejongdae and Songdo Skywalk can give you the peaceful sound of the waves.
Moreover, witness a beautiful attraction with a village of vibrant colored houses, murals, stores, and cafes at Gamcheon Culture Village. These are great places to take Instagrammable photos of the top Busan attractions.
Tip: Wear comfortable attire and put on flat sandals or shoes since you'll be doing a lot of walking.
Pros
For all ages
Instagrammable photo spots
Learn about the culture of Busan
Includes Taejongdae Danubi train ticket
Open all year round



Lotte World Busan Theme Park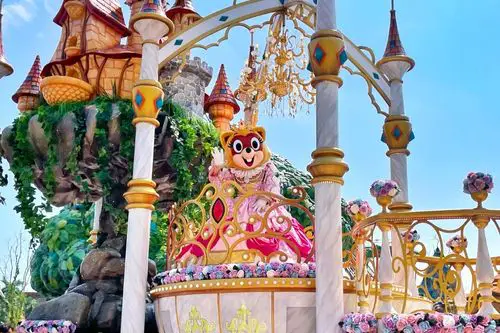 Experience various performances, exhibits, eateries, and attractions on the Lotte World Busan day trip. It is truly a joyful activity to feel like a kid!
You can read the Ultimate Guide to Lotte World Busan Theme Park for detailed information on what to do here.
Pros
Interactive activity
Fun memories
Instagrammable photo spots
Several rides and attractions
Family-friendly

Sparkling Night Photography Tour in Busan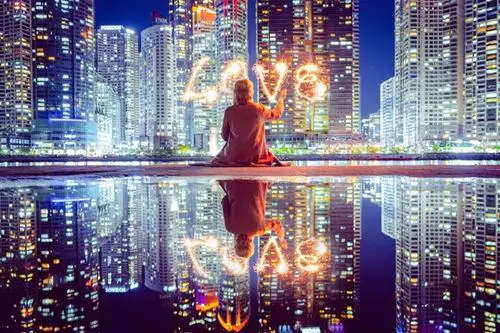 On this 4-hour night tour, take pictures of some of the most popular attractions in Busan during the night: Hocheon Culture Platform, Hwangnyeongsan Mountain, Gwangalli Beach, and Dongbaekseom. You can overlook the entire city of Busan from each attraction and take in the wonderfully sparkling nighttime scenery.
The tour guide has not only a professional camera but also the city's untold tales of the town to help you learn more about Busan. You'll receive all the original pictures and five free edited pictures.
Pros
Instagrammable photo spots
Receive sparkling night photos
Near Nurimaru Observatory 
Near nightlife, pubs, restaurants, and cafes
Open all year round


Korean cooking class in Haeundae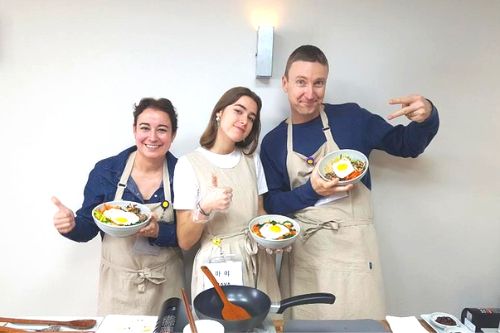 This great Korean cooking class near Haeundae will welcome you with a beverage once you enter. The Bapsang class is a great activity in Busan to taste and learn about the main Korean dishes. To feel like a cooking master, a traditional Korean apron will be provided for you to wear, and you can start the cooking lesson.
Enjoy the meal you prepared, a dessert, and tea served in traditional Korean style. After that, you'll receive a bonus of a Certificate of Participation!
Pros
Interactive activity
Includes lunch, tea, or coffee
Near public transportation
Know how to cook famous Korean food
Hands-on lesson




Running Man Thematic Experience Center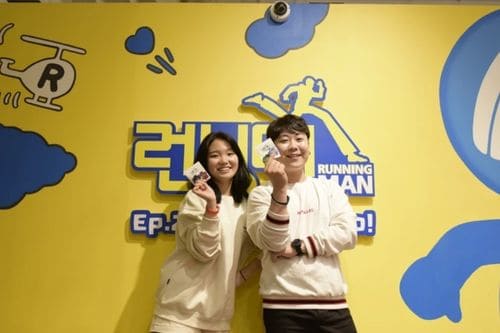 Have you ever watched the popular Running Man show? You can try the tv show challenges and search for riches, R coins, and laughs at Running Man Thematic Experience Center! Access the six zones and fulfill your missions in a racing format. You have 60 minutes to acquire as many coins as possible, sounds exciting, right? Unleash your competitive side and feel like you are part of the Running Man show!
Tip: Play efficiently since you only have one hour to try the games. Don't waste time once the game starts.
Pros
For all ages
Interactive activity
Fun memories
Instagrammable photo spots
Applicable for all seasons since it is indoor
Family-friendly


Poo Poo Land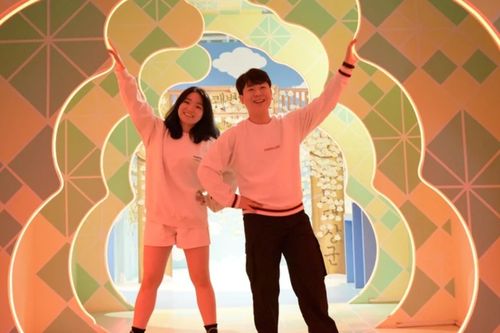 Sounds gross, but a cute place? It's the Poo Poo Land! A poo theme place for a unique and entertaining day. You can make fun memories at the park's fun zones with Ssari and Mari, your friendly poop and toilet paper pals. Take your picture at the park's adorable photo zones and try the maze escape and other activities.
Pros
For all ages
Interactive activity
Fun memories
Instagrammable photo spots
Applicable for all seasons since it is indoor
Family-friendly



Indoor Fishing and Rice Beer Drinking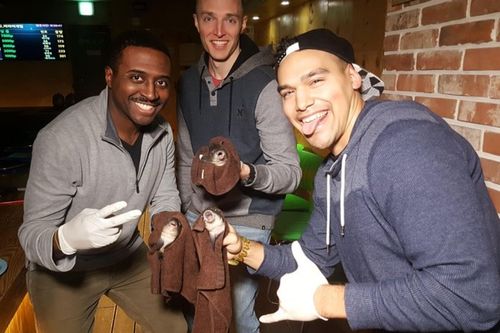 Fishing and drinking with a twist – spend an hour fishing in an indoor cafe (you can have what you caught), go to a rice beer bar, play two to three drinking games, and mingle with different people. It would be a night of drinking while learning about Korean history and culture.
Pros
Meet drinking buddies
Visit Busan old town and Seomyeon Food Alley
Learn Korean culture
See other dining and drinking options

Jagalchi Fish Market, Bupyeong Cuisine Market, and BIFF square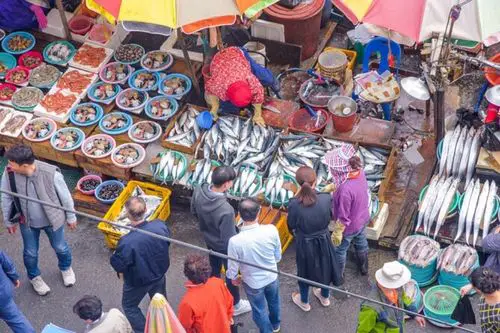 Want to shop for food or taste popular Busan street foods? On this day trip, a professional Korean English-speaking chef will lead you on a gourmet walking tour to learn about Korean food ingredients and local food culture in Busan. You will visit Jagalchi Seafood Market, Bupyeong Cuisine Market, and BIFF square.
Make space for your tummy to try all the delicious street foods in Busan. They say never miss the hotteok (sweet Korean pancake)
Pros
Unlimited Food trip on a budget
Learn about cooking and ingredients from expert
Near public transportation
Open all year round
Igidae Park to Oryukdo Park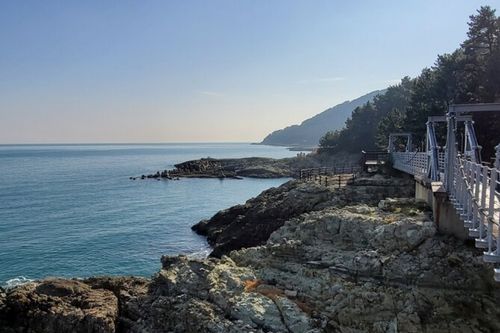 Exercising while touring? The Igidae Park has a lovely trail along the shore that begins near Oryukdo and runs for about 5 kilometers, but the sight is well worth the effort. Oryukdo Park is filled with different flowers.
It requires moderate walking and climbing. Make sure to wear rubber shoes, comfortable clothes, and water. The views along the way are refreshing, and it is an excellent quick getaway from the city.
The track runs up to Gangwon province for those who desire to extend their journey by a few hundred kilometers.
Pros
Oversee Busan Port and Busan Pier
Taste fresh seafood caught by a haenyeo
Instagrammable photo spots
Open all year round
Eden Valley Ski Resort Day Tour from Busan with Basic Ski Lesson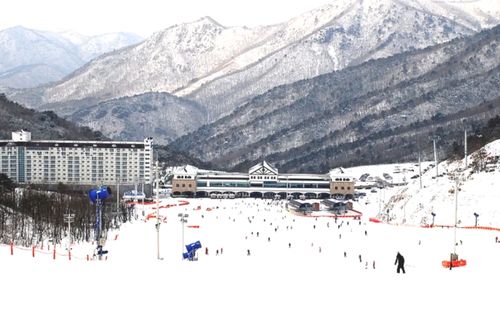 Up for an adventure? Go to Eden Valley Ski Resort. Before heading up the slopes, first-time skiers can attend a brief lesson to learn fundamental tips and tricks. Take the ski lift to the starting locations and begin your sledding or skiing descent.
Depending on your selected package, you will have all the essential equipment for your ride. Enjoy the gorgeous snow and plenty of space to play on the slopes.
On the other hand, you can also explore the scenic surroundings and even the resort amenities at your own expense. 
Note: This is a one-hour and thirty minutes travel from Busan to Eden Valley Ski Resort atop Sinbulsan Mountain. You can choose any of the packages: Sightseeing only, snow sled, and Ski (with one-ride lift ticket)
Pros
Family-friendly
Unique adventure
Instagrammable photo spots
You can easily book these recommended activities in Busan through booking websites for a hassle-free tour since everything is planned, and no need to worry about finding transportation or getting lost. Additionally, a tour guide explains the locations to learn about Busan. Nonetheless, there are more places to visit and activities to do in Busan, but these have been handpicked just for you to make your search easier.
Don't waste the opportunity to experience activities in Busan: create memories, build friendships, learn valuable knowledge, take photos, and eat or drink as much as your tummy allows! 🙂
I hope we all get to see Busan soon, chinggus!
You may also like:
IVK's Top Picks – Day Tours, Tickets, and Travel Activities
Seasonal Picks!😍