Last Updated on December 1, 2023
We've got Korean street snacks, fine dining course meals, and now… temple food? Temple food is one of South Korea's most long-lasting cultural heritage. Temple food is the food eaten daily at Buddhist temples. Every step of the food preparation (from growing the vegetables to serving the food itself) is part of a ritual to give thanks to nature for providing the resources and to the people who prepare it. There are many Korean Temple Food Restaurants in Seoul for vegans or vegetarians.
As Korean Buddhism practices vegetarianism, their food consists of seasonal vegetables and some dairy products. They use a variety of mountain herbs and wild greens native to their regions, and also natural seasonings like kelp powder, mushroom powder, perilla seed, and others that are mild and gentle to the tongue. Aside from fresh foods, they also make fermented and preserved food for winter, like kimchi, soybean paste, and rice wine. But don't worry, you don't need to go to a real temple to taste some of this unique, delicious food. Here are some of the best Korean Temple Food Restaurants in Seoul for Vegans and Vegetarians.
Best Korean Temple Food Restaurants in Seoul for Vegans and Vegetarians
Balwoo Gongyang (발우공양)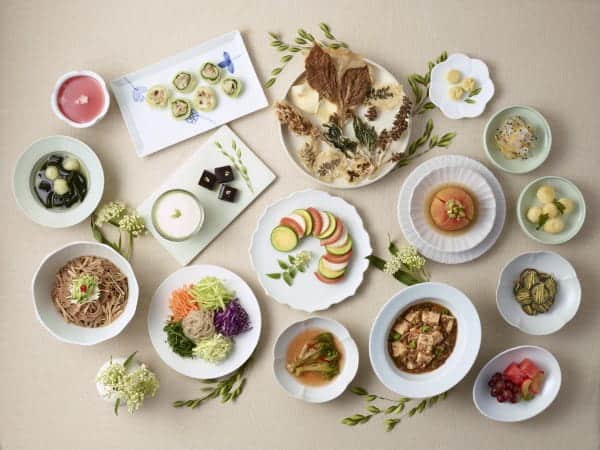 The Jogye Order of Korean Buddhism runs the Balwoo Gongyang restaurant. It serves delicious temple food cuisine using the most authentic and fresh ingredients. Since temple food relies on seasonal vegetables, they have different seasonal menus. Their set menu is divided into five courses ranging from the cheapest, 30,000 KRW ($23 USD), to the most expensive, 150,000 KRW ($114 USD). All set courses consist of a Suljuksim or an appetizer to freshen the taste bud, usually a pickle and a drink. It's followed by Juksang (porridge), Sangmi (salad or cold food), Dammi (starter or hot food), Seongso (noodle), Youmi (main course, usually a set of rice, soup, and other condiments), and ends with Ipgasim (dessert). Some set menus require a reservation a few days prior, so check their website and contact them beforehand.
Menu: http://eng.balwoo.or.kr/responsible_foodmenu_fall.php
Address: 5F, Templestay Information Center, 56, Ujeongguk-ro, Jongno-gu, Seoul, Korea
Opening hours: Monday to Saturday, close on Sunday, and National Holidays. Lunch: 11:30 am – 3:00 pm. Dinner: 6:00 pm – 9:30 pm
Contact number: 02-733-2081
Website: http://eng.balwoo.or.kr/
Maji (마지)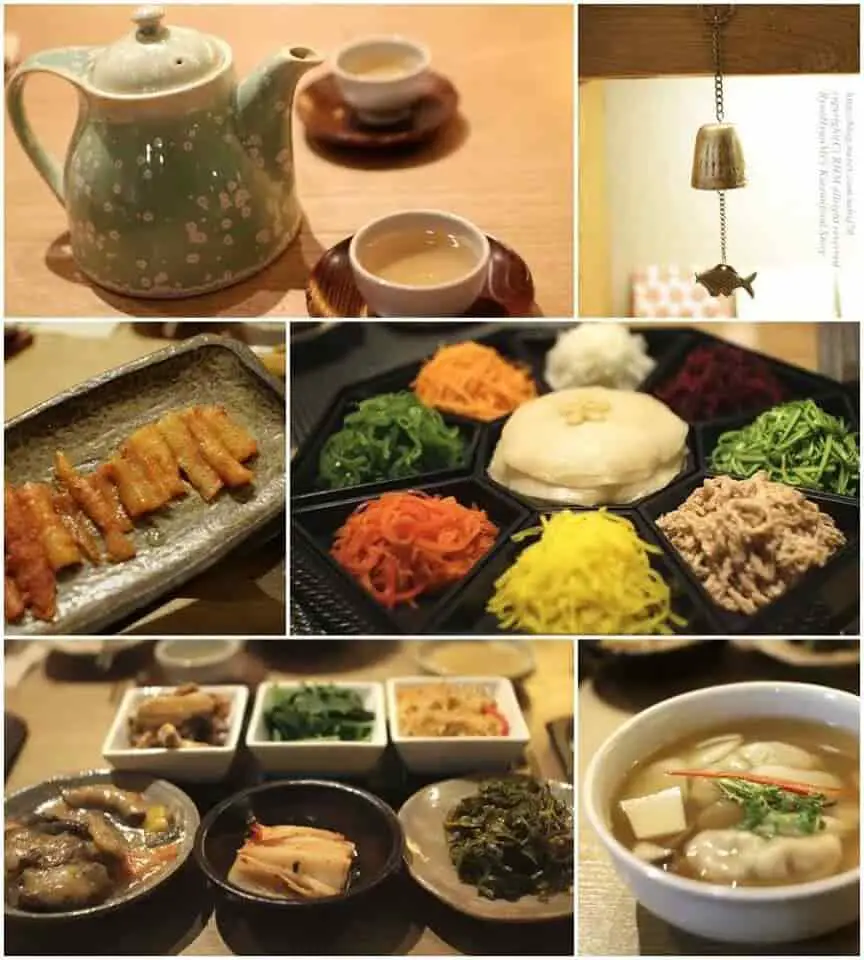 The Maji Temple Food Restaurant is within walking distance from the Gyeongbokgung Palace, making it a popular restaurant among locals and international tourists who want to experience authentic Korean cuisine. Like most temple food restaurants, Maji serves fully vegan meals in set menus, but you can also find some a la carte dishes. The restaurant is built in a traditional Korean hanok setting, with wooden architecture and decorations. One guest said she appreciated the owner explaining the meaning behind each cuisine in English to them. The set menus start from 40,000 KRW ($30.44 USD) for one person, and they also sell a la carte dishes starting from 8,000 KRW ($6.09 USD). 
Address: 19 Jahamun-ro 5-gil, Chebu-dong, Jongno-gu, Seoul.
Opening hours: Monday to Saturday (11:30 am – 10:00 pm), Sunday (12:00 pm – 9:00 pm), Break Time (3:30 pm – 5:00 pm)
Contact number: 02-536-5228
Website: http://templefood.com/
Ilsang (일상)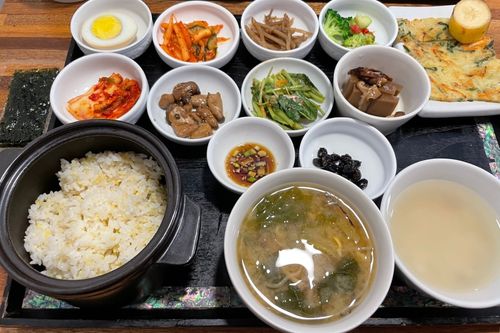 This Korean temple food restaurant is quite a popular restaurant in the Yangjae area because it's owned by the parents of the famous singer Park Jae-jeong. They have a daily meal at 8,000 KRW ($6.09 USD) and a special meal at 10,000 KRW ($7.61 USD). Since it's a vegan restaurant, they use a lot of mushrooms in their dishes, like stir-fried shiitake, stewed shiitake in soy sauce, and mushroom miso soup. Guests also liked the comfortable ambiance with the wooden design resembling the interior of a temple. Their motto is, "It's more like home-cooked food than the food my mother made."
Address: 7-27 Mabang-ro 6-gil Seocho-gu, Seoul (1F)
Opening hours: Lunch Monday to Friday (11:00 a.m. – 2:00 p.m.), Dinner only by reservation (5:30 p.m.- 10:00 p.m.)
Contact number: 070-4130-1313
Sanchon (산촌)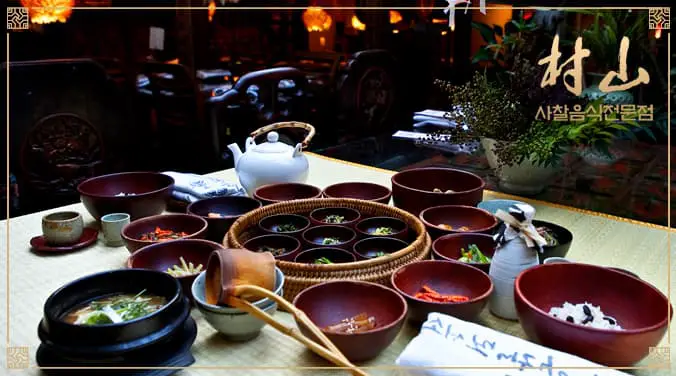 Owned by a Buddhist Monk, Kim Yun-Sik, the Sanchon restaurant (Sanchon meaning Mountain Village) offers temple food with fresh vegetables and ingredients directly from the deep mountain fields. The Sanchon set menu comprises side dishes such as kimchi, fern, twigak, tofu, jelly, seasoned deodok, stew, rice set, and various vegetables. You can eat it as a set meal at 29,000 KRW ($22.07 USD) or as mixed rice or bibimbap at 15,000 KRW ($11.41 USD). Rates for lunch and dinner are the same, and you need to book a reservation for some menus. Sanchon also sells various beverages like makgeolli, baekse-ju, soju, grain wine, a variety of teas, and others. Aside from the temple food meals, they also have traditional Korean performances. However, it is still closed due to the pandemic. Please check their website for further availability. Reservation is also made on their website.
Address: Insa-dong, Jongno-gu, Seoul, 30-13 road (Gwanhun) Gwanhun 14, Jongno-gu, Seoul
Opening hours: Open all year round (11:30 am – 10:00 pm)
Contact number: 02-735-0312
Website: http://www.sanchon.com
Aseungji (아승지)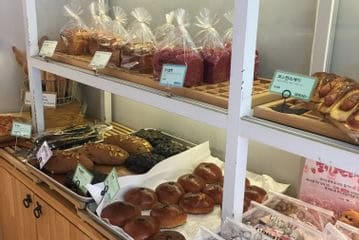 A little different from the others, Aseungji sells vegetarian temple food and an assortment of fresh bread from their bakery. The lunch set starts at 30,000 KRW ($22.83 USD) and offers seasonal home-cooked dishes. Dinner is available on a reservation at 70,000 KRW ($53.27 USD). After the lunch session ends (the last guests are accepted at 1:30 p.m.), they only operate the store and bakery. The wonderful thing is they are made of rice flour, so all vegetarian or vegan! So make sure to check with the staff to specify your dietary needs or if you're gluten-free. Reviewers enjoyed their savory pastries, sweet buns, and cookies. Their assortment also includes authentic Korean ingredients like mugwort and perilla seeds. 
Address: 176 Singil-ro, Yeongdeungpo-gu, Seoul, South Korea
Opening hours: Monday to Friday (10:00 a.m.-7:00 p.m.)
Contact number: 0507-1400-7595
Doban (도반)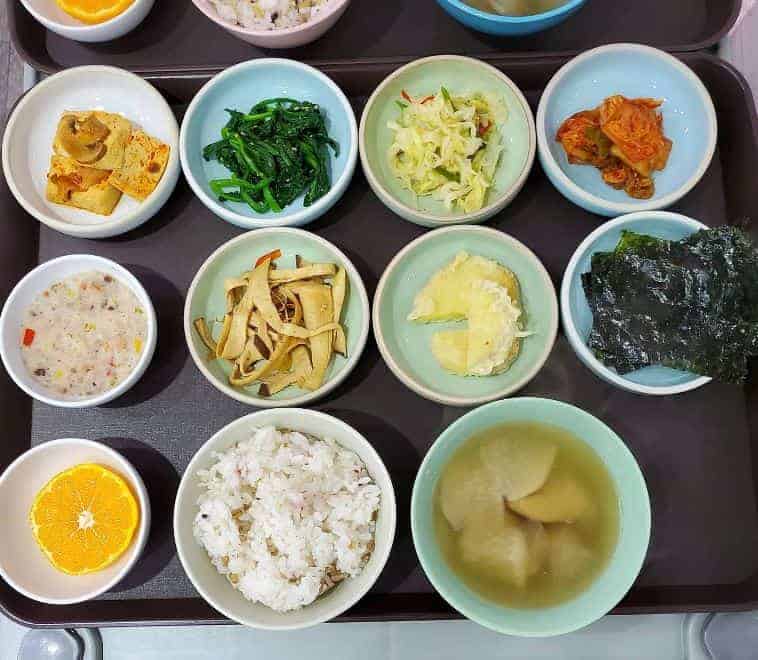 The Doban Temple Food restaurant is located in the Seocho-gu district of Seoul. They provide a Korean lunch special for office workers and one-table course menus. The lunch special is only available on weekdays from 11:30 a.m. to 2:00 p.m. You can upgrade it to the Hansang Special from 7,000 KRW ($7.33 USD) to 10,000 KRW ($7.61 USD), adding salad and today's dishes. The One Table course meal offers 3 categories with different price points according to the day: 30,000 KRW ($22.83 USD) for weekday lunch, 50,000 KRW ($38.05 USD) for lunch on weekdays and weekends, and 70,000 KRW ($53.27 USD) for dinner on weekdays and weekends. The meal comprises an appetizer (porridge and water kimchi), 6 to 11 different course meals, a rice meal set, and a dessert. The One Table meal is usually for a family, and you'll get your own room. Reservation is made through phone calls.
Gosang (고상)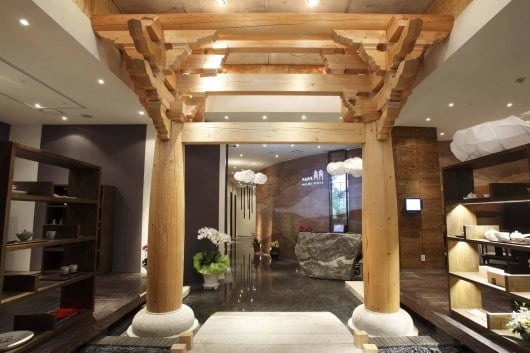 If you want to eat temple food in a luxurious fine dining style, then you should visit Gosang. Gosang Korean temple cuisine is influenced by Buddhist vegetarian and dietary laws, which means they don't use any 'strong' ingredients like garlic, chives, and leeks. They offer various vegetarian set menus from the cheapest to the most expensive. There are the fish set, herb abalone set, medicinal set, and breakfast and lunch sets. However, for a full experience, try the Gosang set at 150,000 KRW ($114.14 USD). It includes assorted snacks, porridge, salad, royal sinseollo, Ginseng Jujube Bean Tteokgalbi Fried Insam And Cutlet, Sodam Midu with Fried Insam, lotus leaf rice, soup, seasonal side dishes, and dessert. You can also order lunch set takeout. Reservations are made through phone number and their website.
Address: 67 Suha-dong, Jung-gu, Seoul
Opening hours: Breakfast (07:00 am – 10:00 am, reservation at least 1 day in advance), Lunch (11:30 am – 3:00 pm), Dinner (5:30 pm – 8:00 pm Weekdays, 5:30 pm – 9:00 pm Weekends and Holiday).
Contact number: 0507-1454-8955
Website: https://gosang.modoo.at/
Excited to try some unique and homemade temple food now? Check out these Korean Temple Food Restaurants in Seoul and book an early reservation!
You may also like:
IVK's Top Picks – Day Tours, Tickets, and Travel Activities
Seasonal Picks!😍