Ra-myeon meog-go gal-lae? (Wanna eat ramyeon?) It is a famous phrase I hear whenever I watch K-drama. In a romantic sense, you'll know they like you when they say that to you *blushes.* Anyway, there are instant ramen noodles that you can cook on your own and ramen made from scratch. In this article, we'll dive into the best Korean ramen shops you should try when living or visiting Korea. 
People worldwide have shown great interest in Korean cuisine. One of our favorites is ramen; it is the top comfort meal for people of all ages. Creativity is necessary when considering improving the delicious steaming bowl of ramen. Either instant or homemade from scratch, eating Korean ramen is an experience in and of itself. The exquisite ramen preparation of Koreans demonstrates how much they value their cuisine.
Oops, before we go on, you might be wondering about the main distinction between ramyun/ramyeon and ramen. Ramyun or ramyeon are Korean dishes that are typically instant to cook with powdered red pepper as a signature ingredient. While ramen often refers to a Japanese meal which is historically not a fast cuisine and requires a lot of preparation time. Thus, in most cases, it is called Korean ramen regardless if it's an instant noodle or the other one with long preparation.
Anywhere you go in Korea, you'll probably stumble upon ramen shops, but to make your search easier, here are the top Korean restaurants that serve delectable ramen. They provide ramen that is worth the price and that customers would genuinely enjoy and praise. 
Top 7 Korean Ramen Shops
Ramen Jeom-pang 라면점빵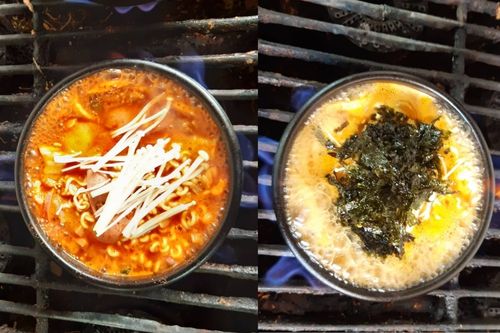 Address: 39 Jahamun-ro 1-gil, Jongno-gu, Seoul)
Pure Korean ramen is served at the Jongno-gu neighborhood restaurant Ramen Jeom-pang. There are 20 different ramen cuisines available. They also have white rice, gook bap (soup), and kimbap. You can choose the level of spiciness from 1-10, the latter being the spiciest. There is also non-spicy food like gimbap available for tourists that is both delicious and worth the price. Their ramen soup is hearty, stuffed with pork, and has a fantastic flavor. The beef on top is excellent because it is evenly cut and thinly sliced, and the egg is ideal since it was cooked to perfection. For an extra 500 won, rice cakes and dumplings can be added to the ramen. It is open daily from 9:00 am until 8:00 pm.
Real Ramen 레알라면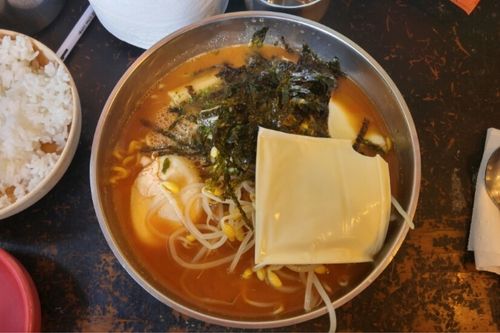 Address: 54-39, Hoegi-dong, Dongdaemun-gu
The spicy flavor is a hallmark of authentic ramen. Real ramen has three spiciness levels: yellow, orange, and red. If you are up for a challenge, go for the red flavor since it is the spiciest ramen. Low prices and limitless toppings are some of the best aspects of eating here. There is a self-bar where you can get rice, cheese, and sprouts. Cheese is advised for people who cannot consume spicy meals because it reduces the spiciness. Usually, there are two eggs when served, but you can order more if you like. Store hours: 11 am–9 pm, 3-5 pm (break time), Monday to Sunday, closed on Wednesdays.
Note: If you can't eat spicy food, yellow is good enough; if you want the right amount of spiciness, go for the orange, or if you desire to sweat and have a burning tongue, go for the red one.
Yugjang 육장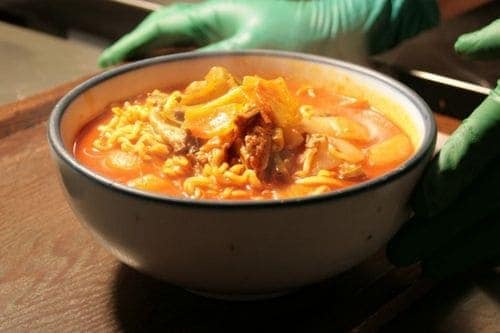 Address: Mapo-gu, World cup-ro 19-gil, 74
Yugjang is a popular Yukgaejang (hot spicy meat stew) restaurant that preserves Yukgaejang's authentic flavor. They serve Yukgaejang soups, yukgaejang ramen, meal kit, and more. The ramen has deep spicy beef broth soup with just the right noodles. You can order a side of rice to eat with the remaining soup. It is the perfect meal to satisfy your taste buds. Yukgaltang with rib and rice is also available if you want an alternative. The host is kind and exudes a welcoming aura. It is open from 11:00 am to 9:00 pm every day except Tuesday.
Ilamyeon 이라면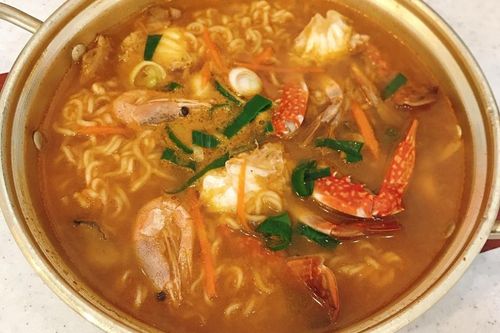 Address: 433-121 Yuljeon-dong, Jangan-gu, Suwon-si
All the ingredients are carefully selected with sauces specially created to give you a flavorful and deep broth. You can choose from eleven varieties of ramen and five types of rabokki (stir-fried noodles with rice cakes). Noodles' price starts at 4,000 KRW ($3 USD). There is cheese ramen, curry ramen, spicy ramen, seafood ramen, and their special Ilamyeon. Want to visit? You are welcome from Monday to Saturday between 11:30 am to 7:00 pm (break time 2 p.m.- 5 p.m.).
Note: Whether you are dining alone or with a companion, you must have rabokki and add the fried rice to have a complete package of deliciousness.
Gyeongchunjaui Ramen Ttaenggineun Nal 경춘자의라면땡기는날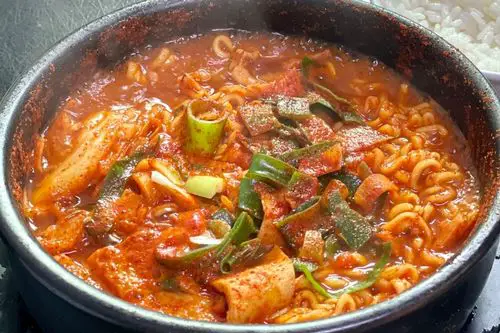 Address: 138-21 Hwa-dong, Jongno-gu, Seoul
The main dish at Gyeongchunjaui Ramen Ttaenggineun Nal is Jjamppong Ramen, which comes in three different levels of spiciness: extremely hot, regular spicy, and less spicy. You may indulge in ramen noodles in a hot broth with fish cakes, squid, and cabbage cooked with red pepper powder and red pepper paste. The moment the ramen emerged from the pot, it was accompanied by the sound of bubbling soup and the sight of dripping. The menu price will be at most 10,000 KRW ($7. USD). It is open from Monday to Saturday from 9:30 am to 7:30 pm and closes at 5:00 pm every Sunday.
Note: If it's your first time, request the signature dish, Jjamppong Ramen, with less spiciness to enjoy eating peacefully.
Mungae Hangari 문개항아리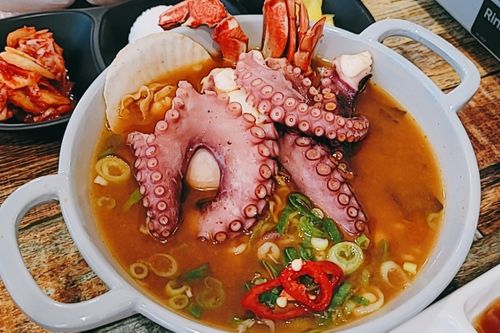 Address: 38 Gamundong-gil, Aewol-eup, Jeju-si, Jeju-do
Mungae Hangari is on the coast of Aewol-eup, west of Jeju Airport, and specializes in seafood ramen and kalguksu (handmade noodles). The Jeju dialect of octopus is moongae. In a distinctive long, rectangular bowl, fresh seafood like octopus, mussels, shrimp, and clams are boiled, and kalguksu or ramen is then boiled in the broth. The octopus and abalone have great textures, and the meal comes with many vegetables and chewy noodles. There are individual ramen sizes, and about 2-4 people size meals. The individual ramens are 15,000 KRW ($11 USD). The seafood dishes for 2-4 people vary from 36,000 to 68,000 KRW ($25-$48 USD). The restaurant has very high reviews and is recommended by locals as well.
Remember to order Hallabong Ice Cream as dessert so your mouth will feel revitalized after eating spicy ramen. The staff is kind, and the food's taste and appearance are satisfactory. You can visit any day from 9:30 am to 7:30 pm.
Note: It is best to go during the weekday for early lunch or a snack because waiting for food during the weekend typically takes an hour or more. Although the store's entry to the beach is small, a sizable parking space is in front.
Seom Oreum Seafood Ramen 섬오름 해물라면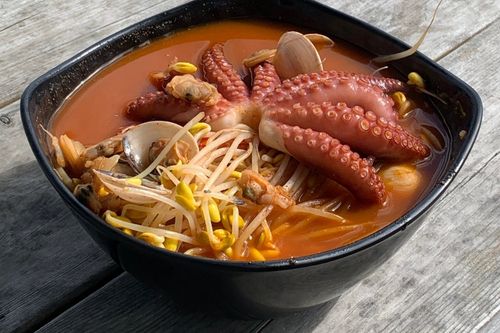 Address: 355-7 Johamhaean-ro Jocheon-eup Jeju-si
The seafood ramen restaurant is known for having an outdoor space with a beach view. Tourists frequently eat outside despite the cold because the scenery is pleasant. Each dish is filled with deep broth and variations of seafood in a spicy seafood broth. You can choose from three types of ramen: abalone, octopus, and seafood. Watching the sea while eating ramen is the beautiful part about dining outdoors while taking in the sounds of the wind, the waves, and the water. The ramen broth had a deep flavor and was unlike any other brand because it is rumored that they create their own ramen sauce. The cost per bowl was around 10,000 won ($7 USD), and while being pricey, the earnestness and premium fish make it a good value.
Ready to dig into Korean ramen at these shops? Gaja!
You may also like: